Colorado's drought situation continues to worsen as we move into the summer months and really the only reason the Palmer Divide didn't see an upgrade was due to a storm last week that dropped a ton of beneficial rain on the area. Recall though, we need more than just one storm (no matter the size) to really make an impact on drought conditions.
Notice that Douglas and El Paso counties were the main recipients of the heavy rain from a line of severe thunderstorms this past week. This is the main reason that most of those areas remain in an "Abnormally Dry" classification instead of being upgraded to moderate drought. Sadly, I think their time is coming based on what I am seeing in the long term weather outlooks.
Colorado Drought Update 7/2/2020
Quite the colorful map we are seeing; that's not a good thing this early in the summer though. The more colors we see the more we know things are getting dicey in terms of lack of moisture.
If you need a reminder of what each drought classification category means here's a refresher for Colorado:
DO "Abnormally Dry" - Yellow Colors
Hay production decreases; rangeland is dry
Irrigation begins sooner
D1 "Moderate Drought" - Light Orange Colors
Rangeland growth is stunted; very little hay is available
Dryland crops suffer
Wildfires increase
Pheasant population declines; ski season is limited
D2 "Severe Drought" - Dark Orange Colors
CRP lands suffer
Farmers reduce planting; producers sell cattle
Fire season is extended
Snowpack is low; surface water levels are low; river flow is reduced
D3 "Extreme Drought" - Red Colors
Pasture conditions worsen
City landscapes are dying
Large fires develop
Rafting, fishing, hunting, skiing are reduced; fish kills occur
Grasshopper and insect infestation are noted
Reservoirs are extremely low; mandatory water restrictions are implemented; water temperature increases
D4 "Exceptional Drought" - Dark Red Colors
Dust storms and topsoil removal are widespread
Agricultural and recreational economic losses are large
Notice most of the Palmer Divide is still abnormally dry, but we can see moderate, severe and extreme drought conditions creeping in from the East. I suspect the monsoon may be a problem this year (late or no show altogether) and that adds additional concern about conditions going into late summer and fall.
Vegetation Stress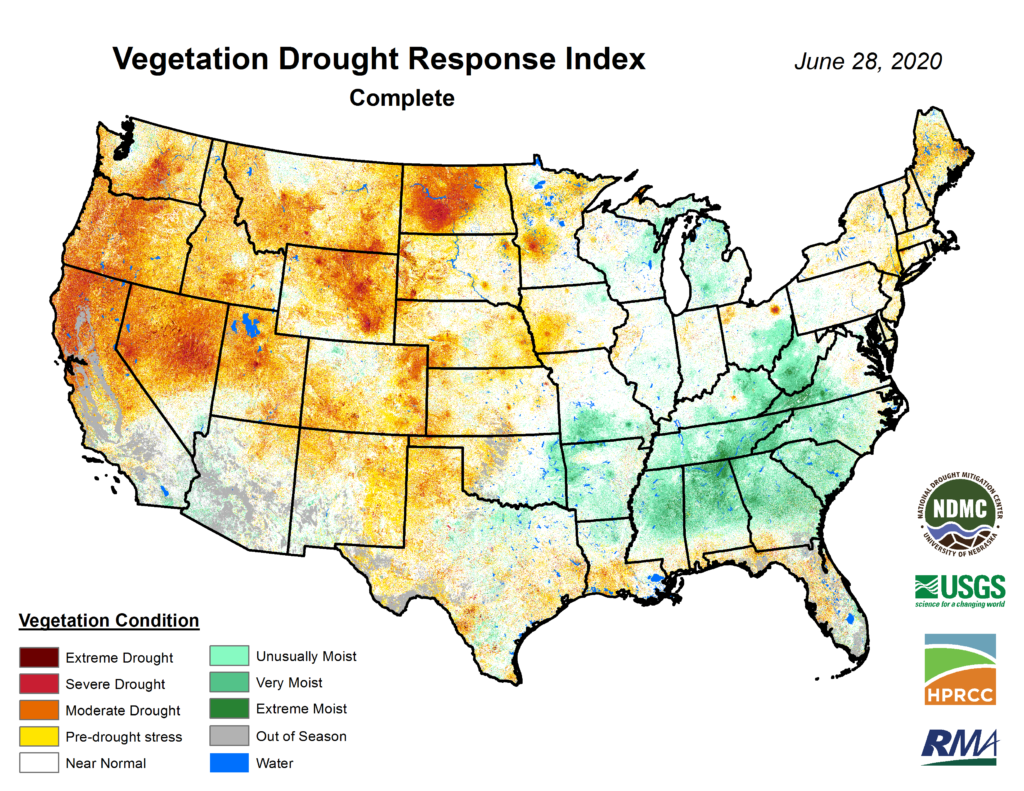 As I drive around I see increasing stress on the vegetation caused due to the dry and windy conditions. Remember that the more drought related stress vegetation has to deal with the less better it is to combat disease, pests and the worse our fire danger gets. In a typical year we don't see browning and stress on vegetation until later in the summer (late July into August) due to heat and dry conditions... this year we were seeing signs of this by early to mid June with worsening conditions now that we are into July.
Additional Reading
If you're interested in additional information including about a newly defined term "flash drought" and learning about how we can still have drought conditions even with consistent precipitation there'a great write-up on Weather5280 by Climatologist Becky Bolinger.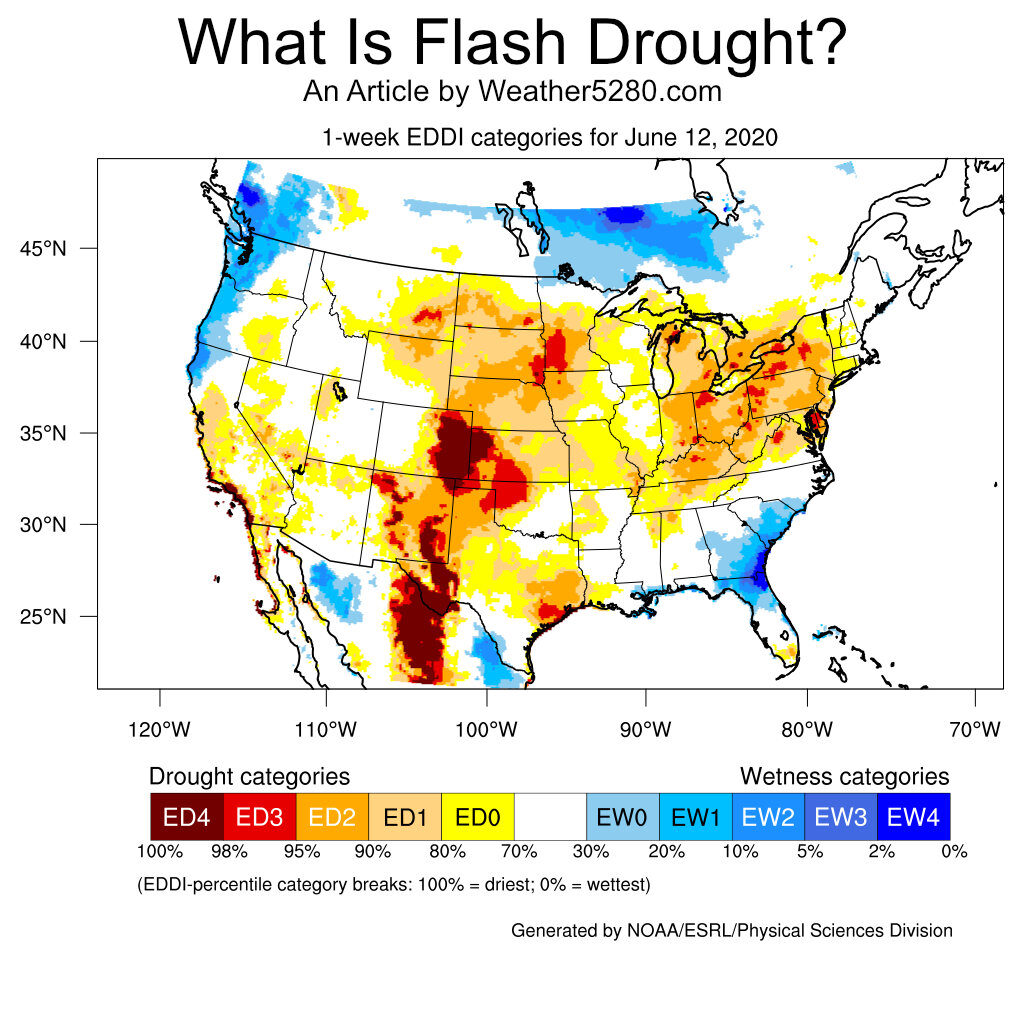 Click the image above or this link to see the article!
---
Summary
In terms of drought this year, I suspect we will see the more severe categories expand across many areas of the front range in July. What I'm seeing on the long term outlook especially pertaining to the monsoon and setup of the fall season means that it's more than likely we won't see enough precipitation to ease any of the drought in the short or medium term.
This fall we will have to keep an eye on conditions if the monsoon doesn't establish and ENSO shifts into a La Nina phase. La Nina if you recall means we often see drier than average conditions in Eastern Colorado... more on that coming soon.
For now, enjoy your Independence Day and maybe put the fireworks away for another year. If you do decide to use them, just understand how dry everything is and know that any fires started could quickly grow out of control.