Model data has shown a consistent trend on higher snowfall totals and a more sustained duration of heavier snowfall and banding. With last night's models picking up on this trend and this morning's models continuing it - some forecast adjustments are going to be made, specifically around snowfall totals and locations.
Let's dive into alerts first:
Winter Weather Highlights
Winter Storm Warning (Palmer Divide, I-25 Corridor)
Snow will continue over the region through the day and will taper off through the morning hours on Monday.

Temperatures will be very cold, with highs only in the teens to lower 20s on Sunday. Lows Sunday night will be below zero over the higher terrain with single digits over the plains.

The colder temperatures and snow will result in snow covered roads, and slick travel conditions. If you are planning to travel, be prepared for slower than normal travel conditions, and use extra time to reach your destination safely. Also, be prepared for the sharp change in temperatures and dress warmly in several layers of clothing.

WINTER STORM WARNING REMAINS IN EFFECT UNTIL 6 AM MDT MONDAY...

* WHAT...Heavy mixed precipitation expected. Total snow accumulations of 6 to 9 inches and ice accumulations of a light glaze.

* WHERE...Boulder and the western suburbs of Denver, Denver and Palmer Divide including Castle Rock, Elbert, and Larkspur.

* WHEN...Until 6 AM MDT Monday.

* IMPACTS...Travel could be very difficult.

If you must travel, keep an extra flashlight, food, and water in your vehicle in case of an emergency.
Winter Weather Advisory (Eastern Plains)
WINTER WEATHER ADVISORY REMAINS IN EFFECT UNTIL 6 AM MDT MONDAY...

* WHAT...Mixed precipitation expected. Total snow accumulations of 5 to 7 inches and ice accumulations of a light glaze. Winds gusting as high as 35 mph.

* WHERE...Eastern Elbert and Northern Lincoln Counties, Southern Lincoln County, Morgan County, Central and East Adams and Arapahoe Counties and Washington County.

* WHEN...Until 6 AM MDT Monday.

* IMPACTS...Travel could be very difficult.
---
Snowfall Forecast
Our biggest adjustments are a slight shift upwards on total snowfall ranges, especially Palmer Divide locations closer to the I-25 corridor and South of Castle Rock. Models have been consistent with higher snowfall accumulation in these areas over several runs now. We have also shifted up Castle Rock's and Parkers range a bit, I think even if the snow doesn't get as heavy or the snow band doesn't sit as long, due to the cold ground temperatures, lightness of the snow and snowfall starting a bit earlier than forecast; the 5-6 inch range is still very doable on the low end.
In Northern Colorado, snowfall has been adjusted upwards slightly as well, but the patterns remain solid. Areas in the foothills and West of I-25 will see the best snowfall, but areas in the Northeastern corner of the state look likely to see slightly higher numbers as well.
Everyone knows how hesitatnt I am to adjust snow numbers up based on models but given the consistency I've seen along with the fact that many areas had snowfall start a bit earlier than forecast - I think confidence is decently high to adjust total snowfall rates upwards across many areas. Given the cold and timing, if some of these areas "underperform" I think they still have a decent chance to finish close to or within the low range of the forecast.
---
Timing/Impacts
The only adjustment on the timing of this storm is that snow started a bit earlier than anticipated (why snowfall totals may be a bit higher)
The other adjustment is that heavier snowfall looks more likely in the afternoon and especially the evening and overnight hours into Monday morning. Keep that in mind if you have travel plans this afternoon/evening/overnight. It will also effect the morning commute.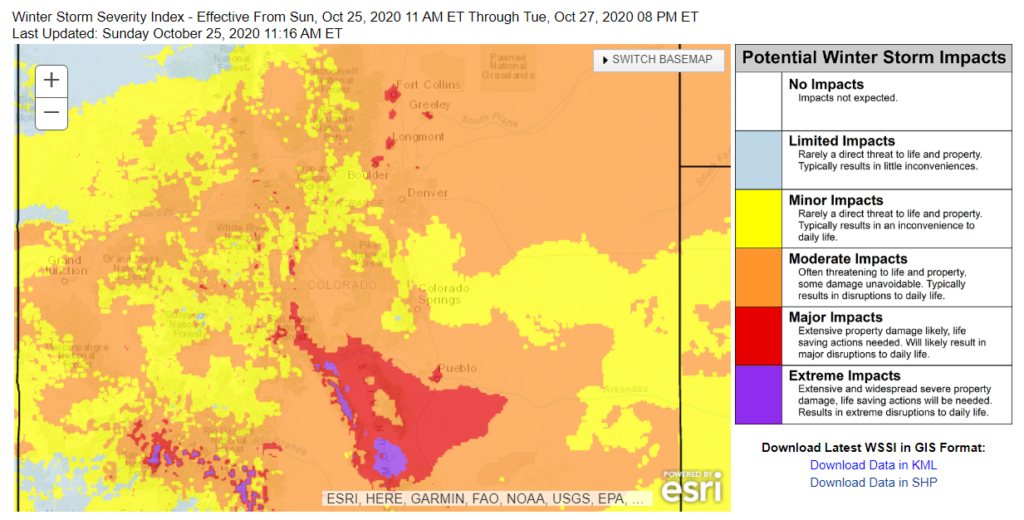 Many areas along the Palmer Divide and Urban Corridor will experience moderate impacts. A few spotty areas may experience major impacts due to the wind, snowfall and road conditions.
Roads will quickly become icy and snowpacked
Wind and falling snow may cause poor visibility in some areas
For the Palmer Divide and Denver area - we do not expect winds to be strong enough for Blizzard Conditions - the main travel difficulty will be from snow and ice on the roads.
---
Summary - In the Thick of It
The storm is here, it is cranking away and it will continue to crank away through tomorrow morning. As always I'll keep an eye on any changes but most coverage at this point will switch away from the forecast and tracking the storm as it is ongoing. I'll have any updates on Facebook or the website through the afternoon and into the evening.
Thanks for following along, stay warm and stay safe out there!