A tricky forecast coming together as we start this week - some models continue to want to pull the storm to the South, others not so much. Some models tend to shear out the low associated with this storm and others don't. Suffice to say, we are around 36 hours out on this storm's arrival and our forecast confidence is medium at best... perhaps we will receive better clarity as we go through the day on Monday? Either way, here's the latest data as of this morning, but I stress: this forecast is very fluid and will most likely change several times through the day on Monday and Tuesday. As such, don't' focus too much on fine details just yet, just observe the trends (warmer/colder, snowier/less snowier and in which areas, timing earlier/later, etc...)
---
WINTER WEATHER HIGHLIGHTS
Winter weather highlights have been issued primarily for Eastern, Southeastern and Southern Colorado. Currently the Denver Metro Area is not under any highlights, but we will watch throughout the day Monday to see if that changes.
Details below: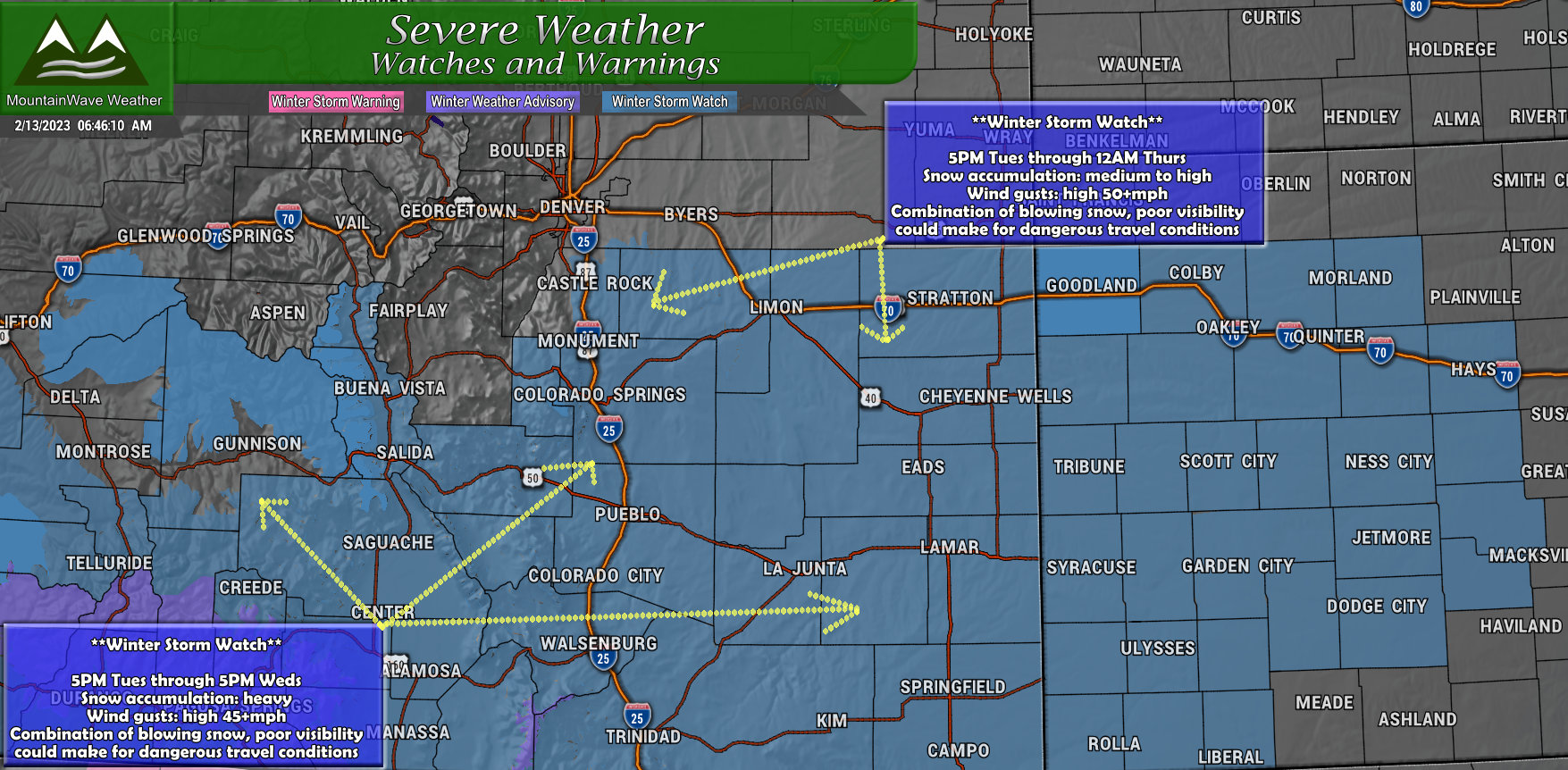 There are a couple of different Winter Storm Watches in effect, here's the details on both:
Winter Storm Watch
...WINTER STORM WATCH REMAINS IN EFFECT FROM LATE TUESDAY AFTERNOON
THROUGH WEDNESDAY EVENING...
* WHAT...Heavy snow possible. Total snow accumulations between 3 and
7 inches possible. Winds could gust as high as 50 mph.
* WHERE...Castle Rock, Limon, and Southern Lincoln County.
* WHEN...From late Tuesday afternoon through Wednesday evening.
* IMPACTS...Roads will likely become slick and hazardous. Travel
could be very difficult. The hazardous conditions could impact the
Tuesday evening and Wednesday morning commutes.

...WINTER STORM WATCH REMAINS IN EFFECT FROM TUESDAY AFTERNOON
THROUGH WEDNESDAY AFTERNOON...
* WHAT...Heavy snow possible. Total snow accumulations of 4 to
10 inches with a foot or more possible along the northeast
facing slopes of the Wets and Sangre De Cristo mountains.
Winds could gust as high as 45 mph.
* WHERE...Central and eastern Lake and Chaffee counties, Fremont
county, Teller county, the Wet Mountains and Wet Mountain
Valley, and the southern I-25 corridor including southern El
Paso, Pueblo, Huerfano and western Las Animas counties.
* WHEN...From late Tuesday afternoon through Wednesday afternoon.
* IMPACTS...Travel could be very difficult. Widespread blowing
snow could significantly reduce visibility. The hazardous
conditions will impact the Wednesday morning commute.
The watch along the Palmer Divide is the first, the second is for Southern and Southeastern Colorado.
---
*PRELIMINARY* SNOWFALL FORECAST AND DISCUSSION
Palmer Divide/ Denver Metro Area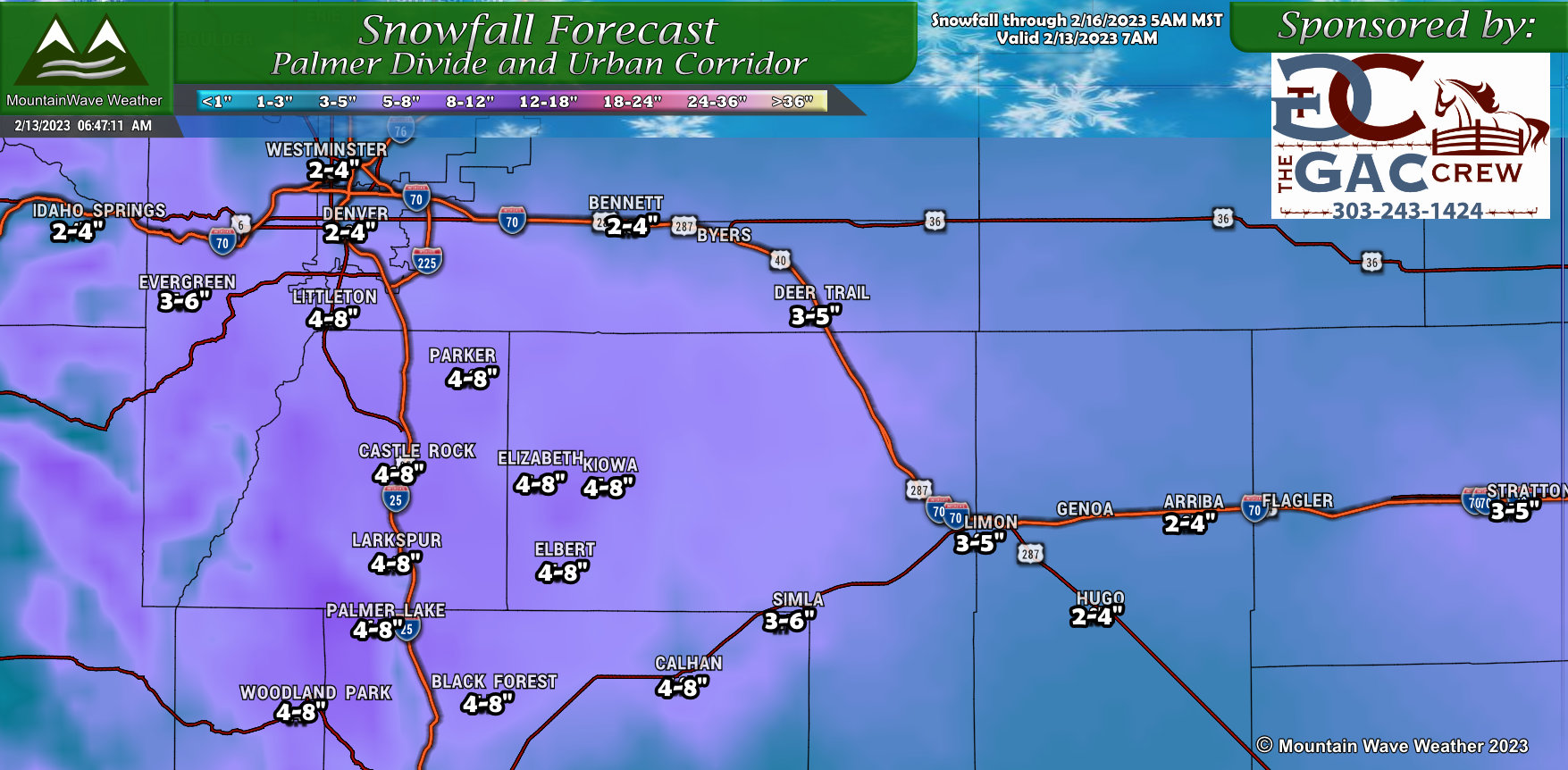 Despite the storm's shift to the South, this could actually still perform well along the Palmer Divide due to Northerly upslope winds. In regimes like this, Denver tends to do a lot worse on snowfall while areas South and East tend to pick up significantly more. This preliminary snowfall forecast shows that trend and the areas most favored, I'm not 100% sold on the exact snowfall amounts (I still think they'll do some bouncing throughout the day) but the overall story looks on point here.
Northern Colorado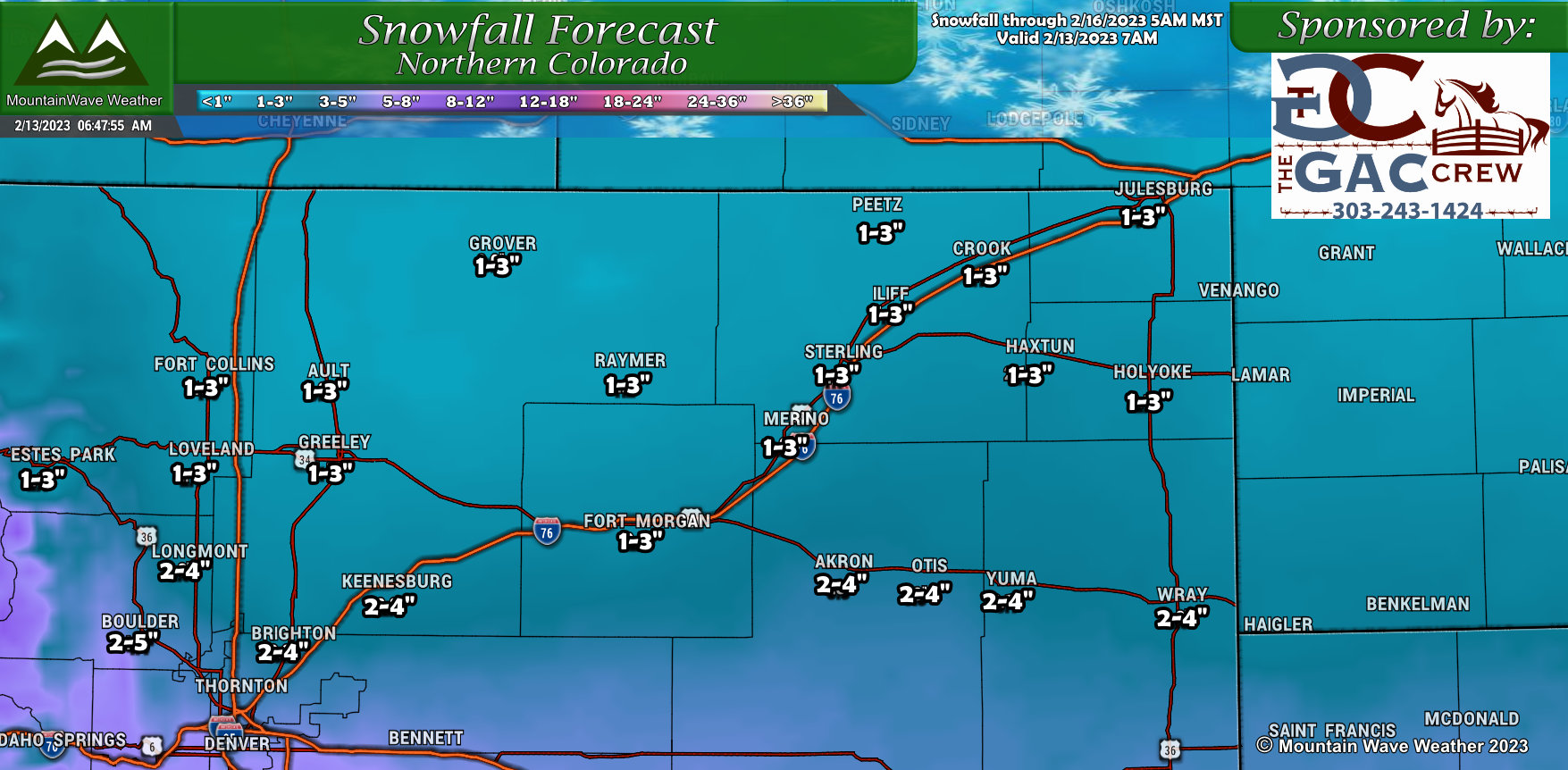 Southern storm track does not favor Northern and Northeastern Colorado much as down-sloping off the foothills and Cheyenne Ridge tends to dry things out a bit. I still think most of these areas see a little bit of snow, but I don't think they'll see too much.
Southern Colorado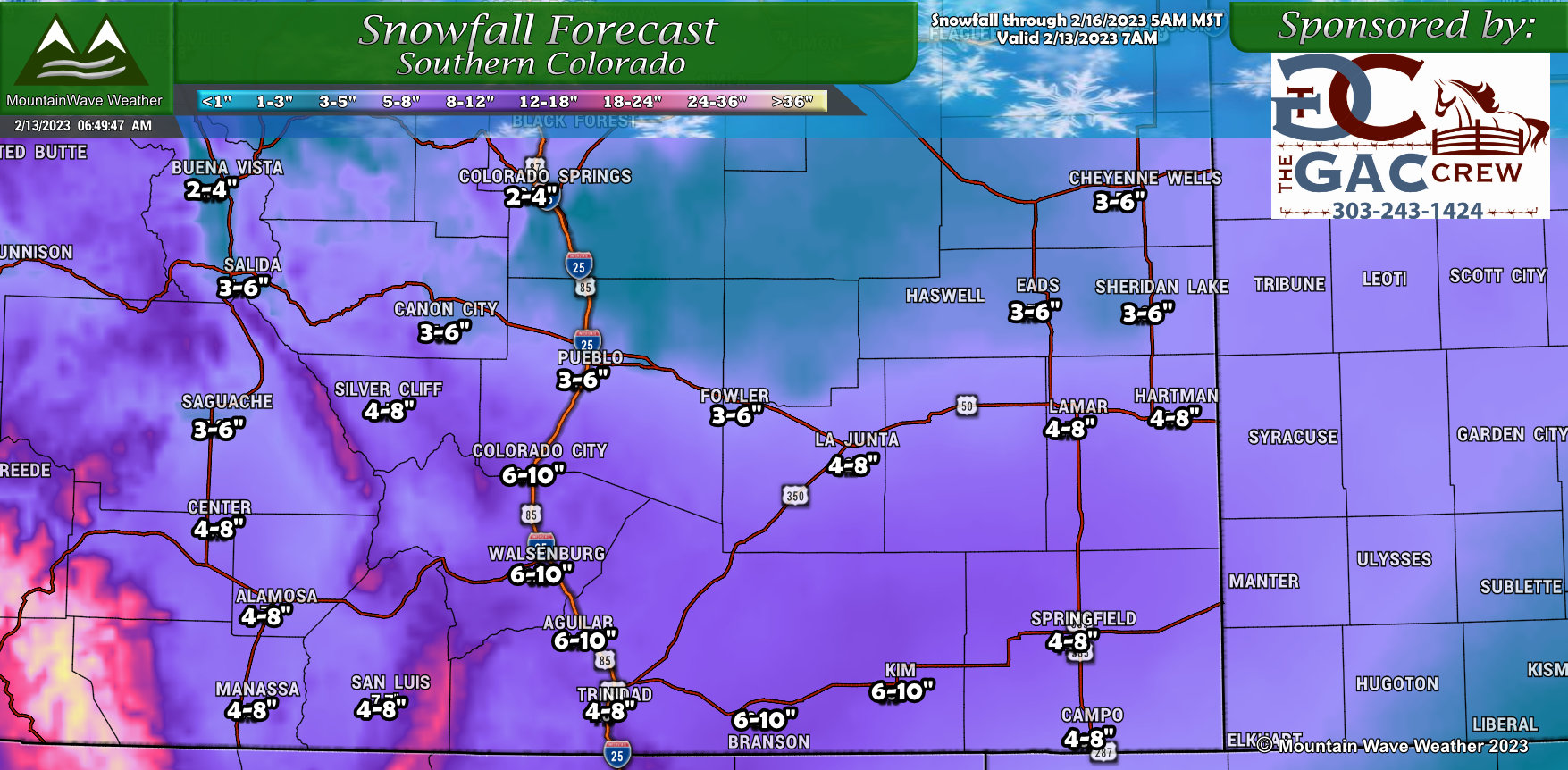 You can see which areas of Southern Colorado will be favored for snow with this storm. Heavier amounts look likely from about Pueblo and to the South, both East and West. These areas should do fairly well on snow as long as they are far enough South to get out of the down-slope range of the Palmer divide. These areas have all had quite a dry winter, so it is good to see some decent snowfall potentially heading their way.
Southwestern Colorado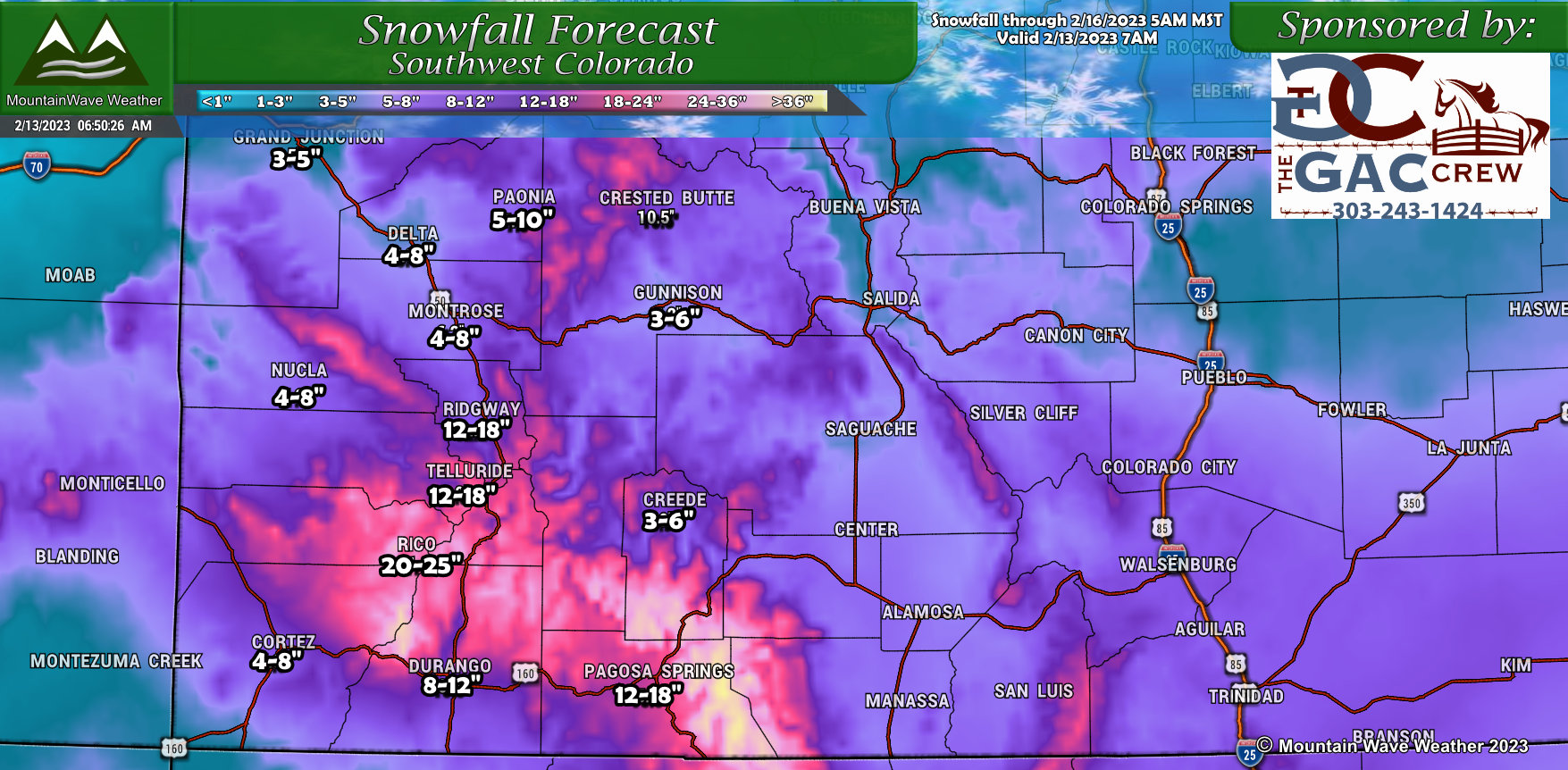 Southwestern Colorado will likely be the big winner with this storm as it stands to get the best shot of lift and moisture as the storm is still relatively organized as it crosses this region. Some higher peaks may see up to 2 feet of snow... expect rough travel conditions in those areas if you plan to head that way!
---
TIMING AND IMPACTS
The Palmer Divide impact index is shown below, it will give you a rough idea of what to expect and when. I've highlighted the Winter Storm Watch time Tuesday evening at 5PM, conditions may not be too bad at the onset of this watch... conditions may deteriorate later in the evening. It's possible that things don't get too bad until much later in the evening so not confident the Tuesday evening commute is impacted, Wednesday morning and potentially afternoon however - you'll see likely moderate impacts as a minimum
Like most aspects of this forecast, this information is preliminary and may shift in timing and intensity, keep checking back for updates.
Snow starts between 6-9PM
Winter Storm Watch in effect at 5PM
Road conditions may deteriorate rapidly later in the evening, overnight and morning hours Wednesday
Storm will move out later Wednesday late afternoon/evening, snow and wind will continue through most of the day until then
Impacts
Moderate to heavy snow accumulation is possible
Strong winds up to 40-50mph
Some areas may experience road closures due to blowing snow/poor visibility/dangerous conditions
Very cold temperatures possible Wednesday night and into Thursday morning (temps near zero, wind chills below zero)
Expect moderate impacts to travel as a minimum across the primarily the Palmer Divide, Southeastern and Southern Colorado
---
SUMMARY
The information above is all the latest information we have as of this morning. Since we are still seeing a ton of model bounce I'd rate this forecast at medium confidence at best. I'm hoping we get more solid data through the day on Monday so we can solidify some of the details we are showing.
That being said, we still can't ignore the possibility that this storm has a medium to high impact especially along the Palmer Divide. This means it is still recommended to complete preparations in case this storm verifies - better to be prepared and not need it than be unprepared.
Stay tuned for any further information!