The storm is here! With all the lead-up, all the model watching and all the forecasting, so far things are verifying quite nicely! The snow and wind has ramped up across the area and prompted the NWS to issue Blizzard Warnings. Here's the latest:
Watches/Warnings/Advisories
...BLIZZARD WARNING IN EFFECT UNTIL 5 PM MST THIS AFTERNOON...

* WHAT...Blizzard conditions. Additional snow accumulations of 6
  to 9 inches. Winds gusting as high as 45 mph.

* WHERE...Northeastern Colorado east of Briggsdale, Wiggins, Bennett,
  and Castle Rock and north of Limon.

* WHEN...Heavy snow is expected this morning with increasing
  winds. Conditions will improve from west to east this afternoon.

* IMPACTS...Travel could be very difficult or impossible. Road
  closures are expected and rural roads may become impassable.
  Areas of blowing and drifting snow will significantly reduce
  visibility.

PRECAUTIONARY/PREPAREDNESS ACTIONS...

Travel should be restricted to emergencies only. If you must
travel, have a winter survival kit with you. If you get stranded,
stay with your vehicle.



The blizzard warning encompasses most of the central plains, eastern plains and northeastern Colorado. It includes the following cities:
Including the cities of Castle Rock, Elbert, Fondis, Kiowa,
Larkspur, Briggsdale, Grover, Pawnee Buttes, Raymer, Stoneham,
Brush, Fort Morgan, Goodrich, Wiggins, Bennett, Byers,
Deer Trail, Leader, Agate, Hugo, Limon, Matheson, Crook, Merino,
Sterling, Peetz, Akron, Cope, Last Chance, Otis, Julesburg, Ovid,
Sedgwick, Amherst, Haxtun, and Holyoke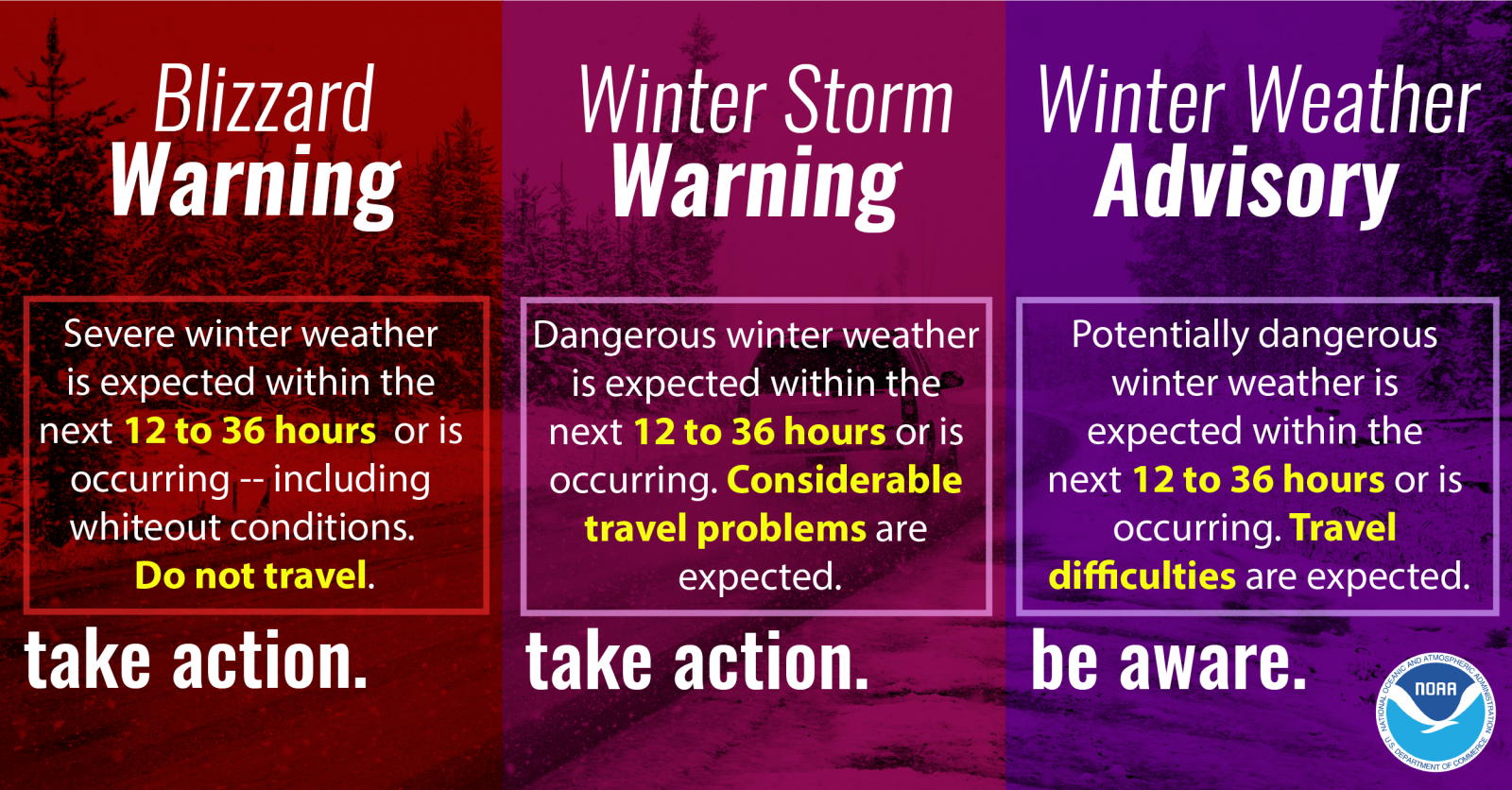 In case you needed a refresher about any of the winter weather highlights. Remember a Blizzard Warning is more about the winds blowing the snow than how much snow actually falls. Criteria for blizzard warnings is all around the wind.
Forecast/Hazards/Timelines/Impacts (The Need to Know Planning Stuff!)
These details are largely the same as my morning post with a few slight tweaks…
Impacts
Snowfall/Travel Impacts
Dia is reporting nearly 500 flight cancellations. If you have travel plans at all today or tomorrow, check your airline status before you go to the airport
Many roads are closed or impassible, especially in rural areas East of I-25 out onto the plains
Severe travel impacts are occurring, do not travel!
Timing
Tuesday

Heavy snow will continue for many areas through early afternoon
Snow tapers off afternoon, lingering snow showers are possible in some areas South of Denver into the evening hours
Storm moves out by evening with clearing conditions

Wednesday

No snow is expected
Winds and blowing snow will still be possible, especially out on the plains
Improving travel conditions throughout the day
Snowfall – Additional Snowfall Expected
This update was posted at at 5AM this morning. This is a look at *additional snow* on top of what you had at around 5AM.
Many areas will see significant storm total snowfall from this system.
As you can see, areas along the Palmer Divide and out onto the plains still have a ways to go with this storm. Expect additional snowfall, heavy at times, to fall through the morning and into the afternoon. Travel is not recommended on the roadways until after at least 12PM. Some areas on the plains may continue to see impassible roads and restrictions on travel through 5-6PM
Current Snowfall Totals - As of Early This Morning
We don't have a ton of snow reports in as of this morning as the storm is still ongoing and heavy accumulations are occurring, but nonetheless here's what we have in via NWS as of early this morning:
Elizabeth: 12 in.
Johnstown: 8.5 in.
Longmont: 9.5 in.
Broomfield: 6.6 in.
Denver International Airport: 7 in.
Downtown Denver: 5 in.
Highlands Ranch: 5.5 in.
Aurora: 6.6 in.
Keep in mind, these are form a bit earlier so a lot of these areas may have seen more than this already. We should get more reports when the storm starts to let up this afternoon, until then we will wait!
Summary