A powerful storm system is organizing over the Western U.S. this morning and is rolling through California into Nevada. This system is undergoing rapid "cyclogenesis" similarly to the storm that just rolled through Colorado. This is also called "explosive cyclogenesis" when a storm system rapidly intensified in this fashion; it's more commonly known as a "bomb cyclone" in the media these days. It's a fascinating process, but that's a story for another day.
Let's look at what this means for Colorado!
Wednesday 11/27/2019
Wednesday will be a quieter day across much of Colorado as we will be stuck between two storm systems. The one the left us yesterday has moved over the Northern Plains and into the Great Lakes region. The storm to the west is rapidly intensifying and pushing westerly and southwesterly flow into the state. Flow like this can bring snow showers to the mountains if moisture is right, in this case only the Southwest mountains look to see any accumulation over the next 24 hours.
The southeastern Colorado region may see a slight bit of snow accumulation as well, but nothing major.
Thursday 11/28/2019 - Thanksgiving
As we move into Thursday, the low continues to spin in and off of California. The Southwest flow intensifies into Colorado and with that moisture streams into the SW corner of the state.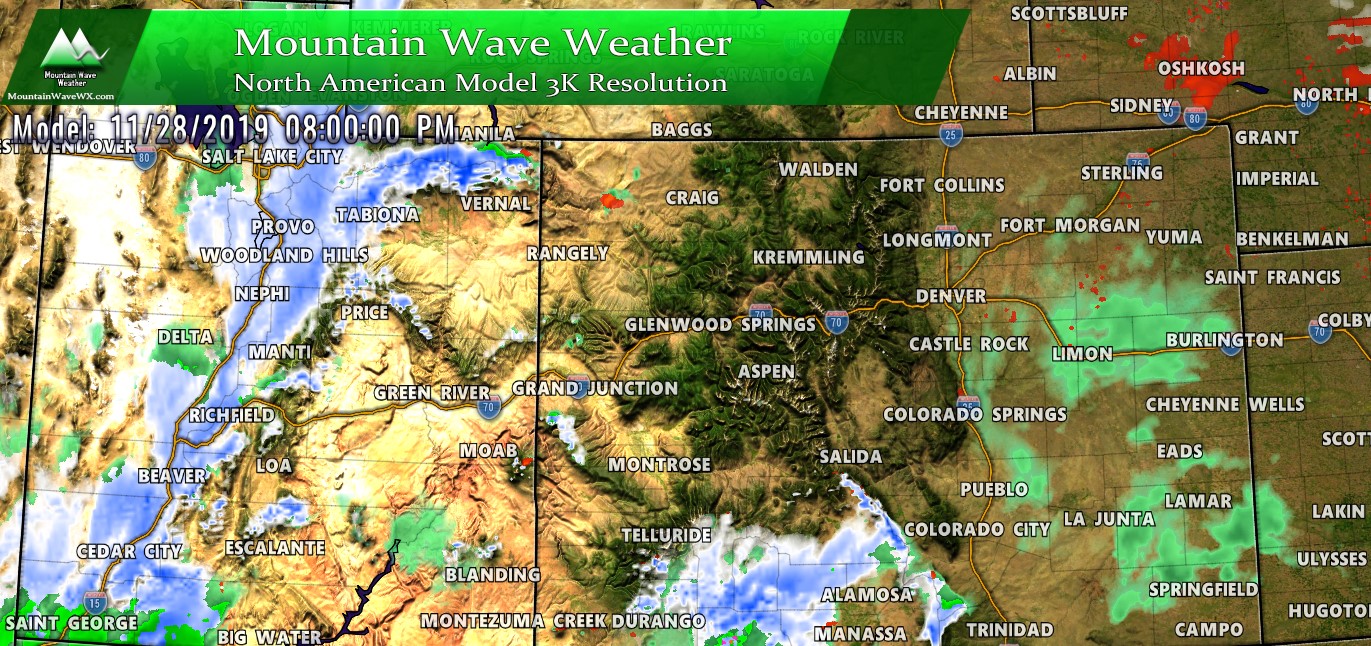 The theme remains the same through the day. Southwestern mountains will see most of the action through the day Thursday so we don't expect a lot of travel impacts outside of that area. Notice the heavy snow organizing over Utah though, that's the leading edge of the next storm system.
Friday 11/29/2019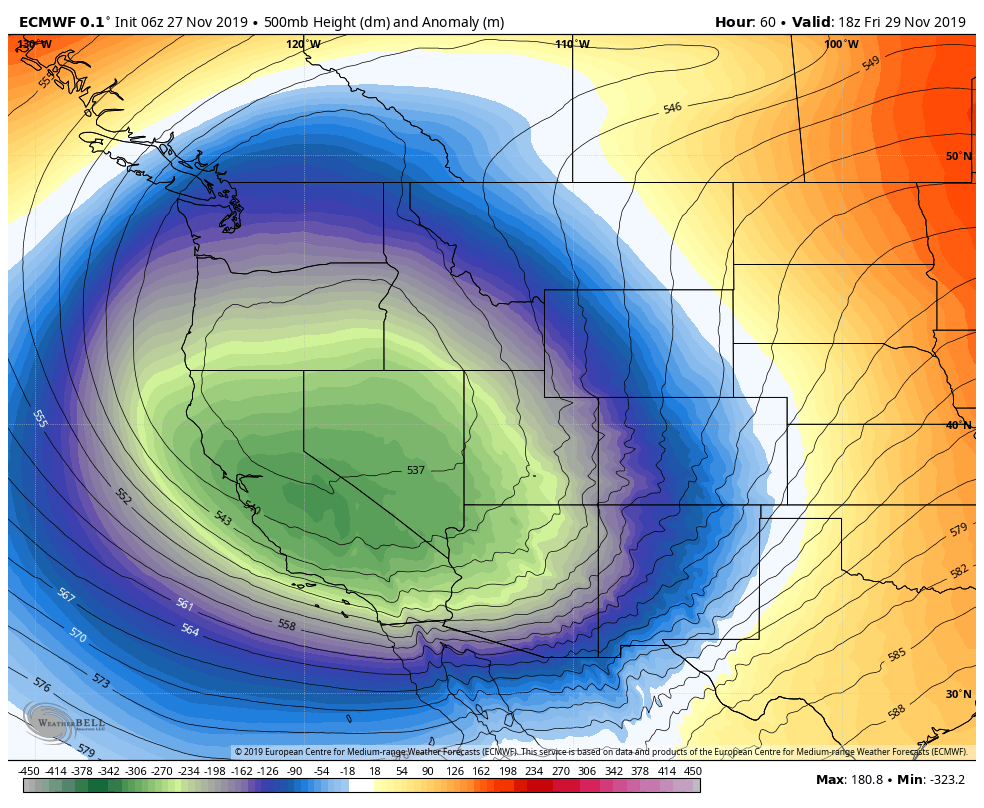 By early Friday, the storms energy makes it into Western Colorado. This means more widespread snow (and rain for lower elevations) showers begin to appear across much of Western Colorado.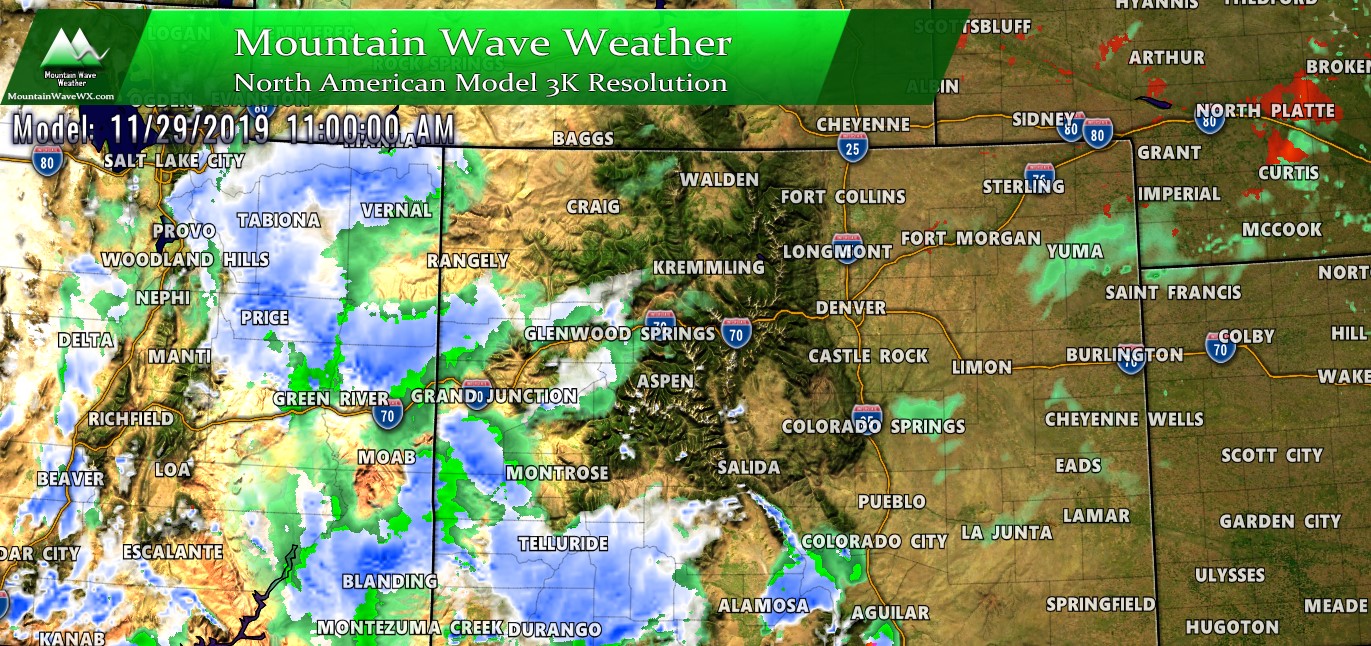 The Main Takeaway
This powerful storm sets up shop too far North once it moves across the mountains to make much of an impact over Eastern Colorado. The big winners for snow will be the mountains (especially the Southwest mountains) The Euro and GFS (longer range models) are in pretty good agreement with which areas see the most snow. As such, if you are travelling through Southwestern Colorado or the mountains you'll want to keep a close eye on the forecast.
For the Eastern half of the state, we are not expecting much impact in the way of snow right now. I wouldn't be surprised to see gusty winds late Friday, through Saturday and possible Sunday across the plains.
Why A Big Deal Then?
A lot of you may be asking; what's the big deal? Why are we even writing about this storm?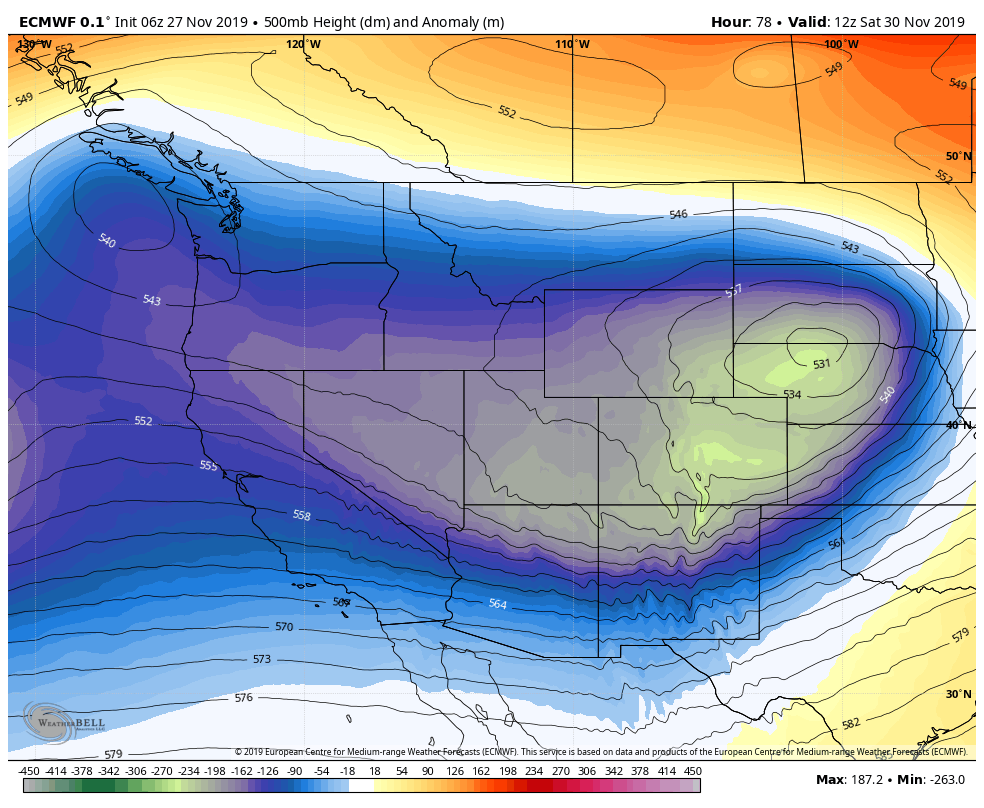 While this storm doesn't look like a threat; we do have to watch it. Right now most models have it re-organizing to the North, meaning Wyoming and Nebraska see the worst impacts, but if this storm should wobble 100 or so miles South, it could mean the front range sees a much different result. We do have to keep an eye on it just in case, but at this time there's pretty low confidence in that thing sliding South.
I'm travelling today, so next update will probably be tonight. I'll be keeping an eye on the storm as it evolves and will have updates as needed. Stay warm and stay safe out there today!
**For those with specific travel questions over the next few days; send me a message with where you're going and when and I'll get back to you as soon as I can!