Not a long update for this post as much has remained the same based on the model data we see this morning. We will be making just a few tweaks to timing and snowfall, but impacts remain the same - expect a high impact storm.
Watches/Warnings/Advisories
Not a ton of changes to these but here's the latest Winter Weather Highlights as of this morning:
NWS update as of this morning:
URGENT - WINTER WEATHER MESSAGE
National Weather Service Denver CO
506 AM MST Mon Nov 25 2019

...STRONG WINTER STORM APPROACHING NORTHERN COLORADO...

.A winter storm will strengthen as it moves over the mountains
and across northeastern Colorado and neighboring states tonight
into Tuesday. A large area of heavy snow is likely from the
northern Colorado and southern Wyoming mountains eastward into
western Nebraska and northwest Kansas. The heavy snow will begin
in the northern mountains of Colorado this afternoon and spread
southeast to the Fort Collins and Denver area during the evening,
and then across the rest of northeast Colorado overnight. The snow
will end from west to east during the day Tuesday. The heaviest
snow is expected tonight in areas north and northwest of Denver,
and Tuesday morning from Denver eastward across the plains and in
the foothills west and southwest of Denver.

This storm will cause significant travel difficulties due to the
amount of snowfall. A widespread area with a foot or more of snow
is expected from the Denver metro area and highway 36 on the
plains northward into Wyoming and the Nebraska panhandle.
Conditions will deteriorate Monday evening from Denver northward
and overnight on the eastern plains. The worst conditions will be
Tuesday morning, when very heavy snow is likely around Denver and
winds will be increasing on the plains. Winds will increase on
Tuesday, with gusts to 30 mph near the mountains and 40 mph on the
plains. There will be some drifting of snow in rural areas, and
near blizzard conditions are possible east of Fort Morgan and
Deer Trail during the day Tuesday. Conditions will improve from
west to east Tuesday afternoon as the snow moves eastward and
winds decrease late in the day.

People planning travel in northeastern Colorado tonight or
Tuesday should consider traveling today or waiting until the storm
passes. Travel may become impossible across the I-25 urban
corridor and across the plains from I-70 northward by Tuesday
morning, including unplowed city streets with a foot of new snow
on them. You should have what you need for a day at home on
Tuesday.
Forecast/Hazards/Timelines/Impacts (The Need to Know Planning Stuff!)
Not many of these details have changed from my previous forecast so rather than re-hash a dead horse and copy/paste the same text I'll post some NWS graphics as they'll be more helpful than re-reading the same things from yesterday.
Impacts
NWS: This is a significant storm. Even if the forecast amounts change slightly either way, it is still a significant storm. Plan now. Don't travel, and if you insist on traveling, don't expect to get very far very quickly. If you are traveling by air, check with your airline for updates. If you are traveling by car, check with cotrip.org, and if you are traveling by tauntaun you may get somewhere.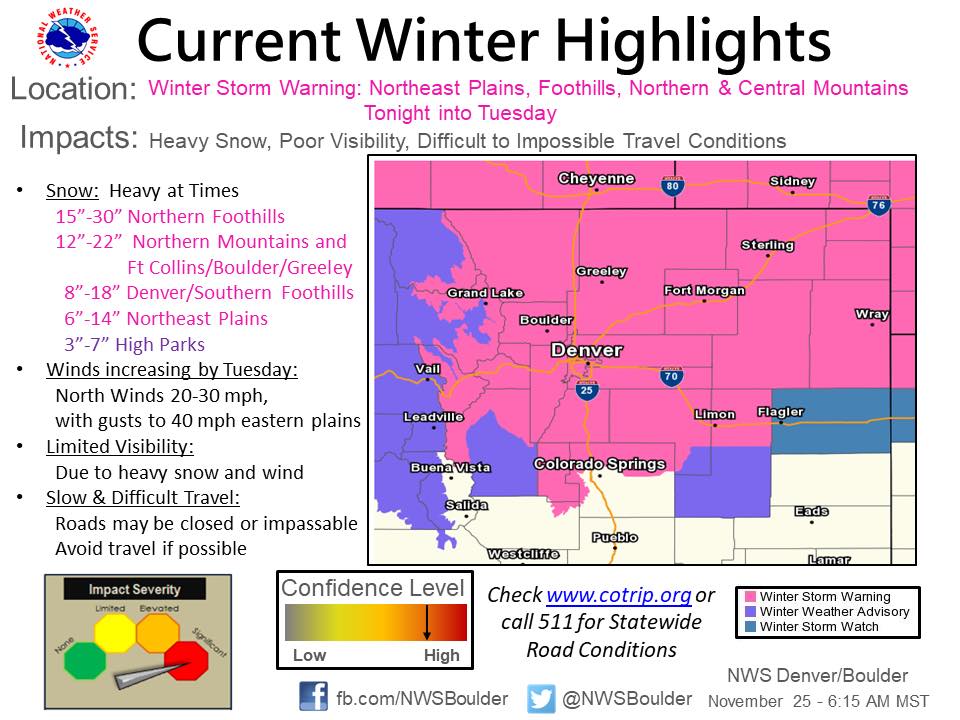 Timing
Only changes to forecast timing

Monday evening

less impact during evening commute
heavier snow starts a bit later in the evening
Heaviest snow in the overnight/early morning hours

Tuesday

High to severe impacts to travel for many areas by daybreak Tuesday
Travel will become dangerous to impossible early Tuesday
Snow moves out later in the day Tuesday
I have posted the NWS graphic for timing below as I think it's a good illustration on timing of heavier snowfall: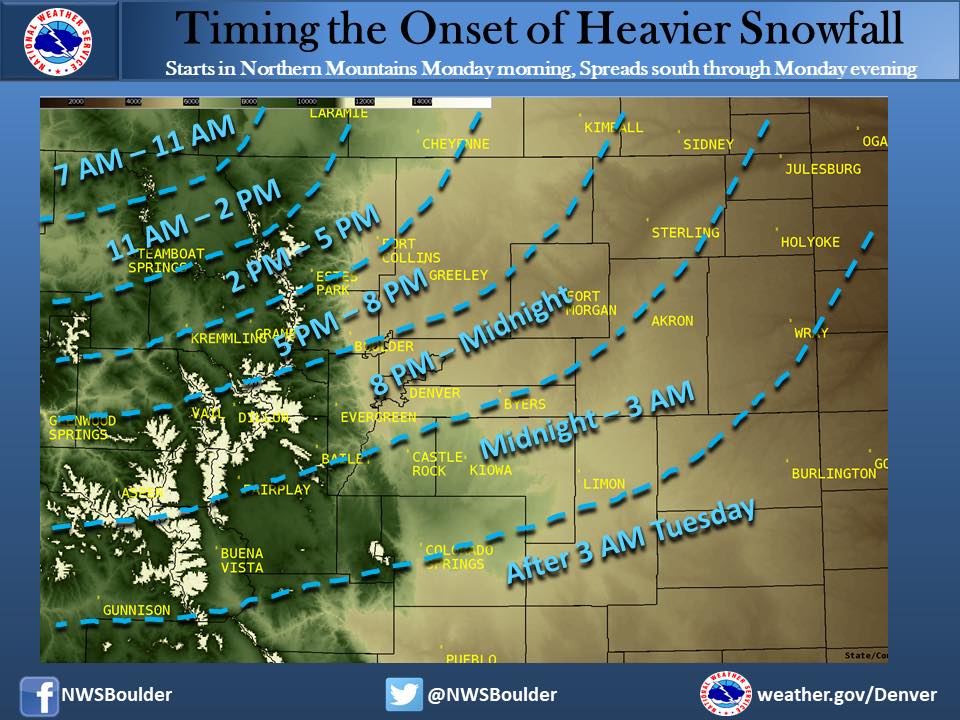 Models have bounced a bit this morning to lower snowfall totals...remember it's only one run and they tend to do this fairly often before a large storm moves in. With that, we are still making a few tweaks to overall snow totals in some areas, mainly upping them a bit for the areas Northwest of Denver. Our other concern is we still don't have super high confidence on the snowfall amounts along the Palmer Divide, models continue to struggle with getting areas South of Denver to reach snowfall ranges. If any area has the highest chance to bust low in this storm it's the Palmer Divide. Right now however, no changes to the snow forecast in that area.
So as you view these totals, keep in mind if there are any big changes to the snowfall forecast I think the biggest change could be to those areas South of Denver... either higher or lower. As always, this forecast is fluid like all of them, so keep an eye on it and we will pass along any changes as we can.
Big Takeaway: At this point the snow numbers don't mean a whole lot. The impacts are likely going to be high for several areas with this storm. As far as I'm concerned whether you get 6 inches or 14 inches of snow, doesn't matter if the roads and airport are closed.
Please remember, whatever happens with the snow totals, be prepared for a high impact storm.
Summary
So a short update this morning (have to get ready for work.) Remember to make sure your prepared and continue to watch the forecast. If we get more model runs shifting snow downwards (or upwards) we will adjust the forecast accordingly.
Stay tuned!