In a time of the year where we are often shifting our focus away from cold air and snow storms towards hail, tornadoes and other severe weather - for 2021 winter just wants to keep hanging on. We are no stranger to snow storms during spring in Colorado - so that in and of itself is not super unusual. What will be unusually about this storm is exactly how cold the air is with this storm system. A lot of this bitter cold air that will move through originates up in Alaska where it has been sitting for a number of days now. It will make its way down to Colorado later in the day on Monday and will crash through with what could be record cold temperatures for this time of year.
Of course with that will be enough energy and moisture to put snow down and with the colder temperatures it usually means snowfall totals will be a bit higher with this storm.
Here's the latest as of this evening:
---
Winter Weather Alerts as of 4/18/21 6PM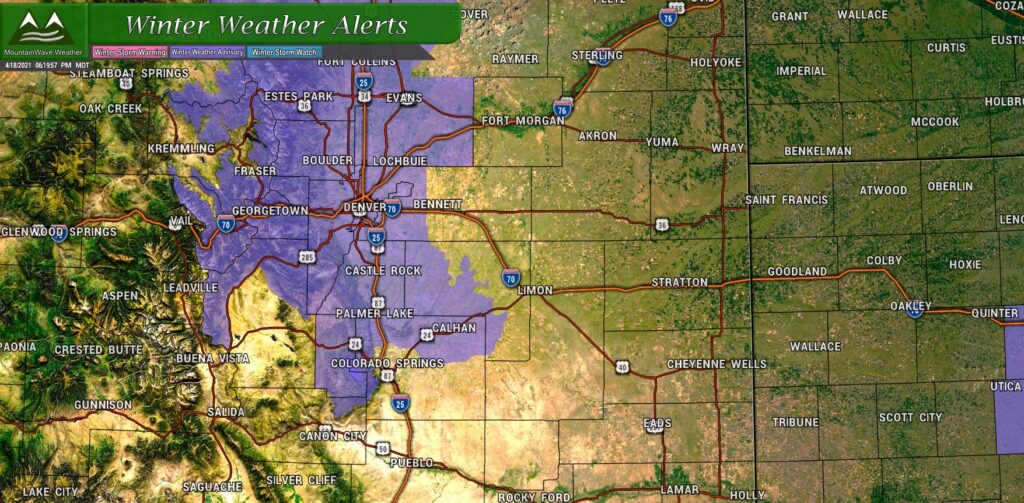 The National Weather Service has issued a Winter Weather Advisory for the Palmer Divide, front range foothills and I-25 corridor from North of Colorado Springs to the Wyoming State line. Here's the timing and details around this advisory:
..HEAVY SNOW AND MUCH COLDER TEMPERATURES MOVING IN MONDAY...

.A strong cold front will move across the area Monday morning.
Snowfall rates will be up to one inch per hour over the Front Range
mountains and foothills, especially Monday afternoon and evening.
Temperatures will drop quickly, causing possible flash freeze on
roads.

...WINTER WEATHER ADVISORY IN EFFECT FROM 3 PM MONDAY TO 3 AM MDT
TUESDAY...

* WHAT...Snow expected. Total snow accumulations of 3 to 6 inches.

* WHERE...Fort Collins, Boulder and the western suburbs of Denver,
Denver, Castle Rock, and Greeley.

* WHEN...From 3 PM Monday to 3 AM MDT Tuesday.

* IMPACTS...Plan on slippery road conditions. The hazardous
conditions could impact the Monday evening commute.
---
Snowfall Forecast
Palmer Divide / Central Colorado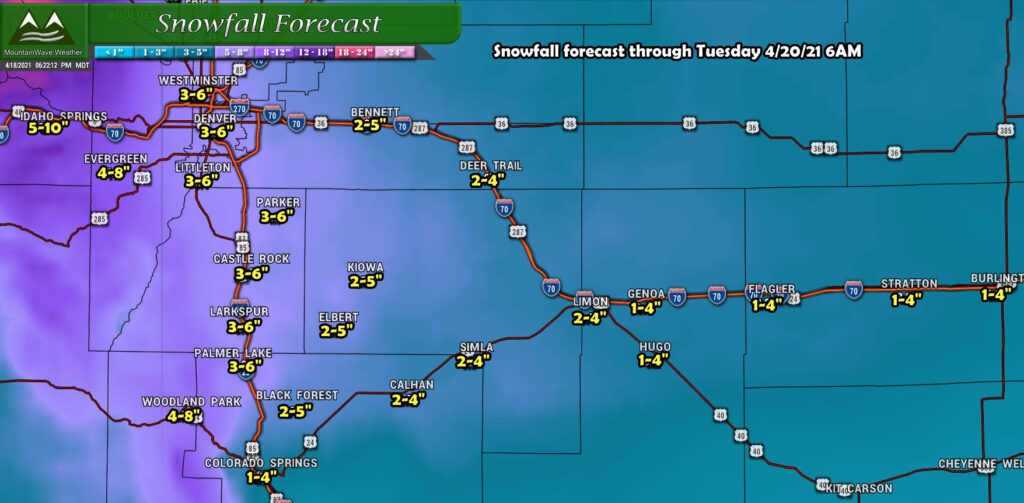 In terms of snowfall thinking with this storm, things should end up pretty similar to the last snowfall we see a few days ago. Just like that storm, the models are all over the place but there's a lot more cold air to work with in this storm, wouldn't be surprised to see a few areas overperform if those colder temperatures verify. Expect several inches of accumulation across the Palmer Divide and urban corridor... by no means a "monster" snowfall type storm, but many areas will probably see travel issues due to slick roads from heavy/moderate snowfall Monday afternoon and into the evening.
---
Arctic Cold Front on the Way! Timing and Impacts
The first thing I want to point out is exactly how cold we could be talking Tuesday morning. Here's the Nam3k's thoughts on temperatures overnight Monday and into Tuesday: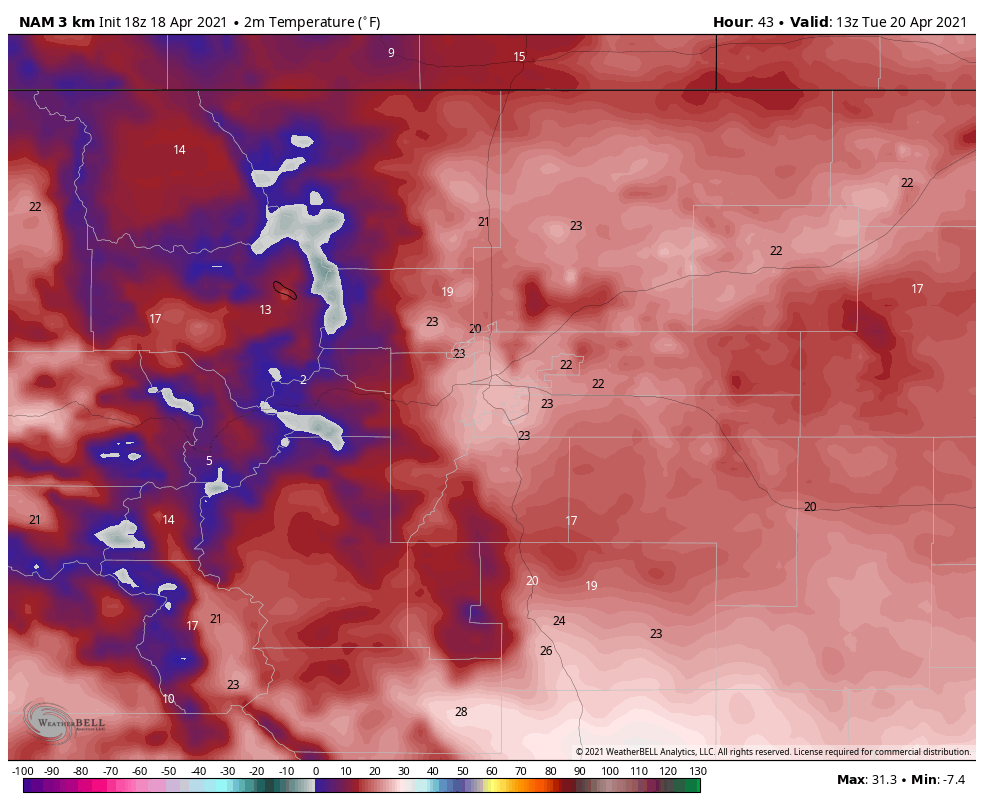 Should these verify (and we have indications that if they don't they will at least be close... if not colder than forecast) sprinkler systems and vegetation will be at serious risk of damage. This is the textbook definition of "hard freeze" especially for this time of the year. Temperatures will be well below freezing for several hours, some areas may even see temperatures into the teens... no doubt about it - this is very cold air for this time of the year.
Impacts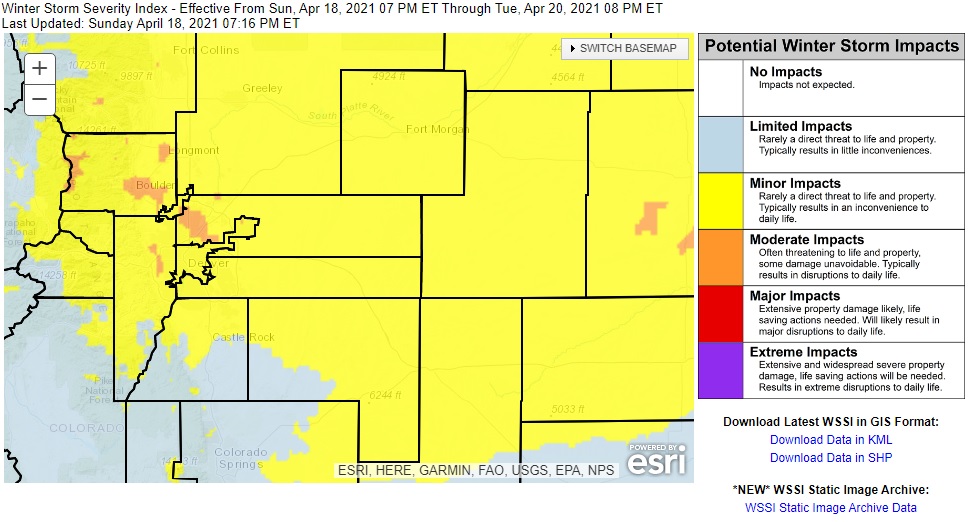 Typical snow storm impacts are possible with this storm system:
Slush accumulation on roads initially will make them slick
With plummeting temperatures expect heat on the roads to be quickly overcome and icy conditions will be likely
Travel will not be impassible (not a major storm) but due to the conditions travel will be tricky in many areas
Timing
Time to Watch:
Monday afternoon (after 12PM through Tuesday 12AM) for heaviest snowfall and travel impacts
Heaviest snow looks like late afternoon and early evening hours
Snow looks to clear the area by Tuesday morning with some lingering travel effects possible on Tuesday morning
---
Summary
As this storm moves through, there will be travel issues and snow to contend with - again not a major storm that will shut things down but as we've seen with the past few storms it doesn't take a whole lot of snow to cause travel headaches.
The question on everyone's mind continues to be "are we done with snow yet?" Given what I see later this week it looks like the answer is: probably not.
Stay tuned!