The Week Ahead
March will end and April will begin this week and in typical spring fashion, our weather along the Palmer Divide and most of Colorado will be a bit of a roller coaster ride. Monday will start out cloudy with a chance of storms in the afternoon, as of this posting I can see cumulus building over the mountains. We will expect those to move out across the plains and cause a chance for storms as a shortwave disturbance moves across Colorado.
Tuesday and Wednesday will be the poster days with temperatures in the 60's under mostly clear skies. Wednesday will feature a small chance for showers during the day but a slightly better chance will come in the evening/nighttime hours. By Thursday a stronger storm system moves through which will drop temperatures, bring a chance for showers in the day and even a chance of snow later into the evening and overnight hours.
Monday Thunderstorm Outlook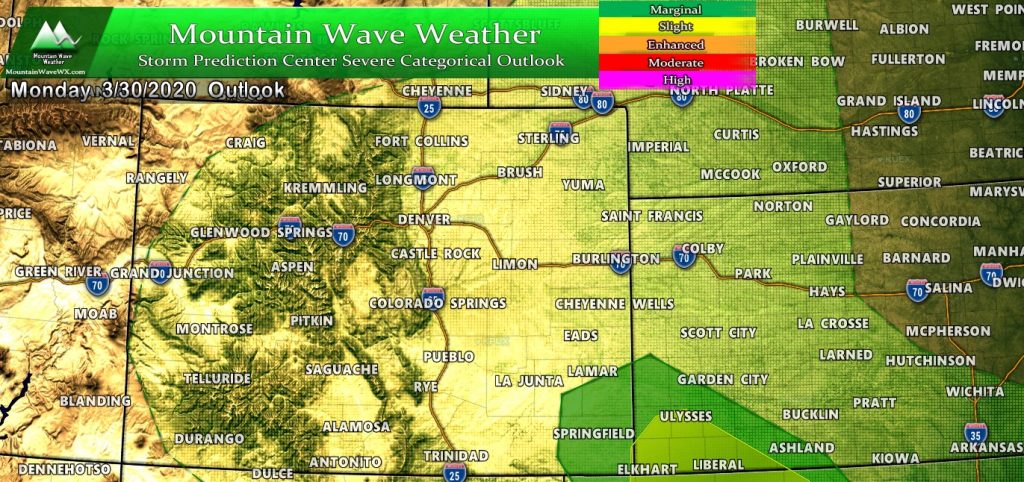 Monday's afternoon storms won't be much to write home about but the chance is there. As we move into spring you'll start seeing more of these SPC outlooks as they give us an idea of what types of thunderstorms are possible and to some degree what to expect. Most of Colorado is highlighted in what we call a "General Thunderstorm Risk" meaning severe weather is not anticipated in those areas. (This is the area highlighted in light green.)
Further into Southeastern Colorado the darker shade of green represents a "Marginal" severe thunderstorm risk. Marginal is the lowest category for severe storm threat and generally means isolated severe storms are possible but they may be short lived and scattered in nature.
If you need a refresher on the categories I've posted it below: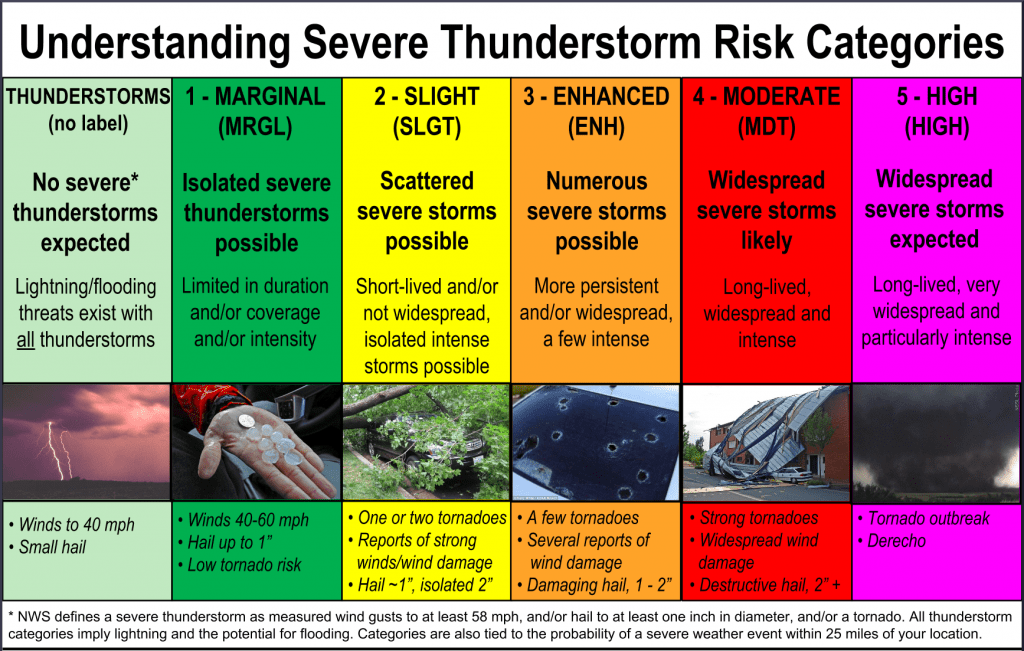 Keep this information in mind as we move into April... Colorado's Severe Storm season doesn't kick off until May usually but by the middle part to end of April we can start to see severe weather on occasion.
Look for more severe weather information coming in April, we will do our best to make sure everyone's prepared for whatever May and June will bring!