Battle of the models continues tonight. This has been an interesting storm to track because while the dynamics look favorable for a bit of snow along the Palmer Divide and front range - the shorter term models coming in tonight show this storm system as pretty much a non-event for Denver, the front range and Palmer Divide. Interestingly enough, the big 2 longer range/lower resolution models still show a few inches possible...
It makes for a very tricky forecast because while this storm looks most likely to be a dud for folks East of the Divide, there's still just enough data floating around that this one could surprise us. The odds are definitely against it though!
---
Latest Winter Weather Highlights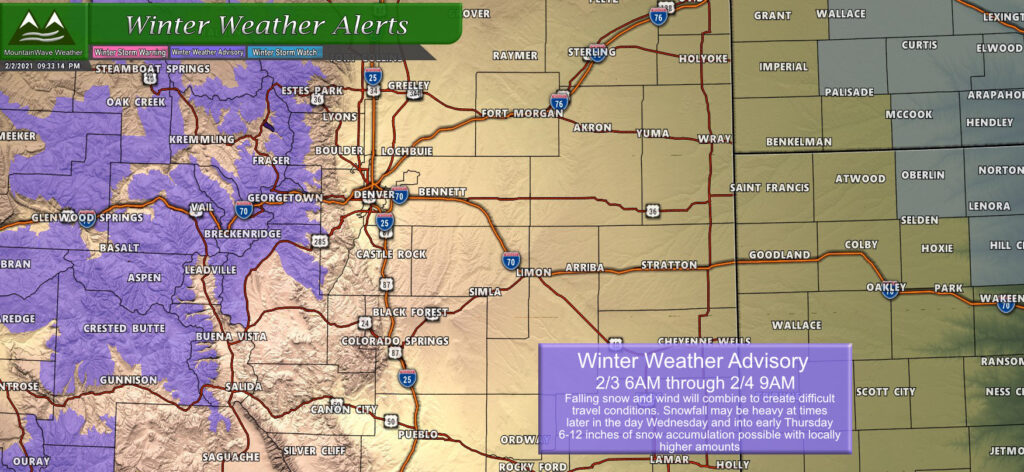 The only Winter Weather Highlights issued for this storm are confined to the mountains. The storm moves in early Wednesday but really gets going later in the day with strong winds developing and decent amounts of falling snow. By Wednesday night, wind continues and snow could be heavy at times. Be aware that if you have any travel planned into the mountains or Western Colorado that conditions will be fairly dicey by late in the day tomorrow.
---
Snowfall Forecast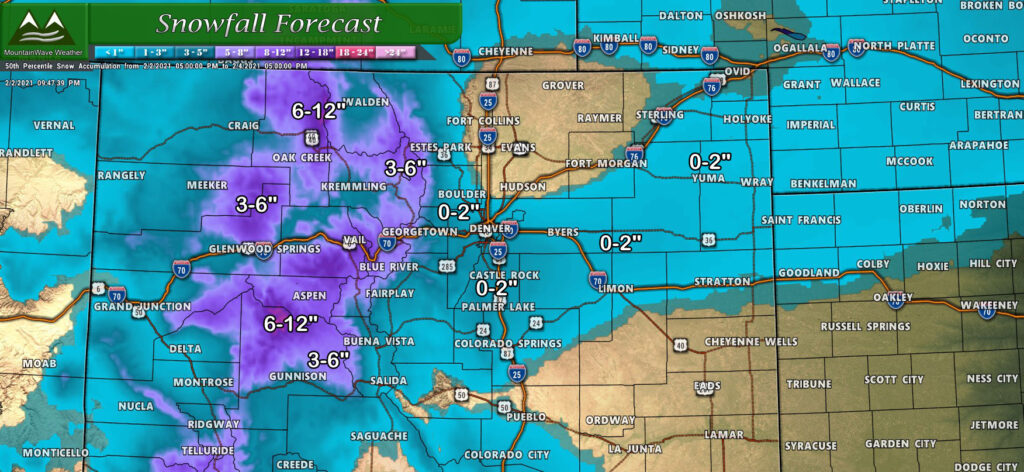 Painted a fairly broad picture of the snowfall forecast for this storm above, most front range and Palmer Divide locations may see 0-2" out of this storm while areas to the North along the Cheyenne Ridge look likely to see little to no snowfall due to downsloping off of that elevated terrain. Mountain areas will see anywhere between 3-6" to 6-12" depending on your location - the winners will most likely be around Aspen and Steamboat so expect them to pick up decent snow.

The above snapshot of the SREF ensembles shows projected snow for the region near Centennial Airport - you can see the mean is right around 1.0 inches of snow but notice how there are a couple of higher end models reaching up to 4-5 inches. Totals like this are fairly unlikely for most of the area, but with a tad bit of uncertainty on how things will act when the front moves in late Wednesday it's something worth keeping an eye on.
Some models have hinted at convective snowfall, which means very small geographical areas could see an intense burst of snow. This means while 95% of forecast areas will be at or below snowfall forecasts there is a slight 5% or so chance that your area could end up with more if it ends up under one of these areas of extra lift.
---
Summary
This all looks to move through late on Wednesday so if you are out and about just keep an eye out for rapidly changing conditions. We don't expect system-wide travel impacts from this storm, but a few select areas may get caught under that heavier snow long enough to create slick roads.
Looking ahead; February looks to start out active as modeling shows an entire pipeline of storm systems lined up to move through Colorado. None of these look great for the front range or Palmer Divide as of yet, but the mountains should start to see beneficial snowfall from many of these storms.
As always, we will keep you ahead of these storm systems and will let you know if any of these turn out to look more interesting as we get more data in.