A spring storm system moved through the area late Thursday night and into Friday morning, with a small piece of energy bringing a tiny bit of snow late Friday and into Saturday morning. The models were really all over the place with this storm (see the GFS madness a bit later in the article.) Despite that, we feel pretty good about how the forecast turned out in terms of timing, impacts and overall snowfall totals.
---
Go Home GFS... You're Drunk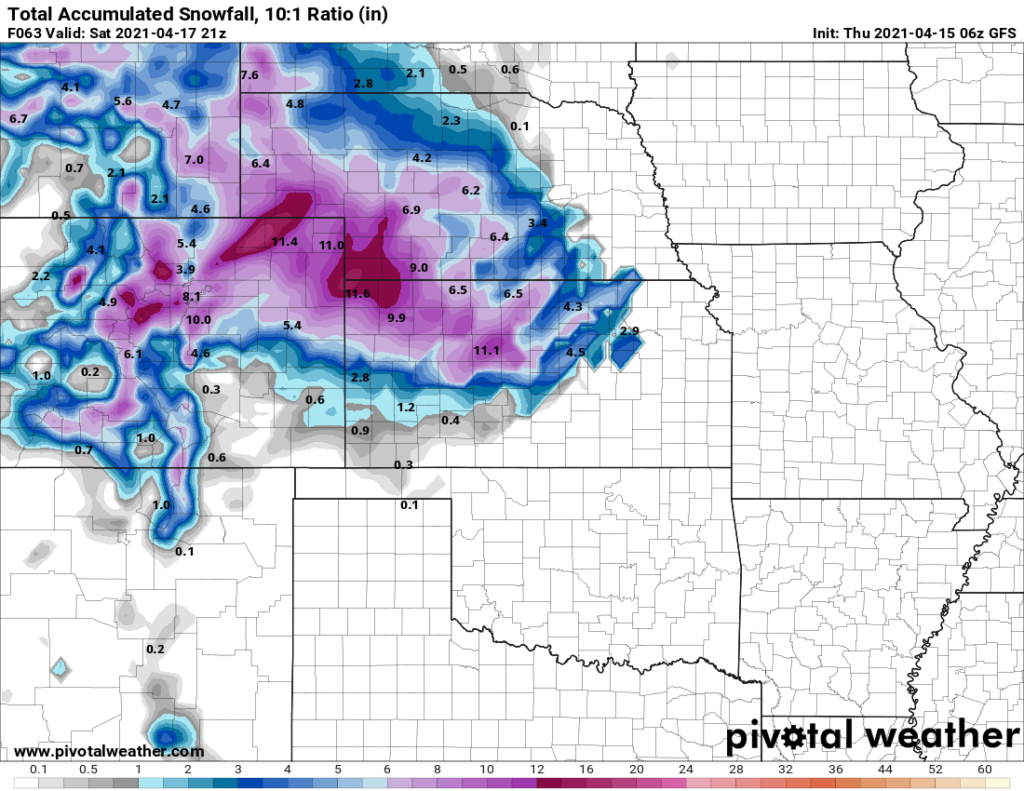 Here's one of the earlier model shots from the GFS a bit earlier in the week. I've only included it for this storm to emphasize how bad the GFS has been this year. The only consistency it is had is that it has snowfall overperforming on nearly every snow storm we've had this year. If you take the GFS into account as part of your forecast (for those that are into forecasting) the only thing you can be sure if is that the GFS is very overdone... or you'll throw it out completely as it is often an outlier.
---
Snowfall Forecast Discussion
Given the challenges with these later spring storms and how the temperatures, sunlight and melting/compacting I was fairly happy how the forecast performed. Timing looked good, impacts were about how we expected and even though I don't like to place a lot of emphasis on snowfall totals for a forecast, it is what we get judged on the most. That being said, with very few exceptions the snowfall accumulation ended up within our forecast ranges.
---
Looking Ahead - We're Not Done With Snow Yet!
I've attached the 500 millibar height anomaly as shown by the Euro for the Monday/Tuesday timeframe as that will be the next system we will be watching. I won't get too technical with this product but if you haven't seen it before the general idea is blues/greens/purples are colder and unsettled weather while yellows/oranges/reds generally mean warmer and dryer weather. Notice the big trough just to the Northeast of Colorado.
This is not a typical setup that gives us a lot of snow, but as a cold front races through from the North there will be enough lift and moisture that we could squeeze some decent snow showers out of the clouds. Not really thinking a ton of snow, most models generally have a few inches at most along the front range.
So, keep this in mind if you have plans later Monday and into Tuesday. While we don't see a lot of snow with it, these type storm systems can product a quick burst of moderate to heavy snow that can overwhelm warm roads quickly and cause travel headaches.
Stay tuned for more updates on that!