Snow Totals - Storm Discussion from our April Arctic Blast!
The big news other than the snow is exactly how cold we are starting this morning. Many areas across Eastern and Central Colorado are seeing temperature more akin to a January morning than April. No double that this deep freeze consisting of several hours of temperatures in the lower teens will cause some stress on trees and other vegetation. If you did turn on any water or sprinkler systems outside you may want to check those pipes for damage once it warms up.
In terms of snowfall, everything behaved pretty much as expected. Snow moved in quickly and put down several inches for most areas. As we discussed, travel was fairly tricky for many folks last night but like we predicted, it wasn't a major snow event causing impassible roads or stranded travelers. Looking at the snowfall totals map vs our forecast most areas were within our forecast range with only a few outliers - that marks a good forecast in my book!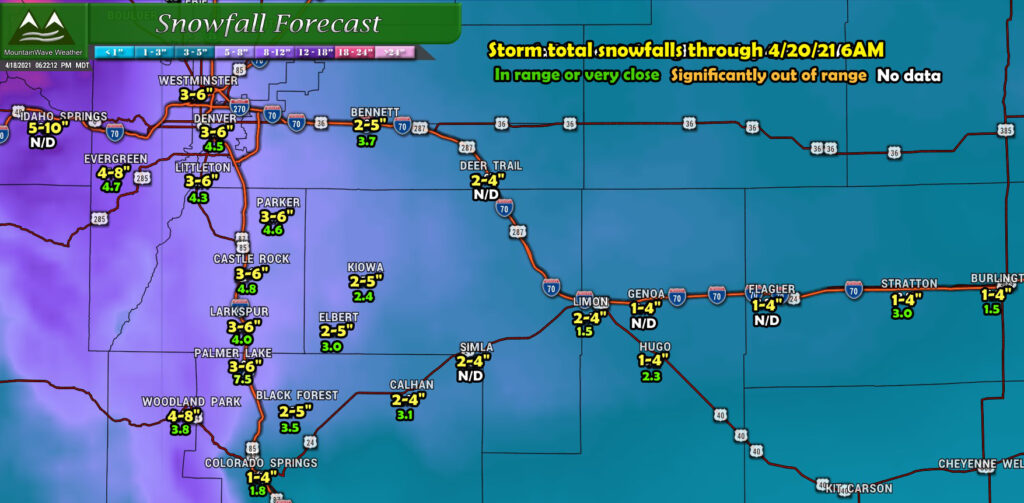 ---
Next Storm System
There is yet another storm system moving through Wednesday and Thursday that could bring yet more snow to the area. It does look like a lot less organized storm than the past couple we've seen so while snow is on the table it looks likely that snowfall amounts will be less.
Be sure to stay tuned to our site and Facebook as we will have any updates with that storm!