Just a quick update for this evening as data is coming in about this weekend's storm. There aren't any adjustments to our forecast as of tonight but new weather highlights have been issued by the NWS and the potential for high winds due to downsloping along the front range deserves a quick note as well.
Winter Weather Highlights
I want to put a few of these back up as there have been a few changes...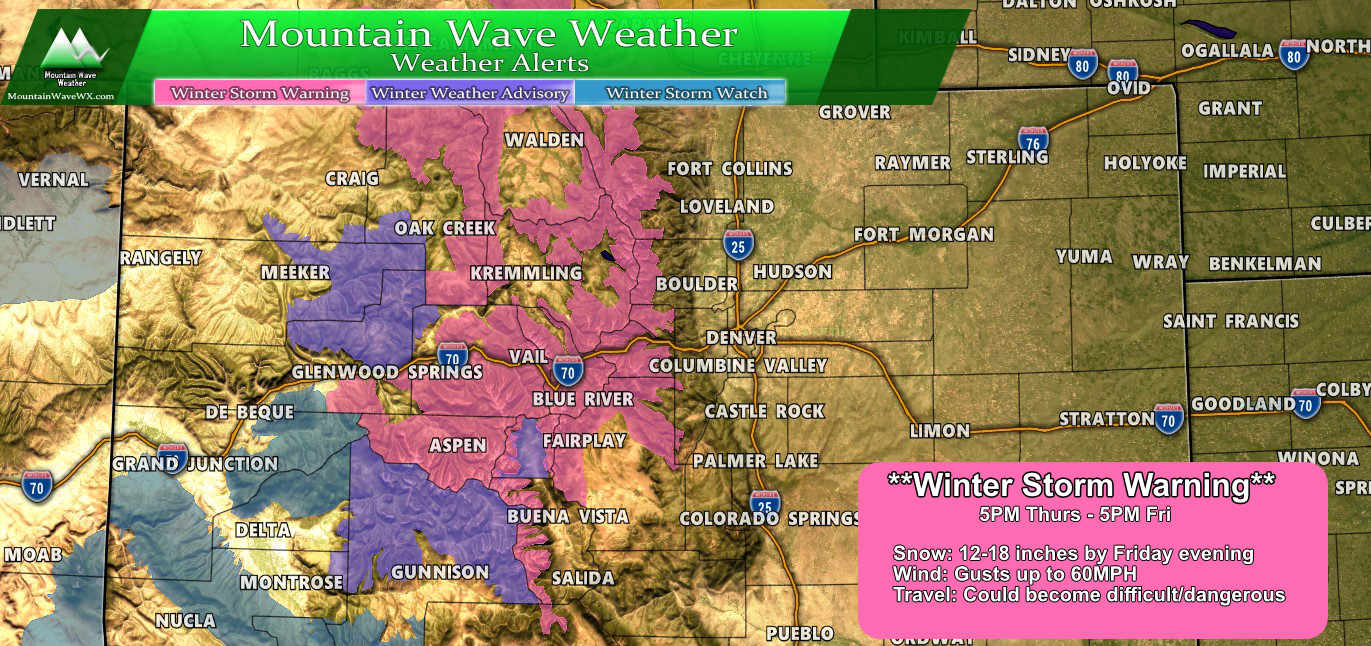 The Winter Storm Warning issued from 5PM this evenign to 5PM tomorrow is still valid, along with the Winter Weather advisories for areas towards the Western Slope.  From the NWS:
Travel through the mountains will be difficult from Friday
through Sunday, especially during periods of moderate to heavy
snow and strong winds. If you are planning to travel through the
mountains Friday through Sunday, check cotrip.org often for the
latest road conditions and be prepared for extremely difficult
travel conditions.


The Winter Storm Watch from 5PM Friday through Sunday 5AM is still valid as well...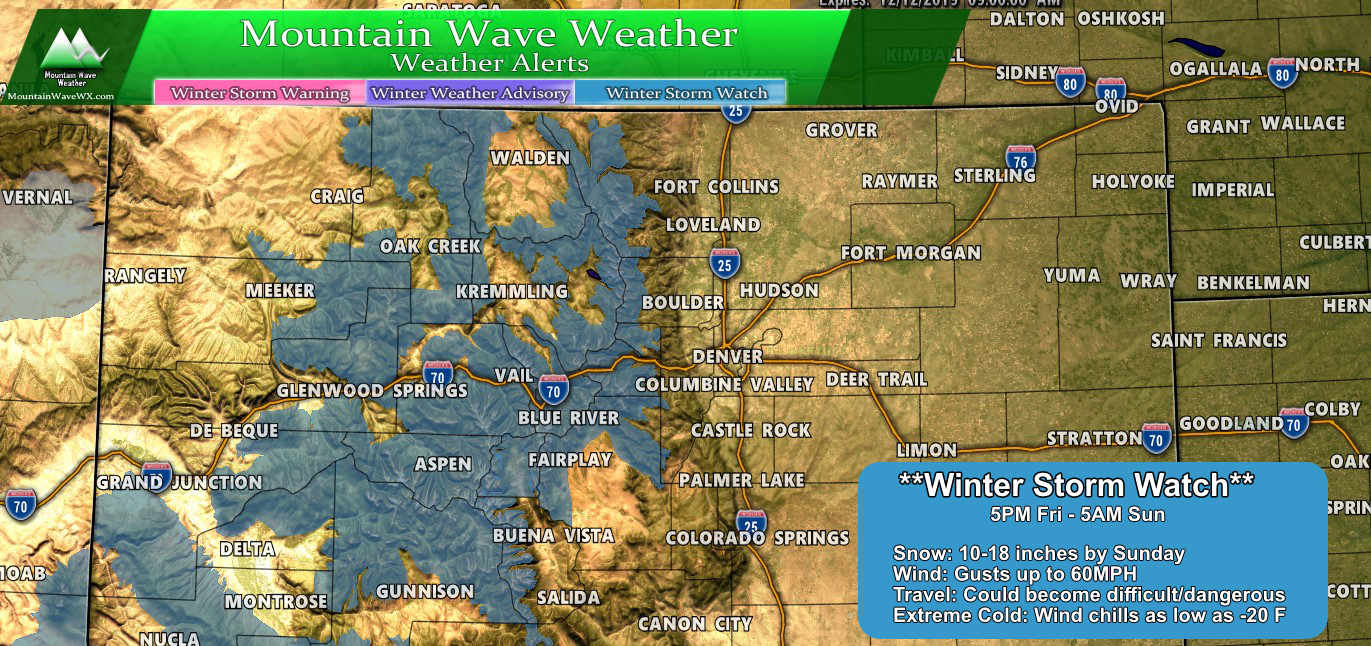 but, a new Winter Storm Watch area has been issued a bit closer to home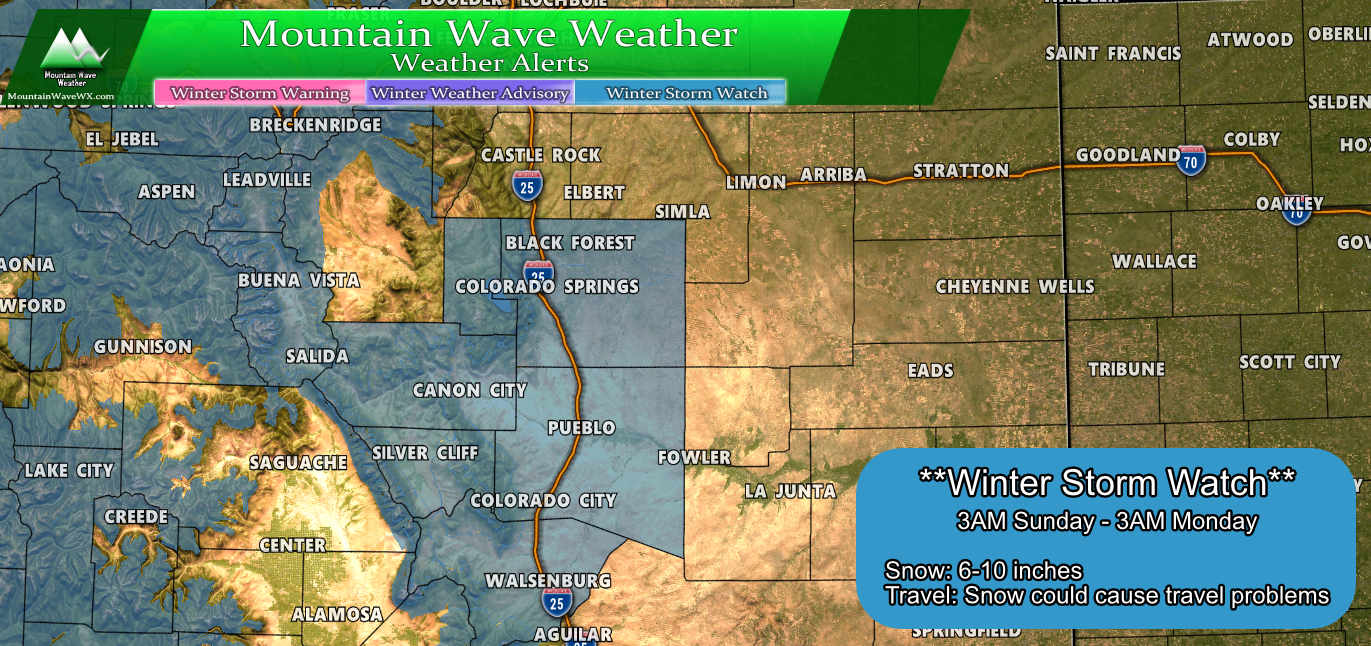 ...WINTER STORM WATCH REMAINS IN EFFECT FROM LATE SATURDAY NIGHT
THROUGH LATE SUNDAY NIGHT...

* WHAT...Snow, heavy at times possible. Total snow accumulations
  in excess of 6 inches over lower terrain locations and 8
  inches over higher terrain locations.

* WHERE...Sangre de Cristo Mountains, Wet Mountain Valley Below
  8500 feet and the Wet Mountains as well as Fremont, Chaffee,
  Teller El Paso, Pueblo and Huerfano counties.

* WHEN...From late Saturday night through late Sunday night.

* IMPACTS...Travel could be very difficult due to areas of snow.
I think it's very possible additional areas along the Palmer Divide may see some sort of winter weather highlights issued over the next 12-24 hours for this storm. Remember, the front range sees the best chance for snow on Sunday with the current timing we see. Right now models are still shifting the timeframe back and forth a bit so expect those details to change a bit, but overall Sunday looks like the action day around here.
Downsloping Friday Leads to Strong Winds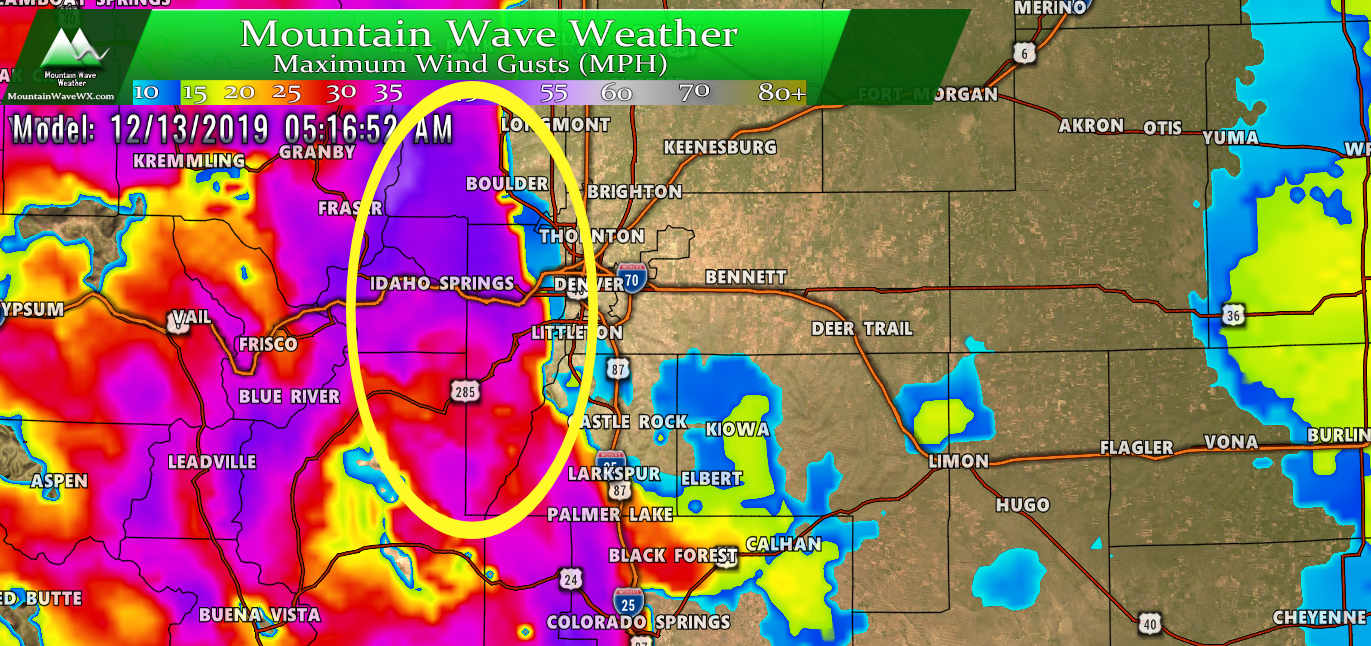 Make sure to tie things down tonight before you go to bed. Modeling shows strong winds cranking up along the foothills early tomorrow morning.
By around lunch time, most areas will see strong winds.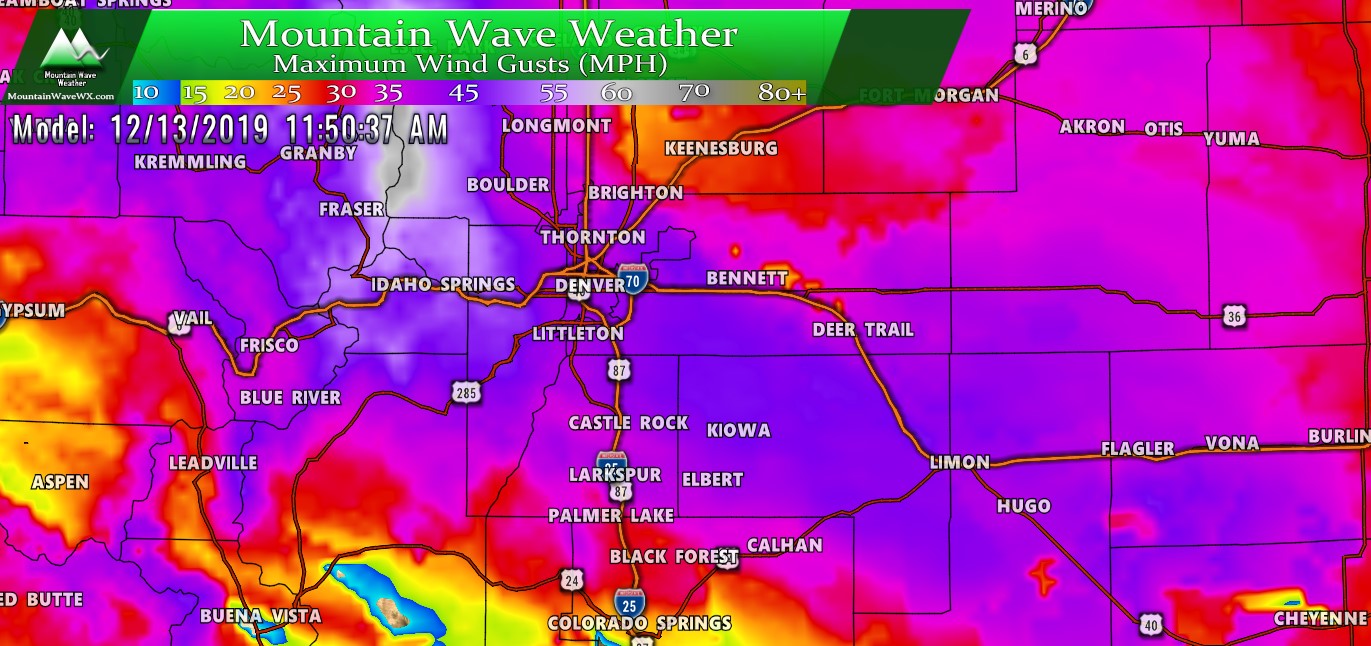 Wind gusts along the Palmer Divide and Denver could reach 50MPH. These winds will last through most of the day before winding down by the evening hours.
Summary
Things are proceeding as planned in the mountains, many areas are already reporting healthy snowfall in the high country and that will continue at this point through Sunday afternoon.
Closer to home, we still have a lot of uncertainty with snowfall, but the weekend will be active for us as well. Starting with the wind tomorrow and ending with the snowfall on Sunday. We have a wild ride in store!
Stay tuned here for updates! We will be up early looking at model data and if we see the trends of tonight continue in the model runs tomorrow morning we will be making some forecast adjustments.