Strong Storm System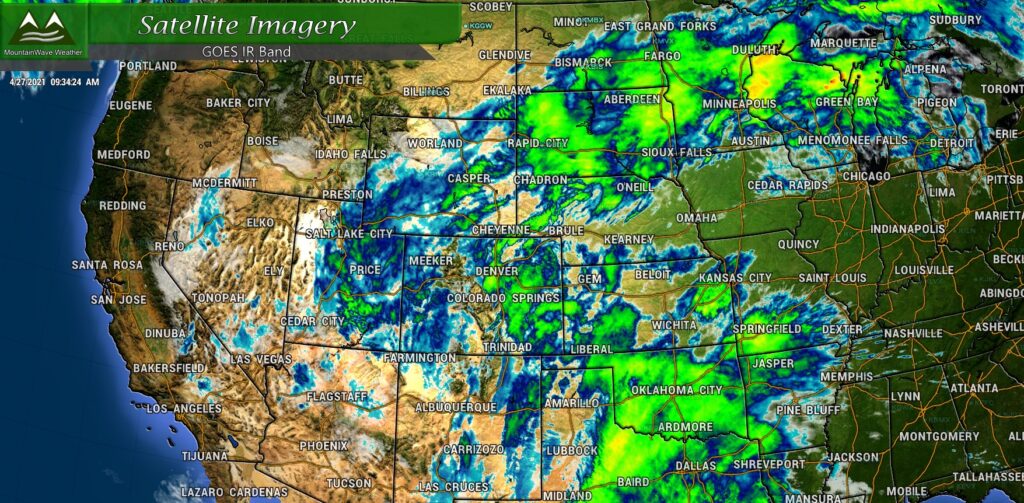 Everything looks mainly on track from our last forecast update so we won't be making a whole lot of changes, especially to the snowfall forecast. Some models have trended significantly upwards overnight in how much snowfall some areas receive, the main reason we are not buying into that just yet is that temperatures will be fairly marginal for snow to begin with, but also strong to severe thunderstorms could zap a bit of moisture return back to the West.
Both the Nam and the Euro show a decent amount of snow accumulation especially along the foothills (where I believe higher snow totals are quite possible) and over the Palmer Divide (where the general consensus is we're not sold on higher snow accumulation on the Palmer Divide just yet.)
For us to start moving the needle on snowfall accumulation we would need to see colder temperatures than forecast establish and we just don't know if we see evidence for that just yet. As we get later into the spring months, models can struggle with trying to resolve ground temperatures and very often will over-do snowfall accumulation. As such, we generally lean much more conservative in snowfall forecasts because of that and make adjustments as necessary.
As you can imagine though, if air does end up colder than forecast we don't know about it until the storm starts to unfold. This means we could still see large adjustments to snowfall pretty late in the game, so keep an eye on the forecast.
---
Severe Weather Possible Tuesday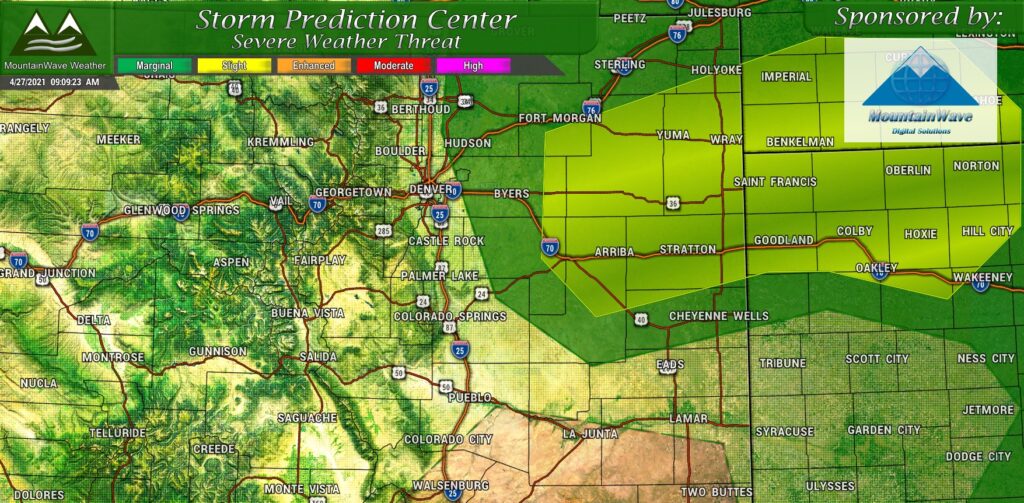 The main change for the SPC outlook from  yesterday to this morning was the addition of a yellow "slight" risk area mainly between the I-76 and I-70 corridor out on the Eastern Plains. Additionally, the lower "marginal" risk was extended a bit further Westward and now includes areas of the Palmer Divide in Elbert County and extreme Northeast El Paso county. While both risk areas are still on the low end of the spectrum, folks in the yellow and dark green areas should keep their eyes open for widely scattered strong to severe thunderstorms after lunch-time on Tuesday.
Specific Threats
Hail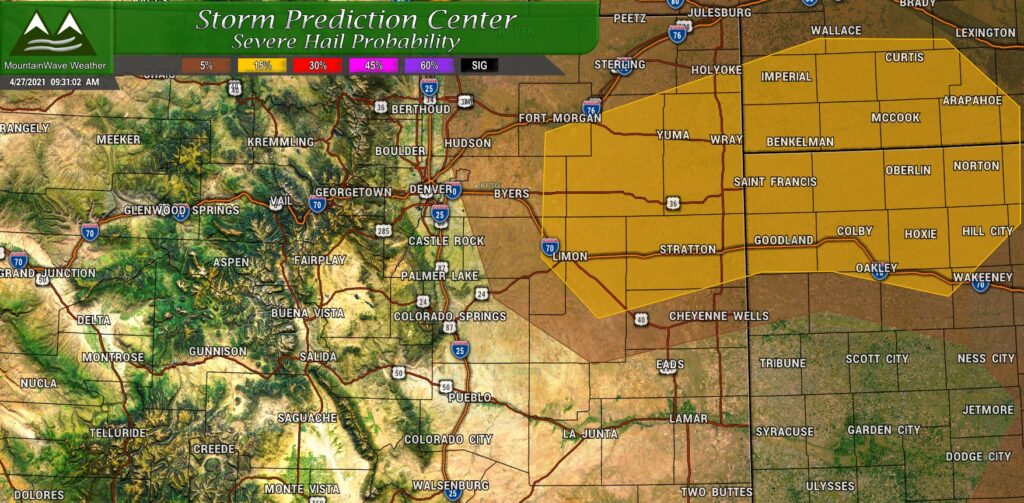 The primary threat out of today's storms will be large hail. AS you can see in the image above, the greatest chance for this is around 15% in the yellow shaded area with a lower 5% risk in the brown areas. Areas outside of this risk area could still see hail but it will most likely remain smaller and shouldn't cause damage.
Tornado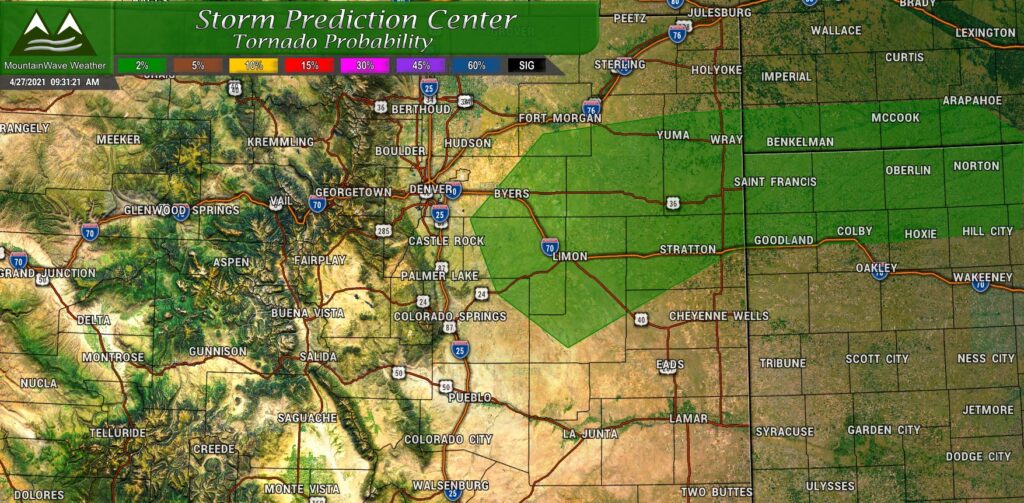 One other threat identified by the SPC that is fairly low today but not 0% is the tornado risk. Due to the instability in the atmosphere thanks to our storm system moving in, the low level winds and available moisture - it is possible some areas could see a brief spin up. The dark green area highlighted above shows a 2% risk of a tornado in or around those areas; again this is a very low risk but it is there. We can often see tornadoes in Colorado on low risk days due to how the low level winds interact with the terrain - this is especially prevalent along and around the Palmer Divide.
Note: What does this actually mean? Basically if you pick a point in the green shaded area, you have about a 2% probability of seeing a tornado within 25 miles of your location.
---
Summary
Timing for storms to kick off still looks like afternoon along the front range with rain/snow overnight Tuesday and into Wednesday morning. If any travel impacts develop they'd probably be most prevalent early Wednesday morning so just keep an eye out for that.
We will continue to watch how this storm evolves and if we see more evidence of colder air or more precipitation we will adjust snowfall accumulation forecasts accordingly probably late this afternoon. Stay tuned!