Update on Winter Weather Highlights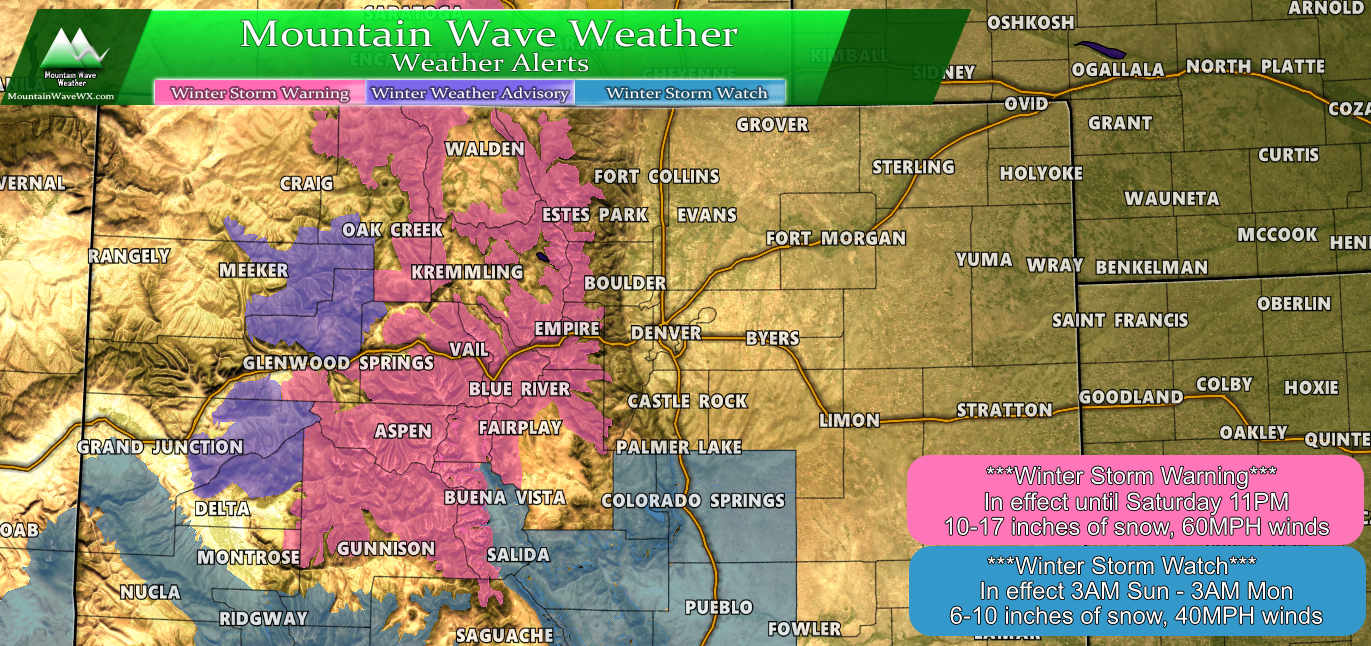 Winter Storm Warning for the mountains will continue through 11PM. Expect an additional 10-17 inches of snow in many of those areas, this will be on top of the 6-12 inches already reported. A Winter Storm Warning issued in this case for continuing heavy snow, strong winds and the potential for those conditions to cause severe travel impacts in the form of closed roads and stranded vehicles.
A Winter Storm Watch has been issued for South Central Colorado including areas along the I-25 corridor South of the Palmer Divide. The watch area extends from the Teller and El Paso County lines to the Southern border, currently no other areas of the Palmer Divide are in the watch. This watch has been issued for the potential of 6-10 inches of snowfall with 35-50MPH winds, if this were to verify travel conditions could be impacted down that way on Sunday. A watch simply means "we are keeping an eye on it" it does not mean any severe winter weather is imminent or occurring.
Updated Snowfall Forecast
We've made a few tweaks to the snowfall forecast this morning, operational models have increased the snowfall slightly, but the ensembles are still not super excited about this storm. We can't count out what may be a signal by the operational models that we may get a bit more snow in some areas and less in some areas. With that, we made the tweaks, but didn't adjust up or down drastically, we still need some better model agreement, which we just don't have yet.
Remember the snow event along the front range is still a couple of days out as we are expected to see our snow on Sunday, meaning not all the models we'd like are in range yet.
Here's the latest:
Timing
For the front range and Palmer Divide, Sunday is still the action day for us. The storm system will move through the area and cause upslope especially along the Palmer Divide.
Friday

Mainly dry
High winds (gusts up to 40-50MPH)

Saturday

Chance of scattered snow showers in the morning
Accumulation: little to none
Don't be fooled, the storm energy isn't here yet!

Sunday

Snow begins in the morning
Lasting through the afternoon
Snow showers continue until early Monday morning
Accumulation: see graphics above
For the mountains, it's a pretty easy forecast timeline
Friday

Snow will continue, heavy at times
Strong winds will create near blizzard conditions

Saturday

Heavy snow and strong wind continues

Sunday

Snow will begin to taper off late
Total storm accumulations: 1-3 feet
Summary
So, still not looking like a major storm for the front range or Palmer Divide. It does look like there will be snow accumulation at lower elevations, mainly along the Palmer Divide. Lower elevations will see some snow as well, but right now accumulation looks light for areas below 6,000 feet.
With so much model uncertainty still at this point; we'd say the forecast is still relatively low to medium confidence. This means that the storm may fall apart in the coming hours or it may ramp up. There's not a lot of data telling us what may happen one way or another...
All we can do at this point is keep an eye on it, we'll be sure to continue to pass along updates. Stay tuned!