Before we get too excited, let's take a quick reminder of how a forecast works and make sure we understand where we are in that process - and thus what details we know and don't know as of yet.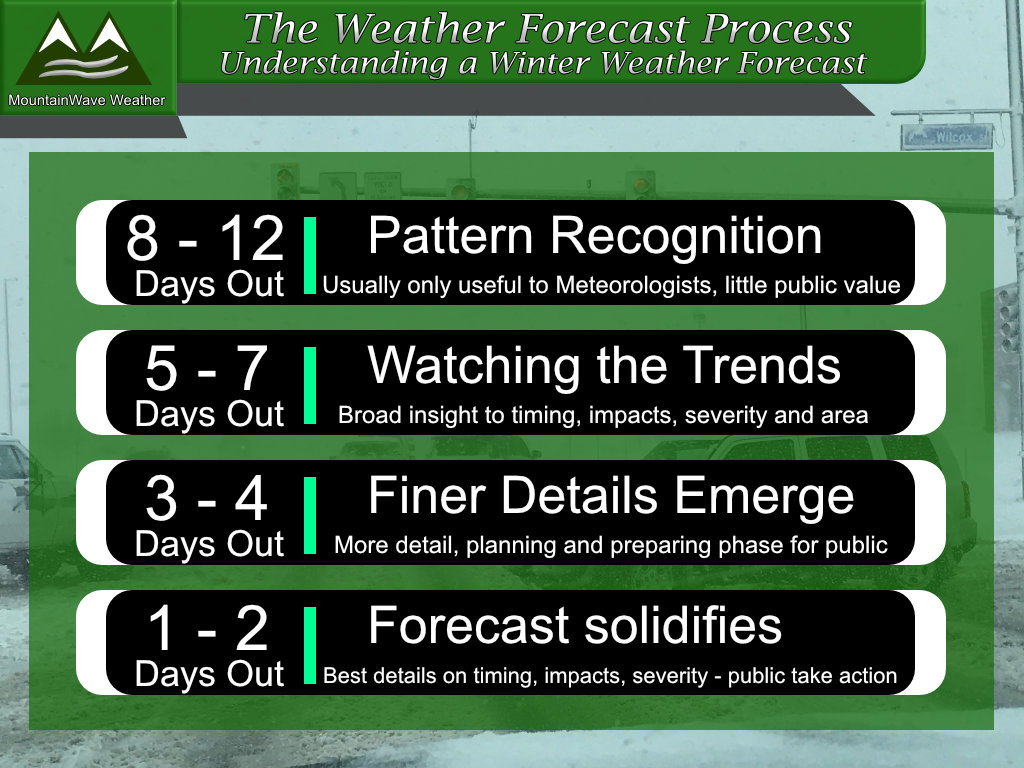 As the general timing for this storm is roughly around Sunday and into Monday, we are currently at the 5-7 day mark in this forecast. That means we are still watching large scale trends and trying to figure out exactly which way this storm system is going to go. We don't have finer details beyond that so don't ask just yet; and anyone posting snowfall maps or making detailed statements on what this storm system is going to do is most likely ignorant, trying to generate hype or both.
Here's what we know at the day 5-7 mark of a winter weather forecast:
We can see some type of winter storm system will impact Colorado
We can see the most likely timing of this storm is late Saturday through roughly late Monday
We can see large scale areas of impact/severity for different types of weather across the state and their probability
Here's what we don't know:
Exactly which geographical areas see the most snow
When the snow will begin or end at your house (or a specific location)
Will you see any snow at your house (or a specific location)
Exact storm track - makes forecasting the three points above basically useless.
The name of the game at this point is patience, which a lot of folks struggle with. Anyone trying to get you scared or not worried about anything at this point is trying to generate clicks and attention
We take a accurate, reliable and most importantly NO HYPE approach to weather here. If you like the adrenaline from bad forecasts, there are plenty of pages to visit - but this one is probably not for you.
Now that the disclaimers are out of the way, here's what we are watching for this storm system with the data we have right now.
---
Colorado Mountains
As described above, we are still a few days out from good solid data on this storm, but here's what we have right now. Keep in mind, things can change and a forecast is constantly evolving, so be sure to check back in for updates throughout the week.
Rough Timing
At this time, it looks like the most likely storm impact time for the Colorado mountains is late Saturday through late Monday
Potential Impacts
Heavy snow, poor visibility and localized significant snow accumulation is possible
Travelers with plans on going through the mountains between late Saturday and late Monday should stay well aware of the forecast
High winds are possible along the Continental Divide especially on Sunday and Monday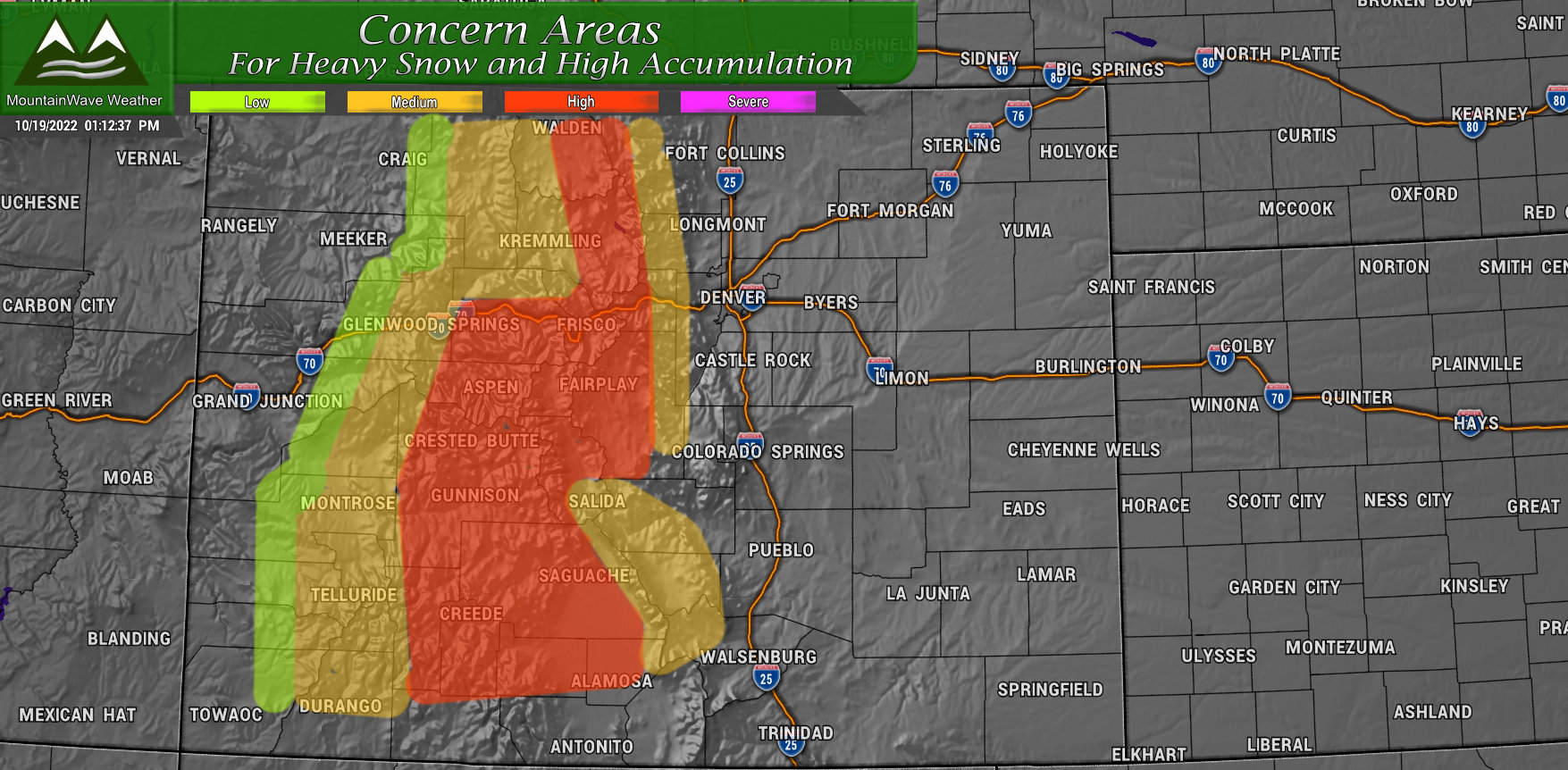 So if you are planning on heading to or through the mountains this weekend, make sure you stay aware of the forecast and have a plan B to delay travel if needed.
No need to change plans as of yet, just be aware that you may have to if it looks like these details will verify.
---
East of the Divide - Eastern Colorado
According to modeling at this point with the anticipated track of the storm - the impacts for Eastern Colorado will be more of a high wind event than a snow event. Again, this can change based on the exact storm of the track - but the storm would have to shift significantly South for us to see much moisture out of it East of the Divide. The probability of that at this time is fairly low unless we see big changes in modeling.
Here's what we see for impacts on the Eastern Plains:
Rough Timing
Sunday would be the primary day for strong wind impacts across the area
Monday will have breezy conditions mainly along the Palmer Divide and Eastern plains, but winds would likely be much calmer
Potential Impacts
Potential high wind event
Strong winds that could blow loose objects around
Some impacts to lightweight and high profile vehicles is possible
Blowing dust could reduce visibility
Fire Danger level will have to be watched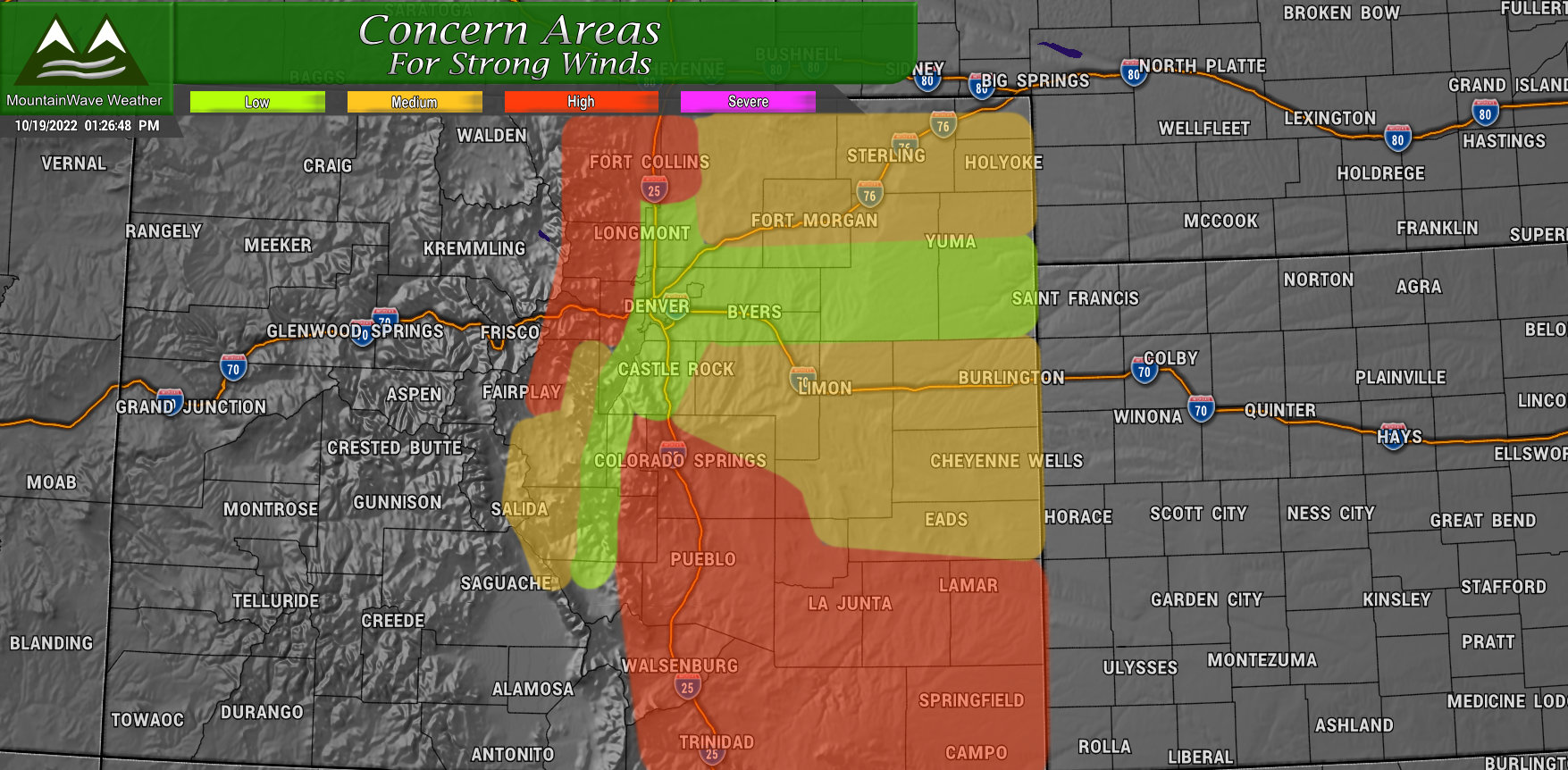 ---
Wrapping it All Up
If you don't want to read all the details above, here's the quick rundown.
Mountains:
Saturday late through Monday late - potential for poor travel conditions. Be prepared!
Plains
Sunday - potential for high winds. Be prepared!
As I mentioned - early yet in the forecast process so be sure to stay tuned here and on social media for further updates.