As our storm system evolves over the next few days there's a lot of forecast changes going on and a ton of weather alerts have been issued today. Bare with us today as there's lot's to talk about and with the addition of a another storm coming in later this week... things are going to be very busy around here over the next several days. Stick with us, we'll keep you well updated on everything.
Here's all the latest details on what we are expecting with our first storm system this week, slated to impact Colorado on Tuesday and Wednesday.
---
Currently Issued Weather Alerts
There's quite a few of these to talk about, here's the latest:
A Frost Advisory is in effect tonight from 2AM through 8AM Monday morning. Frost Advisories are not issued for freezing conditions necessarily, they are more of a signal to folks with sensitive vegetation that the temperatures will be cold enough kill sensitive plants. If you have anything you'd like to have survive a bit longer, it's best to move those inside before you go to bed tonight!
A Freeze Warning and Hard Freeze Warning is in effect for some areas of Northwestern Colorado, Southwestern Colorado and South Central Colorado. Freeze warnings are issued when temperatures will be below 32 degrees for an extended period of time that could cause damage to crops and outdoor plumbing. A Hard Freeze Warning is issued when temperatures will be below the mid 20's for several hours - damage to crops and outdoor plumbing is much more likely with a Hard Freeze.
A Winter Storm Watch is in effect for the Southwestern mountains of Colorado in the San Juans for heavy snowfall totals up to 12 inches through the day on Tuesday. If you have travel planned in or around this area, understand that travel could become very difficult in some of those areas throughout the day on Tuesday.
---
Latest Storm Details for the Front Range and Palmer Divide - Tuesday/Wednesday
As we've moved through the weekend we have started to see model firm up on the track of this storm system and while there is still time for things to change a bit - we do have growing confidence with how this storm will act, what time it will get here and what impacts we expect to see.
Timing:
Mountains locations will begin to see impacts late Monday night with spotty snow showers building in. The bulk of snow accumulation will come in a bit later though by early Tuesday morning. Through the day Tuesday and into overnight Tuesday into Wednesday morning is when it looks like a bulk of the snow will fall and the winds will increase
The Palmer Divide and Front Range, this storm will mainly be in and around the area on Tuesday and Wednesday. Expect stronger winds and even a small chance of rain or thunderstorms later in the day on Tuesday extending into Wednesday
Impacts:
Mountains: snowfall, some areas will see heavy snow especially in Southern Colorado. High winds may also be an issue across the higher mountain passes. Travel conditions may be a bit tricky
Palmer Divide: Mainly a wind event, some areas may get lucky with a tiny bit of rain - but most areas will see little to no precipitation

Wind gusts on Tuesday will be in the 35-45mph range with some areas reaching the 50-60mpth range - biggest area of concern for stronger winds would be a bit further West along the foothills
Snowfall Forecast: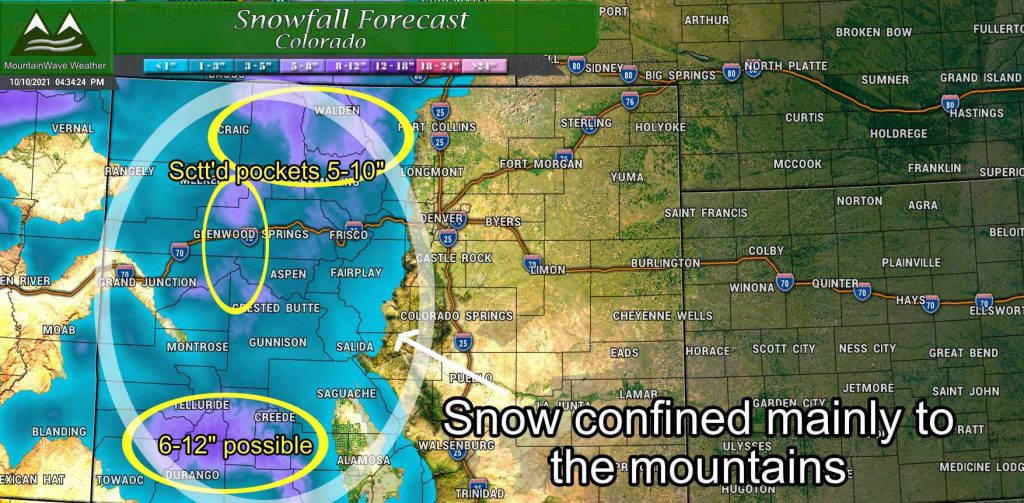 As I said, this storm system is not keeping to a track that is consistent with much moisture East of the Continental Divide. The latest snowfall forecast update shows this pretty well - mountain locations will see the snow while areas East of the Divide will mainly see the wind. Anything that does make it over the mountains will be very spotty and consist mainly of a few sprinkles or light rain showers, but don't expect many folks to see that. Your chances will be overall better for precipitation the further North you go and the closer you get to Wyoming.
---
Storm Synopsis
I shared a couple of scenarios a couple of days ago talking about what could happen with this storm system and which of those scenarios was more likely at the time: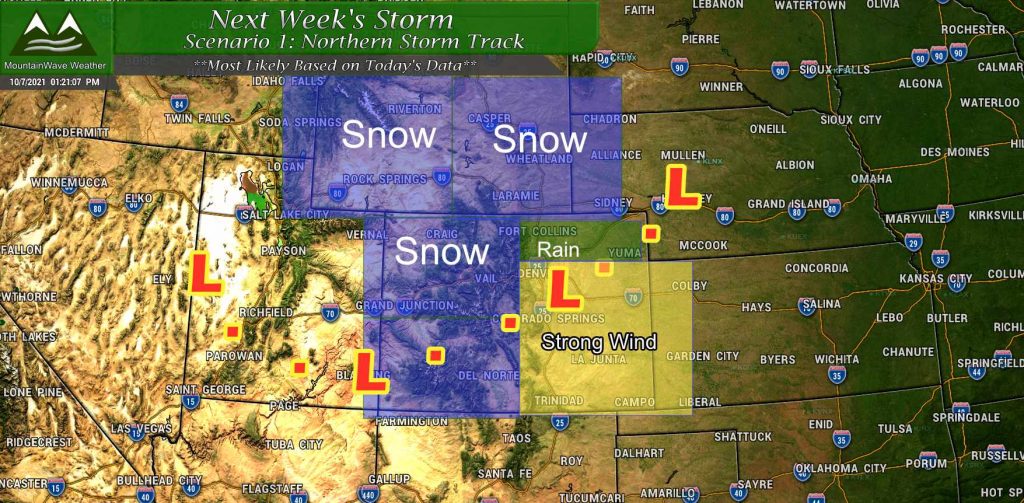 This track has held pretty consistently in the past couple of days with a bit more of a Northward shift. The only thing I would shift on this map is to extend the area of strong wind further North along the front range and shift more of the snow upwards into Wyoming. I would remove the rain chances, but the fact is some areas East of the Divide may see a very spotty shower at some point.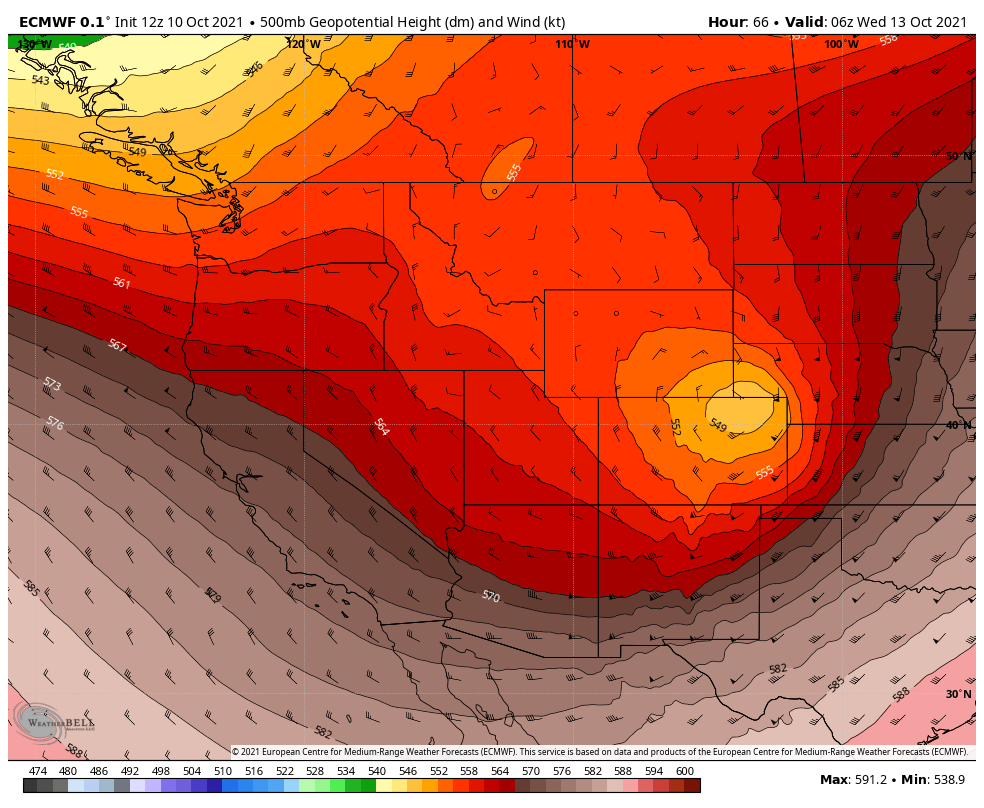 The image above is the latest 500mb heights forecast from the Euro as the low slides across Colorado. Notice how it sets up over Northeastern Colorado and into Wyoming... this means Wyoming will most likely be the biggest benefactor of any moisture with this storm system. Some of those areas could see significant snow and wind. Meanwhile, our mountains will also see a bit of snow, but most areas with a few exceptions should end up in the 2-4" range. A few select areas could see something in the 5-10" or 6-12" range but those amounts will be spotty.
The biggest impact we will see along the front range will most likely be winds and much cooler temperatures: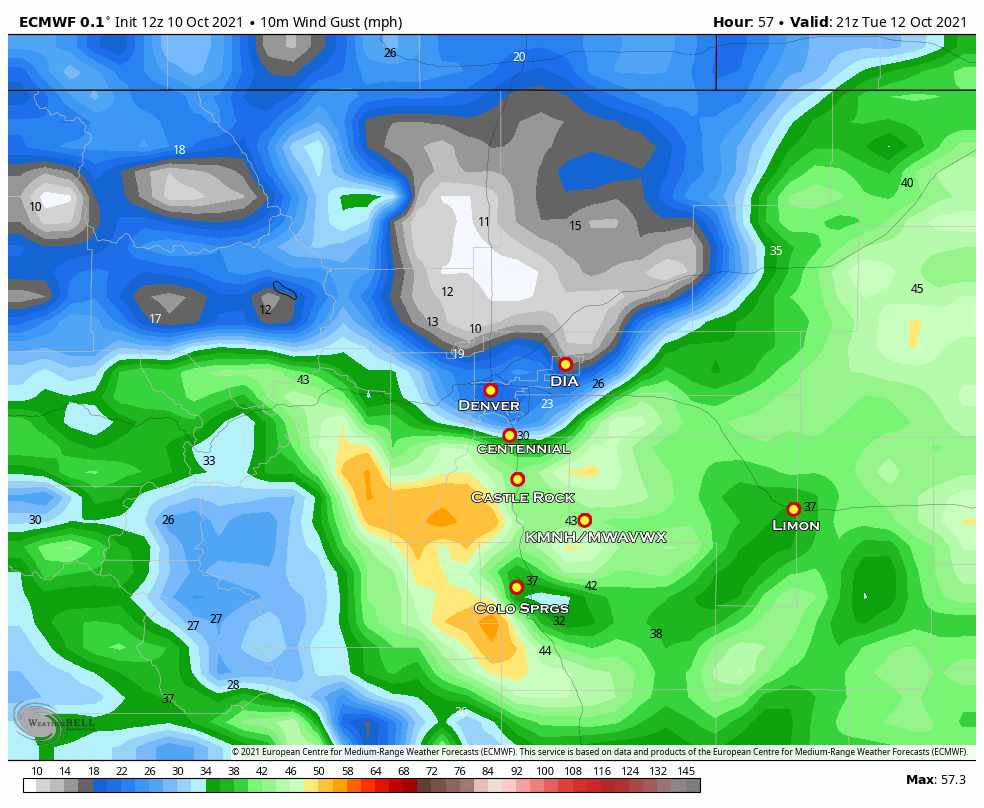 This snapshot from the Euro is for about 3PM on Tuesday. Notice the Palmer Divide will be especially windy with gusts between 35-55mph... some areas West towards the foothills could be in the 50-65mph for max wind gusts.
See the area of low winds North of Denver? That's the low pressure center moving through during the day... areas in and around the low may not see a lot of wind. For those of us a bit further away (southwards towards the Palmer Divide and out East to the plains) will most likely see the brunt of the wind from this storm system.
---
Summary and Looking Ahead
It's going to be a busy week in the weather department. I'll do my best to keep everything as up-to-date as possible. If there are any changes with this forecast I'll be sure to have updates (remember, any Southwards or Northwards wobble with this storm could drastically change what we see with this storm) there's still plenty of time for things to shift.
Additionally, models are picking up on a second storm system that could move through the area later this week with additional shots of cold air and another chance at snow. This one definitely has my attention, I'll be keeping an eye on that storm system and will have updates throughout the week!
Stick with me, I'll keep you updated!