Colorado Winter Weather Highlights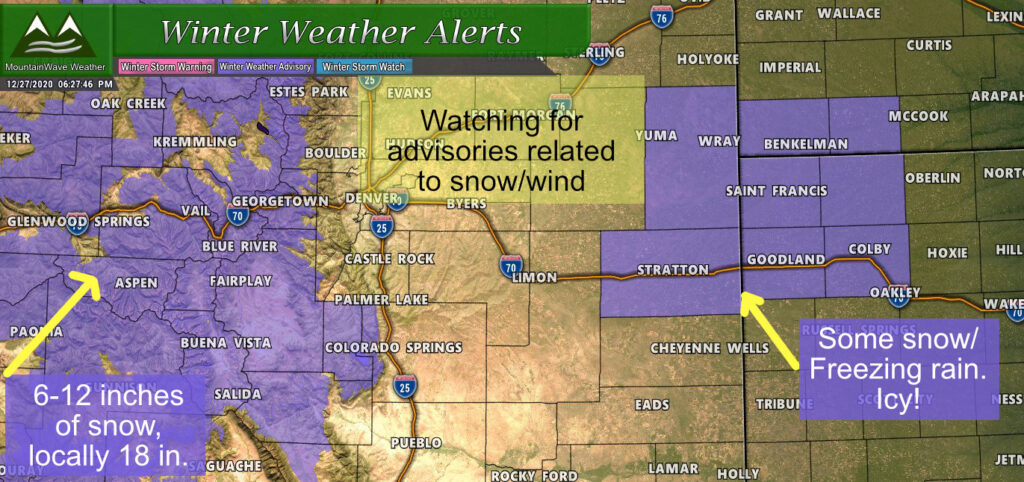 Winter Weather Advisories are in effect for most mountain locations and a seperate Winter Weather Advisory is in effect for freezing rain/icy/snowy conditions on the far Eastern Plains of Colorado and out into Kansas. Here's the quick bulletpoints relating to these advisories:
Mountain Locations
When: 5AM 12/28/2020 through 12PM 12/29/2020
What: Snowfall for most mountain valleys will range between 3-6 inches. Mountain locations in higher elevations will range between 6-12 inches with some areas receiving up to 18 inches of snow
Impacts: Travel could be difficult. Snow covered roads will produce hazardous driving conditions across the area Monday into Tuesday.
Colorado Far Eastern Plains/ West Kansas Locations
When: 5AM 12/28/2020 through 11PM 12/28/2020
What: Mixed precipitation expected. Total snow accumulations of 1 to 3 inches with locally higher amounts possible. Ice accumulations of a light glaze.
Impacts: Plan on slippery road conditions. Patchy blowing snow could significantly reduce visibility. The hazardous conditions could impact the morning or evening commute.
A Note about Northern Colorado
Depending on how this storm sets up there is a chance snow and travel impacts could be significant enough for areas in Northern Colorado to see a Winter Weather Advisory issues. This would most likely be for areas North of Denver, but we will have to keep an eye on forecasts and models to see where this storm systems ends up impacting the most.
---
Closer to Home/ Snow Forecast
This is the first system in quite awhile that we will see come from the Southwest (most of our previous storms came from West or Northwest direction.) Storms with this track have a better chance of producing heavier snowfall for areas East of the Divide, but as with most of our storm systems, timing and location is everything (along with strength.)
This is the type of storm that can rapidly intensify East of the mountains and being decent snow to our area, but there's not a lot of indication that this particular storm system will do so. In fact, a lot of the models have it intensifying further East of Colorado which means the plains and front rang would miss out on a heavier snow storm.
The only changes we've seen the past several model runs is that they are slightly more excited about accumulating snow along the front range, but even then it's nothing to write home about (models have gone from 0-1" range to 1-2" range in the past few runs for Castle Rock for example.)
Like I said above, nothing much to write home about for many areas East of the Divide but you can can see many of the models agree on the mountains getting hammered - and all the forecasts and observations support that pretty well.
Palmer Divide Region
Fairly modest snow amounts forecast out of this one, the accumulations below are through 12PM on Tuesday, so when you look at it - heavier snow is not likely. Models do show significant snowfall banding with this storm but a lot of that energy stays North of Denver. Should that migrate Southwards, these amounts would still mostly be in play, but any areas trapped under one of those snow bands would overperform on snowfall significantly.
Northern Colorado Region
Models have most of the energy staying around Northern Colorado with this storm so we've bumped snow totals up a bit for a forecast, but also realize that some of these regions have the best chance of overperforming in terms of snowfall with this storm. If things look a bit more interesting, we may see winter weather highlights (advisories) issued for some areas in Northern Colorado late tonight or early tomorrow morning.
Southern Colorado Region
Southern Colorado's Mountains will see a bunch of snowfall over the next few days, if you have travel plans through the Southern or Southwestern mountains understand that travel will be very difficult. Some select areas could see up to 18" of snow before this storm is said and done! The lower elevations and plains looks to do poorly with total snowfall out of this storm with only light accumulations for most of those areas.
---
Timing/Impacts
Mountains: look for impacts starting late Sunday night into Monday and continuing into Tuesday
Front Range: snow will begin late Monday morning/early afternoon and continue through Tuesday morning
(Some Palmer Divide locations may see additional snow Tuesday through the day)
The most severe travel impacts look confined to the mountains but keep a close eye on higher elevation Palmer Divide locations (south of Castle Rock into Monument) as those roads may accumulate snow and get slick at some point. Also, any areas stuck under snow bands for any period of time could see conditions deteriorate rapidly.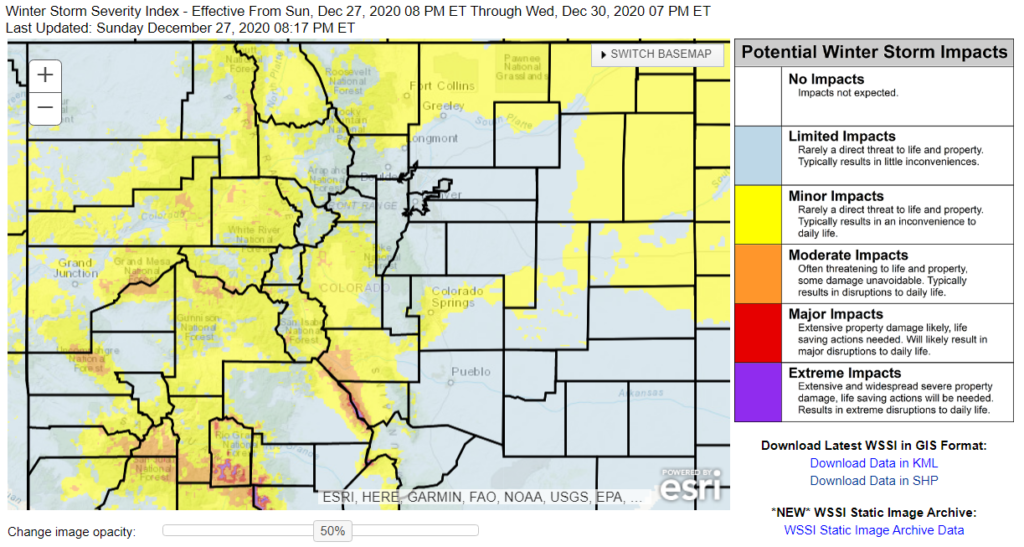 So another so-so storm, travel impacts along the palmer divide should be pretty limited so not expecting a huge impact with this storm. As always we will keep an eye out and pass along any information should things change!
As always with storms with jet energy and banded snowfall... be prepared for some curveballs in very localized areas!