An interesting weather pattern continues to influence our weather in Colorado bringing bitterly cold air and lots of moisture into the state. I'll elaborate on that a bit more further down in the article, but for now here's the latest on what we expect today, tomorrow and the rest of the week.
Winter Weather Highlights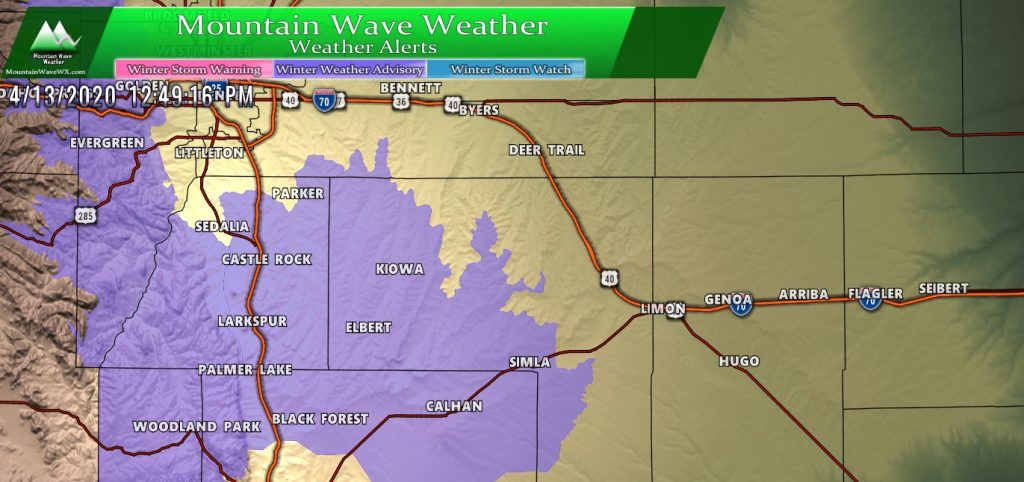 The National Weather Service has issued a Winter Weather Advisory for the front range foothills and Palmer Divide locations above 6,000 feet in elevation (including Douglas and Elbert counties.) Some of these areas could see an additional 4-8 inches, that would be on top of what you have right now (around lunch time.) Here's the details:
Timing: 11AM 4/13/2020 through 1AM 4/14/2020
Hazards: Snow expected, heaviest this afternoon and evening. Total snow accumulations of 4 to 8 inches.
Impacts: Plan on slippery road conditions, especially this evening and in pockets of heavier snow. The hazardous conditions could impact the evening commute.
More detailed information available here: https://mountainwaveweather.com/castle-rock-weather/watches-warnings/
Additional Snowfall Expected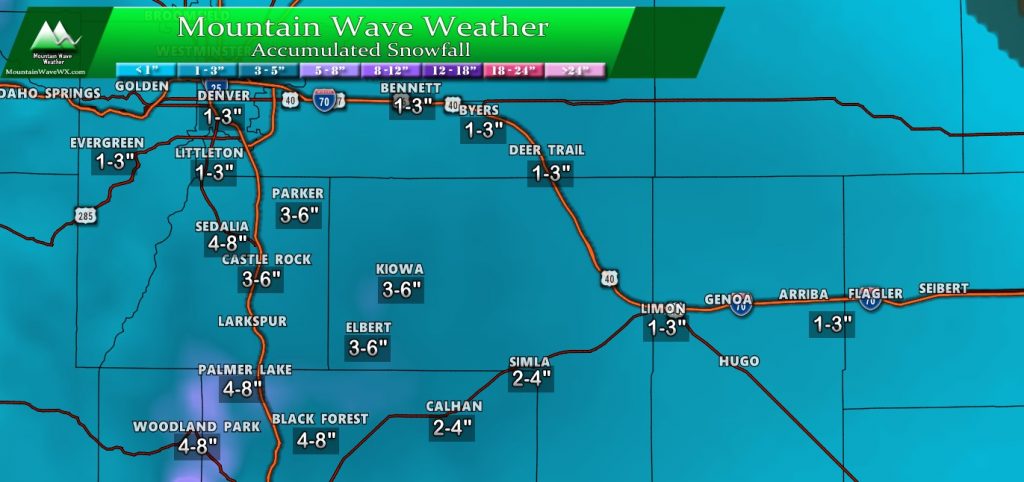 Interesting data coming in between models and then what NWS is saying. Models are not super impressed with snowfall overall as we move into Tuesday morning, but the NWS is trumpeting a general 4-8 inches across the Advisory area. I got to say; when I look at the models I don't see a lot of evidence for higher end snow totals in a 4-8 inch range except for a few very spotty areas (mainly West into the foothills.)
With that, I generally went with their 4-8 inch range in favored areas mainly West and South of Castle Rock. The areas along the I-25 corridor I went with slightly lower amounts, a lot of the models like the 3-4 inch range for areas in and right around Castle Rock. As you move further North and East I tick down totals accordingly as you'll see less influence from upslope.
Another Storm Mid-Week!
I don't like posting models too far out but I believe in this case it's pertinent so we can see what's going on later this week. Another storm will roll in later this week and more chances for colder air and snow will accompany it.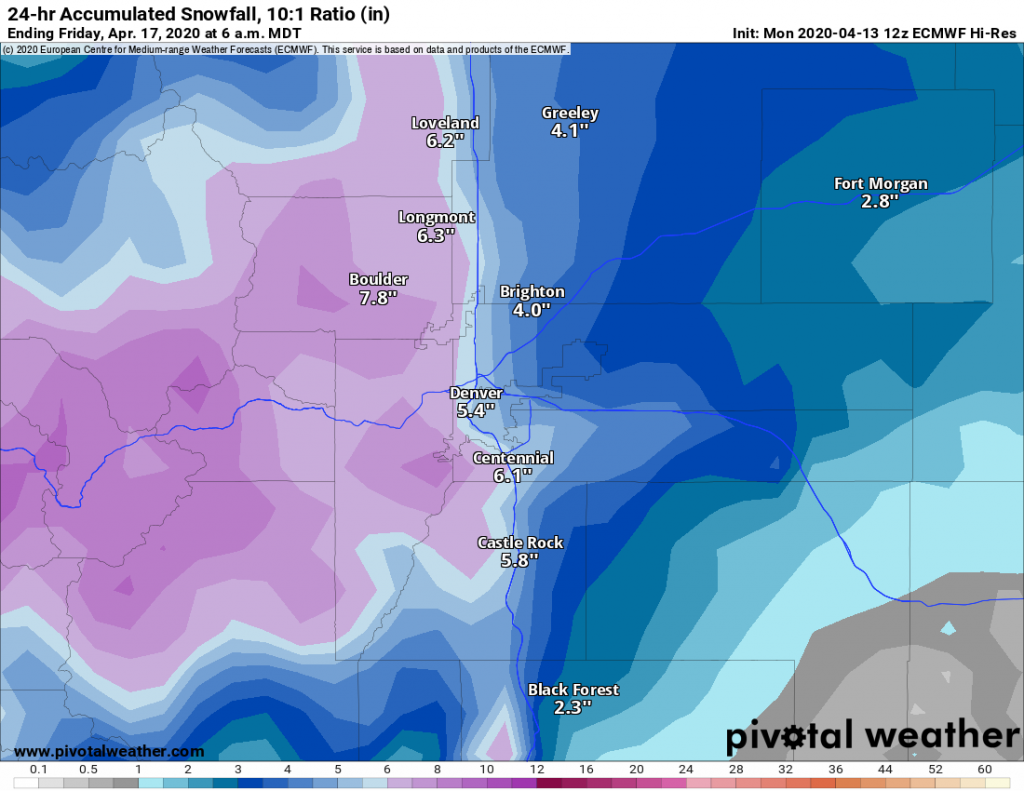 The image above is the Euro's prediction and while we're still a few days out and the snowfall amounts will change, it's worth noting that more snow is on the way and that particular storm looks decently strong from what we can see right now. For what it's worth, models across the board have been trending upwards on snowfall with this storm so it bears close watching.
Why The Active Weather Pattern?
An interesting weather setup right now out in the Pacific, we call this setup an "Omega Block."
Here's a classical omega block setup, it consists of a "blocking" high pressure that caused the jet stream and any associated storm systems to move around it. In cases where the high pressure becomes stalled out, we can see extended effects in the weather pattern.
Now I'll post the setup we have over us currently in Colorado, the Western U.S. and the Pacific; see if you can note the similarities!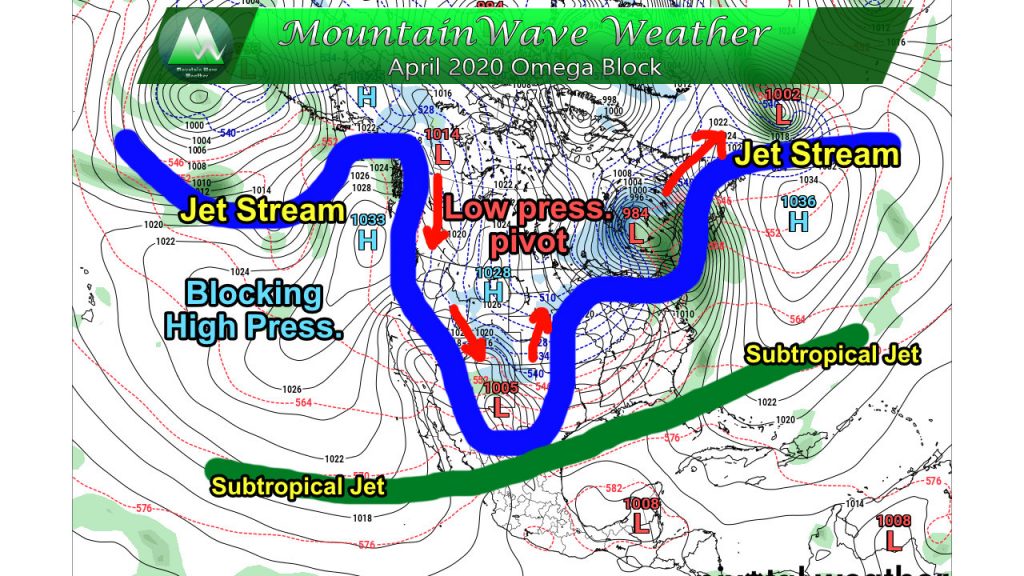 I've highlighted in some features for convenience, but you can see the similarity to the classical setup above. Strong high pressure has established just South of Alaska, causing a kink in the jet stream and the associated storm track. What this means is that the kink in the jet stream allows low pressure systems typically confined to the arctic to roll South along the jet into the Continental U.S. These lows will move South, bringing cold air with them from the pole region; this is why we've seen unusually cold air for this time of year.
Secondly, we the subtropical jet screaming over the Southern U.S. When the moisture transported along the jet hooks up with the cold air from the North due to the Omega Block... voila we have snow!
This pattern looks to persist through at least the end of the week, which is why we can say with decent confidence that this week's weather continues to look cold, wet and unsettled.
Summary
More snow tonight, more cold through the week and more snow later this week.
Remember, spring is often a snowy time in Colorado so none of this is out of ordinary. The main thing out of ordinary is mainly how cold the temperatures are getting, but you can see above as to why that's happening.
For now, stay warm, stay safe and I'll have another update on the Wed-Fri storm on Tuesday.