Details about this weekend's storm system are becoming a bit clearer in terms of track/timing/intensity with a few questions left over as to how cold it gets (which may affect how much certain areas get in terms of snow and whether some areas see any at all) and how warm the ground is after the past couple of days.
While we are medium confidence on this forecast at this point, as always stay tuned for additional updates on Saturday and Sunday if necessary.
Here's the latest:
Weather Alerts
There's a few of these... lots to cover so read on or feel free to skip down in the article...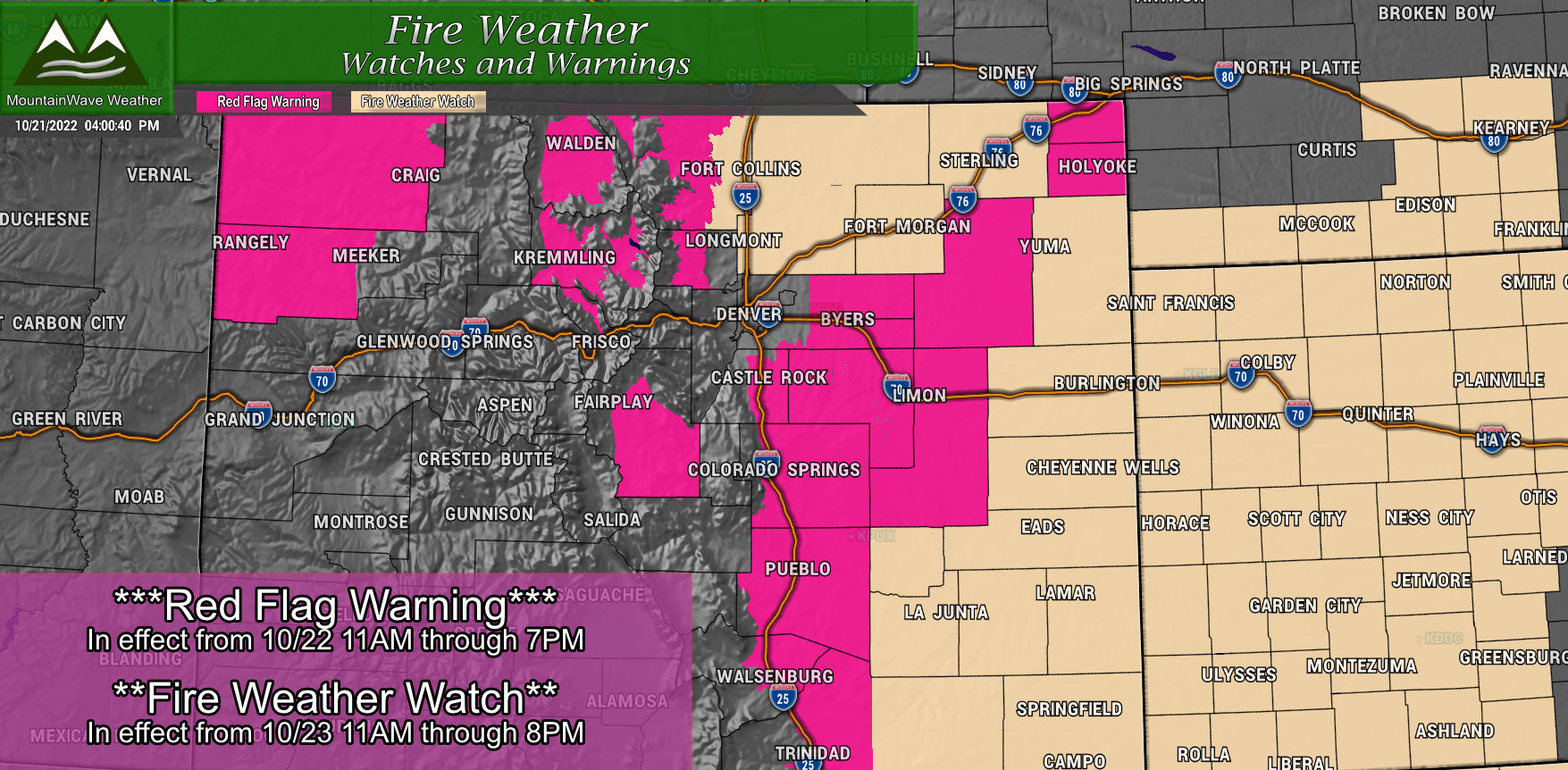 RED FLAG WARNING REMAINS IN EFFECT FROM 11 AM TO 7 PM MDT
SATURDAY FOR GUSTY WINDS, LOW RELATIVE HUMIDITY, AND HIGH HAINES
INDICES FOR FIRE WEATHER
* Timing...Saturday from 11 AM to 7 PM.
* Winds...Southwest 15 to 25 mph with gusts up to 35 mph.
* Relative Humidity...As low as 12 percent.
FIRE WEATHER WATCH IN EFFECT FROM SUNDAY MORNING THROUGH
SUNDAY EVENING
The National Weather Service in Pueblo has issued a Fire Weather
Watch for gusty winds, low relative humidity, and high haines
indices, which is in effect from Sunday morning through Sunday
evening.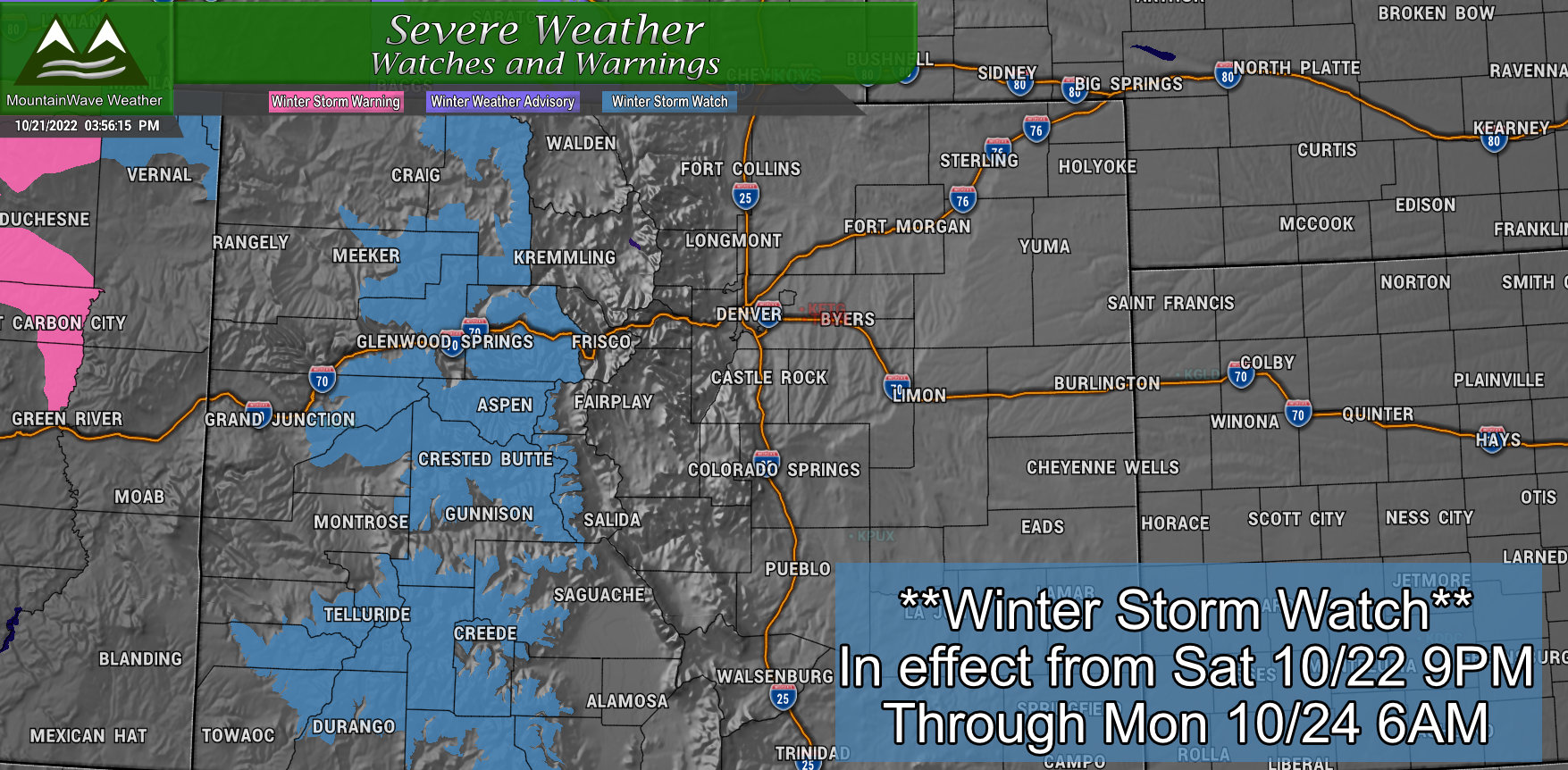 WINTER STORM WATCH IN EFFECT FROM SATURDAY EVENING THROUGH
LATE SUNDAY NIGHT...
* WHAT...Heavy snow possible. Total snow accumulations of 7 to 14
inches with locally higher amounts possible. Winds could gust
as high as 55 mph.
* WHERE...Portions of northwest, southwest and west central
Colorado and northeast Utah.
* WHEN...From Saturday evening through late Sunday night.
* IMPACTS...Travel could be very difficult to impossible. Patchy
blowing snow could significantly reduce visibility, especially
on ridge tops. Strong winds could cause tree damage.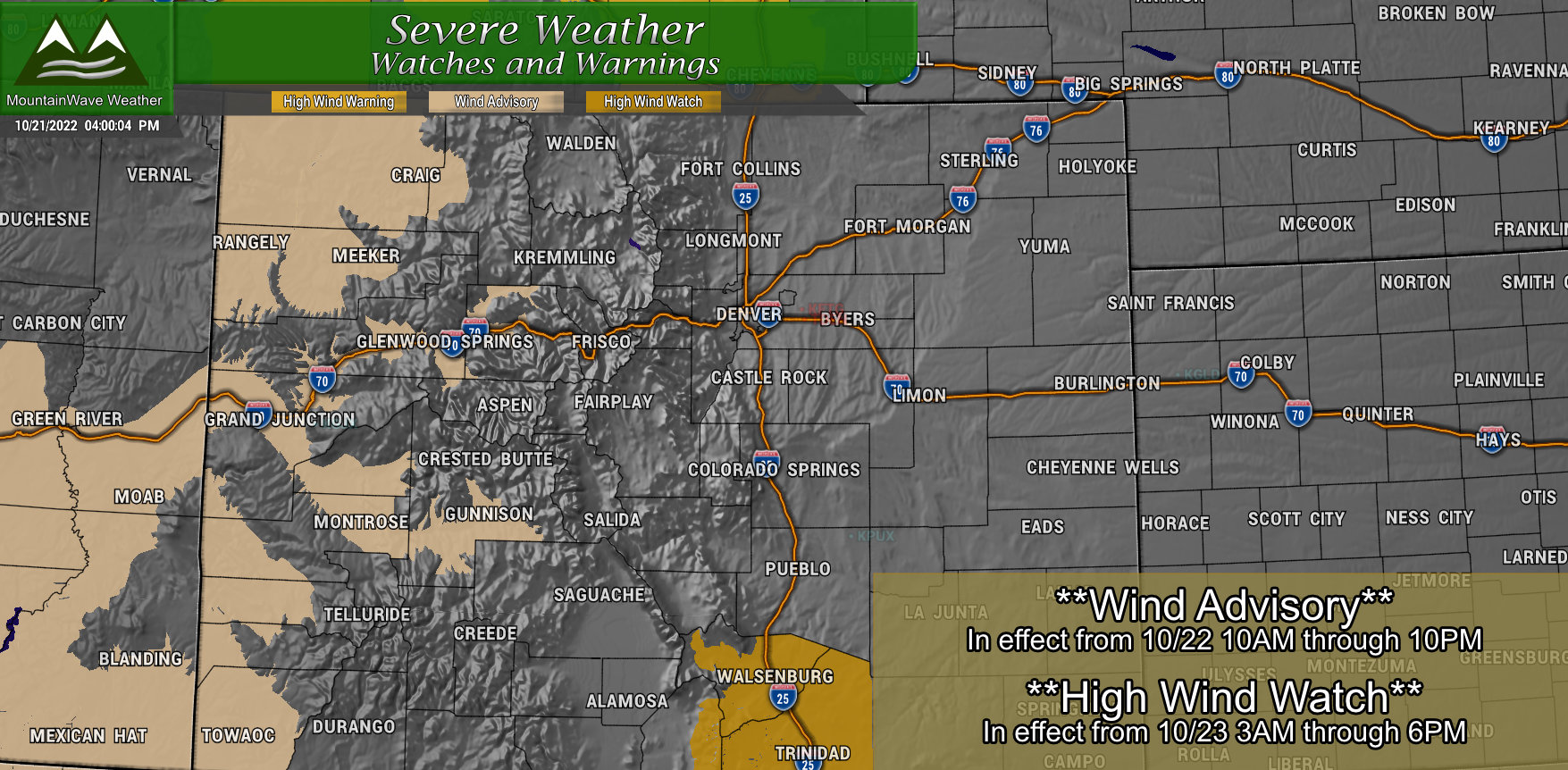 WIND ADVISORY IN EFFECT FROM 10 AM TO 10 PM MDT SATURDAY...
* WHAT...Southwest winds 25 to 35 mph with gusts up to 55 mph
expected.
* WHERE...Lower Yampa River Basin and Central Yampa River Basin. Grand Valley, Debeque to Silt Corridor, Central Colorado River Basin, Central Gunnison and Uncompahgre River Basin and Upper Gunnison River Valley. Paradox Valley/Lower Dolores River and Four Corners/Upper Dolores River. In Utah, Southeast Utah, Arches/Grand Flat and Canyonlands/Natural Bridges.
* WHEN...From 10 AM to 10 PM MDT Saturday.
* IMPACTS...Gusty winds could blow around unsecured objects.
Tree limbs could be blown down.
HIGH WIND WATCH IN EFFECT FROM LATE SATURDAY NIGHT THROUGH
SUNDAY AFTERNOON...
* WHAT...Southwest winds 30 to 40 mph with gusts of 60 to 70 mph
possible, highest over the higher terrain.
* WHERE...Southern Sangre de Cristo Mountains and the southern
I-25 Corridor including Walsenburg and Trinidad.
* WHEN...From late Saturday night through Sunday afternoon.
* IMPACTS...Damaging winds could blow down trees and power lines.
Widespread power outages are possible. Travel could be
difficult, especially for high profile vehicles.
---
The Setup
You'd think we'd have better model agreement at this point but we still have 2 different solutions that we are working with. Luckily because of the overall themes of both of these patterns, we still have a decent idea of what is a more likely outcome for certain areas of Colorado with this storm.
Here's a few bulletpoints about each:
Euro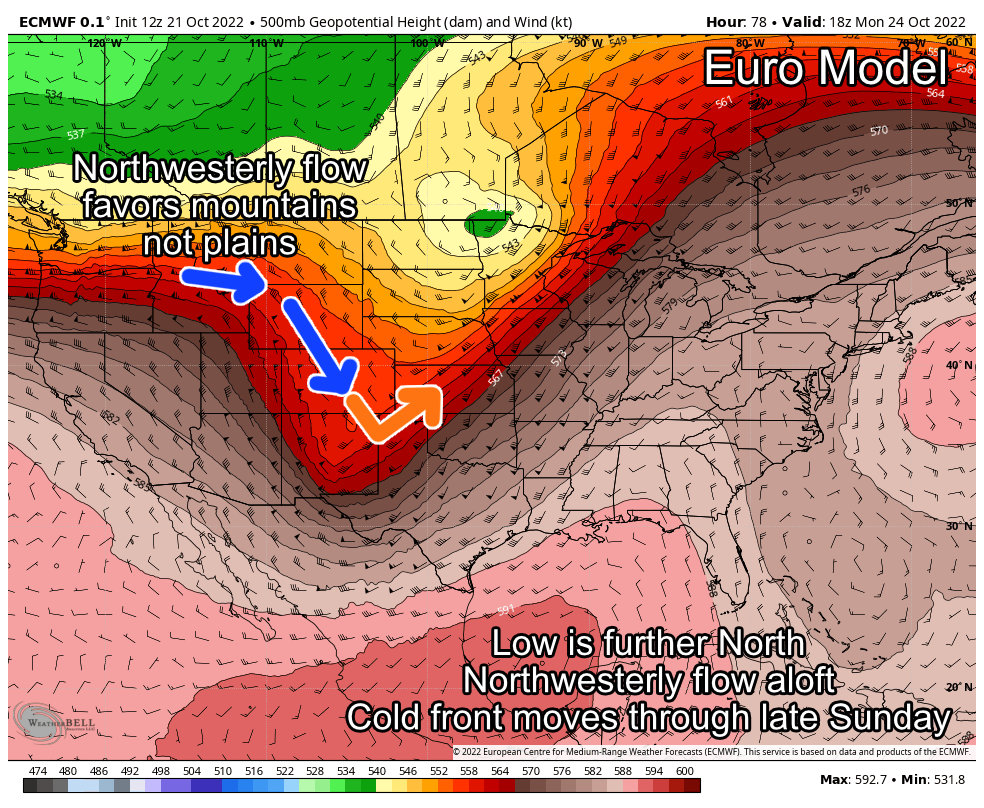 Low pressure sets up too far North for big snow along Colorado's front range and eastern plains
Tight pressure gradients show strong winds, especially across the plains - but a good chunk of the state will be fairly windy (especially on Sunday)
Northwesterly flow favors the mountains for snow, downslope over the mountains favors dry conditions along the front range
GFS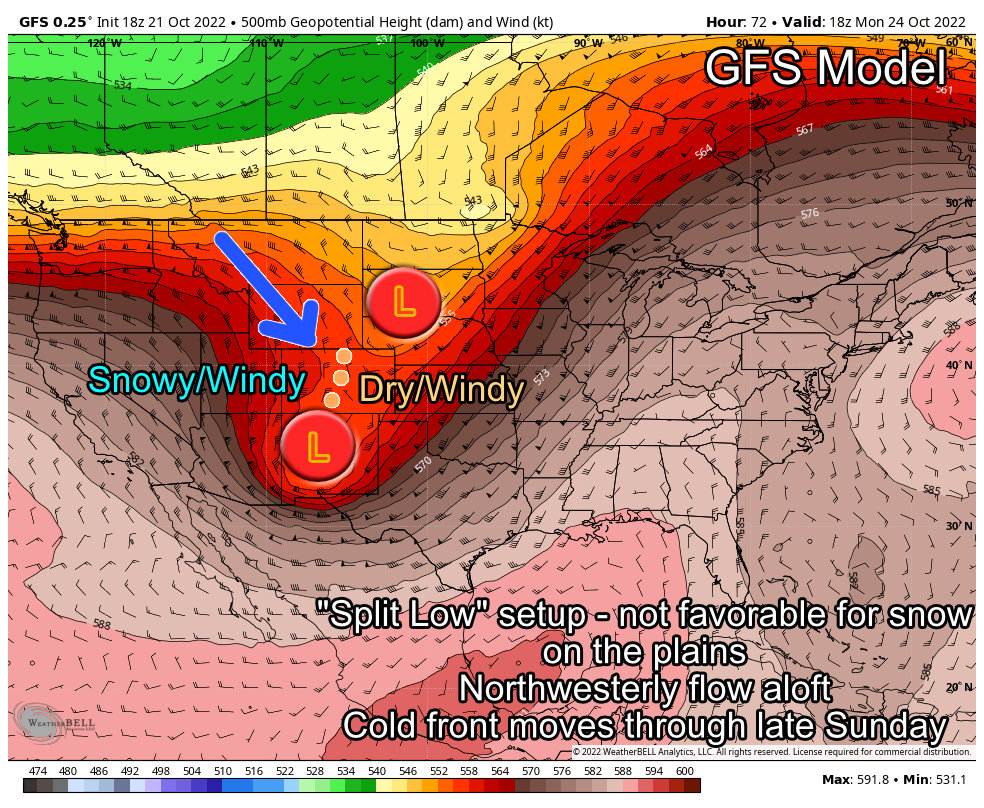 A "split" pattern sets up with low pressure to our North and South. This will not give us a better shot at snow in the lower elevations...
Tight pressure gradients show strong winds, especially across the plains - but a good chunk of the state will be fairly windy (especially on Sunday)
Northwesterly flow will be the dominant feature with this setup as well, this favors the mountains with snow and favors areas East of the Continental Divide with dryer conditions and wind
---
Snowfall Forecast
All of these maps are forecasted total snowfall through Monday 10/24/22 6PM - don't wake up Saturday in the mountains wondering where the snow is...
Northern/Central Colorado Mountains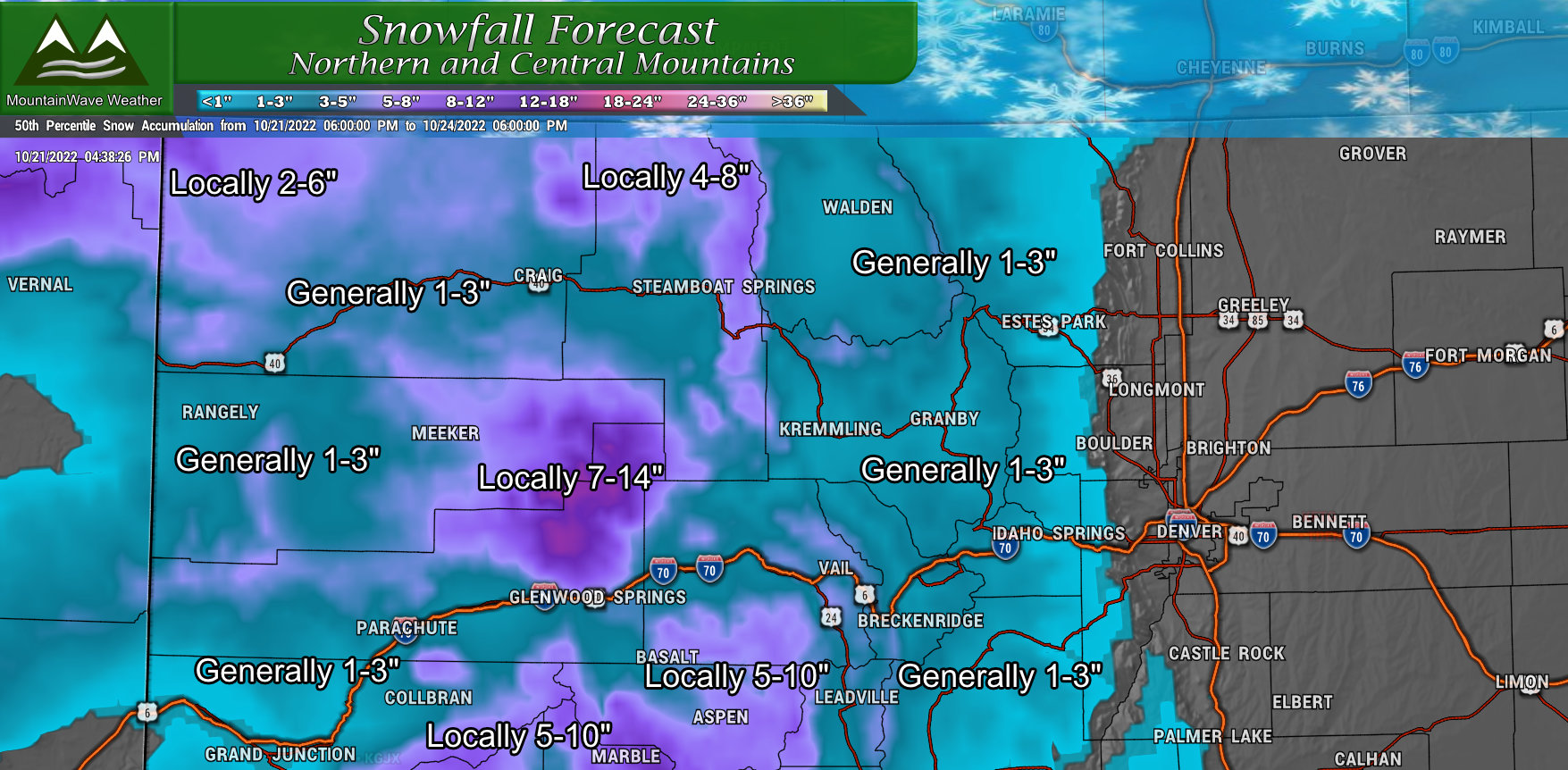 For the Northern and Central Mountains, most areas will see generally between 1-3" of snowfall
Some select areas could range between 4-8", 5-10" or "7-14" as shown in the map above
Sunday looks like the worst travel day through many mountain areas, heavy snow and strong winds are likely
South/Southwest Colorado Mountains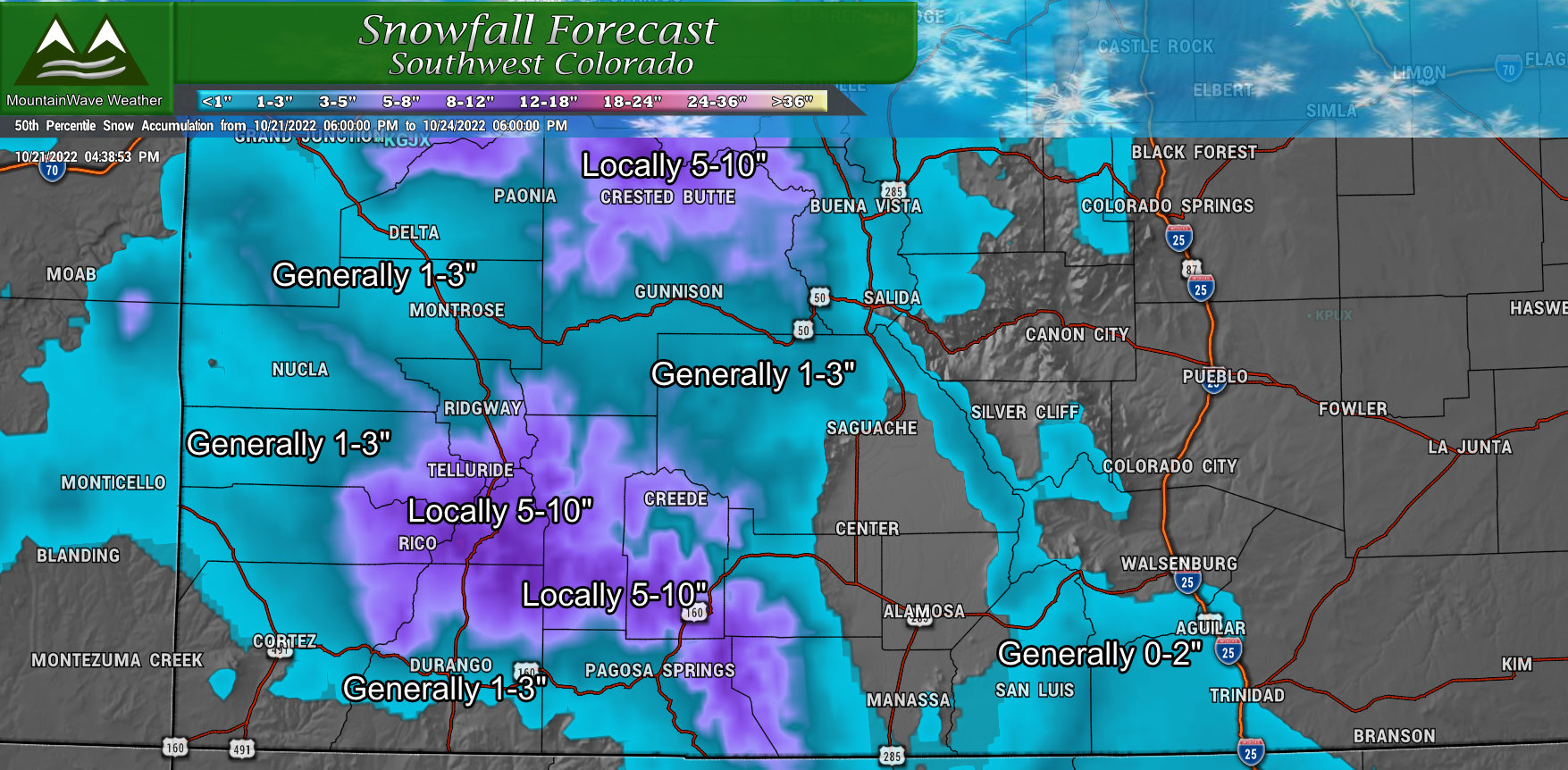 Similarly to the Northern and Central Mountains, most locations will end up between 1-3" of total snowfall accumulation
Some select areas could see between 5-10" of snow
Sunday looks like the worst travel day, heavy snow and strong winds are likely
Eastern Colorado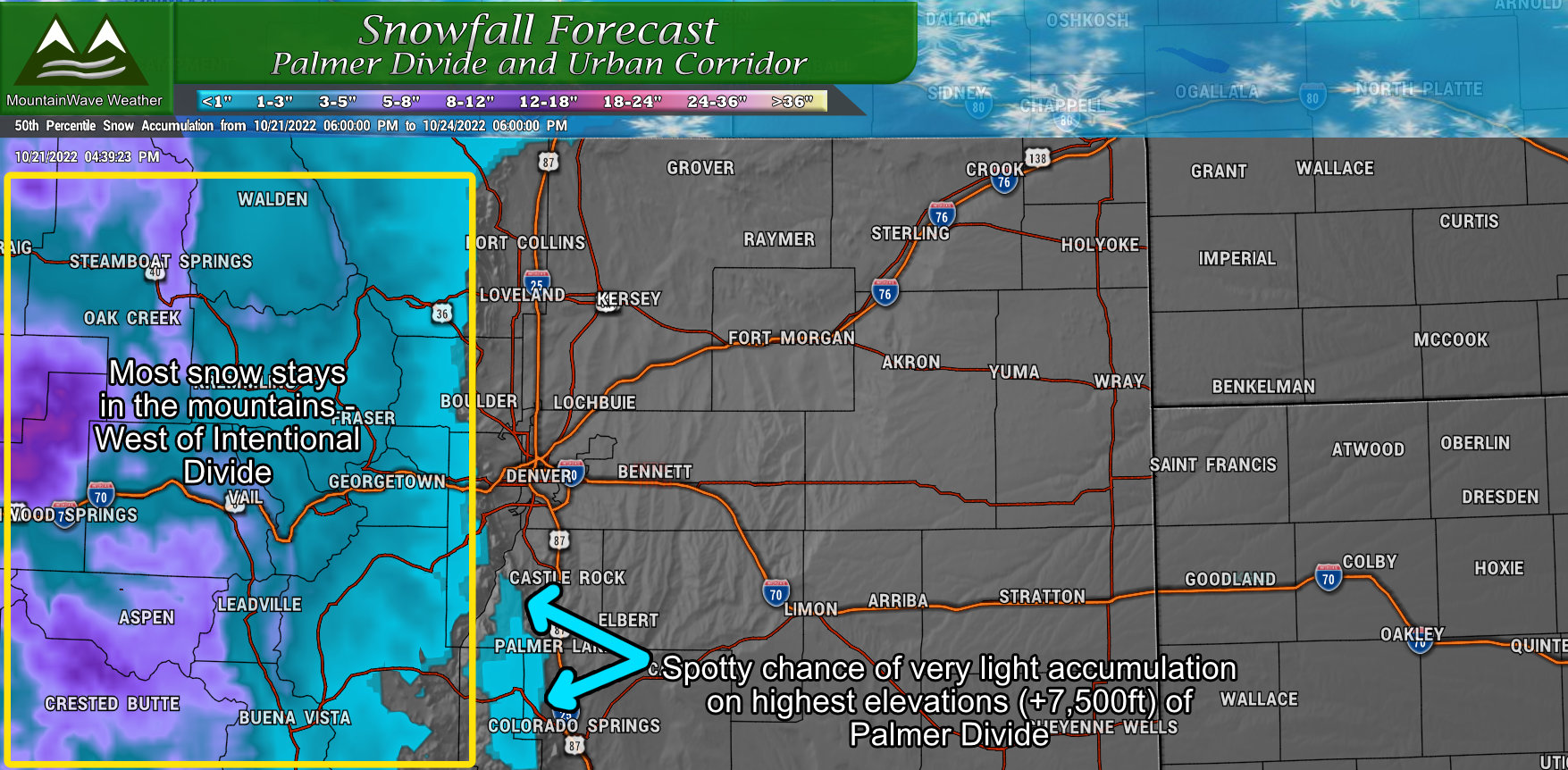 I've thrown Eastern Colorado in simply to show that this will mainly be a mountain event in terms of snowfall. A few of the higher areas of the Palmer Dviide may see a bit of snow late Sunday and into Early Monday Morning.
Temperatures late Sunday and Monday nights will be well into the twenties.
---
Palmer Divide Weekend Forecast
Here's the weekend forecast for Castle Rock - as always add or subtract a couple of degrees based on your elevation. Higher parts of the Palmer Divide will most likely be in the 20's late Sunday night and Monday night.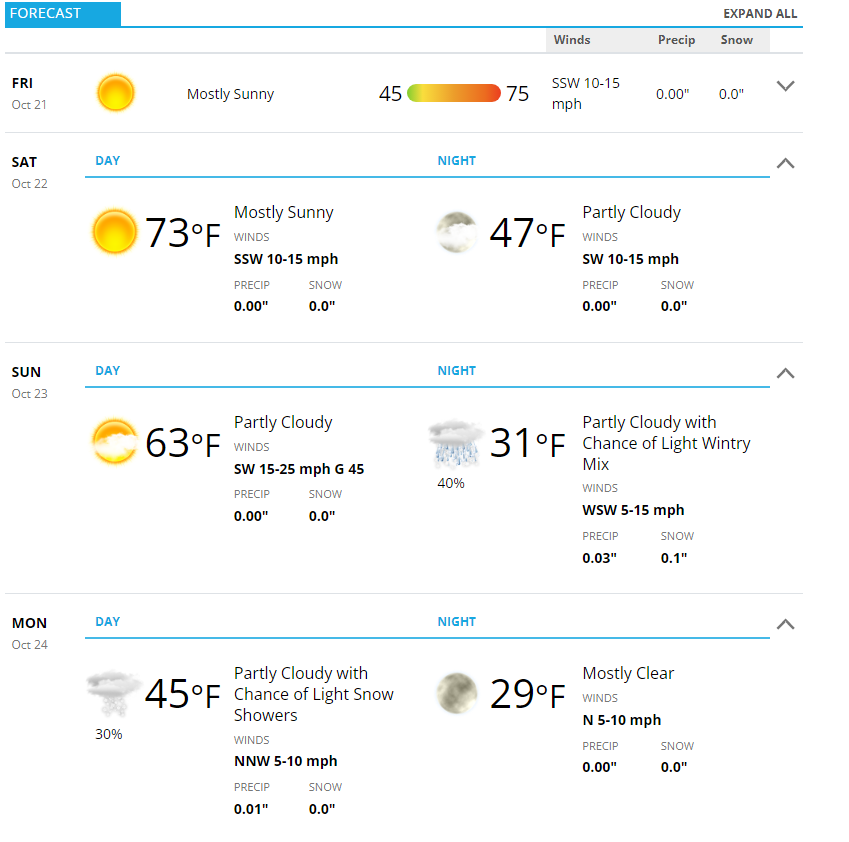 ---
Summary
Here's the quick rundown
Snow

Mainly a mountain event
Some areas could see quite a bit
Worst travel day is Sunday - be prepared for travel impacts!

Wind

Eastern plains and Palmer Divide
Gusts up to 55-60mph are possible
Biggest wind impact comes on Sunday, but Saturday will be breezy too
Not expecting travel impacts from snow - strong winds may create travel impacts for lightweight and high profile vehicles on Sunday

Temperatures

Sunday night and Monday night look likely for freezing conditions on the plains
Keep an eye out for hard freeze conditions at higher elevations (above 7,000 ft)
I'll have more updates as needed, stay tuned!