Strong Winds Continue Through Sunday - Weather Alerts
The High Wind Warning will expire at 8AM for much of the front range however, that doesn't mean we will be finished with the wind for the day!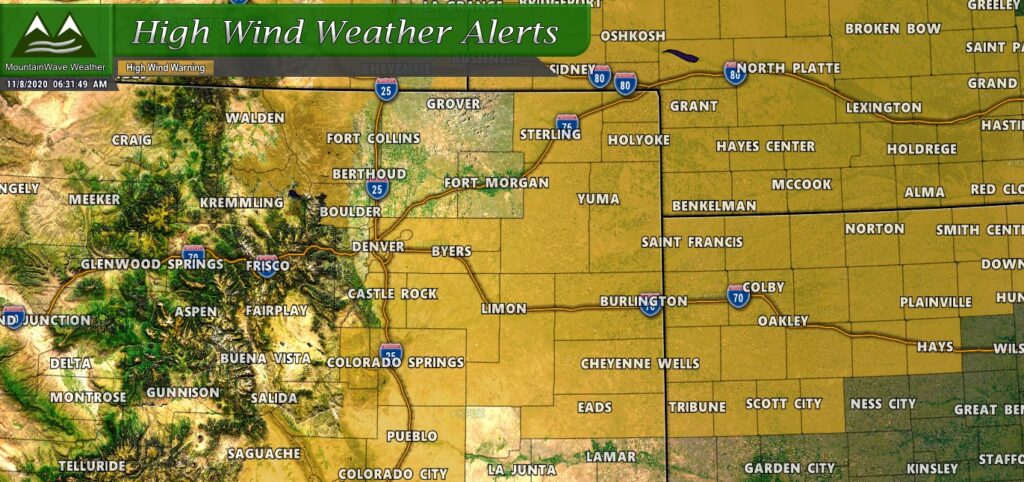 ...HIGH WIND WARNING REMAINS IN EFFECT UNTIL 8 AM MST THIS MORNING...

* WHAT...South winds 25 to 30 mph with gusts up to 60 mph, mainly associated with passing showers.

* WHERE...Phillips County, Sedgwick County, Denver, Palmer Divide including Castle Rock, Elbert, and Larkspur, Southern Lincoln County, Eastern Adams and Arapahoe Counties, Eastern Elbert and Northern Lincoln Counties, Logan County, Washington County and Boulder and the western suburbs of Denver.

* WHEN...Until 8 AM MST this morning.

* IMPACTS...Strong winds will blow around unsecured objects. Tree limbs could be blown down and a few power outages may result. Travel will be difficult for high profile vehicles, especially along east-to-west oriented roads such as I70 and I76.

Strong winds may lead to property damage. Hazardous driving conditions due to powerful cross winds will pose a serious risk for drivers, especially for light weight and high profile vehicles. Loose outdoor items should be brought inside or secured properly.
Once the High Wind Warning expires, we will see it replaced by a Red Flag Warning for many areas East of I-25. Dropping humidity, dry conditions and the continuation of strong winds (just under warning criteria) will make for extremely dangerous fire conditions throughout the day on Sunday.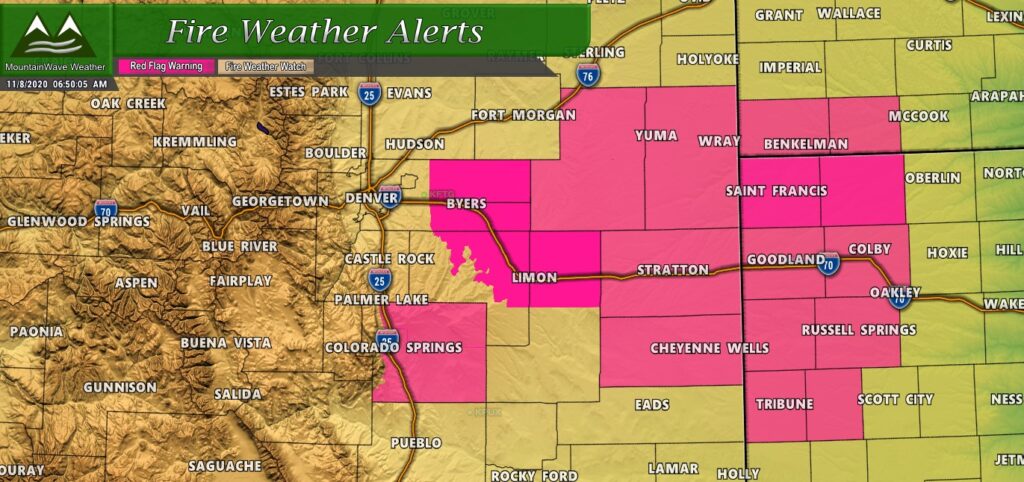 ...CRITICAL FIRE WEATHER CONDITIONS ACROSS THE EAST CENTRAL PLAINS...

.A post frontal airmass will bring very dry humidity to the plains this afternoon, while the current strong winds across the area are slow to decrease through the day. These will overlap to bring a period of critical fire weather conditions to the east central plains and Palmer Divide.

...RED FLAG WARNING IN EFFECT FROM 11 AM THIS MORNING TO 5 PM MST THIS AFTERNOON FOR WIND AND LOW RELATIVE HUMIDITY FOR THE PALMER DIVIDE AND THE PLAINS ALONG I70 INTO WASHINGTON AND LINCOLN COUNTIES...

The National Weather Service in Denver has issued a Red Flag Warning for wind and low relative humidity, which is in effect from 11 AM this morning to 5 PM MST this afternoon.

* Affected Area...Fire Weather Zones 240, 241, 245, 246 and 249.

* Timing...Winds will be strongest this morning, decreasing through the afternoon, while humidity won't reach criteria until 1 or 2 PM

* Winds...Southwest 15 to 20 mph with gusts up to 35 mph.

* Relative Humidity...As low as 13 percent.

* Impacts...Ongoing drought conditions combined with strong winds and low relative humidity mean conditions may be prime for rapid fire growth.

A Red Flag Warning means that critical fire weather conditions are either occurring now....or will shortly. A combination of strong winds...low relative humidity...and warm temperatures can contribute to extreme fire behavior.
Any Chance for Snow?
The way this storm is moving in and where all the low pressure is setting up means it is most likely going to be a cold temperature/strong wind event for most of us along Colorado's Front Range, including the Palmer Divide.
I've attached the snowfall forecast for 50% and 25% snow accumulation below for reference:
With this product, I tend to lean towards the 25th percentile because teh 50th tends to over-do snowfall totals more often than not. If we lean that way with the above images we can see that accumulating snow for much of the Palmer Divide is a pretty low bet. Keep in mind, that's not to say we don't see any snow coming down at some point; it means that it will be light and short lived so we don't expect a lot of that (if any) to stick.
What to Expect
Sunday

Strong winds and high fire danger
Series of cold fronts late will bring much cooler air to the region
Very small chance of spotty rain showers (less than 10%)

Monday

There appears to be a window of enough lift that we may see snow showers late morning/early afternoon
Snowfall should remain light and spotty
Spotty light snow showers may occur through monday evening

Tuesday

Northwesterly flow establishes a Mountain Wave with Bora Winds.
Expect breezy conditions with some areas near the foothills experiencing stronger winds
Overall Tuesday remains cool and dry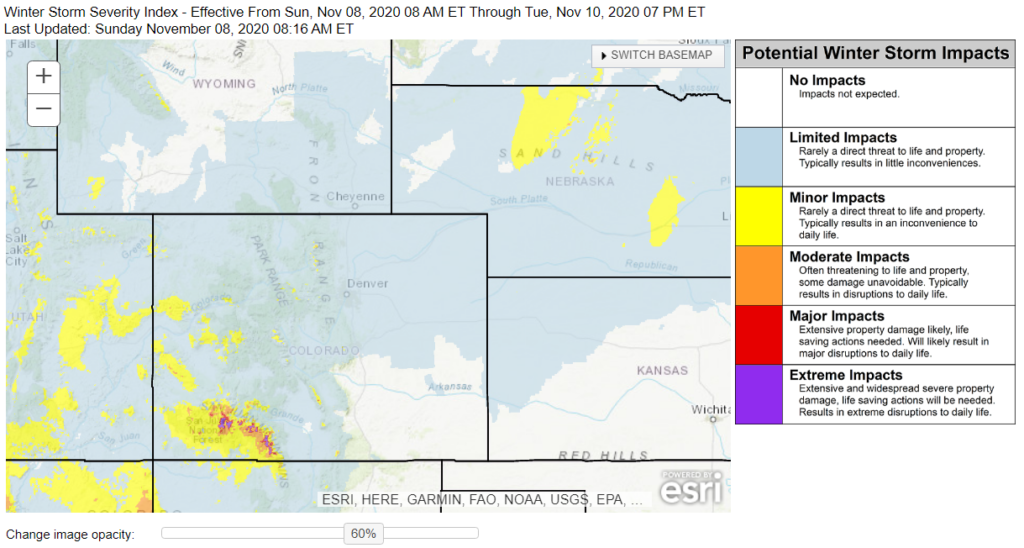 Travel impacts will be fairly minor across most of Colorado. The biggest chance of having travel issues due to the snow/weather is in the Southwest Corner of Colorado where heavier snow will fall and overall snowfall amounts will be higher (as high as 1-3 feet is possible in some areas.)