High Pressure Dominates Colorado Weather This Week!
Warm and dry weather has re-established across most of the US this week as a large ridge of high pressure pushes the storm track to the North and allows warm and dry air to circulate into Colorado from the West and Southwest. The snapshot of the Euro below shows a pretty dominant ridge building in the 500mb level of the atmosphere.
When you look at the temperature anomolies for Wednesday the extent of the heat is more apparent...
Expect warm and dry weather with the possibility of scattered areas breaking daily high temperature records across Colorado at least into the weekend. We don't see a whole lot of strong wind during the week besides a few periods of breeziness so that will be good news. By this weekend we will start to track our next change to the weather as we look to break the warm and dry pattern for at least a couple of days or so.
Next Storm System on the Way!
By Saturday things will start to change for us, while timing is still something that can shift several hours to a day or so one way or the other - we do know that by later in the weekend a strong low pressure system will build to our West and make its way through Colorado.
Here's what's interesting... the models don't handle what happens to this storm system as it treks across Colorado very well. The Euro with this storm looks very similar to what we saw with last week's storm...
Euro Model
The Euro does a couple of interesting things with the storm: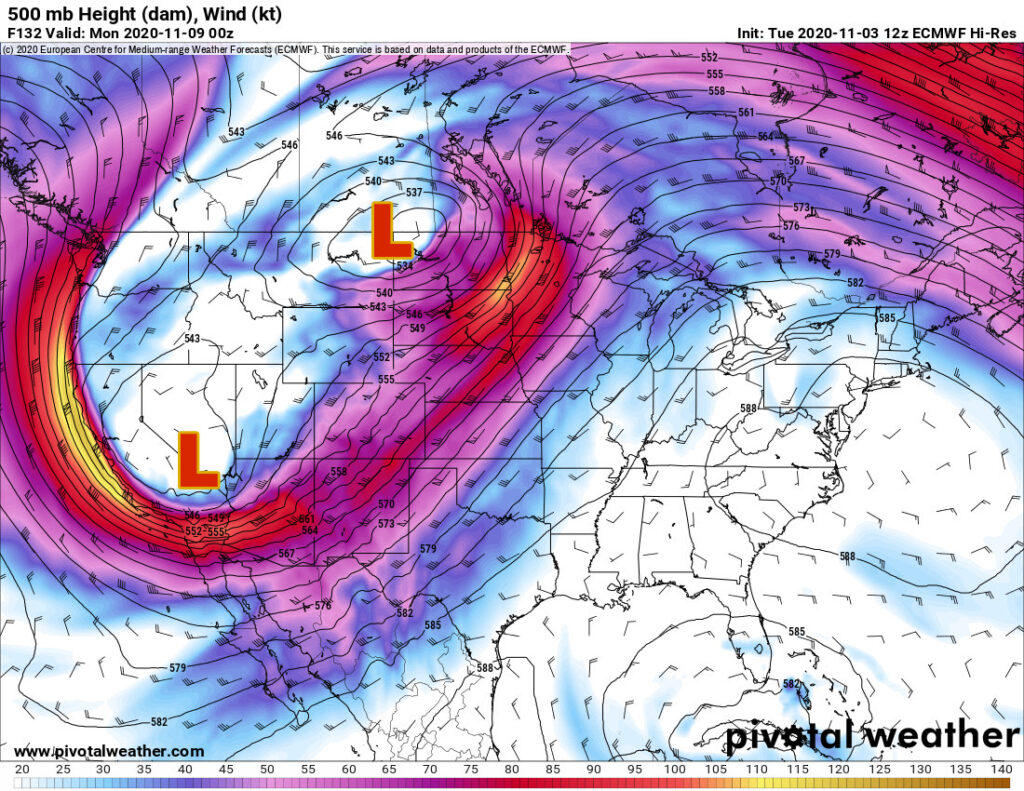 By late Sunday night (above image) the strong low building to our West splits into two seperate pieces of energy. This is similar to what our last storm system did - so it will be interesting to see if the model continues to show this.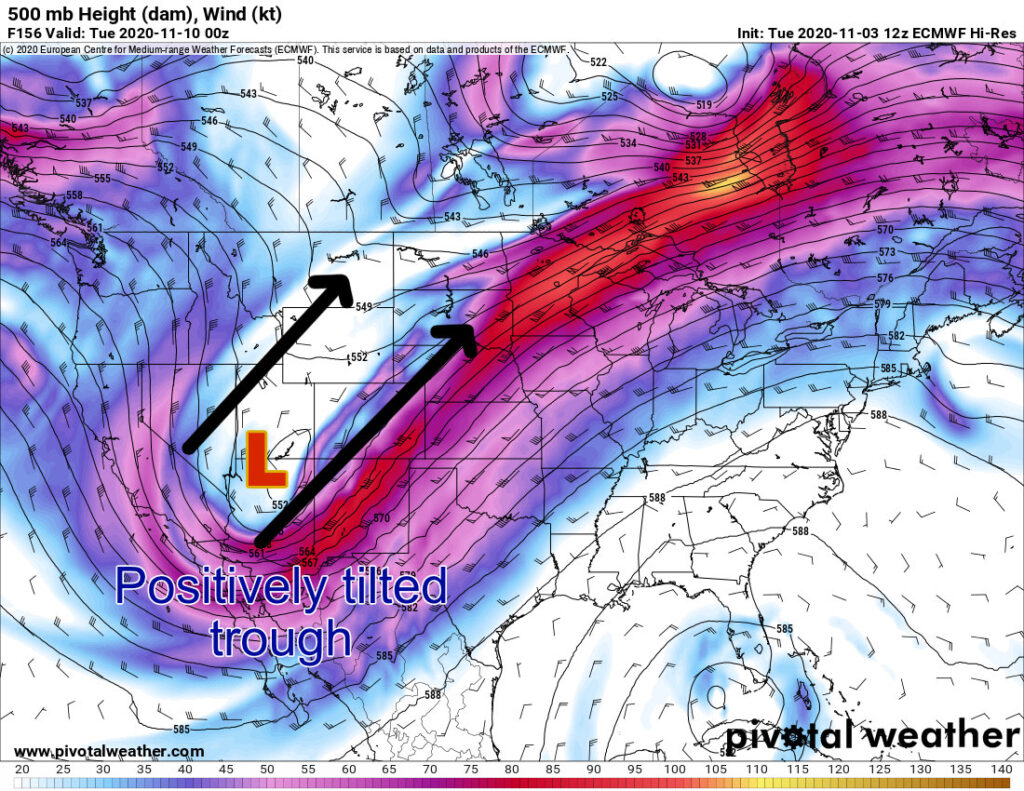 By late Monday the storm progresses to a postively tilted system - again, very similar to what the last storm system did.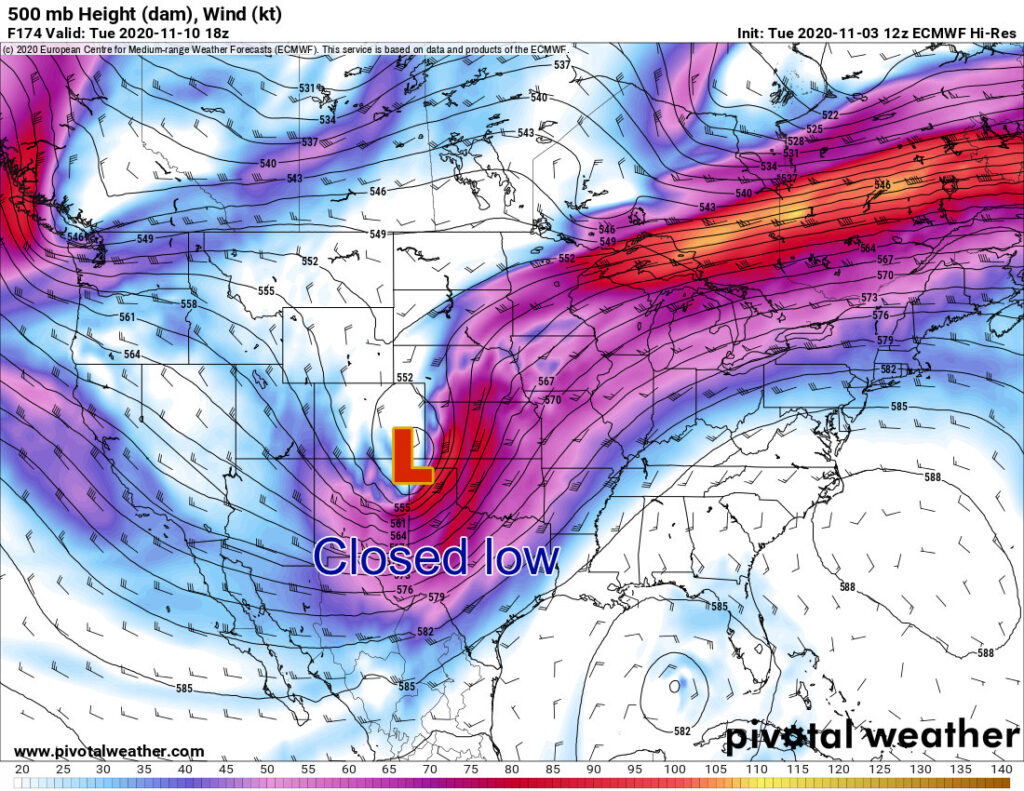 On Tuesday the storm moves across the state as a closed low. This will be interesting to watch because exactly how strong that low stays and exactly where it tracks acrosss Colorado will mean a big difference on what we see East of the continental divide. This is one of those storms where any wobble 20-30 miles North or South will make a huge difference?
So What Happens?
At this point in time we can't really tell where the lows will set up and how strong they will be. Details like that will become more clear as we move later into this week. All we can do is say that the liklihood of some sort of unsettled weather goes up by late Saturday and may linger through Tuesday or Wednesday next week... we will need more data to begin to narrow that timeframe down.
For what it's worth... the GFS shows a completely different setup...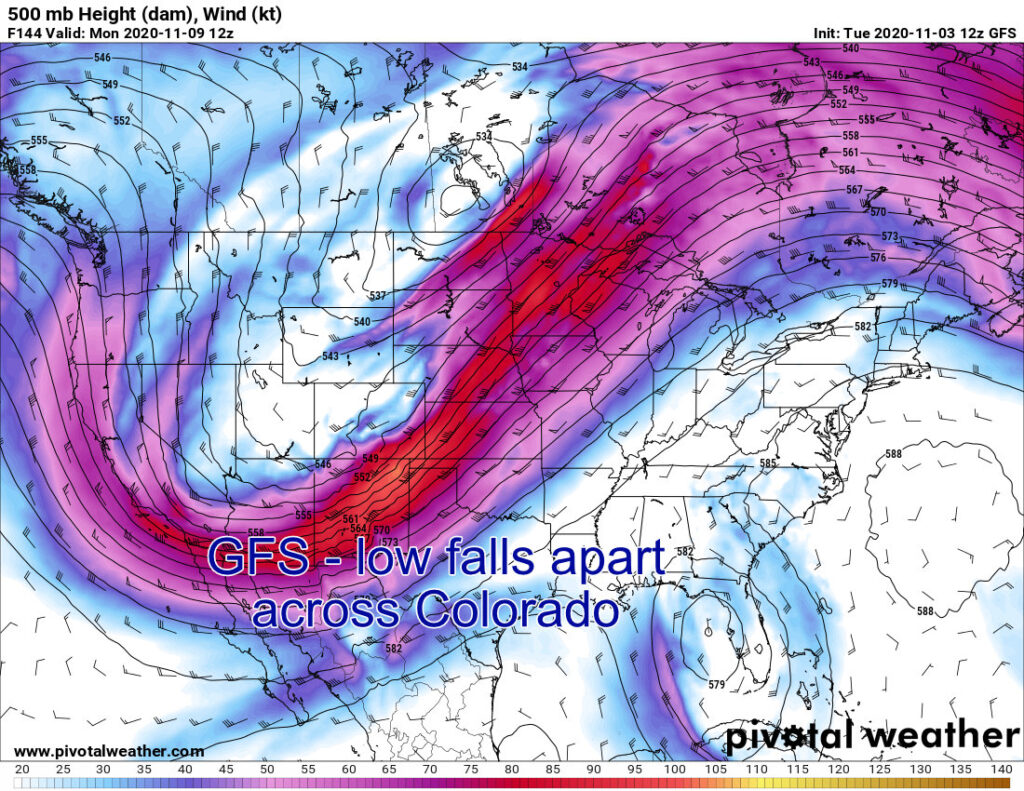 According to the GFS the low slides across Colorado, never closes off and completely falls apart as it moves East. If the GFS were to verify it would mean we would see more of a wind event and very little moisture in Eastern Colorado.
So the models disagree, what does that mean? UNCERTAINTY!
Right now there is low confidence in either solution, but for what it's worth we do lean a bit heavier on the Euro at this timeframe so that's something to keep in mind.
Summary - What to Keep an Eye on!
Rest of this week

Very warm temperatures and dry conditions

Saturday

Cool/cold front and changes possible by late Saturday

Sunday - Tuesday

The storm will impact the area during this timeframe, we will work on narrowing the days and hours down more as we get more data later in the week
What Kind of Impacts?
All of the following will be on the table but we can't rule anything in or out and we don't know the severity or timing just yet...
Keep an eye on the forecasts the rest of the week - we will keep an eye on the storm and make sure everyone has ample time to prepare if need by. At this time, no action recomended for this storm beyond keeping an eye on the forecast.