A potentially active setup for this afternoon is on tap as we stir up the atmosphere today as a cold front is moving through from the North. A large trough out to our West has put a nice kink in the jet stream and sent it over parts of Colorado. As this feature moves through, ample moisture, instability and wind shear will establish especially across the Northeastern quarter of the state.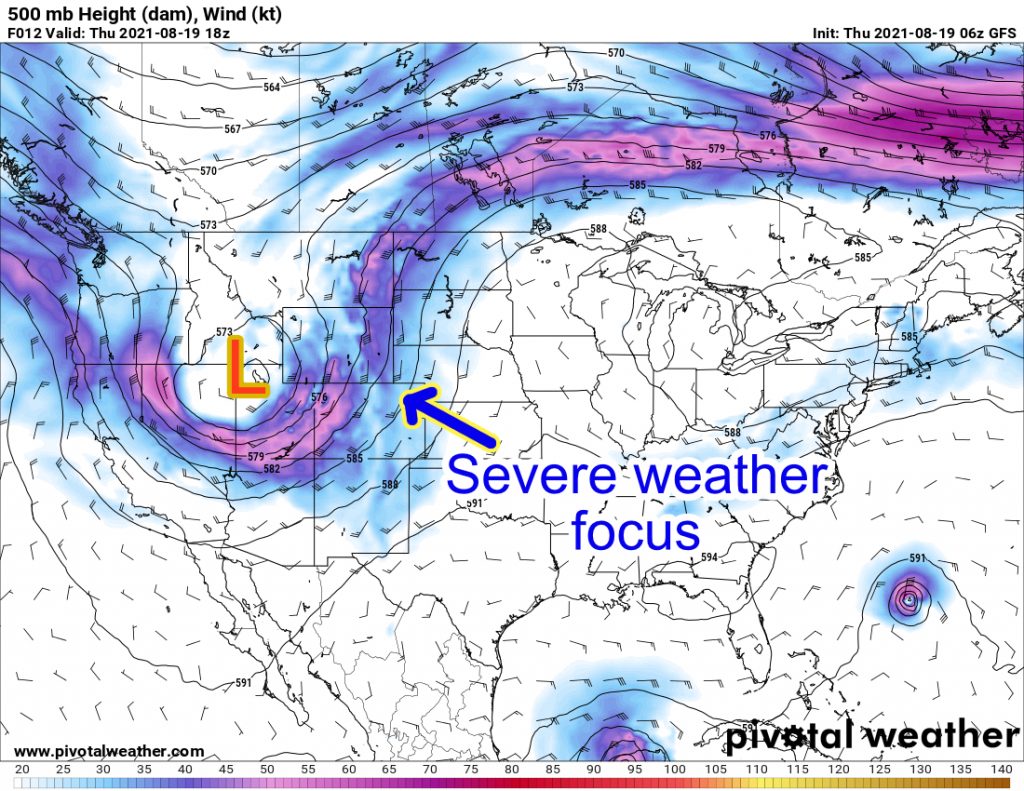 The ingredients are all there for severe weather today but as we know that doesn't guarantee anything, we still need storms to fire and once they do there's a whole host of variables that will come into play. The dewpoints forecast by the Nam3K around 3PM this afternoon are shown below and give us a decent idea that a dryline sets up over the Palmer Divide. This tells us a couple of things, the best atmosphere for severe weather is really the areas North of the Palmer Divide and into Northeastern Colorado. The second thing is that we may need to keep an eye on where that dryline ultimately sets up as it may be an area of thunderstorm formation later in the day.
A dryline is basically a line that separates a mass of moist air from dry air.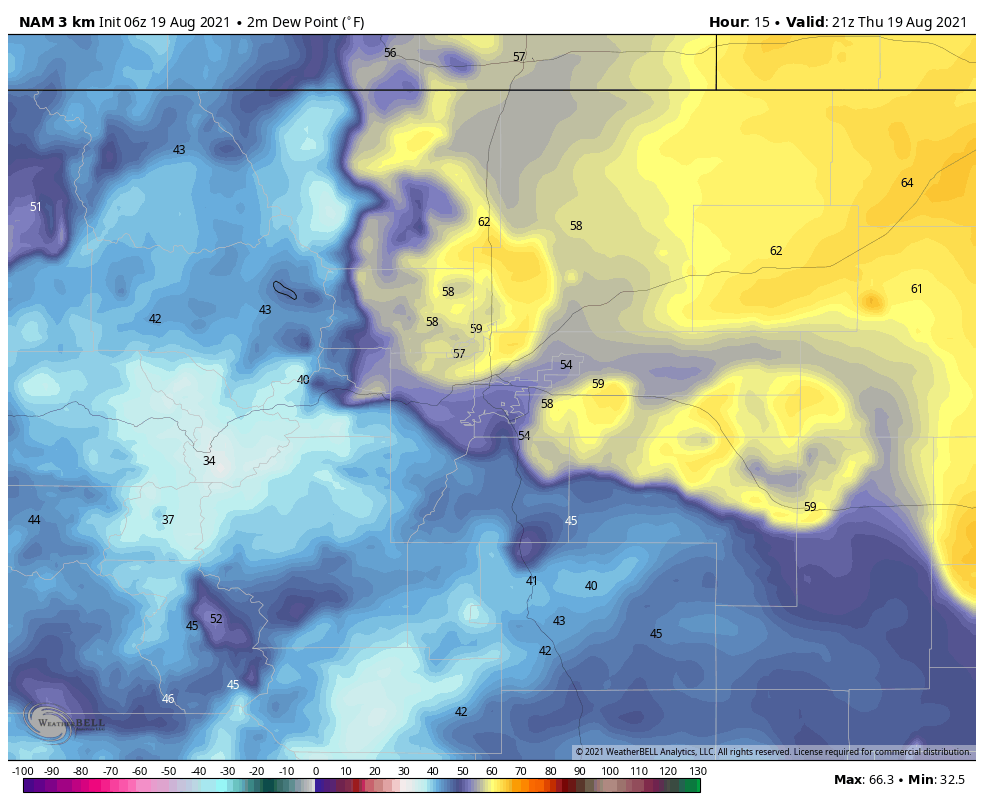 ---
Today's Severe Weather Outlook and Watches/Warnings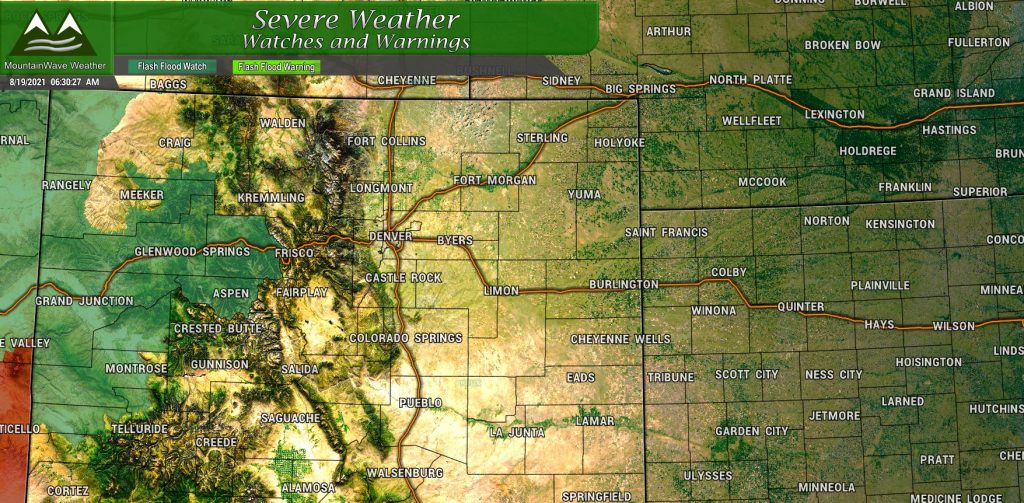 The first thing to note is the Flash Flood Watch in Western Colorado. This includes the Glenwood Canyon area, storms with heavy rain and flooding are possible in this area from this morning through the rest of the day. At last look (7AM) CDOT was reporting I-70 was closed through the canyon. I think it's likely that closure will continue today so keep that in mind if you have travel planned westward. You'll be taking that long detour up to Steamboat Springs and then southwards.
* A system moving across the region, in addition to monsoonal
  moisture, will support strong thunderstorms capable of producing
  heavy rainfall this afternoon through Thursday evening. This watch
  includes the Grizzly Creek and Lake Christine Fire Burn Scars.

* Burn scars will be especially susceptible to heavy rainfall
  leading to quick runoff responses with debris and mud flows likely.

PRECAUTIONARY/PREPAREDNESS ACTIONS...

You should monitor later forecasts and be prepared to take action
should Flash Flood Warnings be issued.
Here's a look at the Storm Prediction Center's categorical severe weather outlook for this morning. Note the yellow areas are the slight risk and are the areas most likely to see a few severe storms. Keep in mind though, even a slight risk means any supercell thunderstorms will be scattered and not everyone (not even most) will see severe weather. Outside of that in the green Marginal Risk area a chance of severe storms exists but the probability is even lower in those areas. Our chances are not 0% though along the Palmer Divide so be sure to keep an eye out for rapidly changing weather conditions this afternoon.
You'll notice in the primary threats section: all modes of severe weather are possible. Hail, strong winds and heavy rain are the primary threats, but a small tornado threat exists as well.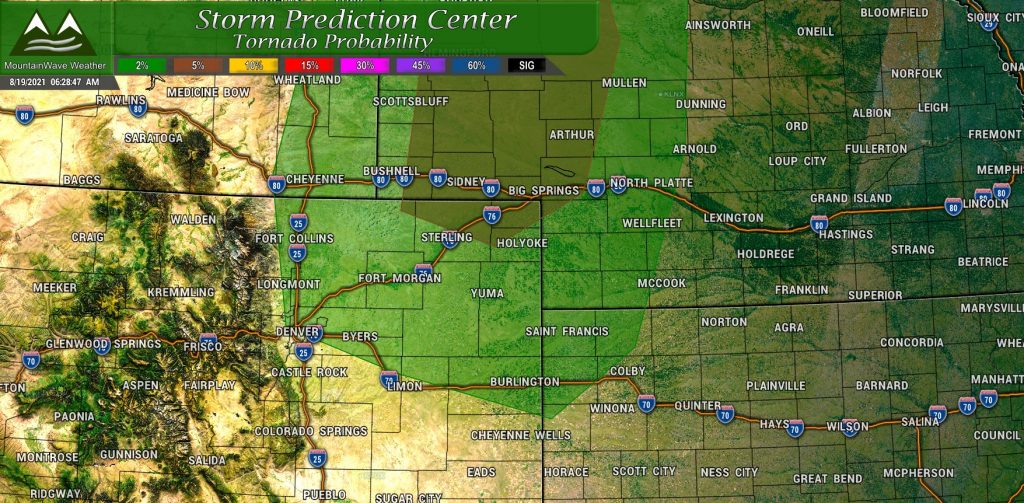 For Colorado, the risk area in green for tornadoes is at around 2% probability of seeing a tornado within 25 miles of a point. That is quite low, so don't expect widespread tornado action in most of Colorado today, but as a storm chaser I can tell you... don't ever completely write off a 2% tornado risk in Colorado!
---
Timing/Preparedness
All front range areas should be on alert for thunderstorms initiating by 1PM. Storms should fire initially over the mountains and foothills and move Eastwards. As they encounter the favorable atmosphere on the front range we should see pretty quick growth.
For the Nam3k model snapshot posted above, notice most storms are cranking around the area by 3-4PM... most models agree on this. Remember aren't great at pinpointing exactly where a storm sets up so don't focus on the locations specifically but focus on the general areas of storms and how large they are by this point.
---
Summary/Last Thoughts
A few things to watch for:
Next SPC update is around 11AM... we will be keeping an eye on if that severe weather threat shifts Southwards a bit. I wouldn't be surprised!
If storms fire too early along the front range you'll get more of a strong wind/heavy rain threat - if they hold off a bit until afternoon we will see more of an "all modes" threat

I can go into why that happens in an article some day if anyone is interested

If the Palmer Divide becomes a focus area for storm development we may see a decent amount of storms, but they may not reach severe levels over our area - they may wait until they move further Northeast
As always I'll be watching this afternoon and pass along updates as I can, but I do have a day job! Best source for real time weather alerts is a good app on your phone or the NWS.
Should be an interesting one today, buckle up!