With all the attention on the large storm system moving across the West next week - another little storm system sneaking in this weekend hasn't been talked about much. The good news is, we're going to talk about it!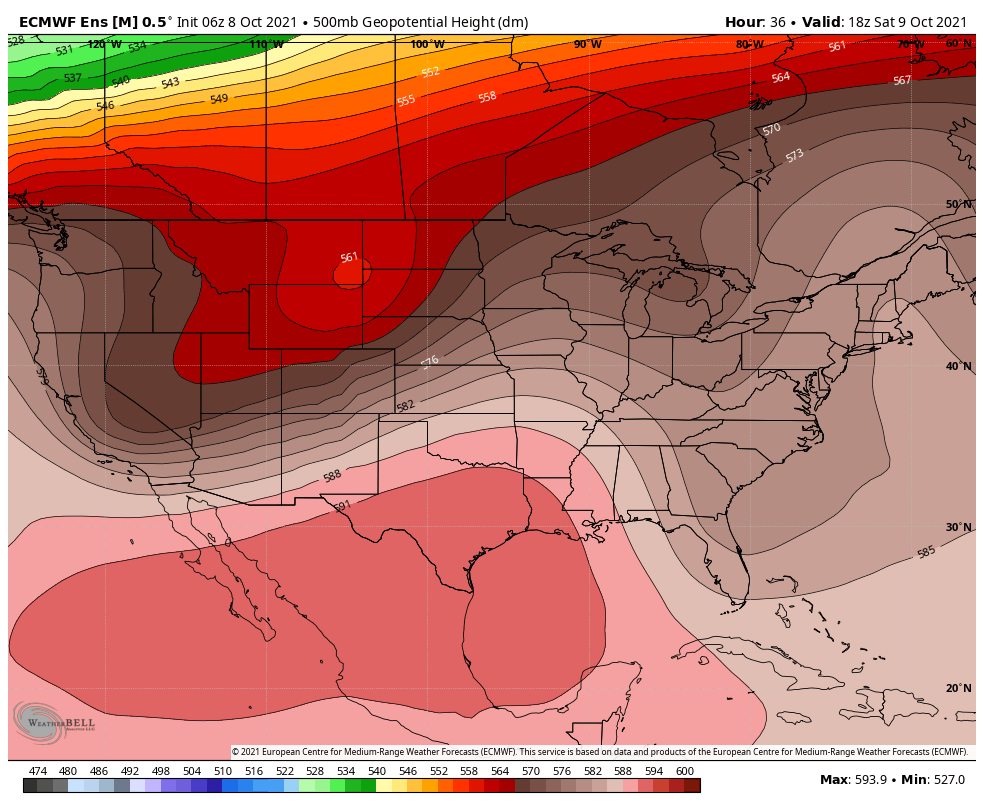 Looking at the mid-upper air pattern this weekend, you can see the trough to our North into Wyoming and Montana with a trailing disturbance over Northern Utah. This feature will swing through the areas to our North late Friday, into Saturday and Sunday. The track is well too far North to be of any concern as a major storm system that impacts Colorado, but the good news is there will be enough energy and moisture towards the South to bring our mountains some snowfall.
---
Impacts, Timing and Locations
I've got more details on the impacts below, but this will mainly be a mountain event in terms of snowfall and a wind event for the foothills and plains. We don't expect much moisture over the plains, front range or palmer divide outside of a few sprinkles here and there. No snow is expected for the Palmer Divide.
What we will see a decent amount of is wind however, the highest impacts from wind will be in the mountains at higher elevations but the foothills will see some of this as well. Keep this in mind if you have travel plans the combination of wind and snowfall may make for some tricky travel conditions especially over the higher mountain passes and the Eisenhower tunnel.
As far as timing for all of this, expect winds to pick up this afternoon in the mountains. Stronger winds will filter into the high country Friday night and snow will begin as well. Strong winds continue Saturday with another chance at snow later on Saturday and into Sunday.
Snowfall Forecast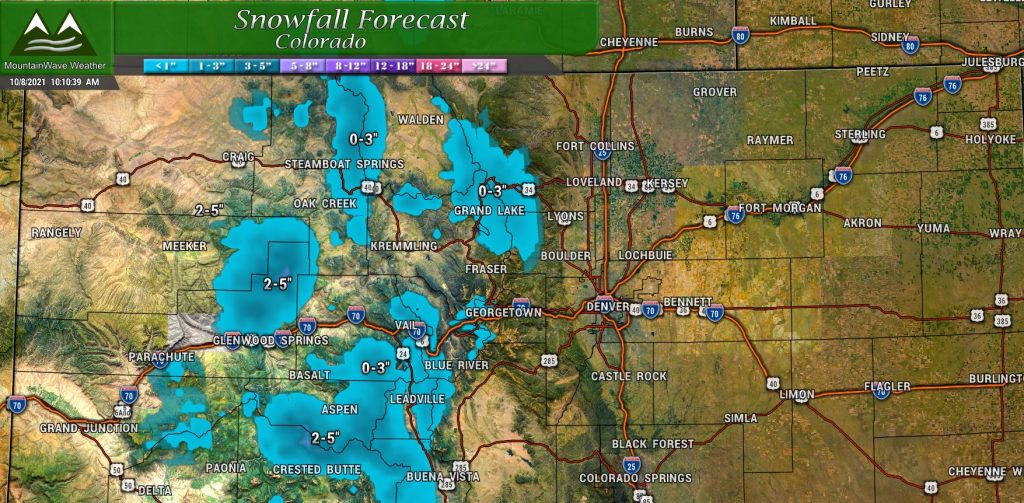 As I said above, mainly a mountain event for snowfall, but unlike the last storm to effect those areas - some mountain areas may pick up a decent bit of accumulation. Most areas see 0-3" of snow overall but some areas at higher elevations along the Continental Divide and Westward towards North of Glenwood Springs could see 2-5" or maybe even more! This forecast above is total expected snow for this storm system through Sunday - again keep an eye out for tricky travel especially Friday night and later Saturday.
Wind Forecast
The bigger story from this storm system will most likely be the wind. The snapshot below is the predicted max wind gust from the Nam3k Model for around 3AM on Saturday morning. For those living West of town into the foothills and Western sections of the Palmer Divide - the winds will be howling late tonight and early tomorrow morning. Many models have wind gusts in the 45-55mph range so expect tropical storm force wind gusts. Winds like that can blow a lot of stuff around and possible cause damage so keep that in mind!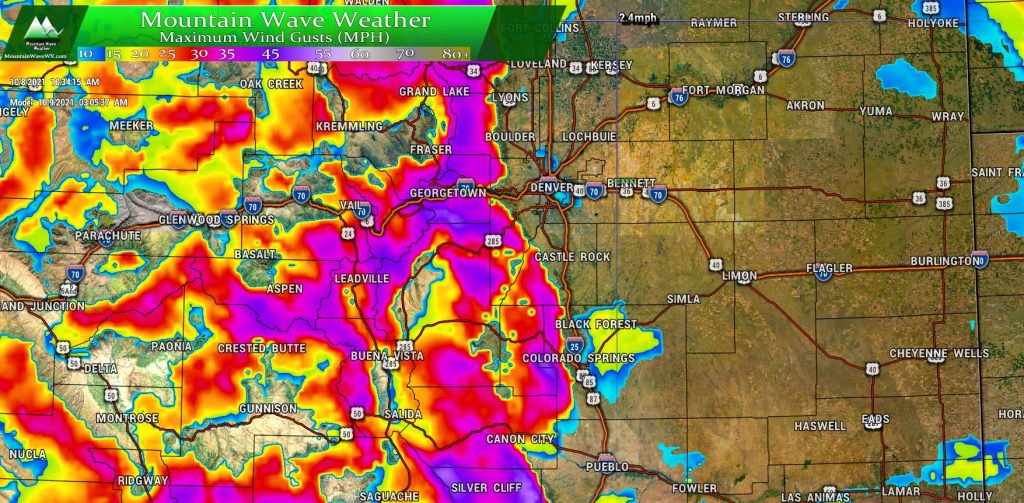 As we move further into the day Saturday the wind will spread outwards from the mountains and across the plains. Notice the swath over the Palmer Divide and to the Northeast, these areas will see 25-45mph wind gusts throughout the day on Saturday. So folks in Douglas and Elbert County pay special attention and be sure to have everything that could blow away tied down by Friday night... the winds will pick up fairly early Saturday morning so you won't have much time to prepare.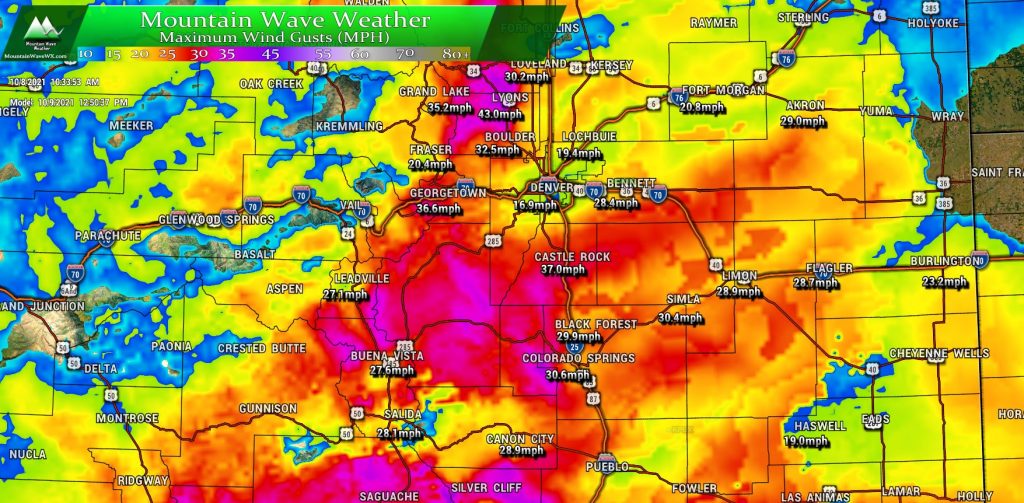 The above snapshot is from the Nam3k around 10AM on Saturday.
---
Preparation
Mountains
Strong winds are very likely - be sure to have everything tied down or moved inside that could blow away
Combination of wind and snow could make for tricky travel conditions - especially Friday night and later Saturday
Snow accumulation amounts look overall minor except for a few areas over mountains passes and higher peaks where decent snowfall is possible
Palmer Divide/Front Range
Little to no precipitation expected
Freezing temperatures not expected
High winds are likely especially on Saturday - have everything tied down or put away by Friday night
---
Summary
This storm will be pretty straightforward in terms of timing and impacts - expect a lot of wind more than anything along the front range and Palmer Divide.
We will continue to track this and next week's storms in the coming days - stay tuned!