---
The Setup - An Active Week Ahead
A lot to talk about this week, here's a few bullet-points of what we are watching:
Monday - nice day with a slight chance of thunderstorms late in the day
Tuesday - starts out nice, chance of storms later in the day (some could be severe)
Wednesday - storm system moves in, better chance of storms afternoon (some could be severe)
Thursday - cooler, good chance of rain with snow at higher elevations (above 8,500 feet) (front range could see locally heavy rain showers)
Friday - A bit warmer, afternoon thunderstorms possible
---
Storm and Severe Weather Threat
Tuesday May 9, 2023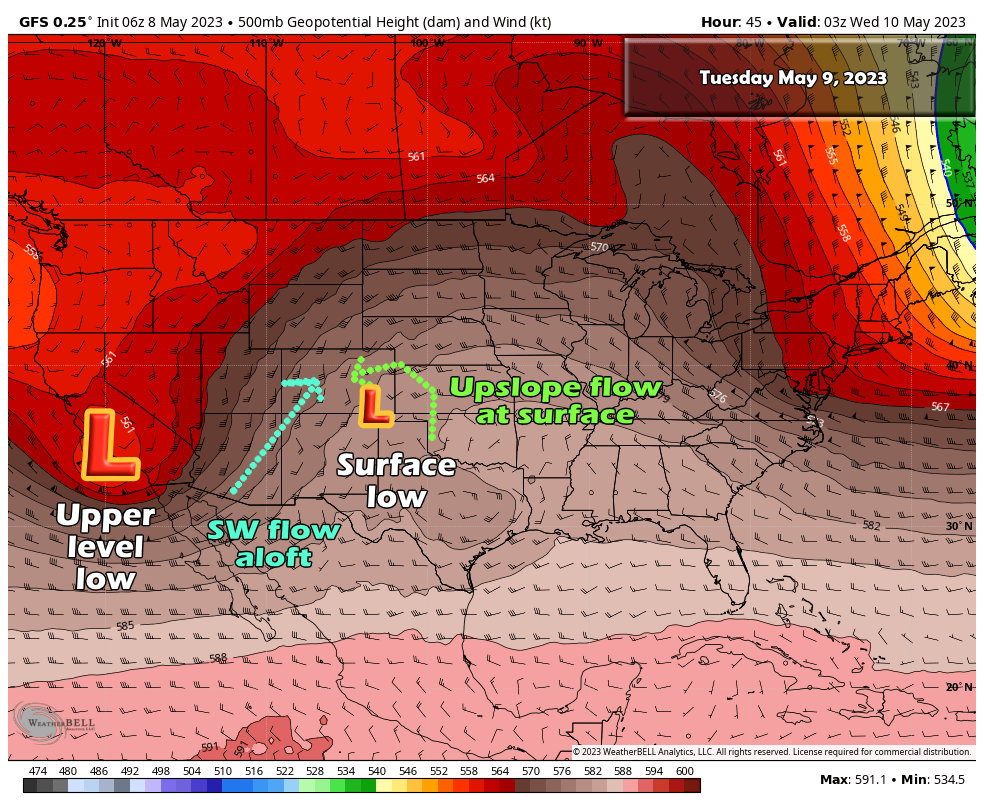 The setup on Tuesday is not quite as good as on Wednesday, but I still think some areas in Eastern Colorado will see a bit of severe weather. Mainly there's a few timing issues that need to come together in terms of the time of greatest instability and when moisture, heating, etc... all kicks off.
Zooming out and taking a 30,000 foot view (or a 500mb view... not quite 30,000 feet but stiller mid/upper levels of the atmosphere) we see the setup coming together and a few things I've highlighted.
A strong upper level low is forming to our West, this will change the flow aloft to Southwesterly
Meanwhile, on Tuesday afternoon and evening a surface low sets up over Southeastern Colorado. This will turn the flow at the surface Easterly and allow moisture to creep into the area
Many areas look to have dewpoints in the 50's or so by Tuesday afternoon which will mean ample fuel for thunderstorms
Lapse rates are quite steep (there is a strong gradient between the warmer air at the surface and colder air aloft) this screams hailers to me
We'll work on the details as far as the exact timing on Tuesday, but generally we see most of our thunderstorm activity along the front range between 2-6PM... we always have to watch to see if things kick off a bit earlier however. That will be with the details we share Tuesday morning. Stay tuned.
Main message: if you have outdoor plans on Tuesday after lunchtime and into the evening hours, be prepared for the potential of widely scattered severe storms and know what to do if you receive a warning.
---
Wednesday May 10, 2023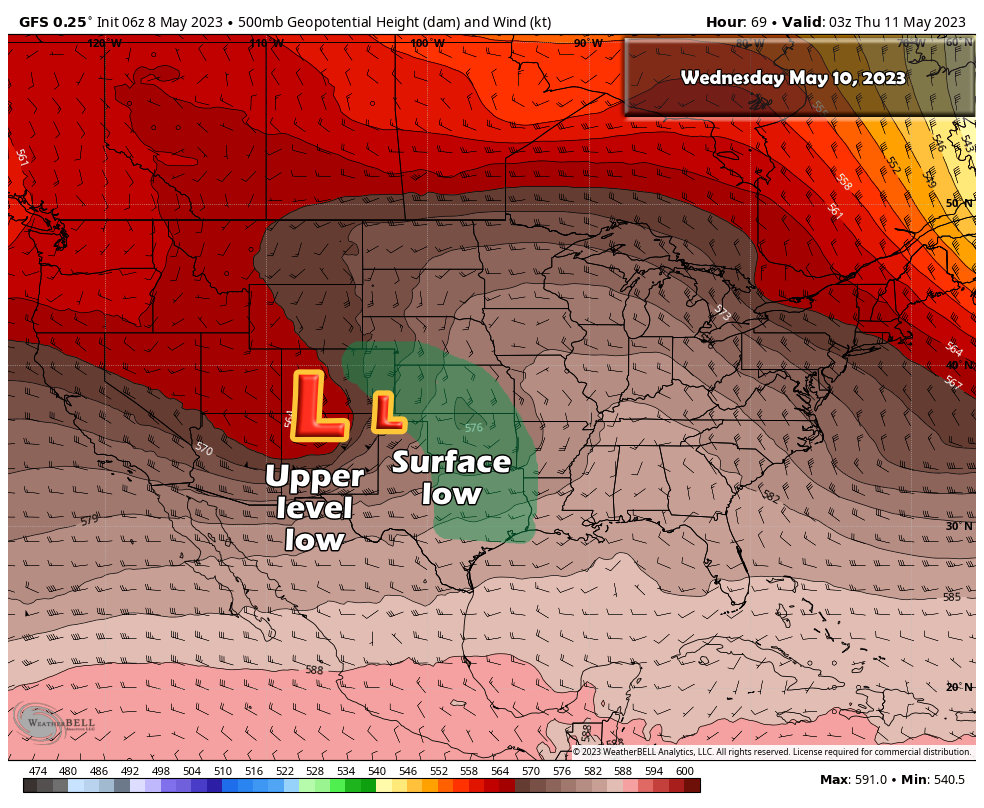 On Wednesday, the upper level low moves into Colorado - even though it is falling apart at this point it will still ramp things up another notch or two by enhancing our moisture transport, strengthening wind shear and providing energy and instability to kick things off.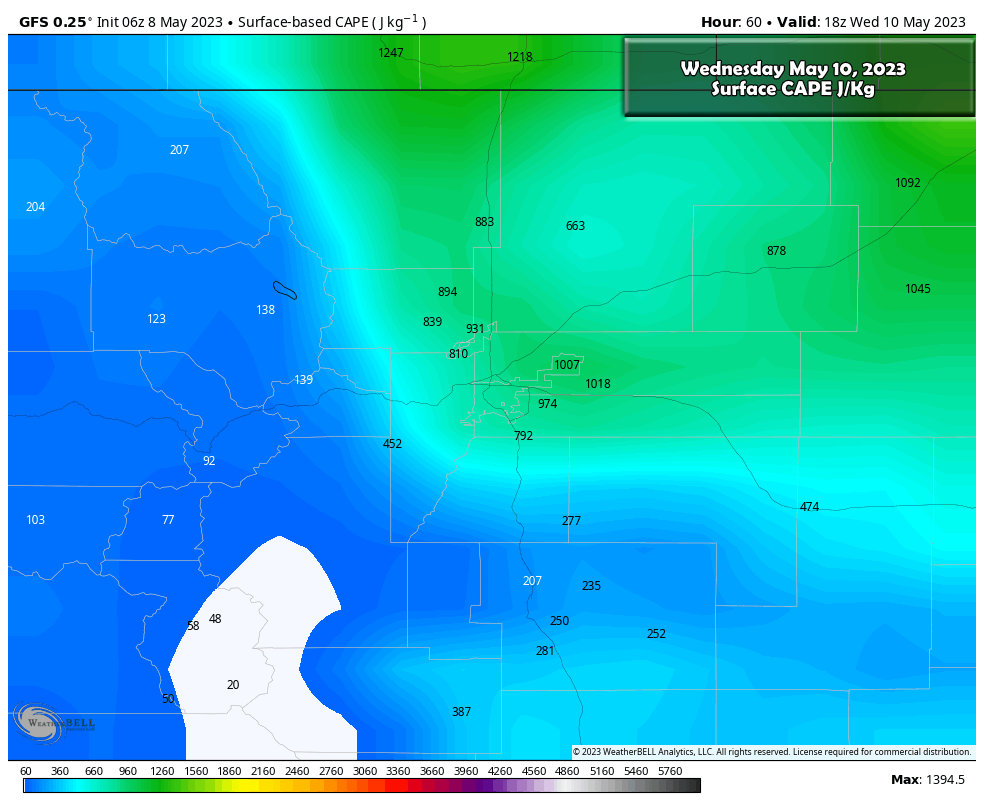 CAPE is a measure of instability, it describes how much potential energy there is in the atmosphere. For Colorado, we can kick off storms with 300-600 j/kg of cape because we have our terrain to help enhance that lifting mechanism (upslope.) On Wednesday, we show values across Northeastern Colorado in the 700-1000 j/kg which is quite a bit for us. This means any storms that pop off will be any a decently favorable environment to become severe with strong instability, good lift and decent wind shear.
Again, this isn't to say that this looks like a widespread severe weather event just yet. Storms look scattered in nature so that will be a limiting factor, it just means that of those storms that pop off, some of them may become severe (not all of them will.) Either way, it's best to be prepared!
---
Current SPC Severe Weather Outlooks
To give you an idea of the areas we are highlighting and the associated threats, here's a closer look at the Day 2 and Day 3 SPC outlooks:
Tuesday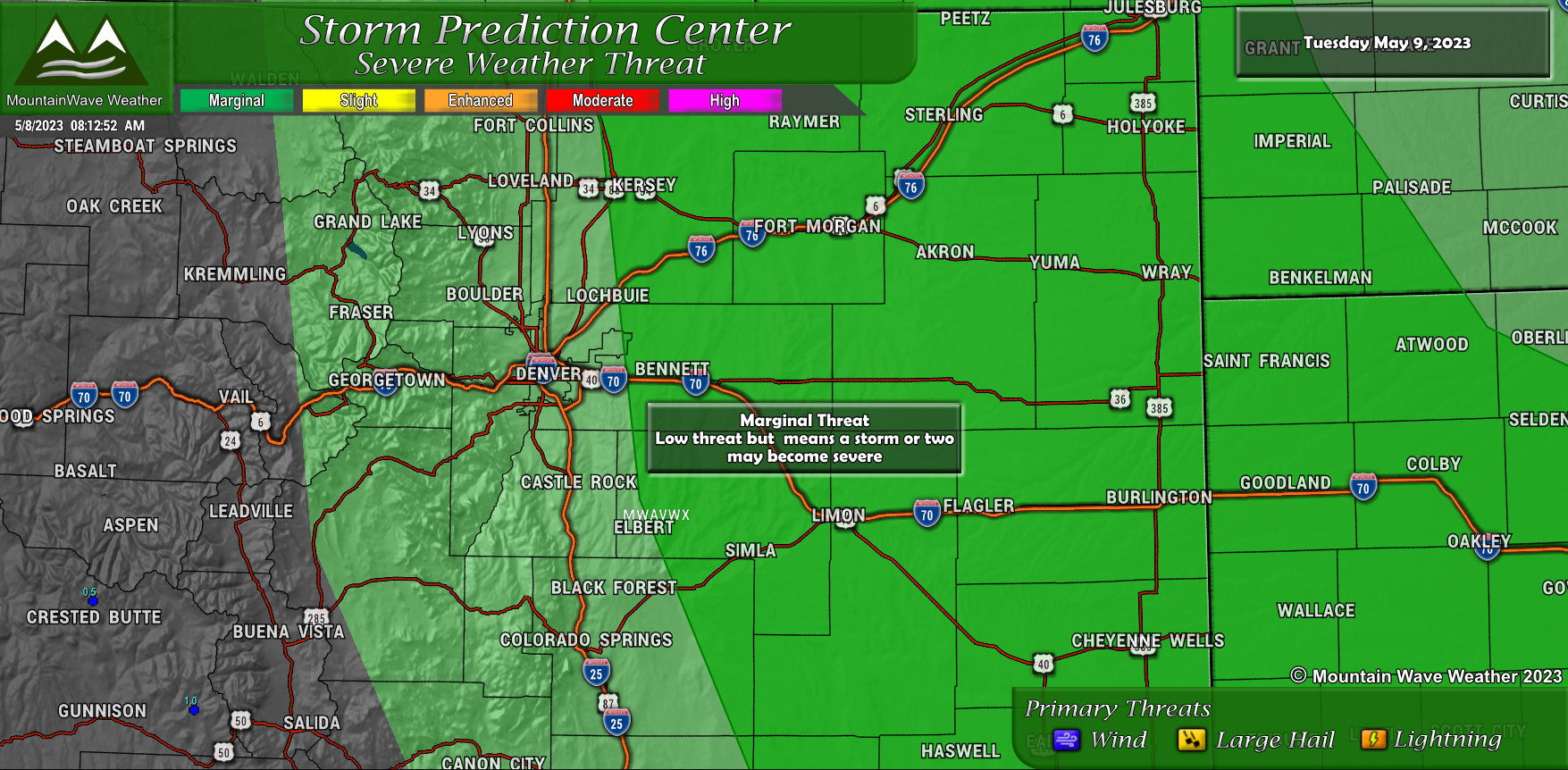 Wednesday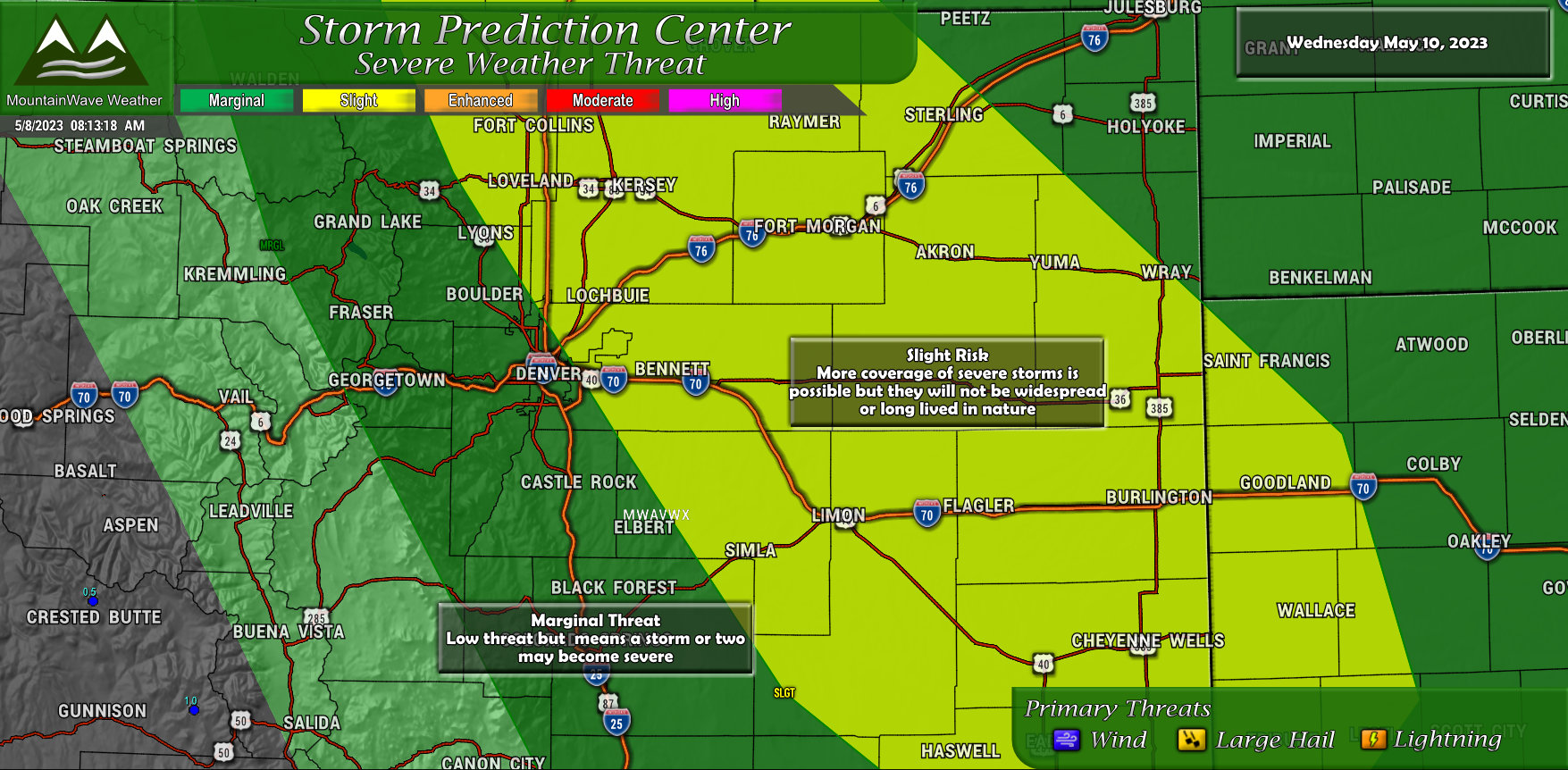 ---
The Good News? Lots of Moisture Potential With Late Week Storm System
The good news is that this storm should pull in a bunch of moisture and if we can get the storms to fire properly and the upslope to line up - we could see a decent amount of moisture across the area throughout the end of the week. The Euro snapshot below shows the type of numbers we are talking. Being this goes a full 5 days out, the numbers could still shift up or down, so we'll have to keep an eye on that through the week.
Suffice to say though,  if we come close to verifying this a lot of areas are going to benefit along the Front Range.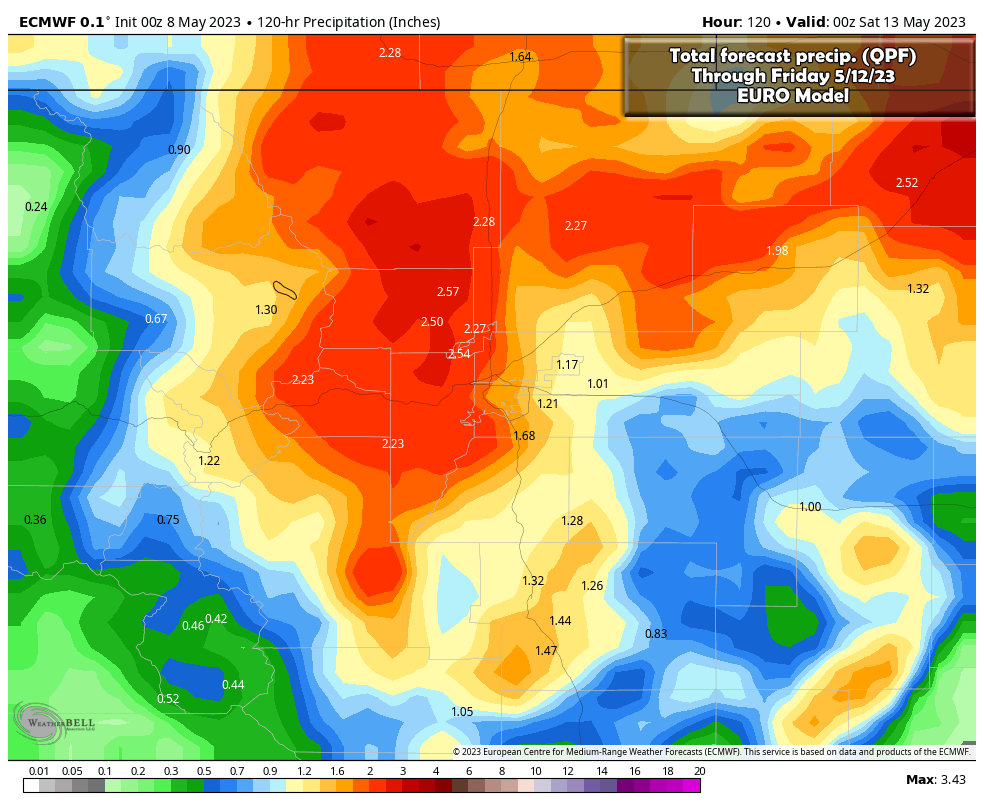 That's it for now, we will update throughout the week as needed. Stay heads up on Tuesday and Wednesday!