A busy travel day on tap today and several more through the weekend. Unfortunately, the weather is going to be quite active for the Western U.S. and this could mean significant travel impacts depending on where you are traveling from or to.
Here's a look at the latest weather highlights and it's a busy map!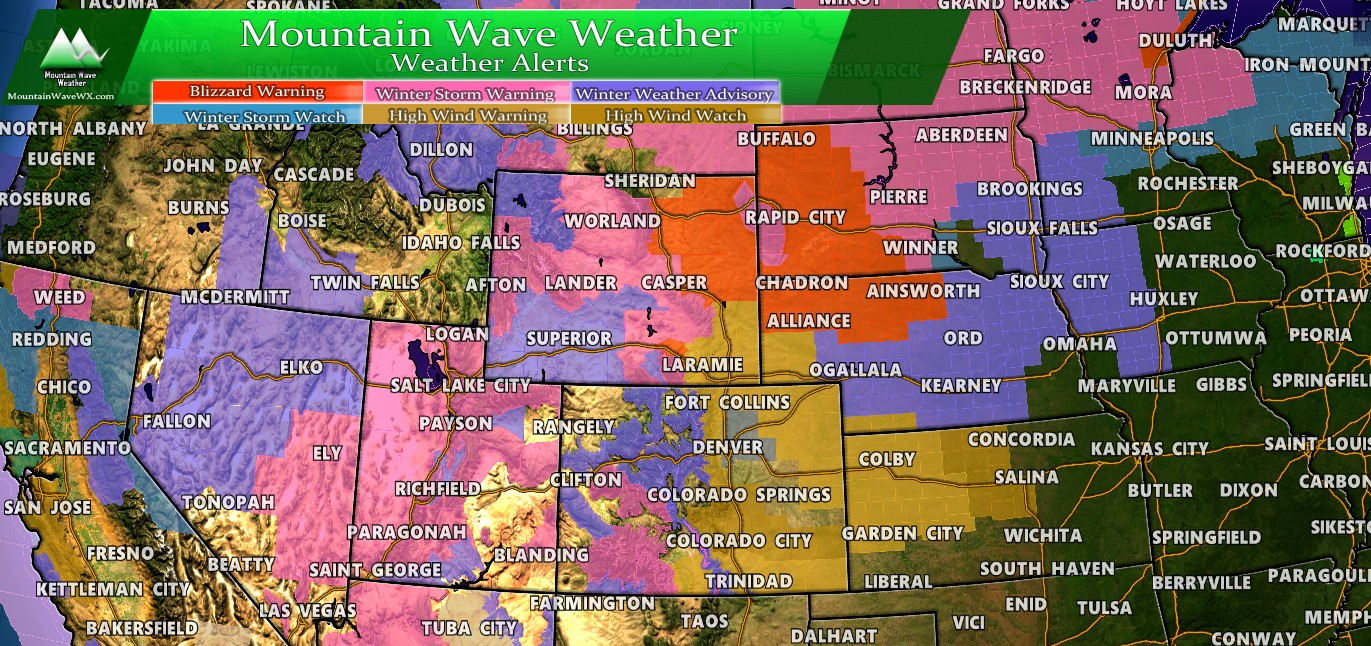 Blizzard Warnings are in effect for parts of Eastern Wyoming, Western and Northern Nebraska and Western South Dakota. These areas could see a wide range of snow, anywhere between 2-12 inches but the snow combined with winds as high as 60MPH means travel could be extremely dangerous in and around the warning areas. If you plan to drive through the red areas, it may be best to postpone until the Blizzard Warning expires. Honestly, if you have plans to travel through those areas during the Blizzard Warning... I wouldn't.
Winter Storm Warnings are in effect for numerous areas including most of Utah, Eastern Nevada, Colorado's Southwest Mountains, Central and Western Wyoming, Montana and large sections of North Dakota and Minnesota. Depending on the state, these warnings are up for everything from a combination of ice and snow to heavy snow with strong winds. Winter Storm Warnings generally mean travel is not recommended.
Winter Weather Advisories are in effect for lack of a better term; all over the place. Parts of California, Utah, Nevada, Colorado, Nebraska, Wyoming, Idaho, Montana, the Dakota, Iowa and Minnesota all have Winter Weather Advisories. These are issued where a combination of snow, wind and ice will make travel conditions difficult. Travel isn't necessarily discouraged through these areas, but just keep in mind that travel will be more difficult and slower through those regions.
Closer to Home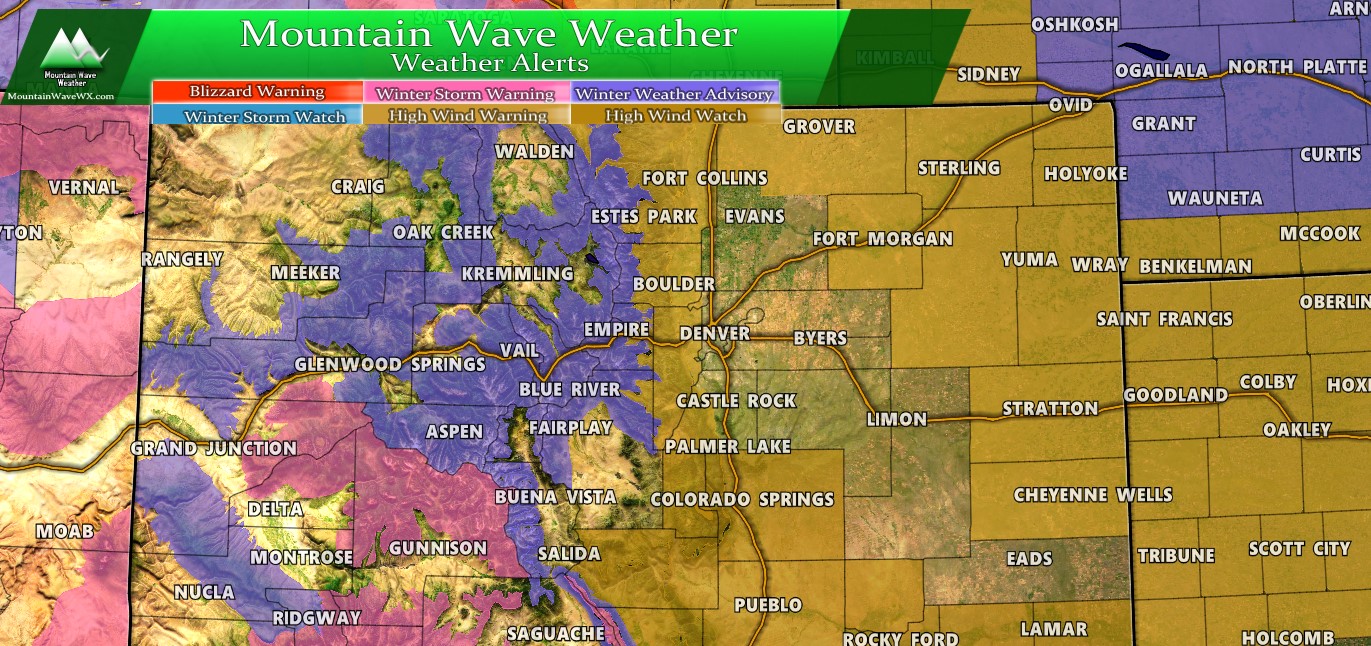 In Colorado, the most active areas in terms of winter weather will be the mountains where Winter Storm Warnings and Winter Weather Advisories are in effect. If you want to get an idea of where you'll have the toughest time travelling this a good snapshot. Any of the areas in PINK are areas where a combination of heavy snow, ice and wind will make travel dangerous to near impossible. Travel is not recommended in the pink areas. For the purple areas, travel will be difficult at times, travel is not discouraged but understand it will be slow going in those areas.
The Winter Storm Warnings and Winter Weather Advisories are in effect from and to different times for a lot of areas in the mountains, so instead of summing each individual one up here; I'll say you can view the warning details individually through NOAA's website.
The last bit of weather to be concerned about in Colorado has to do with the High Wind Warnings issued for the Western Palmer Divide area, front range foothills, Southern Colorado and the Eastern Plains.
Day-By-Day Travel Breakdown (Western U.S.)
Excuse the crude maps, but based on the weather warning areas and expected conditions I've compiled this information based on where the toughest travel areas look likely to be based on each of the next 3 days.
So all in all, depending on where you are going there will be good and bad travel days. The best day with the lowest impacts across the inter-mountain West looks to be Sunday, so if you're travelling that day you should see little in the way of weather holding you up. The exception to that rule may be parts of California and the Pacific Northwest.
High Wind Warning in Colorado
One last note about this highlight for our area closer to home...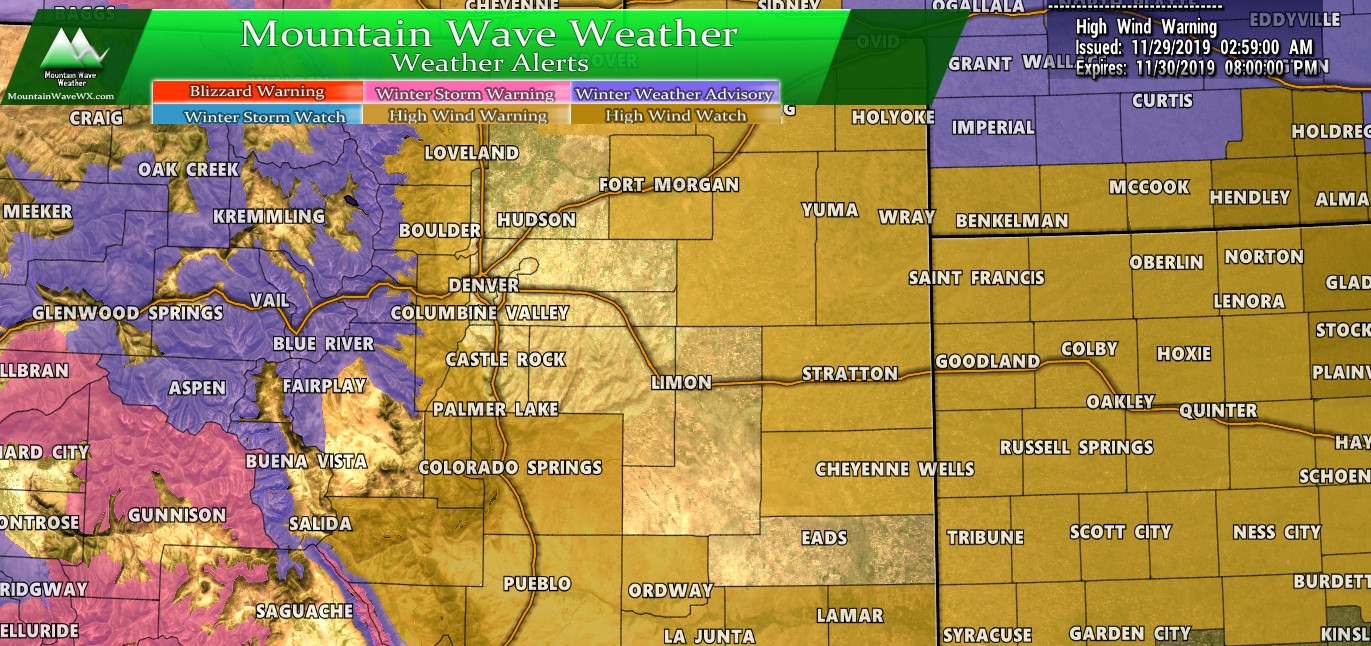 The High Wind Warning areas in Colorado are in effect from tonight through 6PM on Saturday. Be advised that wind gusts may approach or exceed 80mph so use Friday as a preparation day and make sure anything that can be blown away is tied down. High profile vehicles may experience some difficult travel conditions late tonight and through the day tomorrow.
There is a chance of a burst of snowfall as the storm system re-organizes to the North... not looking like much accumulation but a short intense burst will be possible. Keep that in mind, some roads may see impacts from this but should be generally short lived. If this should happen expect it in the evening hours, probably between 4-7PM. Freezing rain may accompany this burst as well so be prepared for ice on the roads.
Stay warm, stay safe and I hope everyone had a wonderful Thanksgiving! I'll be keeping an eye on things and will update as needed throughout the weekend!