.
Models Continue to Fight It Out!
While this storm will begin affecting the mountains as early as Thursday, the pulse of energy that may (or may not) effect the front range of Colorado is still a ways out. As such, there hasn't been a lot of agreement between the models on nearly anything East of the Continental Divide this weekend. In fact, if you asked us to give you the range of snowfall for the Palmer Divide through the weekend it would end up somewhere between 0-10 inches at this time... pretty useless forecast!
There is however, one area of the state where the models agree on!
The mountains (especially the central and northern) look to do very well with this storm. Above is the 72 hour most likely snowfall accumulation amounts from the WPC forecast. Keep in mind, with snow expected to continue into late Sunday, this forecast doesn't quite stretch that far so many of these areas could see a bit more than what is outlined above.
Battle of the Models
I usually don't like to post snowfall models this far out, but I think it's appropriate here to demonstrate how far apart they are. Keep in mind, this is in no way a forecast, but these are two models we keep an eye on in storms like this.
With both of these models and the timeframe being a bit too far out for the higher resolution, shorter range and a bit more accurate models all we can do is look at the overall story with these models. The details are; mountains look to do very well with this storm... there's relatively decent confidence in a long duration snowfall event over the weekend. The front range and plains shows much less snow but because there is disagreement between the models it's a low confidence guess at this point. Long story short, even though it doesn't look like much for the front range, it's simply too early to tell right now and I foresee a lot of changes in the models before we get a good forecast.
Mountains - Timing and Impacts
If you have plans to visit the mountains to ski that fresh powder, keep in mind. With the combination of falling snow and strong winds that are expected, travel may become difficult or dangerous in some areas. I'd especially keep a close eye on the mountain passes and higher elevations going towards the Eisenhower Tunnel.
Impacts

Strong winds
Falling snow
Icy roads
Road closures possible

Timing

Light snow showers possible through the day Wednesday and into Thursday
Heavier snow possible Thursday night
Snow continues (long duration) through Sunday evening
**If you travel to or from the mountains Friday morning through Sunday evening, expect travel impacts and slow going!
A great site for traffic conditions in the mountains is CoTrip.org!
Closer to Home - Palmer Divide/ S. Denver
**Keep in mind, with the uncertainty in the models, the timing and intensity can still shift quite a bit. This is just an explanation of what we see with today's data - do expect this to change somewhat in the coming days.
Timing

Snow looks to begin sometime overnight Friday-Saturday early
Currently models do not show a period of heavy snow, snowfall remains light to moderate through the day Saturday
The main wave of snow ends late Saturday
Some models show snow again late Sunday and into Monday... mainly along the Palmer Divide. We will have to keep an eye on this!

Impacts

With so much uncertainty we cannot discern potential impacts yet beyond colder and windier weather this weekend
We need shorter range/ higher resolution models to come into range to see if we can pick up a trend with this storm system
For now, stay tuned here and we will have updates as needed!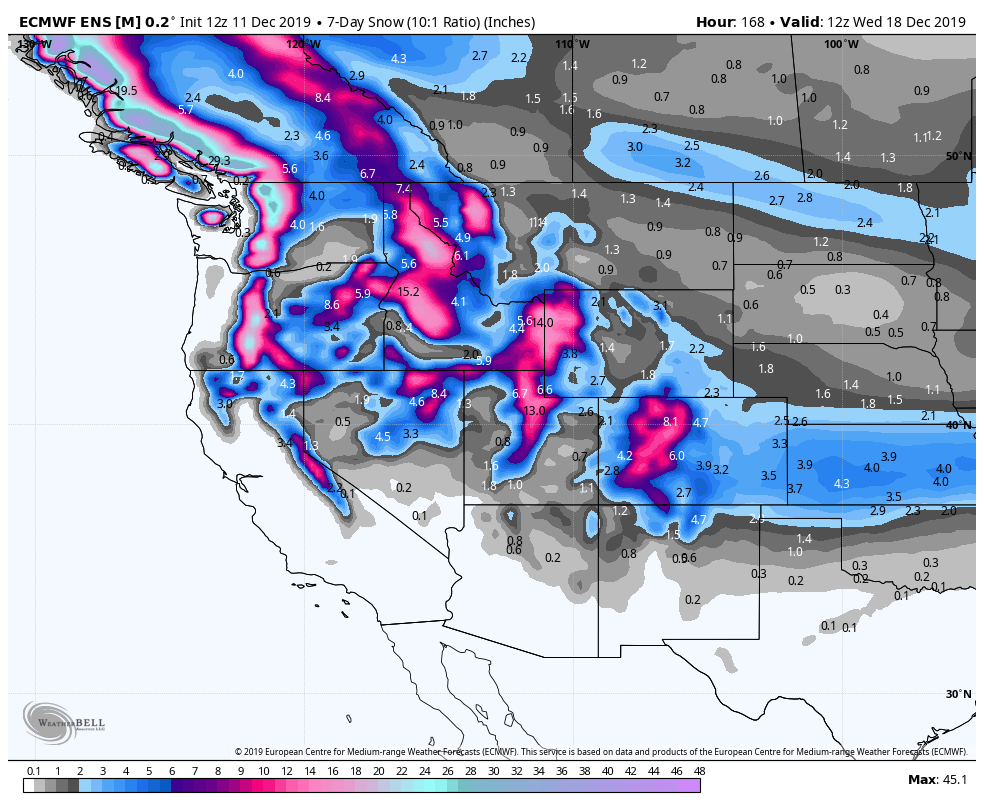 The Euro ensembles show a similar story, excited about snow in the mountains but not so much so along the front range. For what it's worth the Euro ensembles show slightly more snow East of the Divide than the operational does, so that may very well be something for snow enthusiasts to hang on to!
Summary
As of right now, this isn't looking like a major storm for any areas East of the Divide. We do have to keep a close eye on it though, we're still quite a ways out in the forecast process so any wobble in the low means more or less snow for us. Unfortunately we just don't know what that storm system is going to do just yet!
If you're heading to the mountains...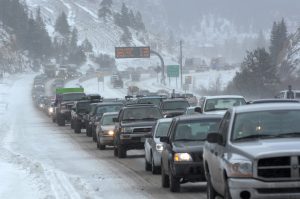 Don't be surprised to see slow going. Make sure you are prepared, have food, water, warm clothes and proper tires/traction equipment!
Keep checking back here for updates, we will keep you posted!