For the first time this year, we are starting to see a push of moisture from the South (Mexico) make it's way Northward in the inter-mountain West and up towards Colorado. While we still have some questions about how pronged this push of moisture will be, at this point we'll take any additional moisture we can get!
---
How Do We Know?
There are a couple of things we can see on models/surface observations/satellites that signal monsoon moisture is on the way:
Increased Humidity/Dewpoints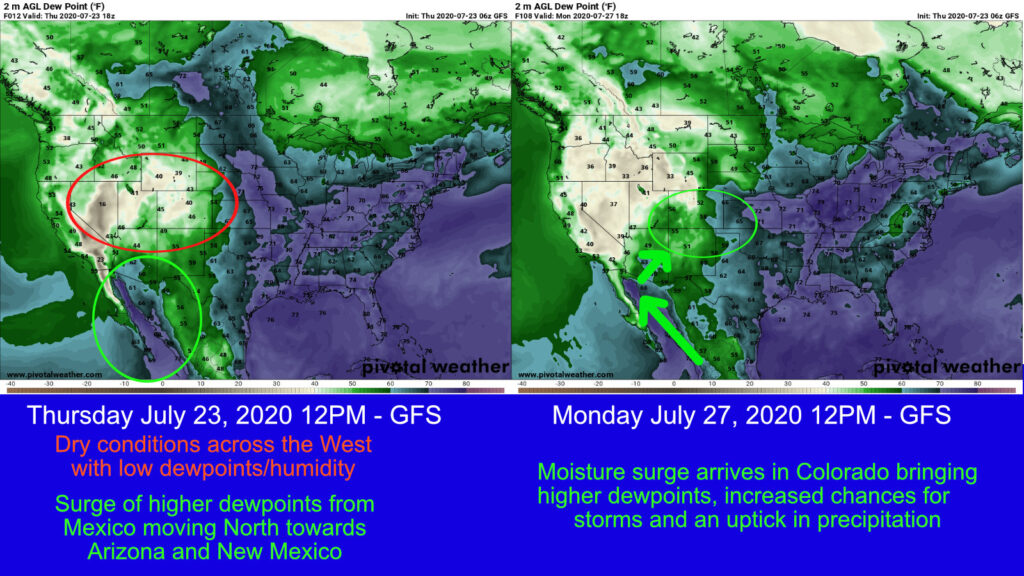 As you can see in the graphic above, one of the signs we watch for is increased dewpoints moving from the South in Mexico up in to Colorado. This can signal a shift in the winds to more of a Southerly/Southwesterly direction which efficiently transports moisture into the state.
Increased Precipitation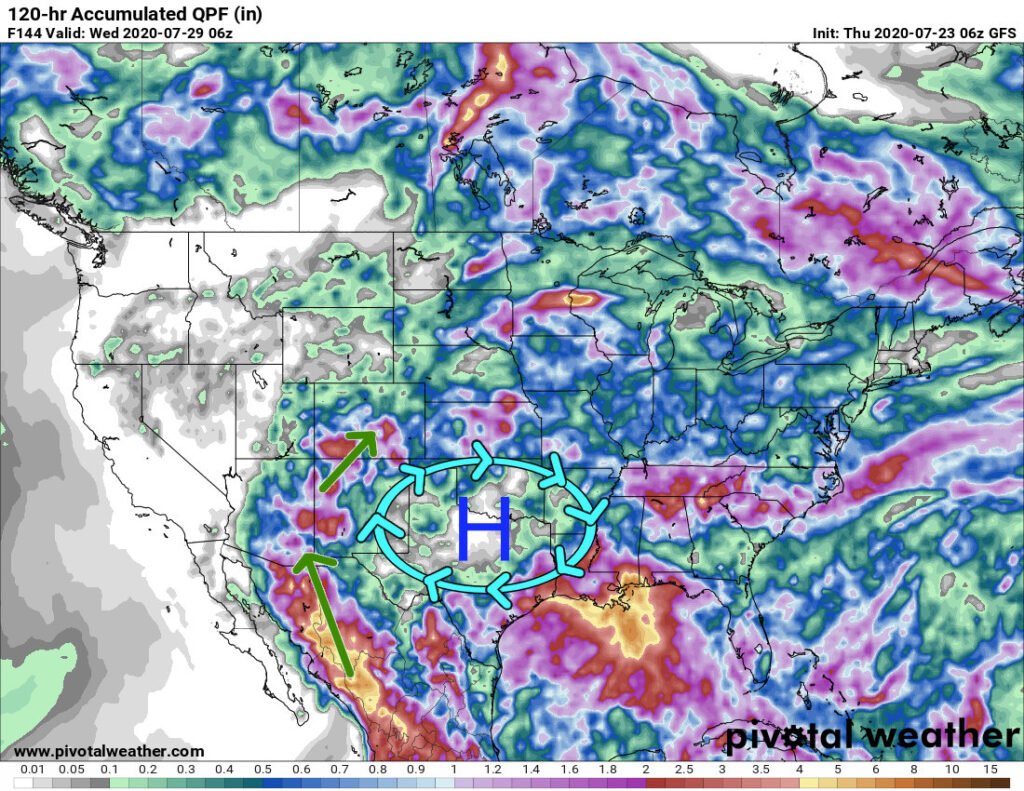 With that surge of moisture Northward it means plenty of fuel for thunderstorms to tap into - we would expect to see an increase in precipitation accompanying any surge into Colorado. If we look at the 120h qpf forecast from the GFS we can see an increase in precipitation along with that plume of moisture stretching from Mexico into our state.
Cooler Temperatures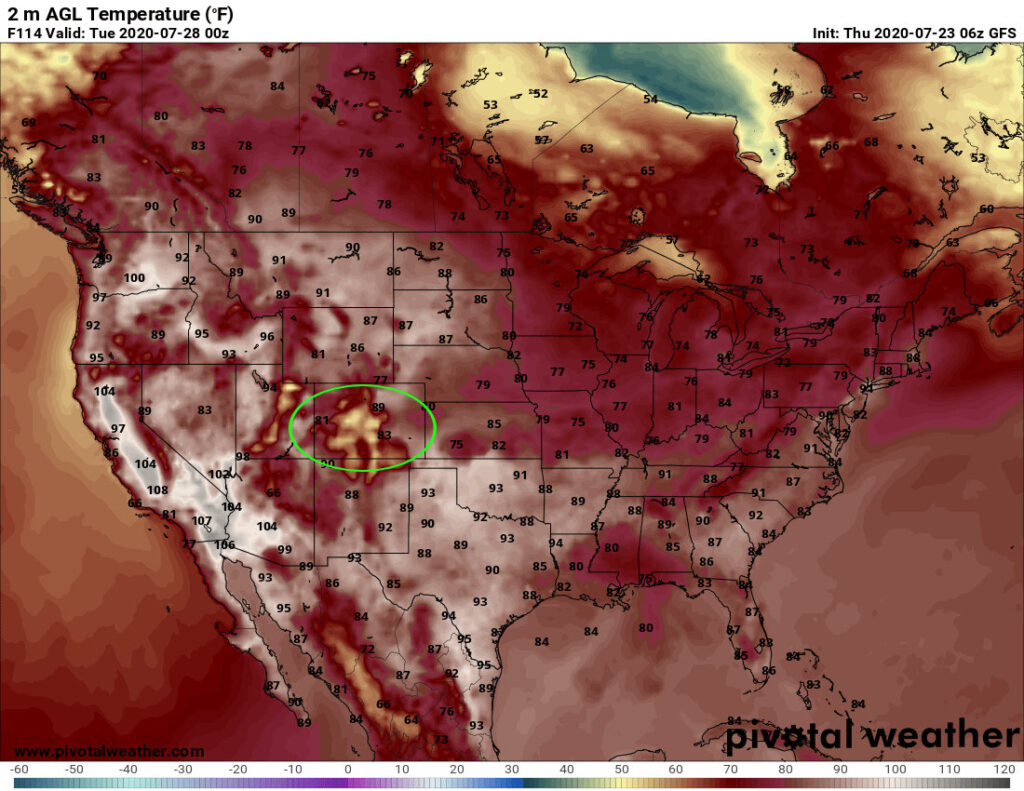 One other signal we see when the monsoon arrives is lower temperatures, which is usually due to 2 factors. The first is; it is harder to warm up air with more moisture in it, so higher humidity means more energy is needed for a longer period of time to heat that mass of air up. Secondly, thunderstorms tend to being building earlier in the day and the increased cloud cover means less sunlight hits the surface or it hits the surface for a shorter time. All of this results in cooler temperatures. Notice the circled area above in Colorado (this is Monday at around 12PM) and you can see the cooler air along the mountains and front range, this is happening because of thunderstorms in the area around this time.
---
Some Questions Still Remain
While the above information certainly looks promising there are still a few things we need to keep an eye on next week... this is far from a done deal as of yet.
How Long?
The biggest question is, will the monsoon establish and stick around for it's normal 3-5 week period. Long range modeling is still predicting a drier than normal monsoon event so that makes us think this may be just a short/temporary burst of moisture.
Who Sees The Best Precipitation
I've attached the QPF (quantitative precipitation forecast) models through next Wednesday below. They both show ample precipitation for Colorado but pull the heaviest precipitation Southwards along the Palmer Divide and points South. This means we have decent confidence for areas South of Denver to see decent moisture but the further North you go the more of a question mark that becomes... at least until we see better data from the models that Northern areas will see the rain.
This is something we will need to keep a close eye on over the weekend as the models could shift things further North or South with subsequent runs. Think of this like a winter storm with snow... any shift 20-50 miles North or South can mean a big difference in our rain chances!
---
Monsoon Season Is Here!
Most Likely Days to See Rain Next Week:
Sunday Night
Monday PM
Tuesday PM
No doubt about it, we are well into monsoon season and now it's just a matter of if we see the precipitation we normally do for Monsoon 2020 season. We still have some questions around next week's event; it is definitely a weather pattern that will be dominated by the monsoon but we still need to get an idea on if/how long it sticks around and if it delivers for us in terms of precipitation.
While this may be a nice short term change, we still have reservations on how long the monsoon pattern sticks around. When we look at the CPC outlooks we see the chances for increased precipitation for days 6-10...
But when we look at days 8-14...
For now we'll enjoy the increased chance of precipitation next week - we need all the moisture we can get at this point. Stay tuned to the site for updates on this chance of rain and the monsoon going into next week!