First of all, thoughts and prayers to folks experiencing loss due to the wildfires in Superior and Louisville.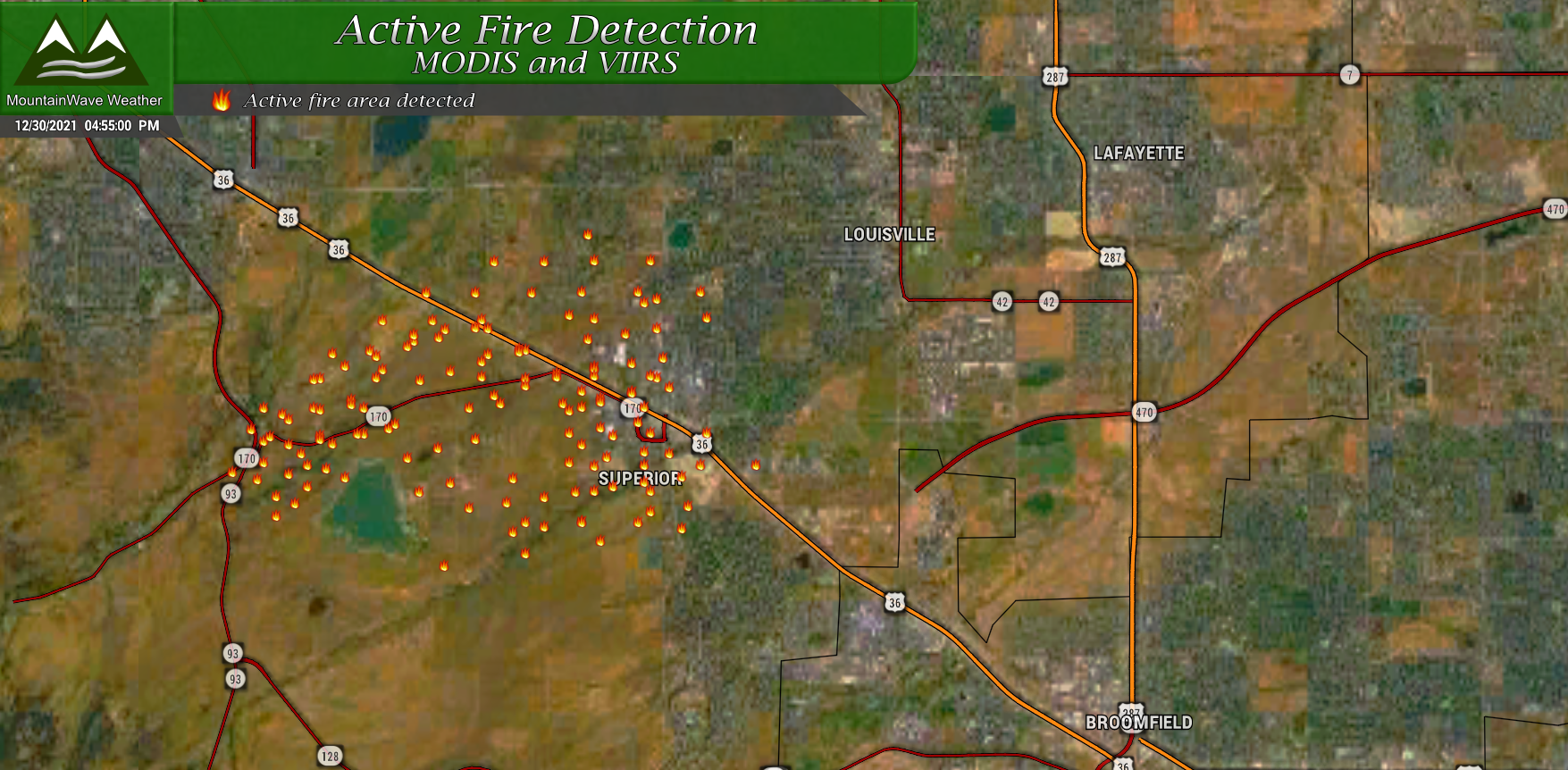 The biggest lesson to take away from an event like this is to always be prepared. Just because you are in a neighborhood or city, doesn't mean a disaster can't happen. Make sure you have an evacuation plan in place and have a plan for your family to meetup in case you get separated.
---
Latest Winter Weather Alerts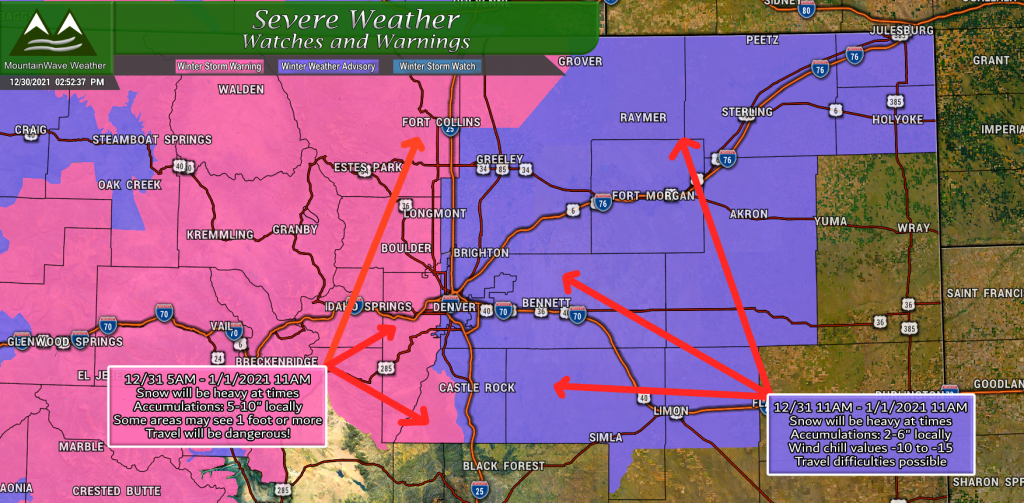 I posted earlier about the Winter Weather Alerts in place for the front range, here's quick recap:
Winter Storm Warning
Includes the front range foothills and areas in Western Douglas County. In effect from 5AM Friday 12/31/2021 through 11AM 1/1/2022.
Heavy snow will cause travel conditions that may become dangerous or life threatening. Travel is not recommended during the warning.
Total snow accumulations will range from 5 inches to 10 inches with some areas reaching 12 inches or slightly more.
Winter Weather Advisory
Includes the I-25 corridor, urban corridor including the Denver Metro area, the Palmer Divide including Castle Rock and Northeastern Colorado. In effect from 11AM Friday 12/31/2021 through 11AM 1/1/2022.
Some areas may see localized moderate and heavy snow. Roads will become icy and snowpacked throughout the storm making driving conditions tricky. Exercise caution when driving and pack your patience.
Total snow accumulations will range from 2 inches to 6 inches.
---
Snowfall Forecast
In terms of the snowfall forecast, the models have been up... they've been down... all day long. Believe it or not, I'm still quite happy with my initial snowfall forecast, because as much as the models have bounced around today - they've stayed within or very close to the ranges I listed.
As such, here's a snapshot of that initial snowfall forecast, no changes will be made at this time.
Palmer Divide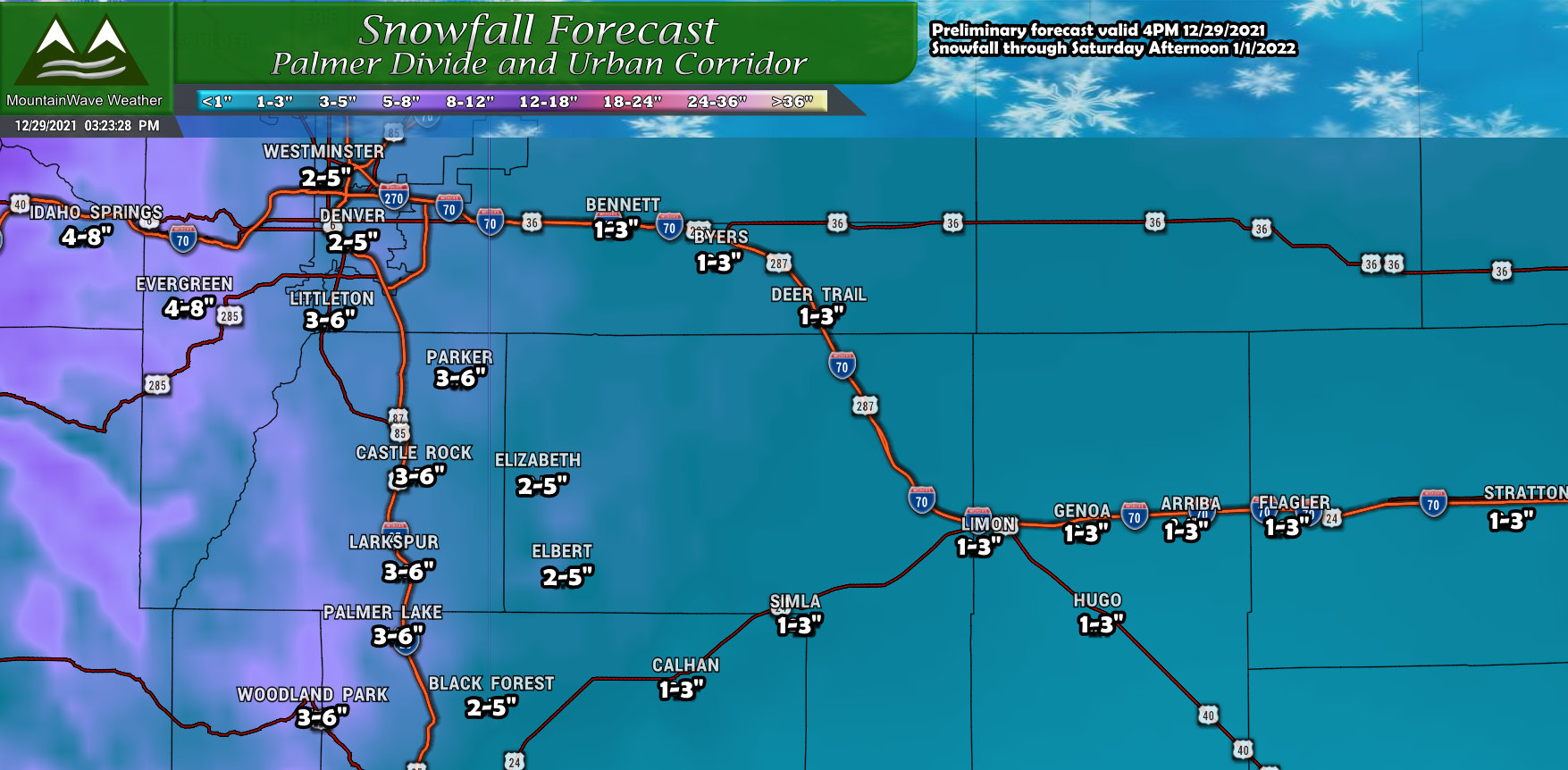 Northern Colorado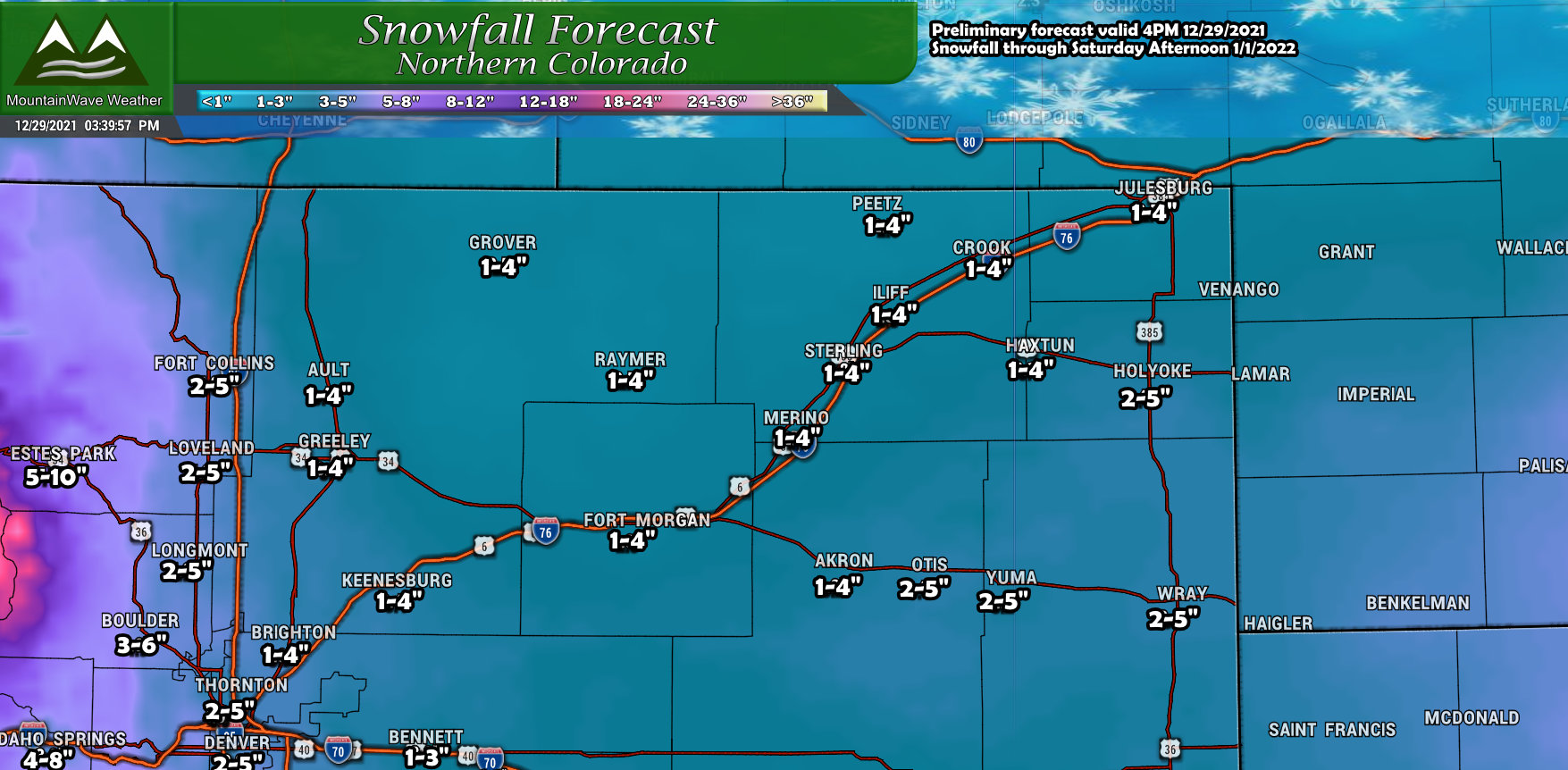 Southern Colorado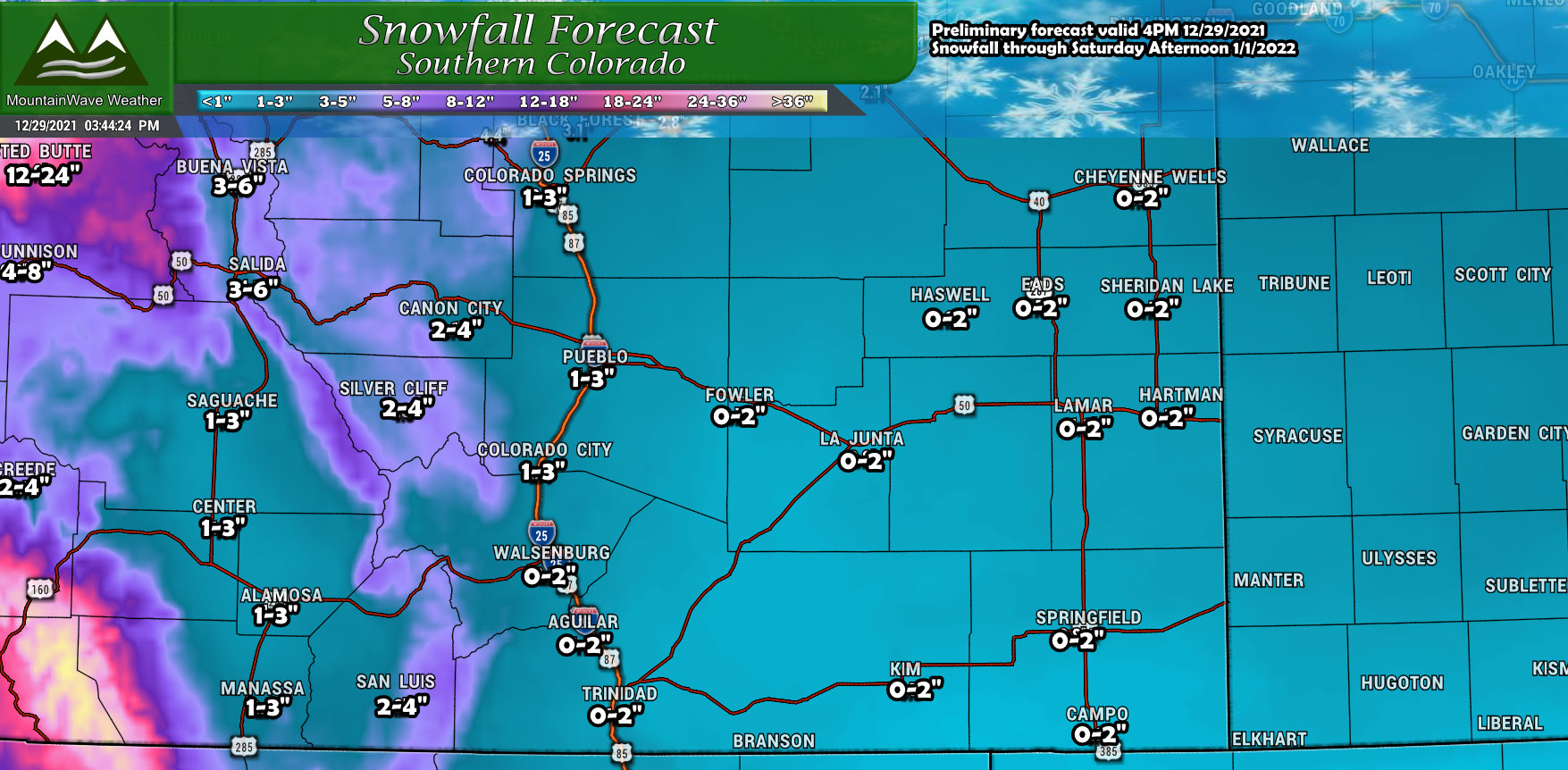 If you want to see the mountains regions I have them up on the last post. Keep in mind, those ranges are for storm total snowfall so that includes anything that fell today plus whatever falls tomorrow and into Saturday morning.
You can see the mountain snowfall forecast here.
---
Timing and Impacts
Timing
Expect rain and snow showers in the morning hours switching to snow by early afternoon. Showers will be scattered initially and will fill in later in the day on Friday.
Most of the snow accumulation will come Friday evening, overnight and into Saturday.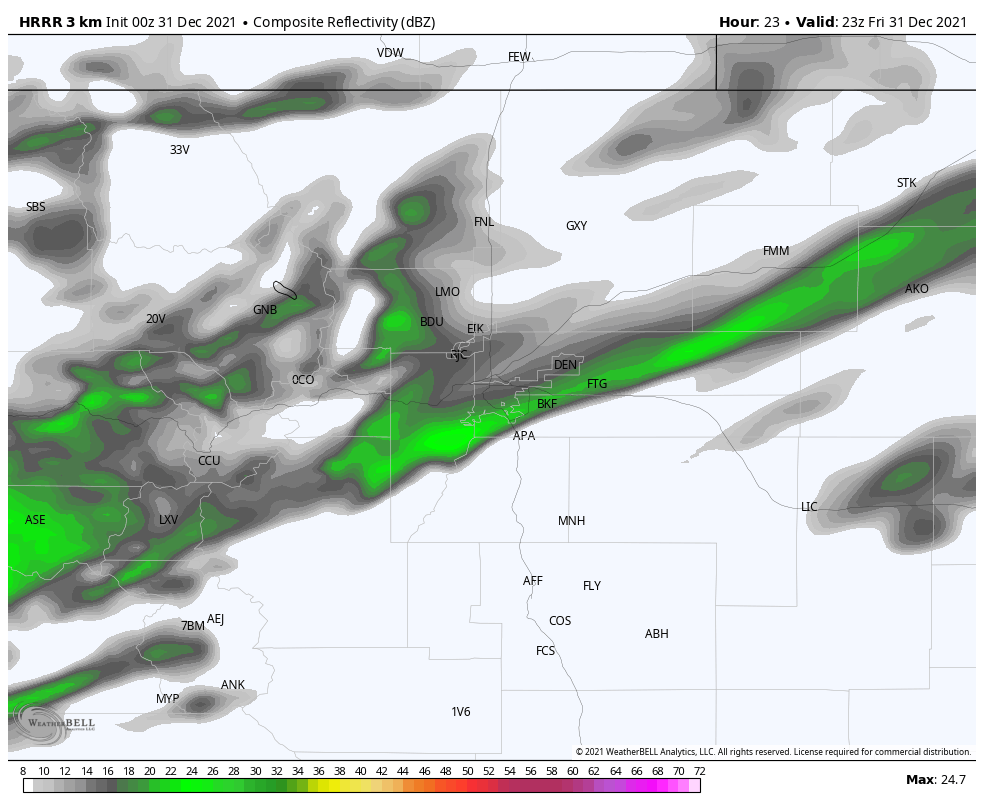 Icy Roads
Again, not a major storm but there will be some slick conditions. Expect impacts to be fairly minor over most areas, but further South over the Palmer Divide some areas may experience moderate impacts. This is not to say there may not be problems - I've seen major traffic issues with light snow storms when people are rushing around. A game of bumper cars is not out of the question when roads ice over tomorrow.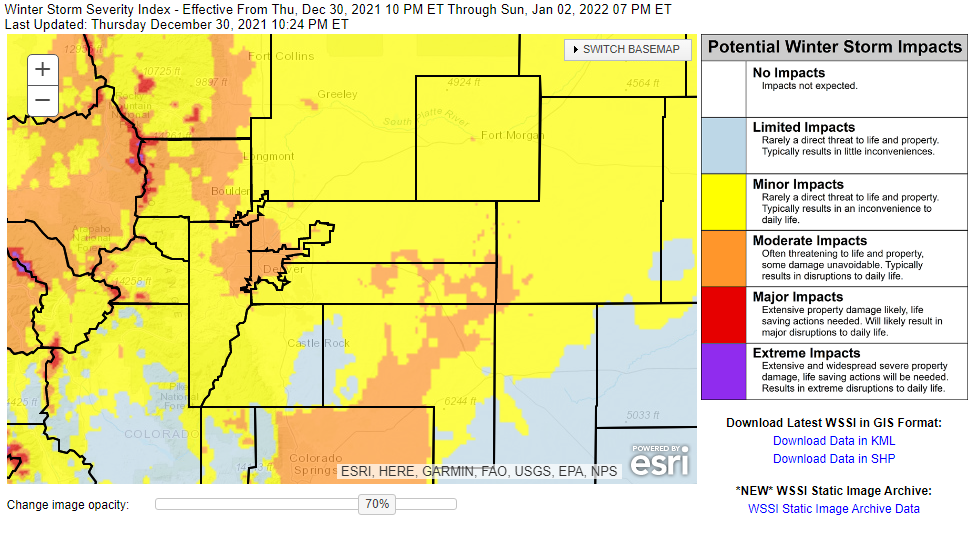 Bitter Cold
Those with pets or livestock should pay attention to this and make sure their animals are ready for the cold. Apparent temperatures will be well below zero both Saturday morning and Sunday morning.
---
Storm FAQ's
I'm traveling to xyz... will I have issues getting to/from there?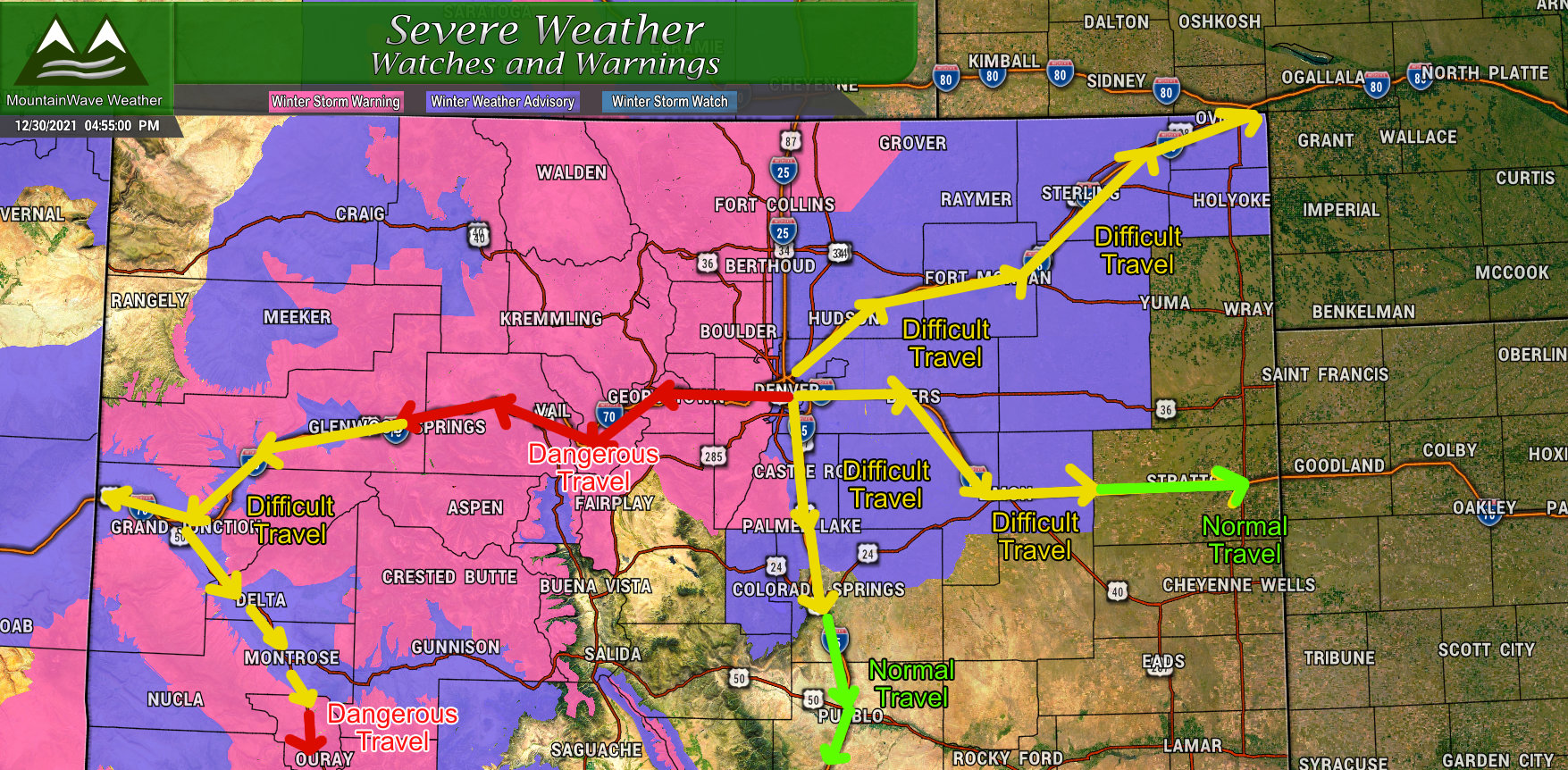 I get asked this question a ton, I'd love to spot forecast for everyone but unfortunately I have a day job that pays the bills and I don't have time to spot forecast for everyone. I did put together the above graphic to give you an idea if you are travelling on the roads. Long story short:
Pink areas (winter storm warning) is treacherous and dangerous travel conditions - travel is not recommended. If you do travel in those areas, be sure to have a winter survival kit in case you get stranded.
Purple areas (winter weather advisory) travel is possible but will be difficult. Pack your patience and expect delays due to icy roads and falling snow.
Areas outside the warnings, travel shouldn't be majorly impacted. Check road conditions before you leave for any changes.
Have a flight at the airport? This is not a storm that should cancel flights at DIA but delays are possible. Check with your airline before you head to the airport!
Will this be a major storm or a blizzard?
No indications at this time that this will be a "city crippling" storm. Snowfall amounts will be up to 6 inches for the highest accumulation areas East of the foothills but many other areas will be well below that.
I don't consider that a major storm by any means, more of just a "headache" That being said, people often experience system shock with storms like this as roads ice over and travel becomes difficult. Travel difficulties may arise if people start playing bumper cars out on the roads - I've seen this happen with as little as 2 inch snow storms. Be prepared!
I want to go skiing in the mountains tomorrow, will it be ok for me to drive up there?
I'll never tell you what you should or shouldn't do - I'm just a messenger. I'll tell you what I wouldn't do; I wouldn't drive up there during the Winter Storm Warning. Use that information as you will.
---
Watch out for the Wildcard!
Many models show evidence of jet enhanced snowfall bands or "banded snowfall." Nothing can mess up a forecast like these! Areas that get stuck below the snow band could drastically overperform their anticipated snowfall ranges, while areas outside could drastically underperform.
The kicker is models are good at showing these things will happen, but they cannot pinpoint location, movement or intensity. I can't forecast where these will set up or even how strong they get, but just the fact that they show up in the models means this forecast could end up busting high or low depending on where this sets up.
Just something to keep an eye on 😉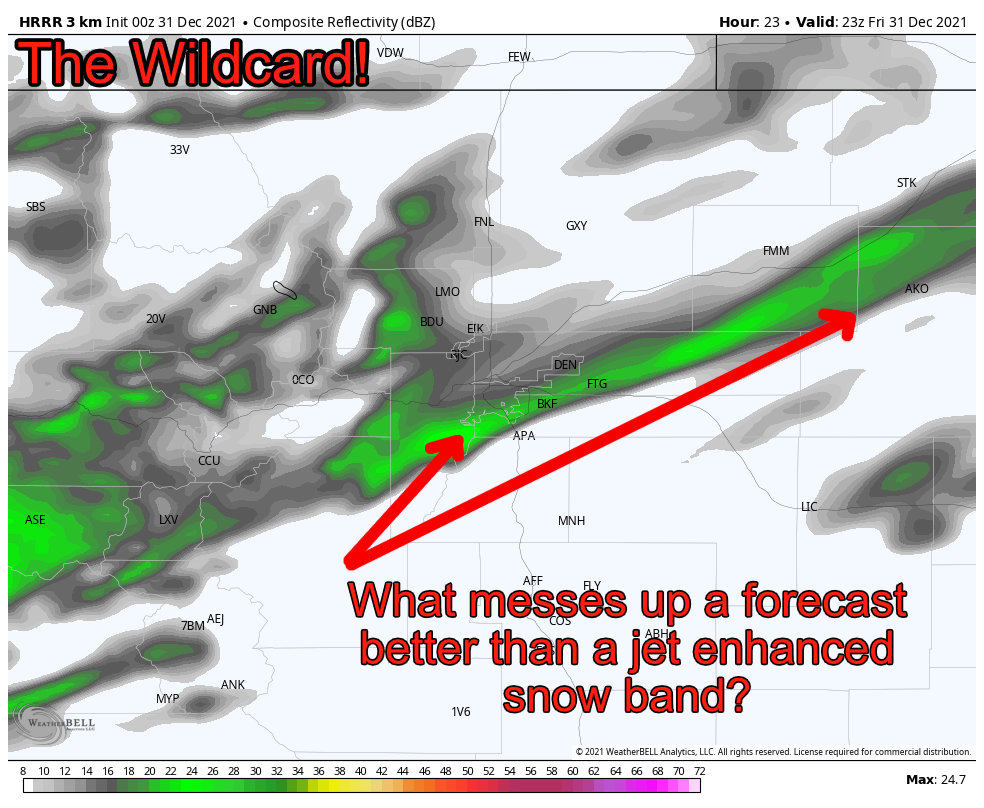 ---
Summary
Happy with everything so far and most everything looks on track.
I'll keep an eye on things for early tomorrow and make any last minute adjustments if necessary. If there's a lot of changes I'll have another website update if short it will be on Facebook.
Stay tuned!