Many areas will see less wind today and better fire weather conditions thanks to a front that moved through late yesterday. This will drop temperatures pretty significantly but has also helped by bringing a tiny bit more moisture into the area. We are seeing evidence of this with the higher dewpoints this morning, especially across the plains.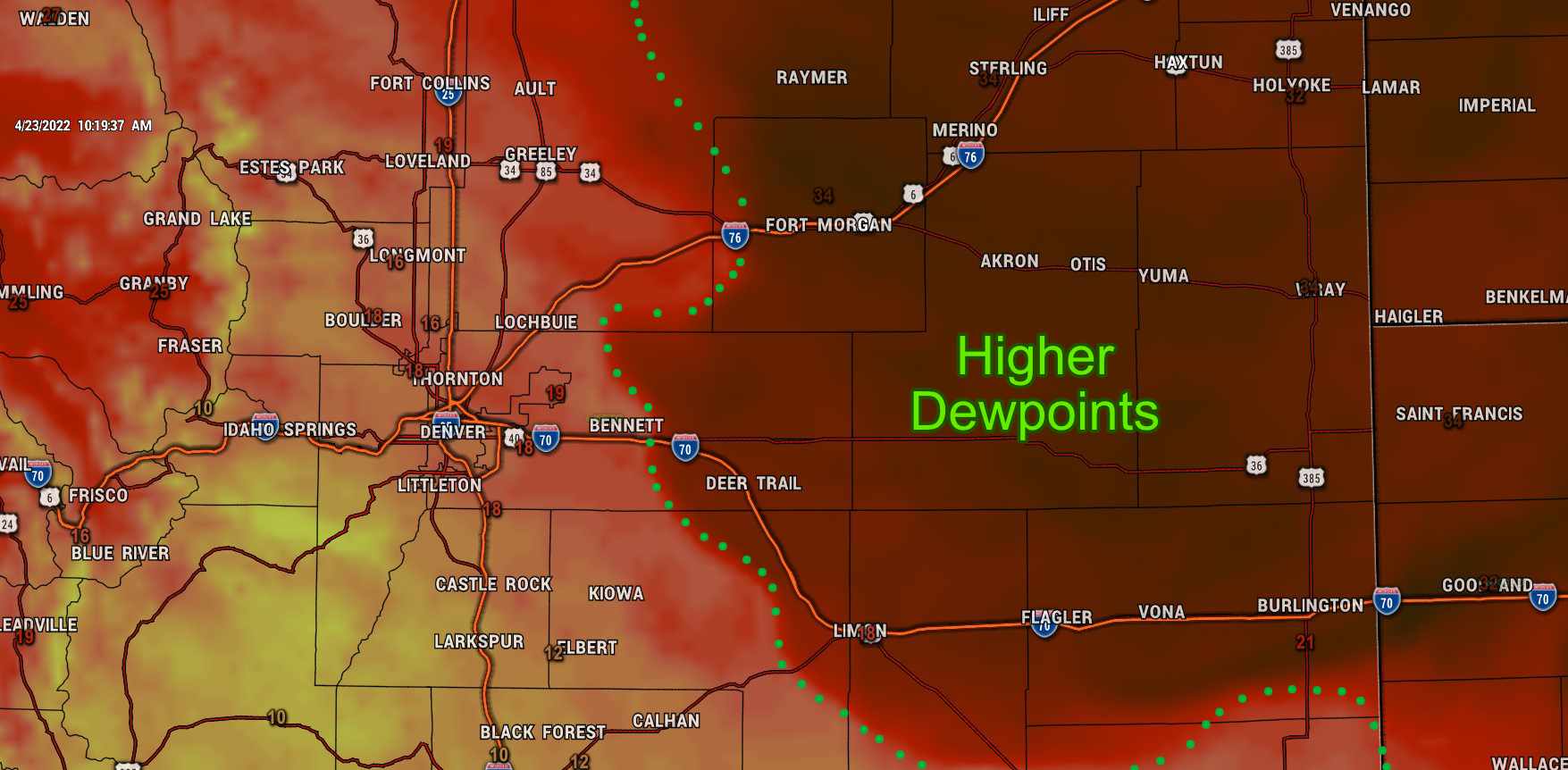 Another busy weather day on tap for the state of Colorado as some areas will still see high winds, high fire danger and a combination of wind and snow in the mountains. Here's what we are tracking today:
---
Current Weather Alerts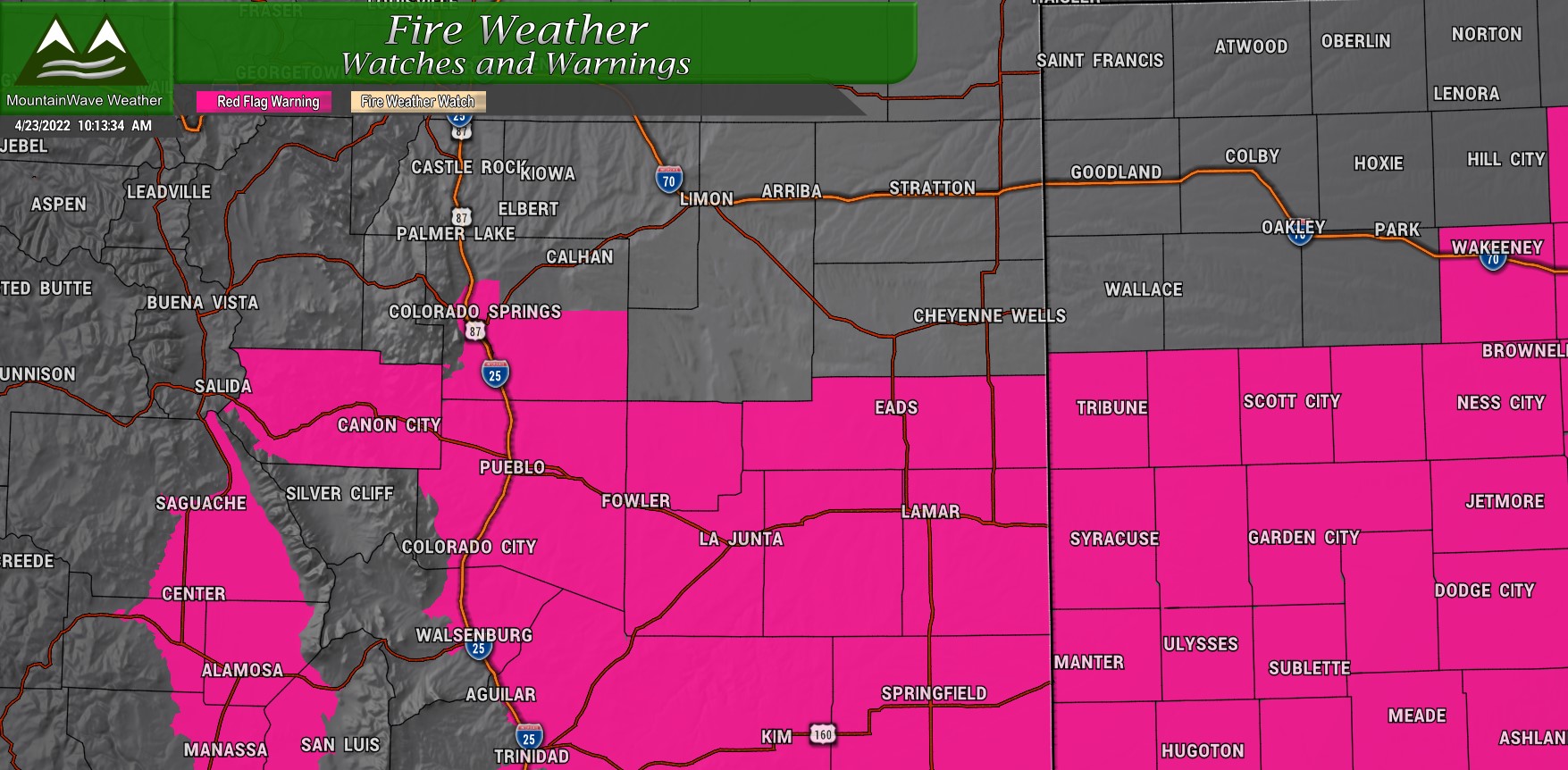 ***Red Flag Warning***
For Southern and Southeastern Colorado - 04/23/2022 From 10AM through 8PM
20-30mph sustained winds with gusts up to 50mph and relative humidity as low as 9% will combine for elevated fire weather conditions. Any fires that start will be difficult to contain and could expand rapidly. Burning if any kind is discouraged along with any activities that cause sparks. If you see smoke, call 911 immediately.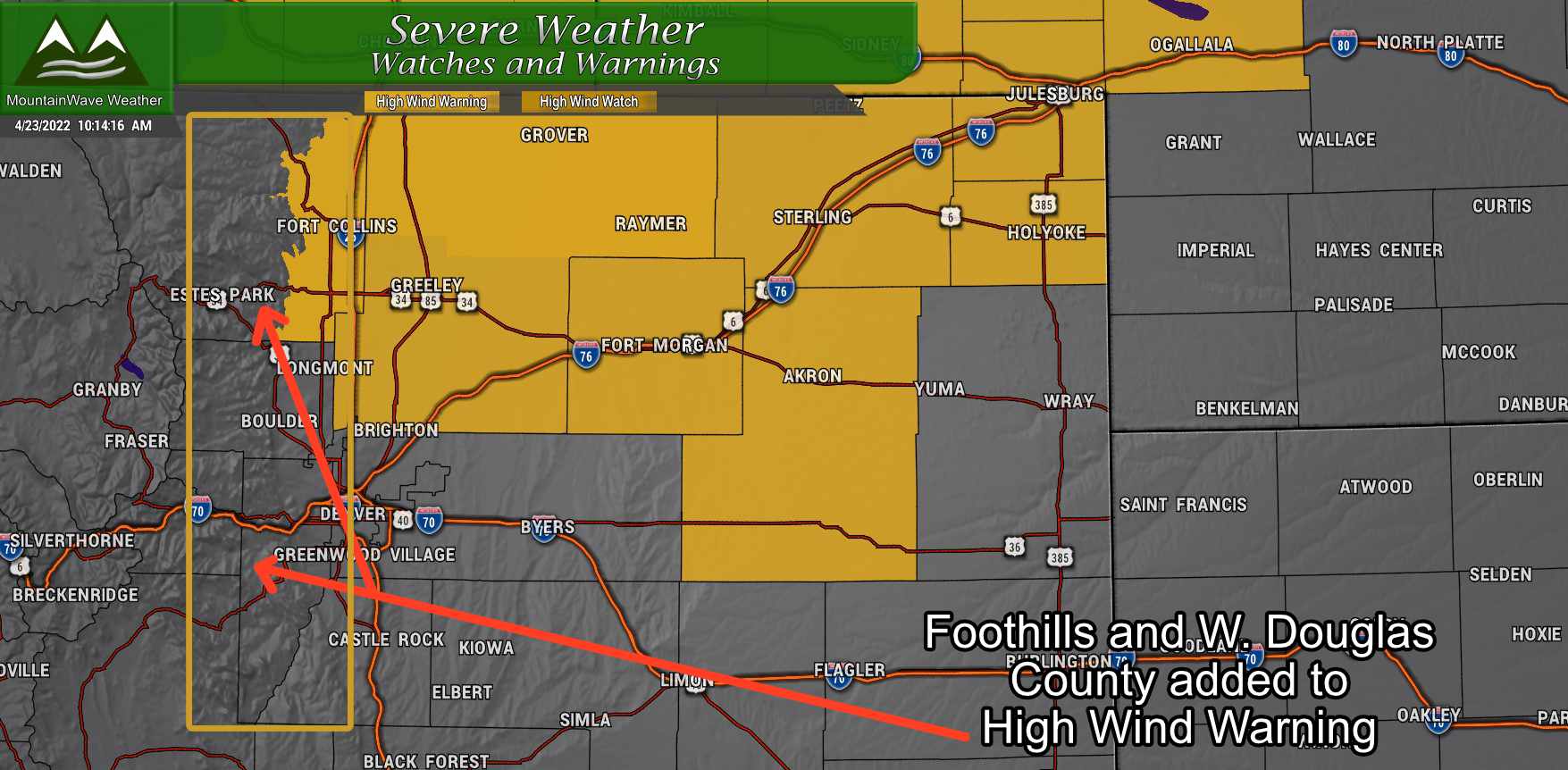 ***High Wind Warning***
For Northern and Northeastern Colorado - 04/23/2022 From 9AM through 7PM
Front Range Foothills and Western Douglas County were just added to this warning - so they are now included
Strong Northwest winds 25 to 35 mph with gusts up to 55 mph. Damaging winds will blow down trees and power lines. Widespread power outages are expected. Travel will be difficult, especially for high profile and lightweight vehicles.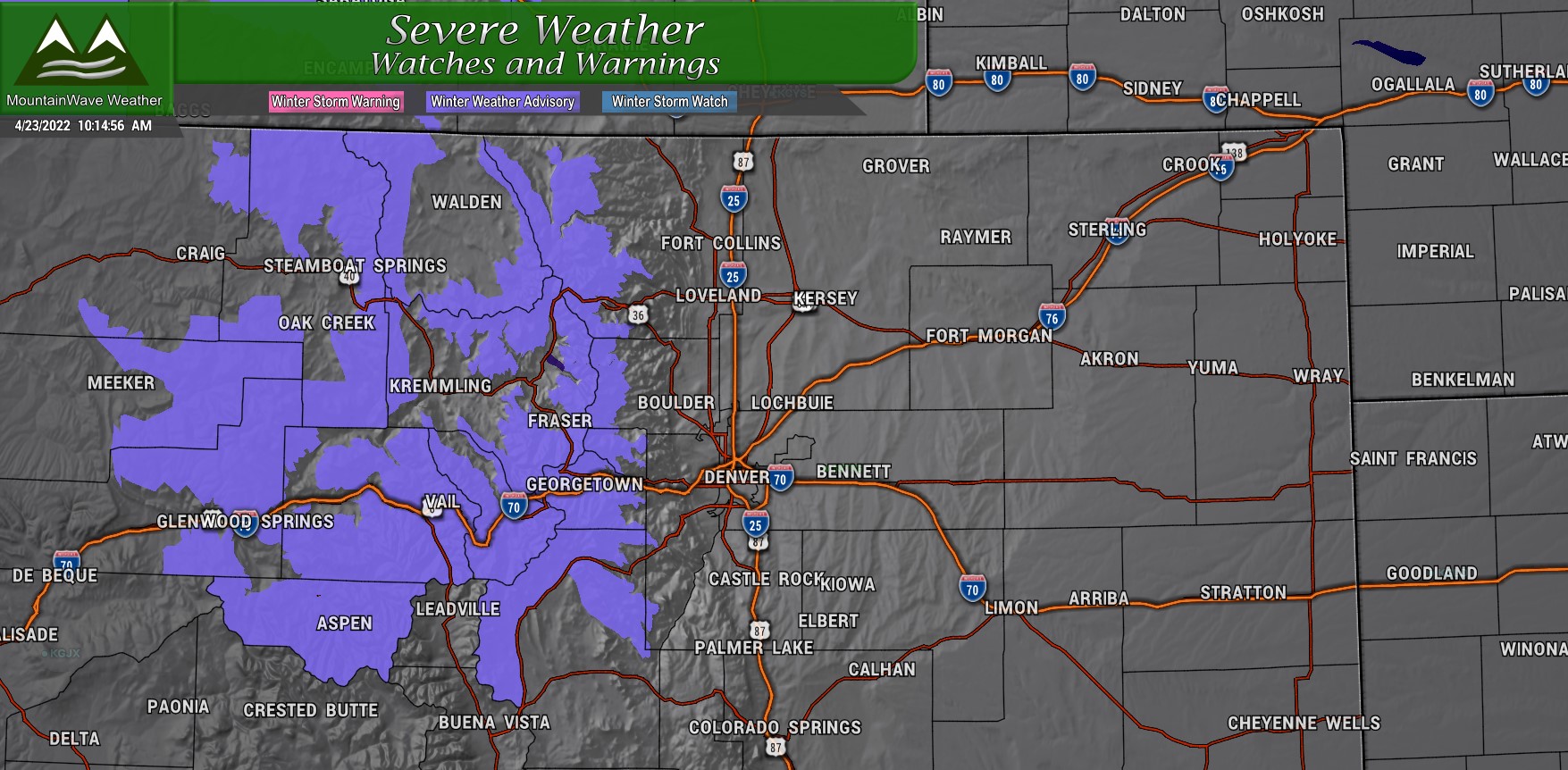 ***Winter Weather Advisory***
For Rabbit Ears Pass, Rocky Mountain National Park and the Medicine Bow Range, and The Mountains of Summit County, the Mosquito Range, and the Indian Peaks - In effect now through 04/24/2022 12AM
Snow will continue today in the mountains with additional snow accumulations 4 to 8 inches. Winds gusting as high as 60 mph. Travel could be difficult as gusty winds will produce areas of poor visibility over the higher mountain passes
---
Looking Ahead At This Weekend, A Chance of Snow...?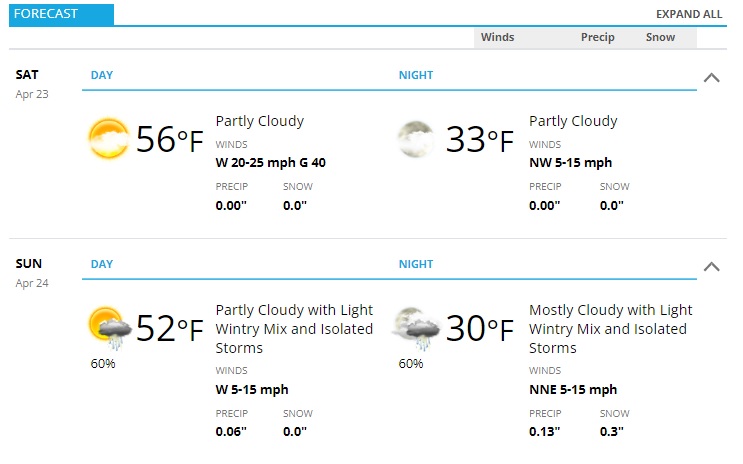 Here's the forecast for Castle Rock and surrounding locations along the Palmer Divide for this weekend. Saturday will be cooler but still breezy in many areas. Luckily the winds will be a lot less fearsome then yesterday. The lower temperatures and a bit better moisture in the air will allow for fire danger to relax a bit for this weekend overall.
For Sunday, we do have a chance at moisture! Before we get too excited - it doesn't look like a whole ton of moisture is going to happen but at this point we will take anything.
Interestingly, temperatures may be low enough that some areas could accumulate a bit of snow - here's the forecast.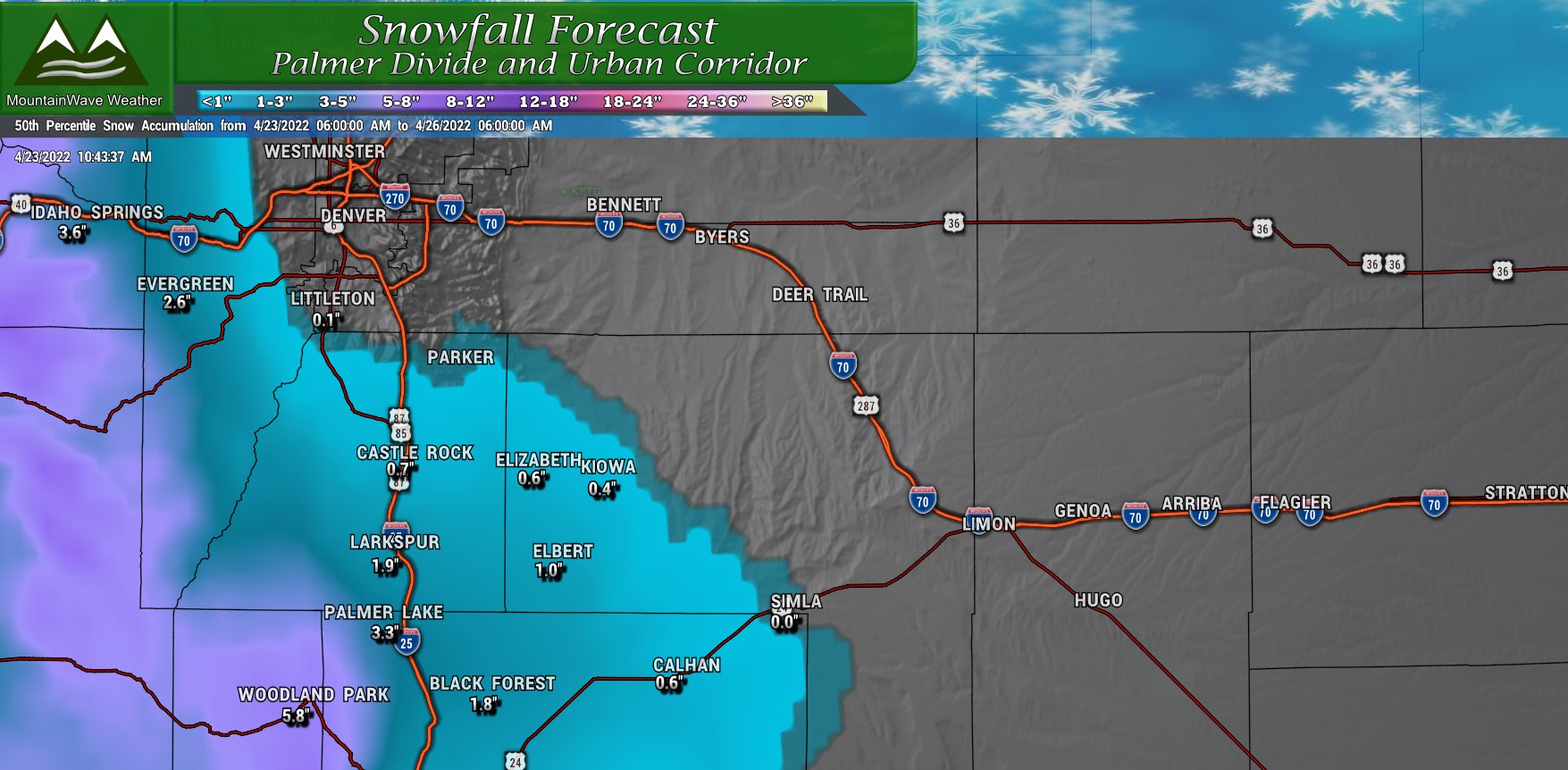 I think the model may be a bit overdone on snowfall but if we do see amounts close to this accumulate on the Palmer Divide, it will most likely be on grassy surfaces - pavement most likely will remain wet.
Luckily, models show a few areas getting up to 0.5 inches of liquid precipitation out of this storm. Most areas will see less and pretty meager moisture amounts but if you get a half inch consider yourself lucky with this storm. Any moisture is going to be needed as next week looks warm, windy and dry again.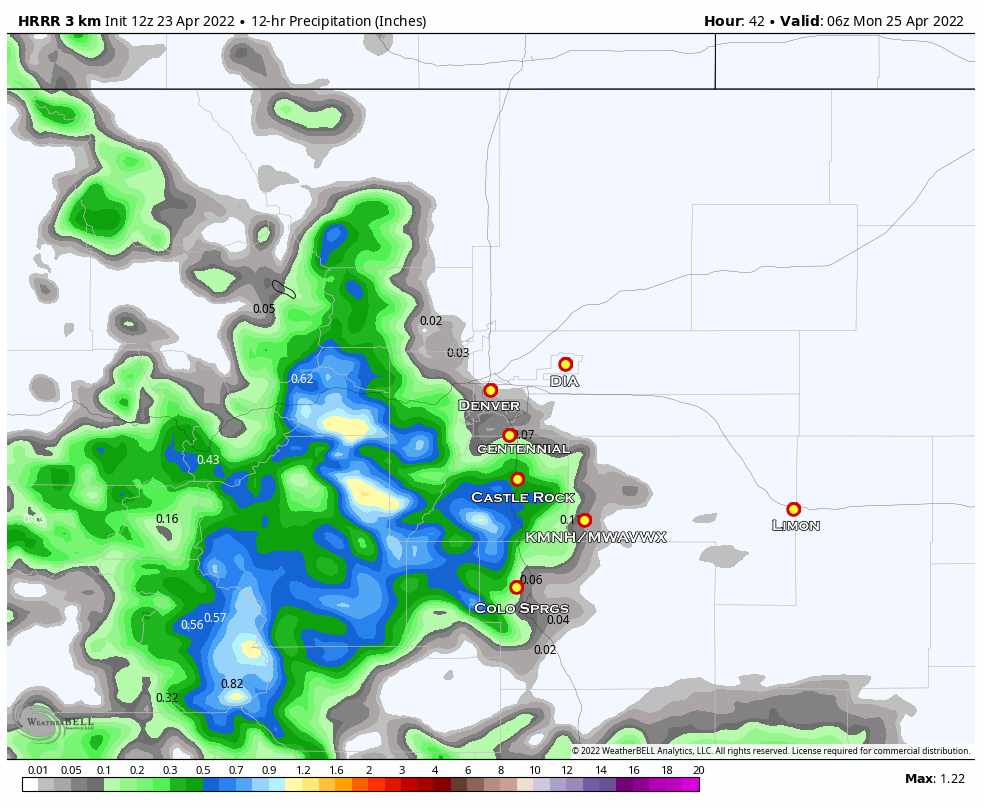 ---
Summary
Not much to write home about for this weekend - the good news is it will be cooler and a bit less windy. We will welcome this break, because next week it looks like we will be right back to warm, windy and dry conditions.