A trifecta of severe weather conditions will likely impact Eastern Colorado on Friday. I've updated this post so people can get an idea of what to expect and what to prepare for.
---
Extreme Fire Danger
Most likely the most significant fire weather conditions we have seen this year due to strong winds, dry conditions and abnormally warm temperatures.
Location: All of Eastern Colorado including the Palmer Divide and Denver Metro Area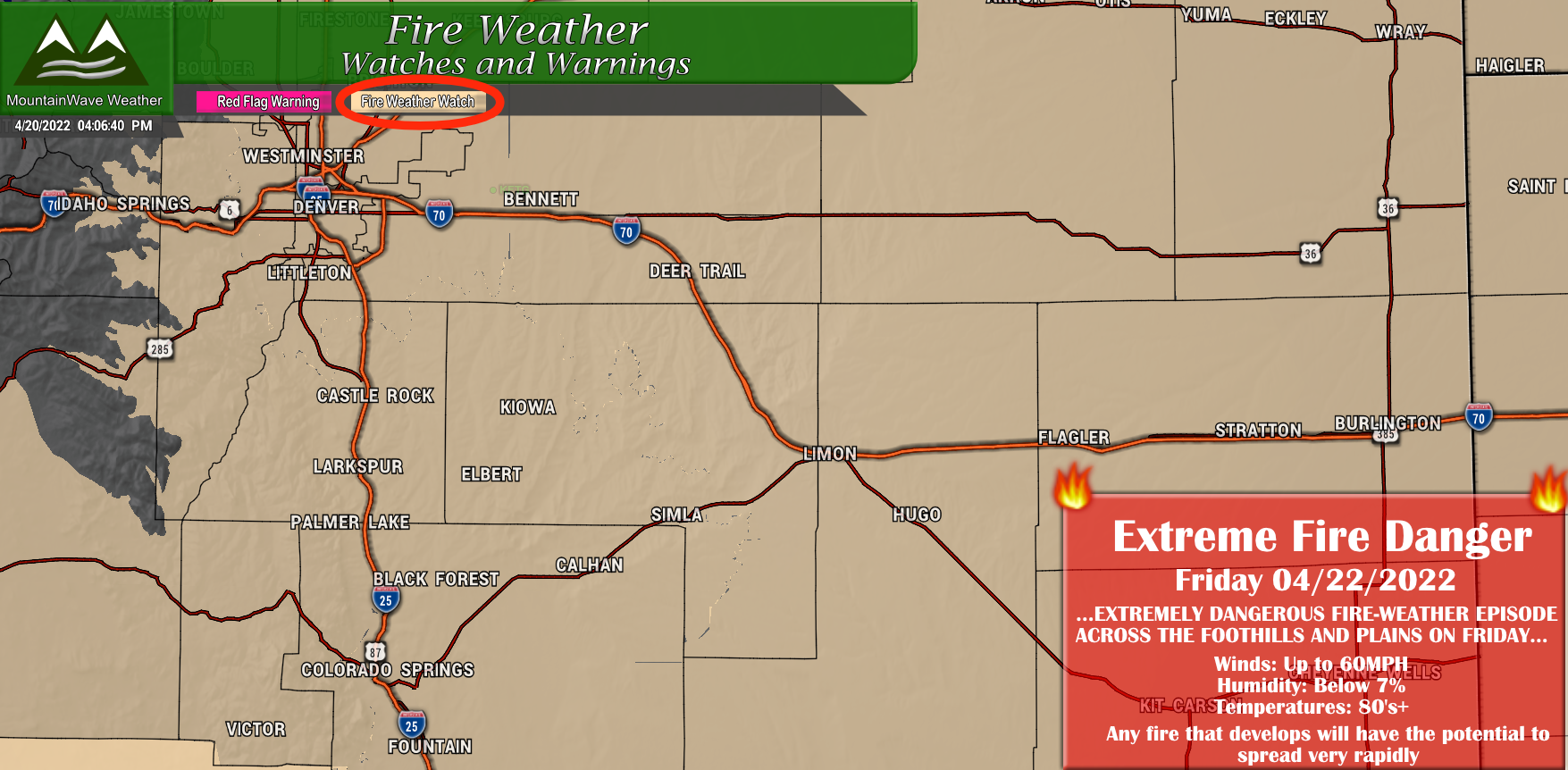 Fire Weather Watch - Extreme Fire Conditions Likely
This is concerning for a couple of reasons. Up until this point in the year, we've had fire starts with mainly just dry and windy conditions. This means that even though fires were spreading rapidly, firefighters could get them under control after a period of time. Considering we've seen new fire starts nearly every day for the past 7-10 days even when Red Flag Warnings are issued - Friday's conditions will be more concerning
On Friday we will add abnormally warm temperatures into the mix with many areas reaching the 80's. Combine that with strong winds up to 60-70mph and bone dry soil and vegetation and it doesn't add up to a good recipe.
Will update with more information as it becomes available, but suffice to say no-one should be burning anything, starting fires or creating sparks for the rest of this week... especially on Friday.
---
Strong/Damaging Winds
A storm system moving through to our North will cause strong winds to develop on Friday and continue throughout the day as a cold front drops though.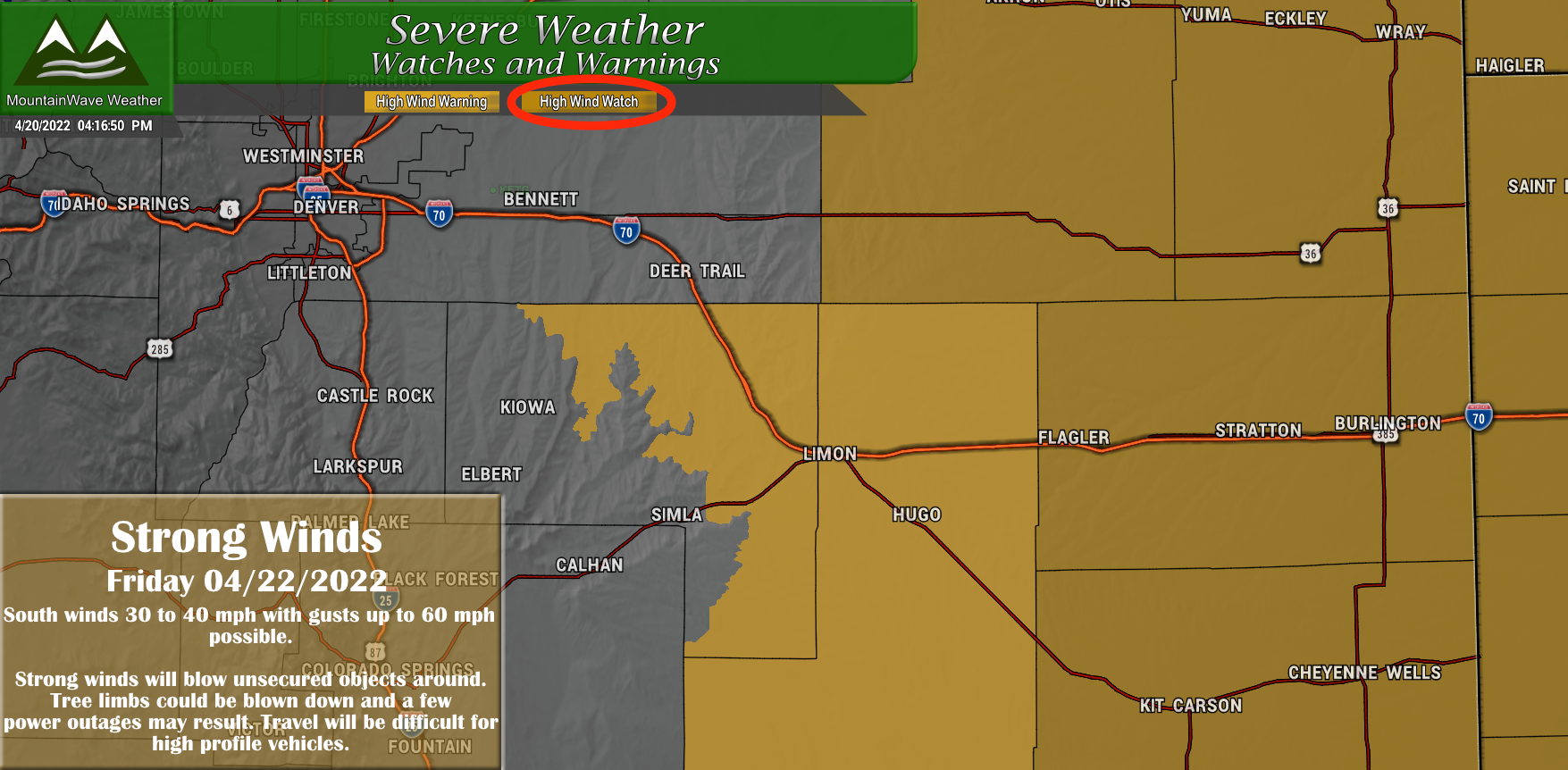 High Wind Watch - Difficult Travel, Property Damage and Power Outages Possible
Location: Eastern Colorado including Palmer Divide location: Central and Eastern Elbert County below 6,000 feet in elevation
Strong winds will develop on Friday with sustained measuring in the 35-45MPH range with gusts in the 60-70MPH range. Wind direction will predominately out of the South and Southwest. Please also note, the areas closer to the foothills and I-25 corridor may not necessarily see the strongest winds, the prime target for higher winds is further East. For the Palmer Divide the sweet spot is really Elbert County and points East. Keep that in mind if you live in that area.
---
Severe Weather
When we start adding heat to the atmosphere and then swing through a cold front we start to get storms. You'll see in the graphic below that the main area of concern is actually Western Kansas... so why would I be bringin this up? The answer is that there is some leaning towards this threat shifting further West into Colorado in the coming days. I don't think it makes it quite far enough back to be a concern for Denver or the urban corridor, but it's worth keeping an eye on if you live out on the Eastern plains.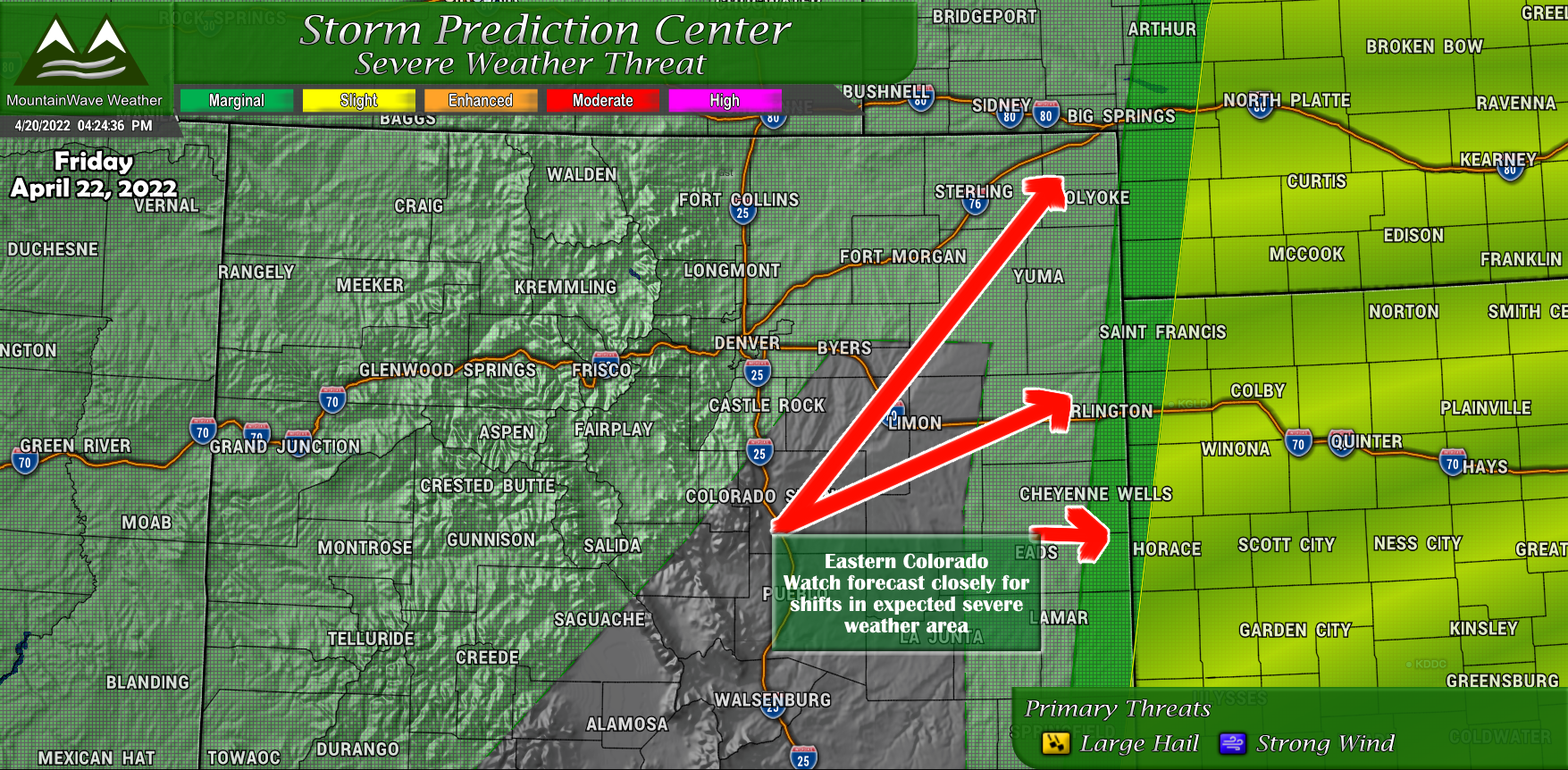 Main threats with these storms will be strong damaging wind and hail. I don't know how many tornadoes we see out of it as the dynamics for that are not too great and the ground is dry so low level moisture will be lacking.
---
Now What?
Many of these weather watches are just that - watches. This means that conditions are favorable for the severe weather the watches are predicting but it's not a sure lock yet.
Yet part of being a meteorologist is looking at everything else that could come together, how likely certain scenarios are and a bit of instinct. If I were to bet on it, Friday is going to be a nasty wind day, a nasty fire conditions day and for some out East, potentially a nasty hail day.
Who Should Prepare?
Truck Drivers/ people traveling along I-70 especially
Firefighters
EMS
OEM for localities
General Public
If you are in any of those groups pay close attention to the forecast over the next day or two and make sure your preparations are complete by Thursday night.
As always I'll keep an eye on it and pass along relevant information as needed.