After a few days break from high winds and extreme fire conditions, we will see the return of both throughout the week at one point or another for most of Colorado. Today (4/26/22) new Red Flag Warnings are up for high fire danger due to strong winds, low humidity and dry conditions. While the Palmer Divide is not in the Red Flag Warning area, our fire danger will still be elevated - we just won't meet the criteria for a warning (winds will be too light for the most part.)
Red Flag Warning
In effect from 1PM to 7PM 4/26/2022
* Winds...Southwest 20 to 30 mph with gusts up to 50 mph. * Timing...1 PM to 7 PM today. * Relative Humidity...As low as 11 percent.
* Impacts...Conditions may be favorable for rapid rates of fire growth and spread.
PRECAUTIONARY/PREPAREDNESS ACTIONS... A Red Flag Warning means that critical fire weather conditions are either occurring now, or will shortly. A combination of strong winds, low relative humidity, and warm temperatures can contribute to extreme fire behavior.
If I were the betting type, I'd put money down that we will see plenty more Red Flag Warnings for Eastern Colorado throughout the week, so keep a close eye on that!
---
Weekly Forecast - Items to Watch
Castle Rock/ Palmer Divide forecast for this week: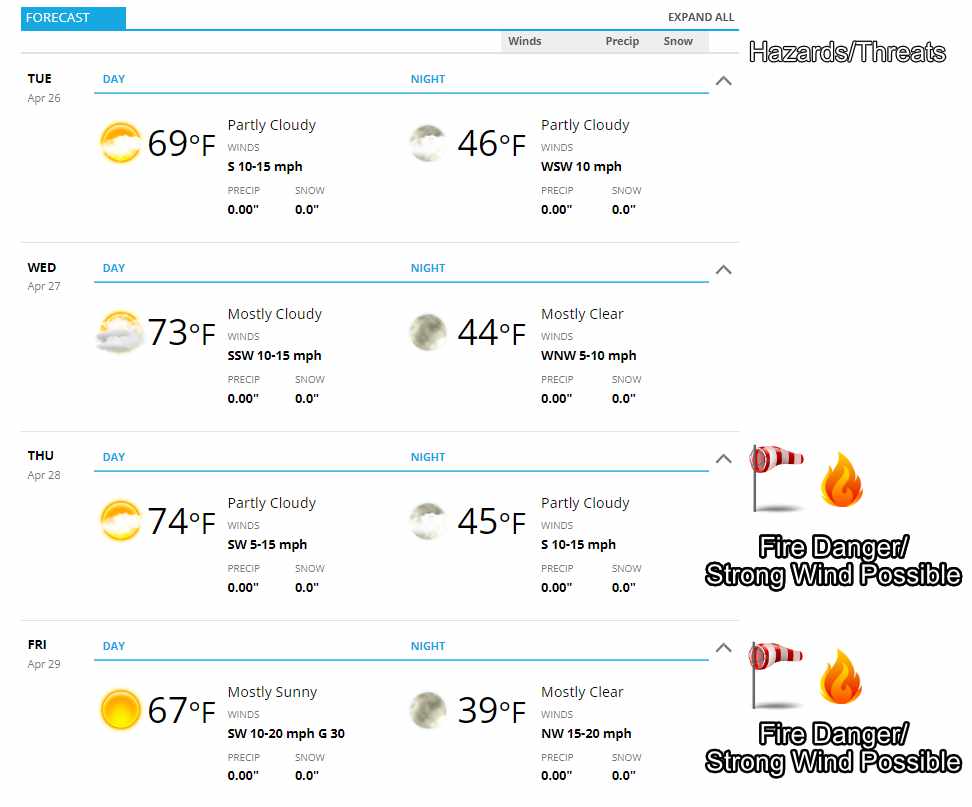 Tuesday-Wednesday
Seasonal temperatures in the 60's and 70's throughout the day and lows in the mid to low 40's. Winds will be breezy at times, but not strong enough to cause too many problems.
Some areas of the Palmer Divide may see a slight chance (20% or so) of seeing a thunderstorm late on Wednesday. Odds are little moisture will accompany any storms that pop up.
Thursday-Friday
A developing storm system to our North will bring a shot of snow to the mountains. The plains however will see a return of windy, warm and dry conditions. Expect a potential high wind event (especially keep an eye on Friday) with high fire danger lasting through most of the week. Temperatures will still be seasonal in the upper 60's to lower 70's - this will be a bit better than our last fire danger day - temperatures were in the 80's!
---
Weather Pattern Change? Return of the Omega Block?
In the near term, I don't see a lot of evidence of a weather pattern change. Models keep Colorado under zonal (west to east) flow for the next 7-10 days with occasional storm systems continuing to miss the state to the North.
Still snooping around in the models for some sort of pattern change in the next couple of weeks and I found something interesting: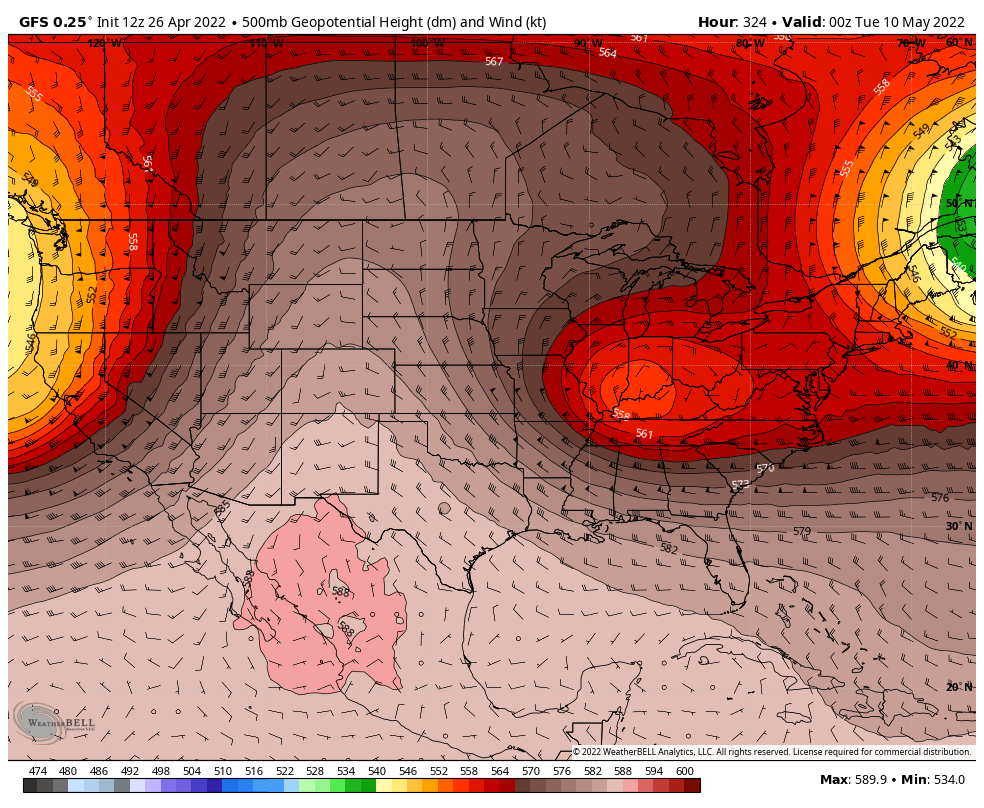 This pattern resembles what is known as an "Omega Block" named for its resemblance to the Greek letter omega. These patterns are interesting because they can persist for several days and have interesting weather effects depending on where you are in this pattern.
The two low pressure systems to the side usually coincide with cooler and wetter weather. This can be anything from snow with colder temperatures to thunderstorms with lots of rain. The folks under the massive high pressure ridge typically see very warm and very dry conditions. Can you tell where Colorado looks to be during this pattern?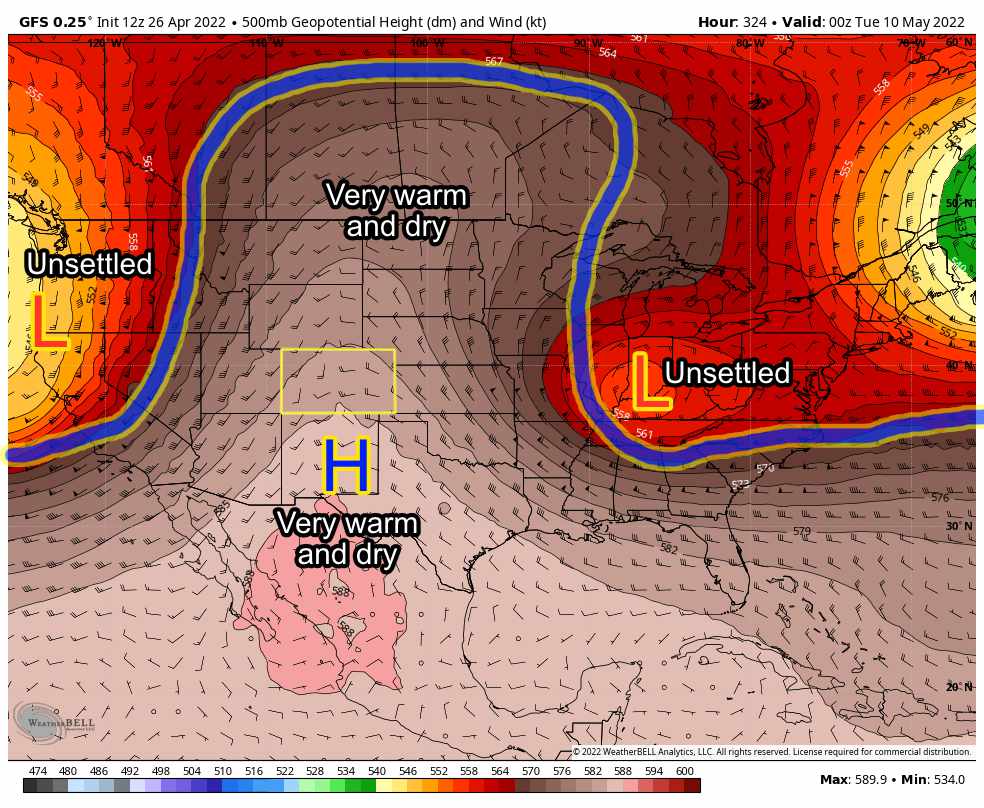 Since this is still a ways out, it's not a lock just yet - but seeing things like this while trying to find evidence that we will see a cooler or wetter pattern into May is a bit disheartening. Should this verify, Colorado would be in for a period of several days with well above average temperatures and bone-dry conditions. The only good news would be that winds are typically light with this type of pattern.
Time will tell on how exactly this evolves, but it will be worth keeping an eye on.