Our next storm moves into Colorado starting on Sunday, it will effect the mountains Saturday through about Tuesday while the plains will most likely see a shot of snow late Sunday and into Monday. Mechanically there's a lot of similarities between this storm and the last... but there are also some pretty significant differences as well. So while, the track doesn't look optimal for another big snow producer, it's something we will have to keep a close eye on over the next day or so. This is another "don't sleep on it" type of storm...
The forecast below is based on the data we have as of right now. Forecasts are fluid, they change based on the data and analysis we perform many times per day.
This is one of those storms where the forecast could change drastically in the late hours of the storms arrival... keep that in mind and best to be prepared than caught unaware.
---
Current Weather Alerts
Areas: Elkhead, Park and Flat Top Mountains, Gore Mountains, central mountains valleys, Grand and Battlement Mesas, Elk and Sawatch Mountains
From/to: In effect now through Monday evening
What: High snow accumulation and winds gusting up to 40 mph
Impacts: Combination of heavy falling snow and gusty winds will make for dangerous travel conditions.
Winter Weather Advisory
Areas: South and Southeast Grand, West Central and Southwest Boulder, Clear Creek, Summit counties, North Park and West Park (includes I-70 corridor East of Vail and West of Georgetown
From/to: In effect now through Saturday afternoon
What: Moderate snow accumulation and winds gusting to 55mph
Impacts: Combination of falling snow and gusty winds will make for difficult travel conditions and low visibility
Winter Storm Watch
Areas: Northeastern Colorado
From/to: Late Sunday night through late Monday night
What: Freezing rain, heavy snow accumulation and winds gusting to 35mph
Impacts: Travel could be difficult - this is a watch... that means this area is favored for impactful winter weather. Keep an eye on the forecast for any watch-to-warning upgrades.
Note: NWS has mentioned additional winter weather highlights will be likely for late Sunday - Tuesday in the mountains due to a long duration, heavy snowfall and high impact event during those times.
---
Mountains FAQ
Since so many people are asking a ton of questions about the mountains and travel this weekend, here's answers to the most common questions I've seen.
Best times to travel
Saturday late in the day, Sunday early in the day. The current bout of snow should ease later on Saturday with the lull lasting through a good chunk of the day Sunday. By late Sunday (afternoon and evening hours) the second surge of moisture and energy moves in. By Sunday night, the storm picks up and lasts through late Monday evening.
What about later in the week?
Best travel days in regards to weather will most likely be Wednesday and Thursday. Tuesday may be OK too... but the huge amount of holiday traffic and how quickly the roads can recover from Monday's storm will be the wildcard.
I-70 West of Vail vs. I-70 East of Vail, Eisenhower Tunnel
Conditions at this time look to be at their worst West of Vail... that being said, the climb up to the tunnel will and up/down Georgetown hill will most likely be a mess too due to the weather conditions and the large amounts of traffic expected
My thoughts: given the traffic cameras I've seen all weekend with the incredible amounts of traffic going up to the mountains and the expected weather conditions... it's going to be a miserable drive coming back late Sunday and nearly all day Monday. I personally don't love spending 4-7 hours stuck in traffic, but your mileage may vary. Given that information, I won't tell you what to do or not do with your holiday schedule... I'll just say you'll save yourself a lot of headaches if you plan your travel outside of the peak times for traffic and weather impacts.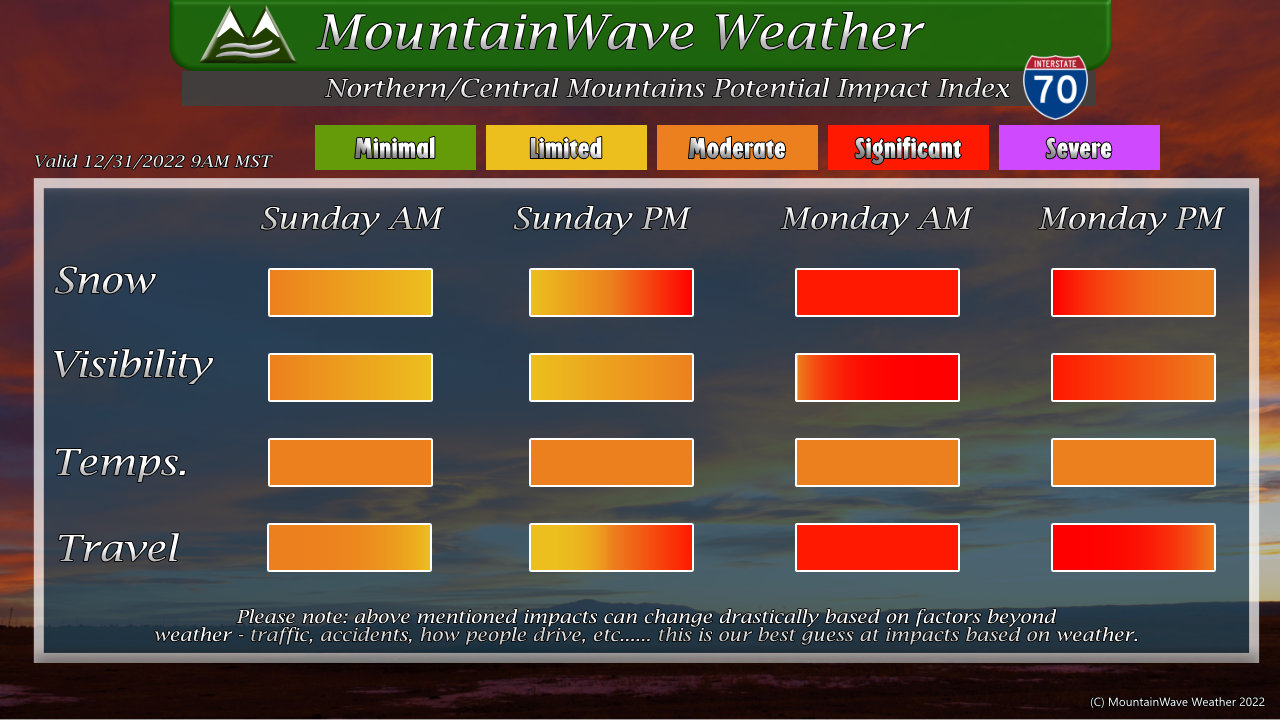 I've posted a potential impact graphic for the central mountains/ I-70 corridor... expecting a lot of significant travel impacts. Plan accordingly and if you do travel, pack your patience... you're going to need it!
---
Snowfall Forecast
Palmer Divide/ Urban Corridor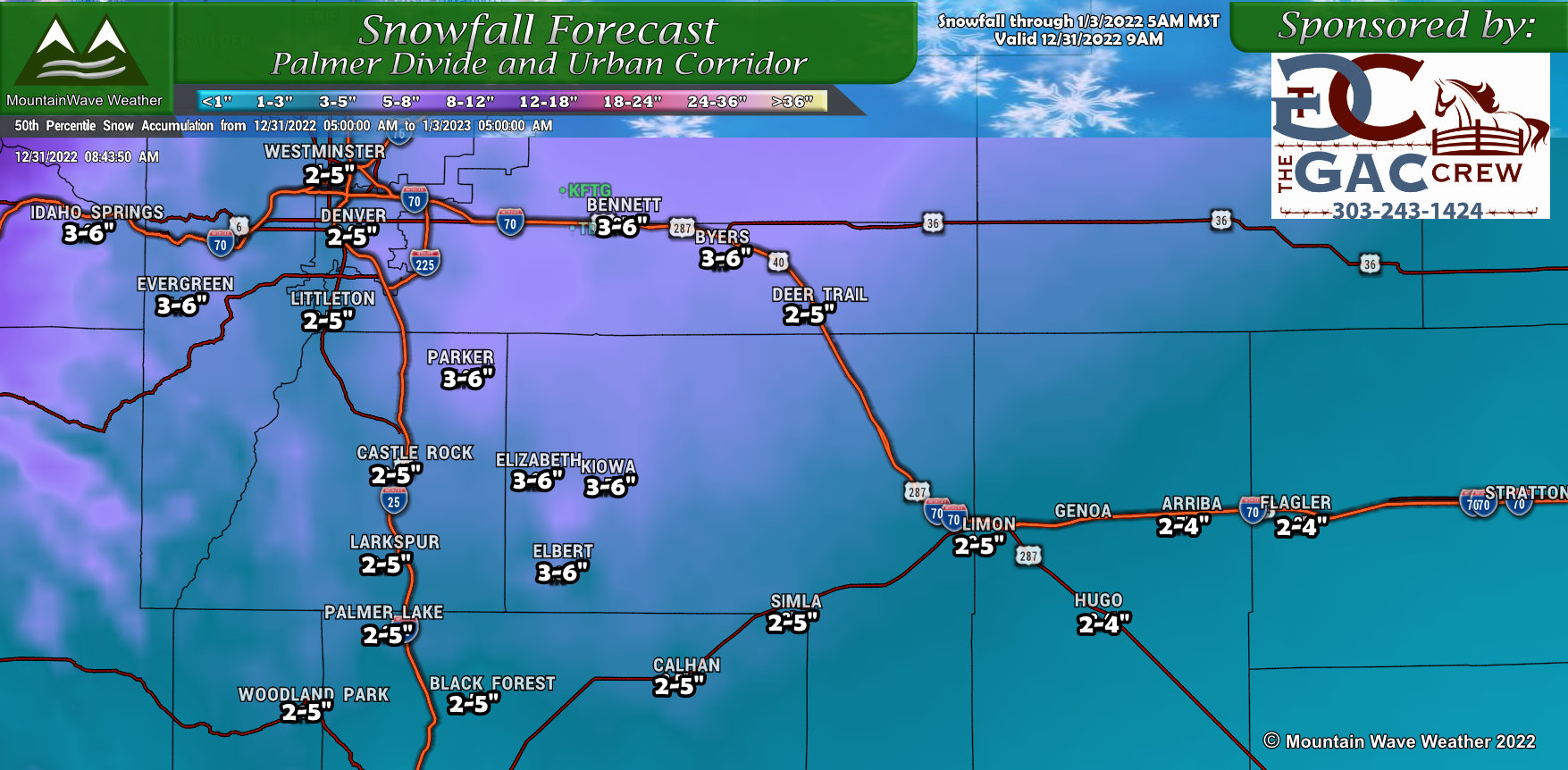 Northern Colorado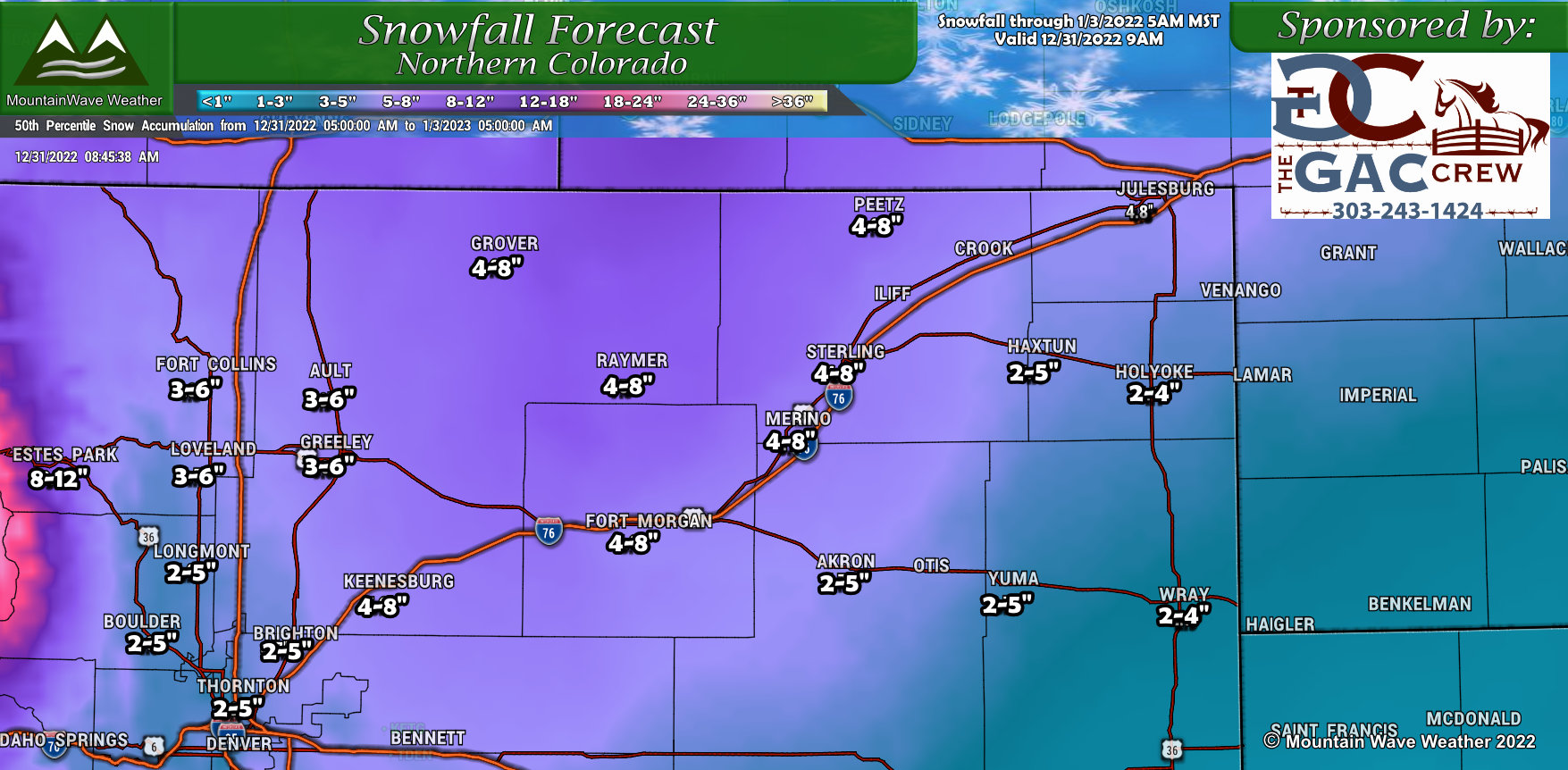 Northwestern Colorado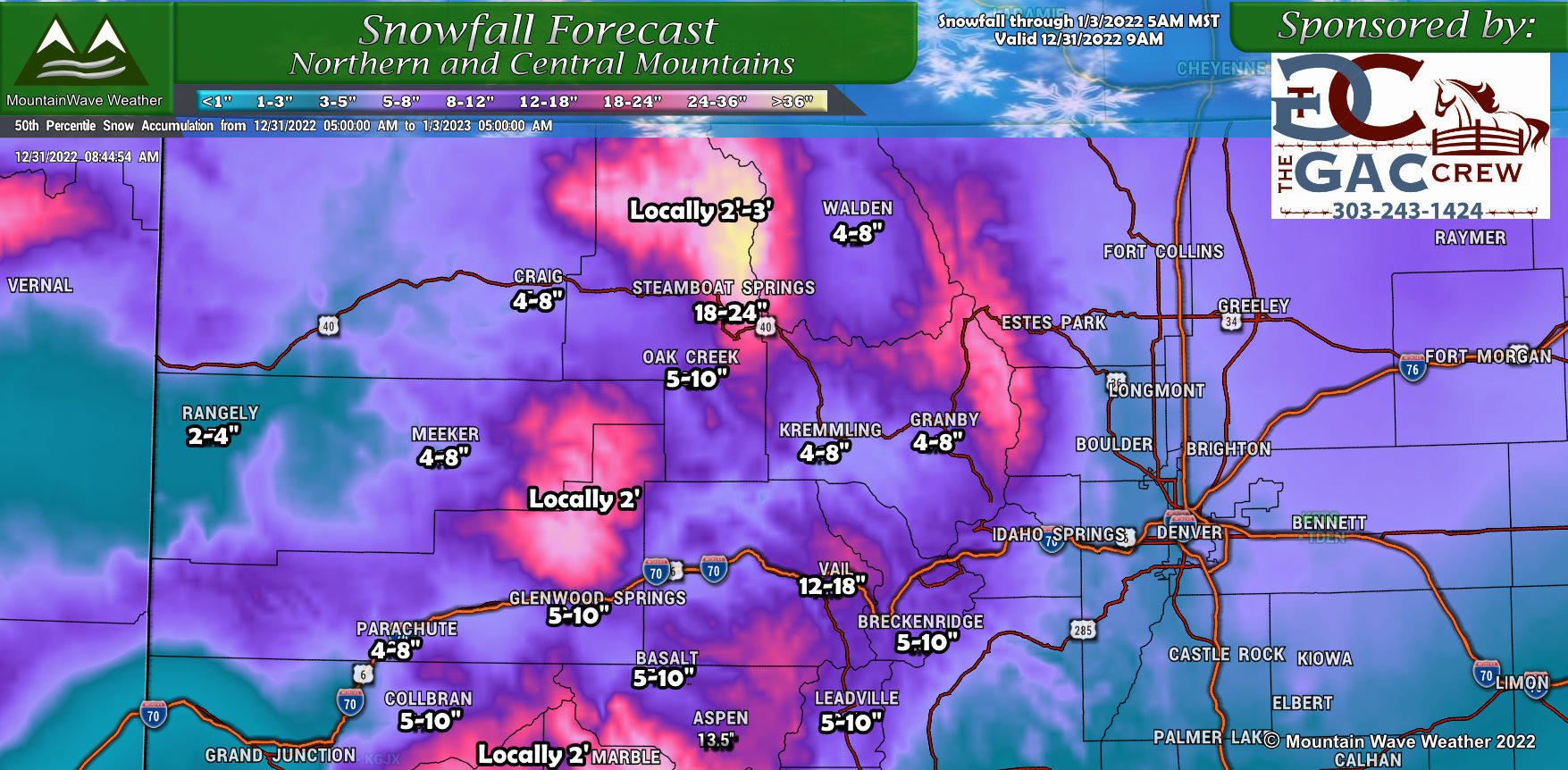 Southern Colorado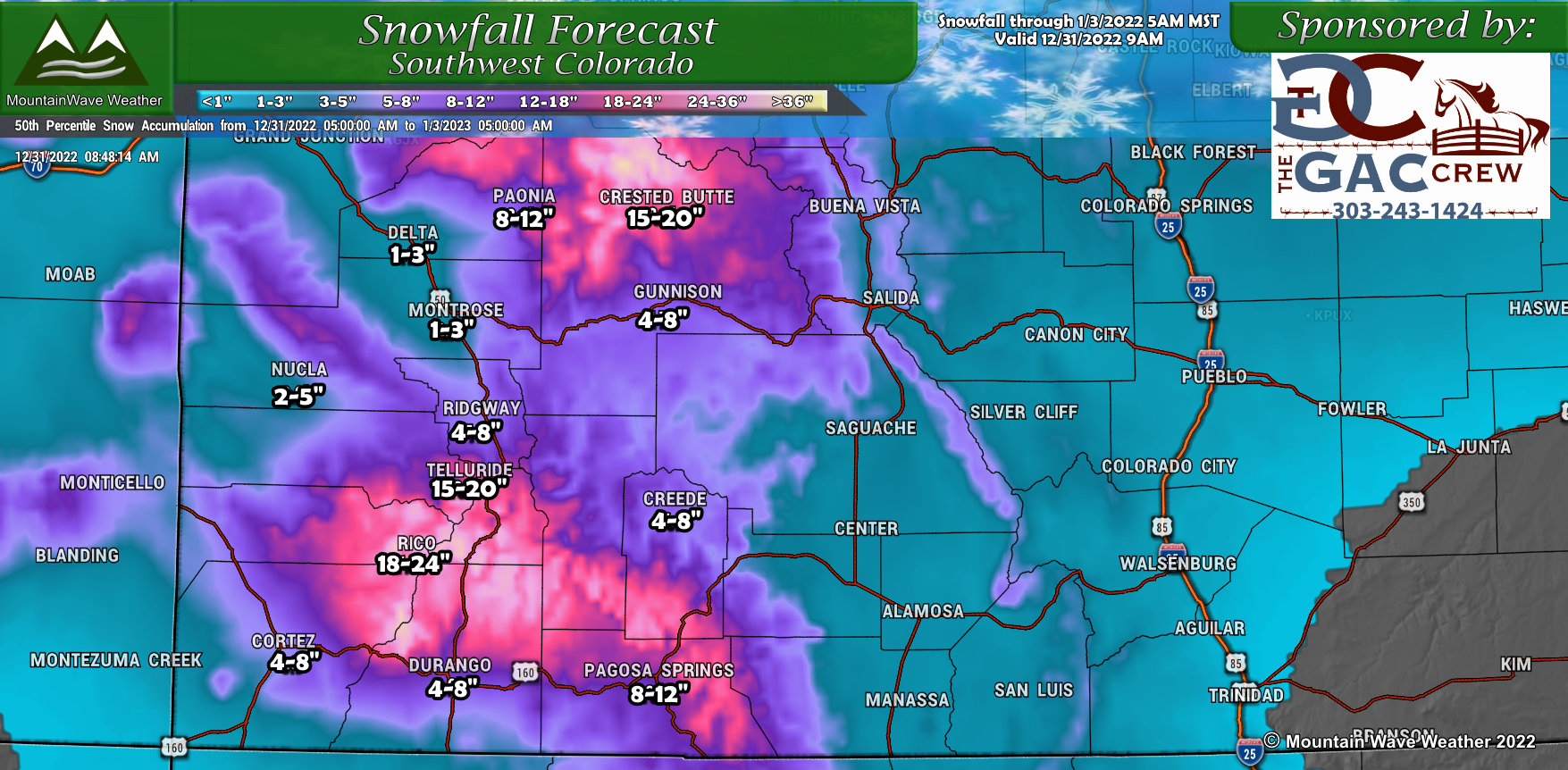 Southwestern Colorado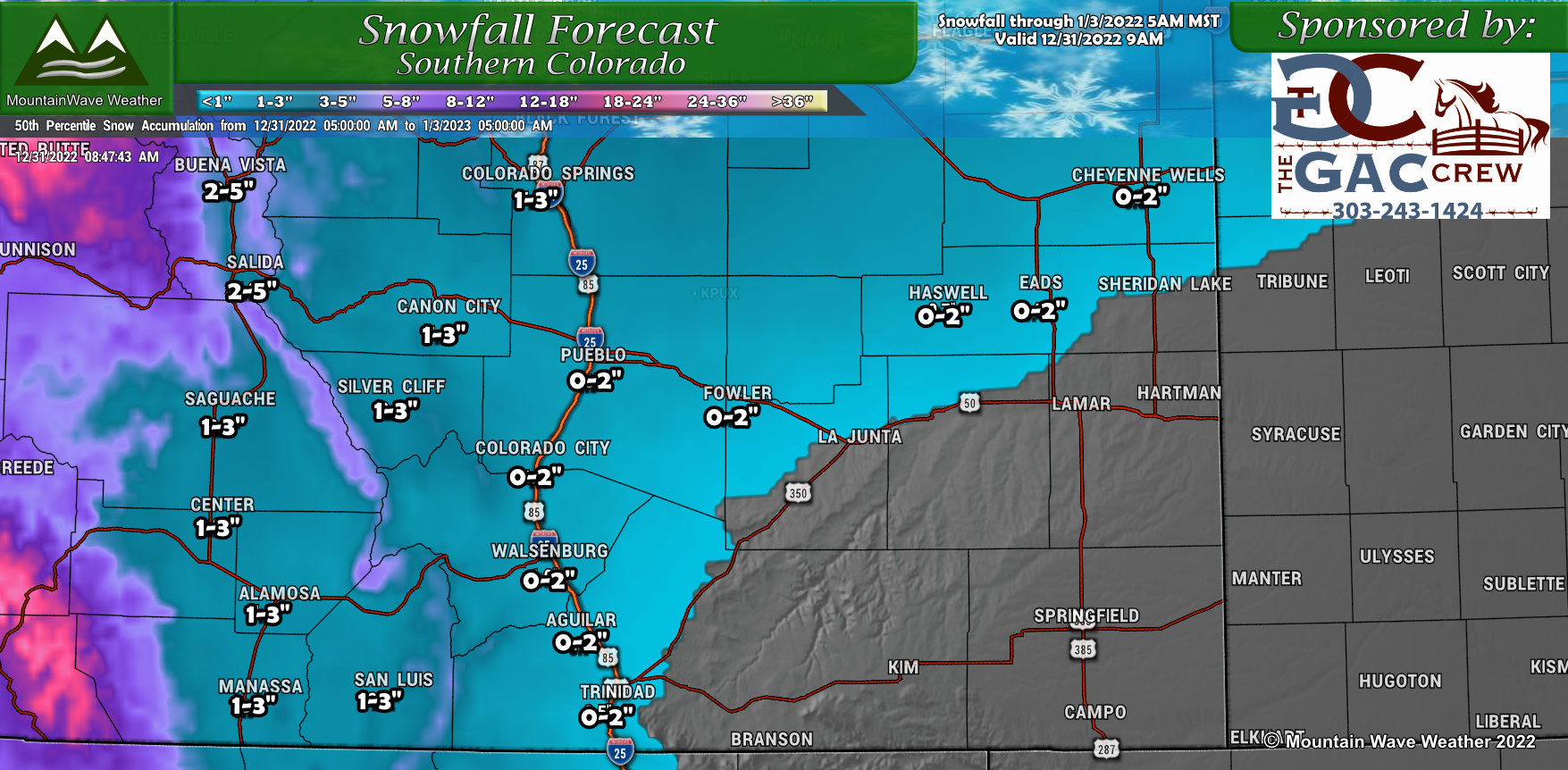 Not going to touch on the specifics of the snowfall around this storm yet as there's considerable uncertainty for many locations East of the Continental Divide. Use this as a reference, but don't take these snowfall ranges as gospel... THEY WILL CHANGE.
For the mountains, confidence is very high that those ranges will be realized, there's a ton of moisture and energy hitting the hills over the next few days. Many mountain locations will pick up significant amounts of snow.
---
Final Thoughts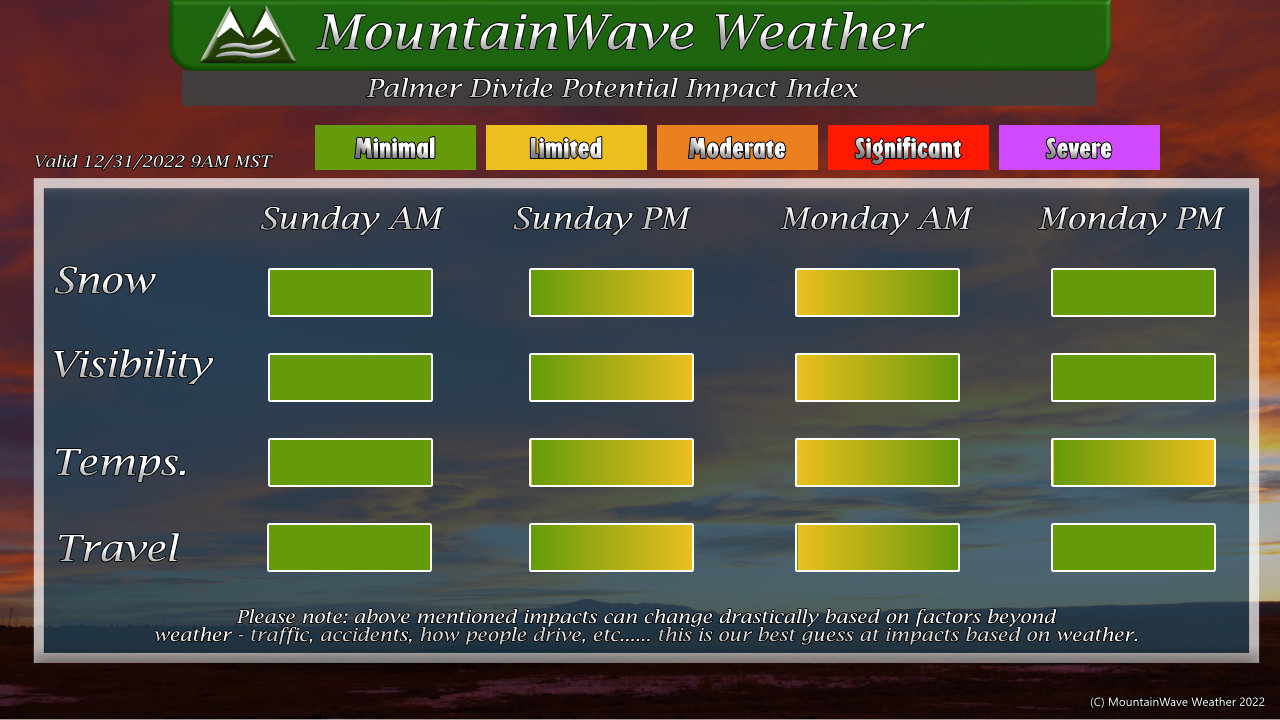 Here's the potential impact index for the Palmer Divide - note that the impacts are preliminary at this point and could change to be more severe... but I posted this mainly so you get an idea of the days and times we are watching for impacts. Keep checking back for updates on this!
Next Storm Similarities and Differences
Similarities
Tons of moisture in the air sent by an atmospheric river event hitting the West coast
Upslope expected to kick in and squeeze that moisture out of the sky
Temperatures will be cold enough for snow
Differences
Models have the track of the trough a bit further North, this would shift the bullseye away from Denver and the Palmer Divide and more towards Northeastern Colorado for the heavier snow
Upslope looks shallower and shorter lived, this could significantly dry out the atmosphere quicker and mean for lower snow totals overall
We will have more to watch with this storm, but as with many of these storms - the track and timing will be the difference between a "minor headache" storm and a "big snow producer" storm. Both possibilities are still very much in play.
What's the word of today? UNCERTAINTY!
We will continue to post updates as needed, stay tuned!