This storm through a few curveballs, but overall behaved as predicted. Here's a quick look at the snowfall totals as of 8AM this morning and a bit of discussion around my thinking and the forecast with this storm:
Note: these totals will be updated throughout the day so keep checking back!
---
Palmer Divide Snowfall Totals
Updated as of 0800 12/29/2022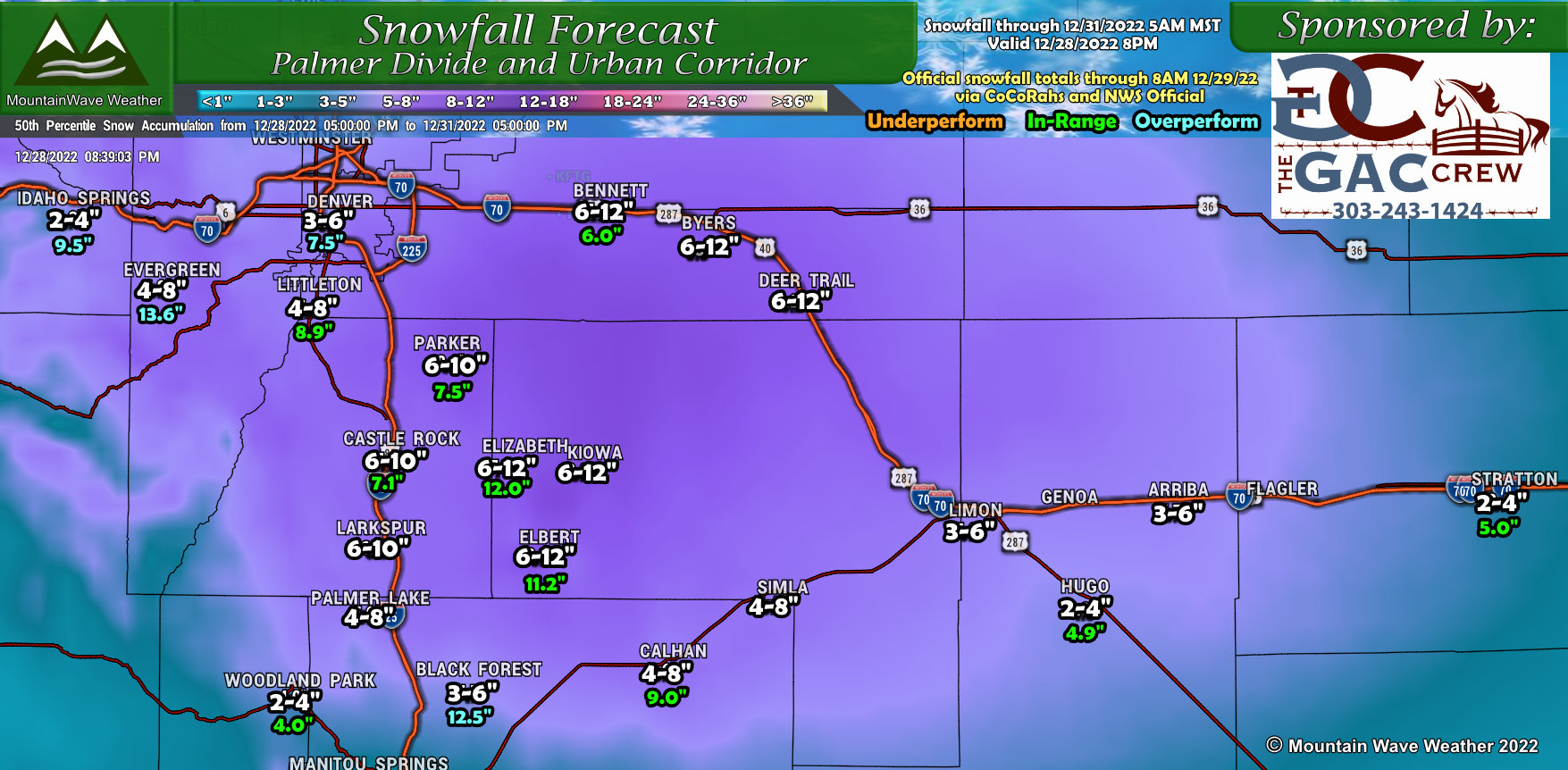 Most areas ended up within our forecast snowfall range for the most part, the main overperformers were the Southern sections of the Palmer Divide including Black Forest and Calhan. Additionally, the areas Southwest and West of Denver (up towards Evergreen, Conifer and Idaho Springs overperformed significantly outside our forecast ranges.
Not super surprising, given the surface winds favored the Palmer Divide and foothills for this storm - things went pretty according to plan.
---
Forecast Discussion
There were a few things I was watching yesterday to see if the snowfall totals would come close to verifying - there was a bit of hesitation initially to raise snowfall totals, I wanted to see precipitation fill in and ramp up before I pulled the trigger.
2PM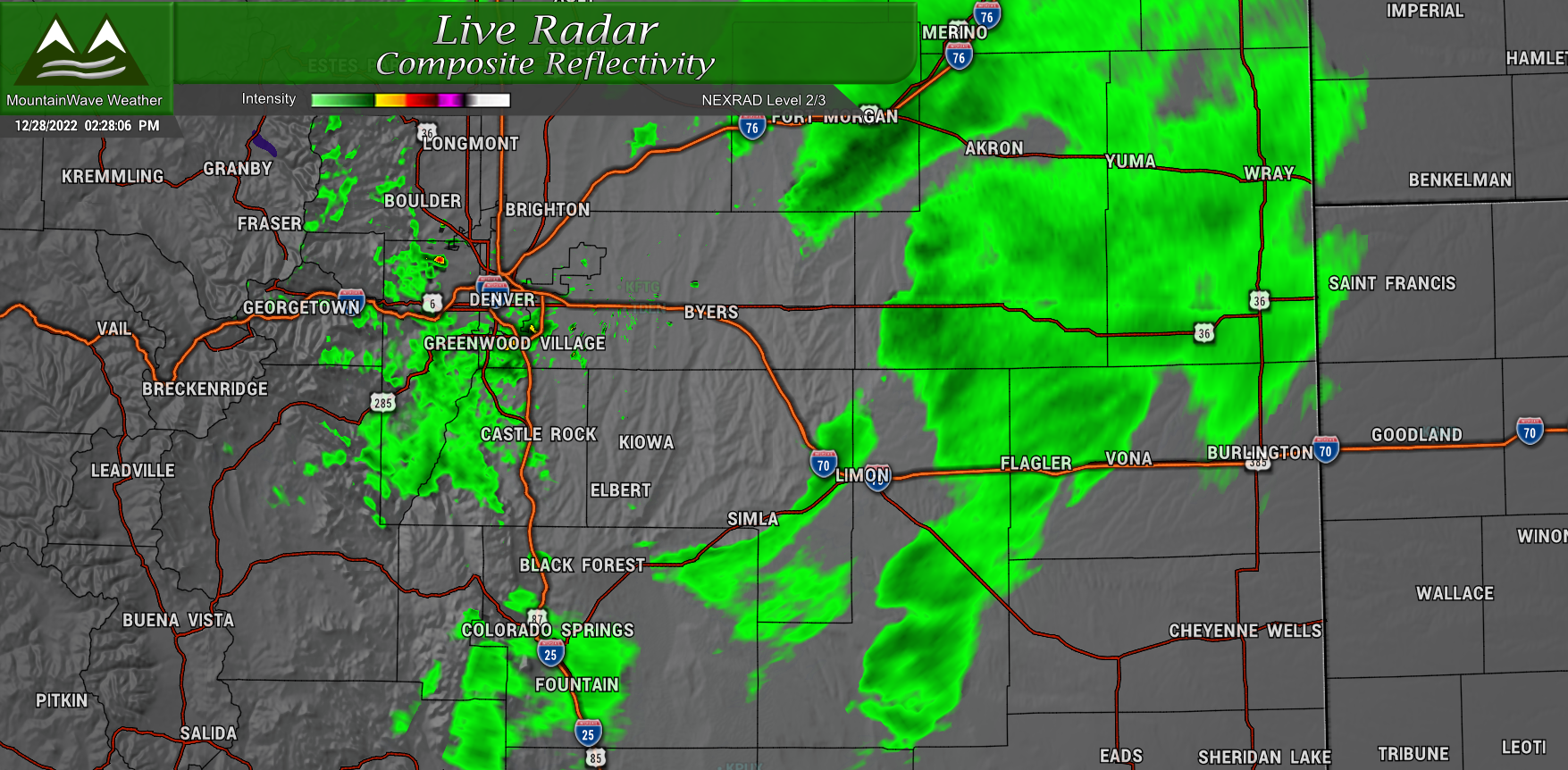 What models predicted: Rain starts with scattered transition to snow, models had precipitation already filling in quickly in the early afternoon.
What happened: precipitation did start first across the Eastern plains and took a bit longer to fill in back towards the West. The surface flow was mainly Southerly with a bit of Southeasterly, this caused a bit of initial downsloping with the storm.
4PM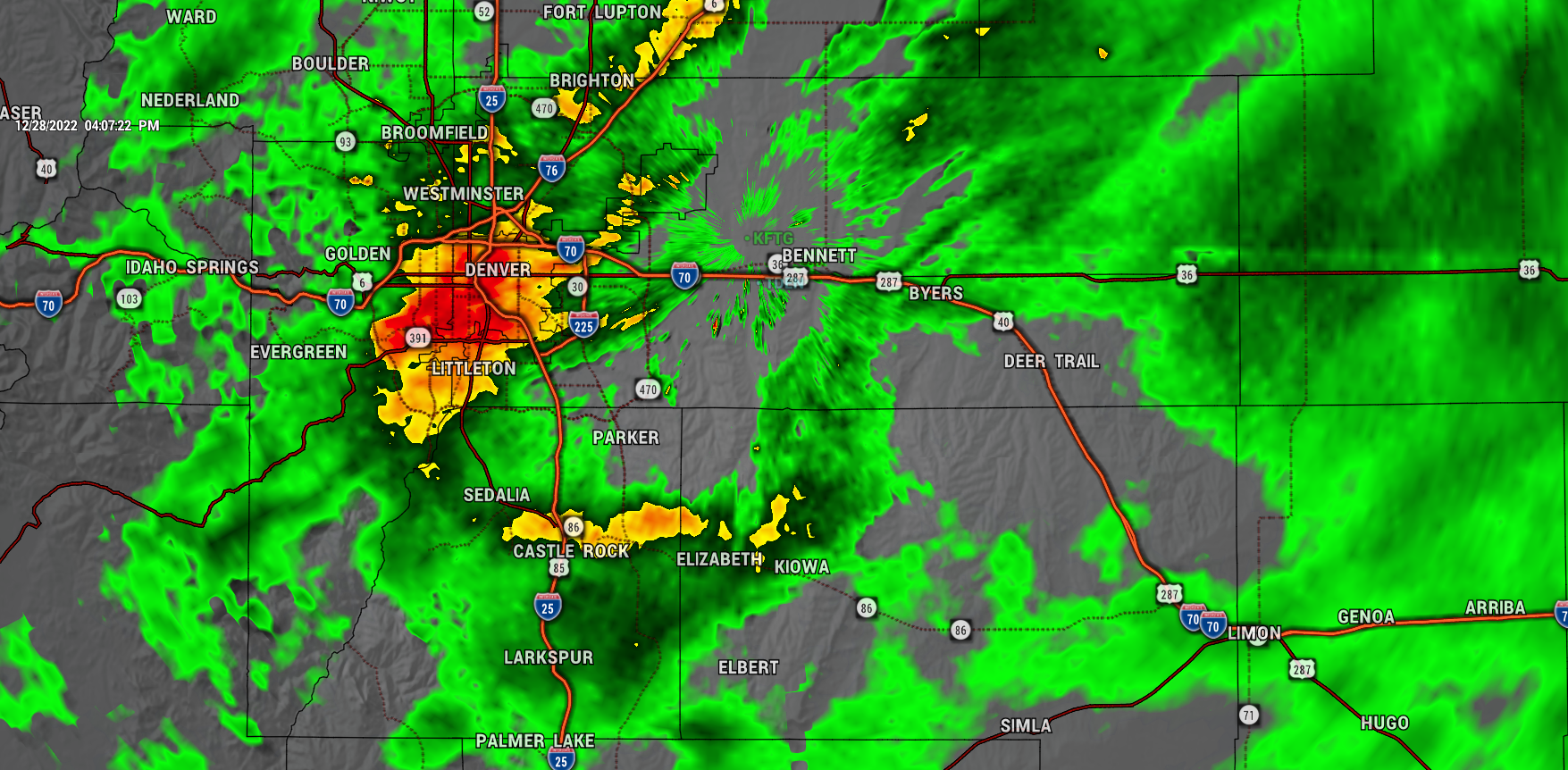 What models predicted: Rain transitions to snow for most higher elevations, no convective enhanced lift was seen - but heavy rain and snow was predicted
What happened: As the winds shifted we saw precipitation fill in across the front range. Heavy rain formed over West Denver with another area of moderate/heavy rain over a convergence zone centered just slightly North of Castle Rock and stretching out into Central Elbert County. Some areas were seeing a bit of a transition to snow at this point but it was not widespread.
Expected snow transition from models: 3-6PM
Actual snow transition: 6-8PM
8PM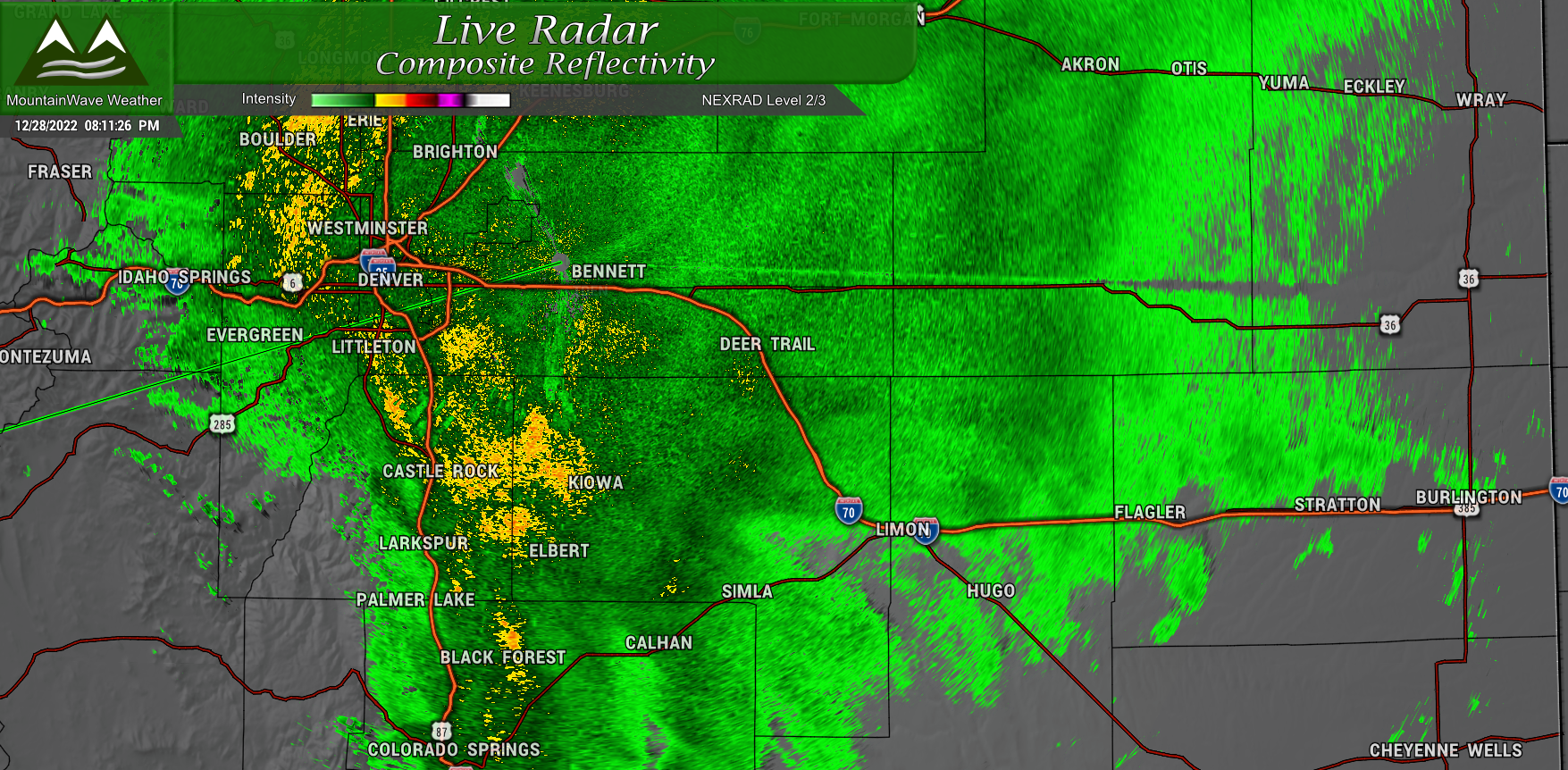 What models predicted: All areas transitioned to heavy snow, ongoing moderate to heavy snow across the Palmer Divide and Front Range foothills. Heavier snow did not reach much further North than Denver.
What happened: By 8PM, many higher elevation areas had transitioned to snow or were nearly transitioned. The heavier/moderate snow over the Palmer Divide and Front Range foothills verified pretty well, but all the snow in and around and North of Denver was a bit more unexpected.
---
Models Vs. Actual
Snowfall
Castle Rock Models: 13"
Castle Rock Actual: 7.1"
Elbert Models: 15"
Elbert Actual: 11.2"
The models were fairly close, but they overestimated the snowfall overall... here's a couple of reasons why:
Later transition to snow

This is the main reason I waited to issue an updated snowfall forecast until 8PM (see more below)

Slightly warmer temperatures
Lower snow-water-equivalent ratios due to warmer atmosphere, higher dewpoints, etc...

Typical QPF to snow ratio is considered 10:1 ... 1 inch of liquid precipitation equals 10 inches of snow
I imagine SWE ratios will be lower, perhaps closer to 7:1 or 8:1
---
Final Thoughts
My final snowfall forecast was issued at 8PM, well after the storm had moved in. Why did it take so long? There were a few things I was concerned about:
Remember how the snow transitioned back to rain for a bit in Castle Rock?
Elsewhere along the Palmer Divide, it actually stopped raining/snowing for a period - at my place there was a good hour + of no precipitation
It took longer than expected for precipitation to fill in
The models predicted none of this...
When we see what is actually happening varies significantly from earlier models and forecasts, it raises uncertainty.
Once the snow finally got going and the intensity was over 1-2" hour, I felt more confident that the 8AM updates snowfall ranges were not high enough, I released an update at 8PM with higher snowfall ranges than the earlier update, but still lower than the models were predicting. As we found out on Thursday morning, this was the right move and most areas ended up in range.
Lots of people get hung up on snowfall amounts, which is fine but at the end of the day the impacts are what really matter. This impact graphic was released at 8AM on 12/28 detailing significant travel impacts Wednesday night and Thursday morning. The previous update showed a similar time-frame but impacts not as severe...
Overall message here is that if you followed along, you knew this storm would have impacts well over 48 hours in advance.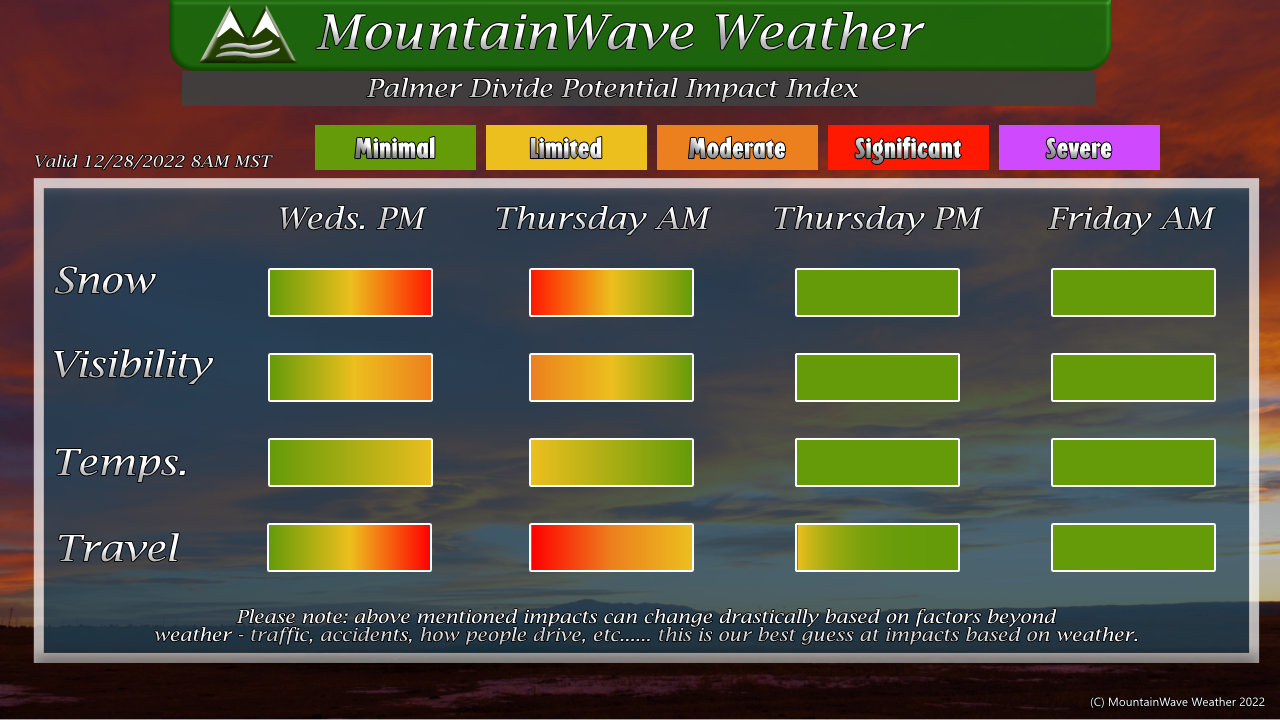 Radar snapshot of the storm beginning the afternoon of 12-28-2022
That's it for now, appreciate any comments or questions! Best place is on Facebook for that!
Stay warm and stay safe out there today!