THIS WEEK'S WEATHER STORIES 09/19/2021
A Storm Brewing
A trough of low pressure will brush Colorado to the North on Monday and Tuesday which will bring a short change to our overall weather pattern. While the main energy of this storm remains to our North it will send a series of cold fronts down into Colorado, bring some gusty winds to the area and even give the mountains their first snowflakes of the year.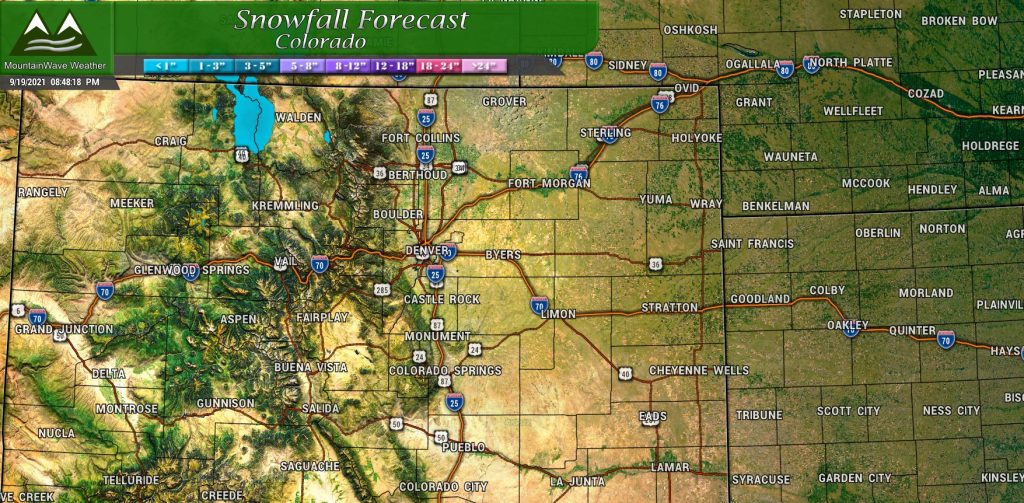 Taking a look at the snowfall forecast (this is our first use of the snowfall map for the 2021-2022 snow season) you'll notice that the only real areas of accumulation look to be in and around the mountains of Steamboat and Northwest Colorado into Wyoming. That's not to say many mountain locations won't see snowflakes fly on Monday and Tuesday - it just means models are not super excited about much of that sticking on the ground.
One thing you will notice however is the wind will continue this evening and even pick up with passage of the front early tomorrow morning: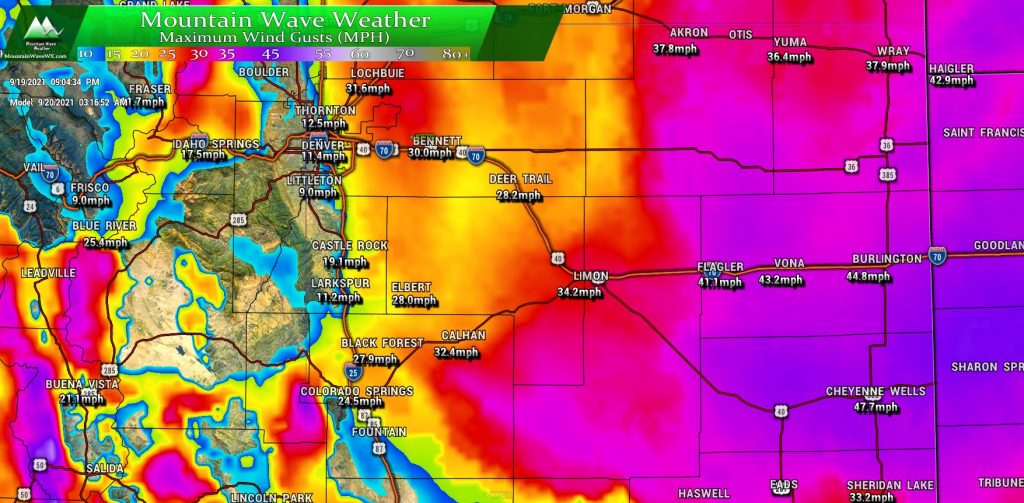 You'll probably hear it tonight, wind looks to be strongest between 12AM and 6AM on Monday morning. While wind gusts won't be anything super problematic - gusts will reach 25-35mph along the Palmer Divide primarily East of the I-25 corridor. If you are along I-25 or points to the West, you may not end up seeing much wind out of this at all.
---
Any Precipitation For the Palmer Divide?
Models are showing a small chance of moisture for the front range in the next 2 days with this storm system. I would like to caution though, showers will be very spotty and most areas will not see any decent amount of rain out of this storm. The mountains stand a lot better chance of seeing precipitation out of this, but just like the front range it will be relatively spotty.
Long story short, our thinking on how this storm system will behave has not changed much from our last update.
---
Palmer Divide Weekly Forecast
As you'll see in the forecast outlook - the main affects of this storm we will see along the Palmer Divide is a nice cooldown and fall-like temperatures to start the week. Along with that, it will be windy/breezy at times and there is that small chance for showers later in the day Monday and into Tuesday. Anyone who is lucky enough to see rain will not see much overall, but at least it's something!
By mid and late week we warm back up into the 80's and dry it out again - 80 degrees is still a bit above average for this time of year... but it's not nearly as bad as being in the 90's so that's something to look forward to!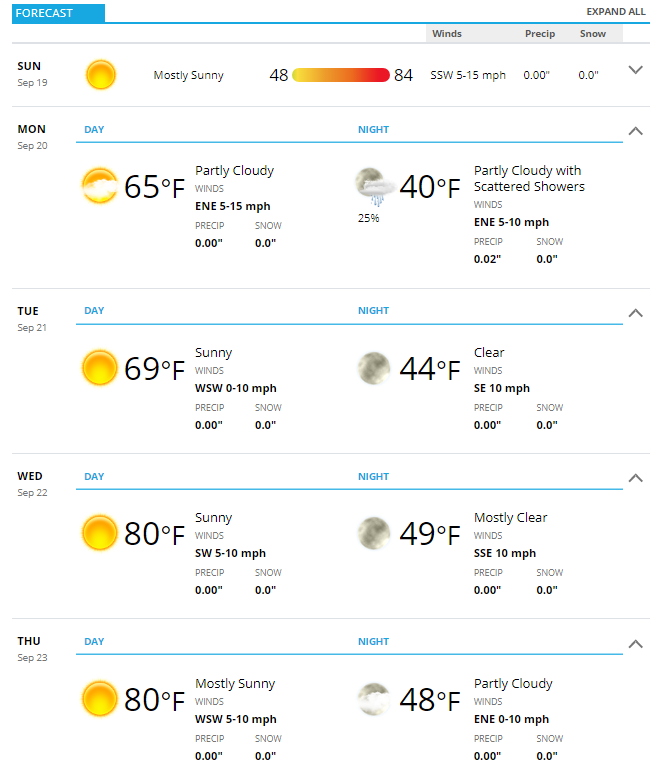 Here's a few Frequently Asked Questions on this storm system so far:
Will we see snow on the Palmer Divide with this storm?
Do I need to winterize my sprinkler system before this storm?
Do I need to cover my garden?

This will depend on your elevation - some areas may get cold enough Monday night (upper 40's maybe even a few upper 30's) that you may want to consider any plants you'd like to keep alive. This is most likely for elevations above 7.000 feet with the data we see at this time.
---
If we see anything interesting ramping up during this week - we'll pass along any updates as needed.
Stay tuned! Thank you for following along!