---
Updated Winter Weather Highlights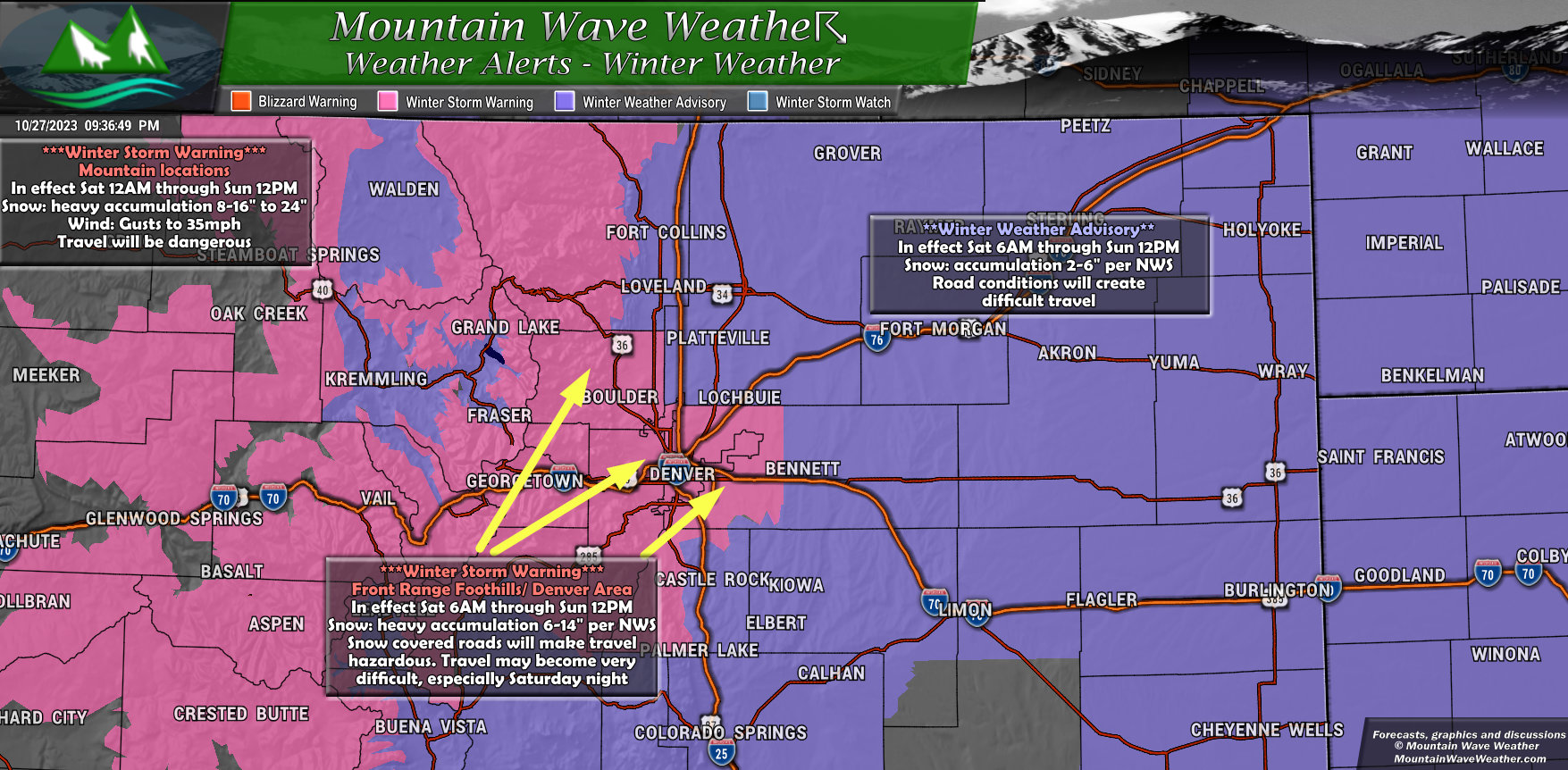 Changes from earlier today:
A new ***Winter Storm Warning*** has been issued for the Front Range Foothills, Denver Metro Area and Denver International Airport.
The warning runs from 6AM Saturday all the way through noon on Sunday.
Per the NWS, heavy snowfall is possible with accumulations ranging from 6-14"
Travel will become difficult to potentially dangerous especially Saturday night. It is recommended to delay travel if possible during the worst of this storm and only go out for an emergency. If you must go out, make sure you have winter survival gear in your car.
---
Updated Snowfall Forecast
Despite the fact that this is a banded snowfall event, which introduces a considerable amount of uncertainty into a snowfall forecast; models have been very consistent with snowfall over the day Friday. This means they are more confident that a widespread heavier snow event is likely. Given my past experience with storm setups like this, I still have some reservations on how many people actually see those higher end snow totals.
Such is forecasting the weather. I think I'd personally say my confidence in the snowfall forecast is MEDIUM at this point. I don't have high confidence in a ton of these snow totals on the higher end until the storm moves in Saturday and I can see what it's doing.
Regardless, here's the latest thoughts on snowfall accumulation as of tonight:
Palmer Divide/ Denver Metro Area (Updated 9PM 10/27/2023)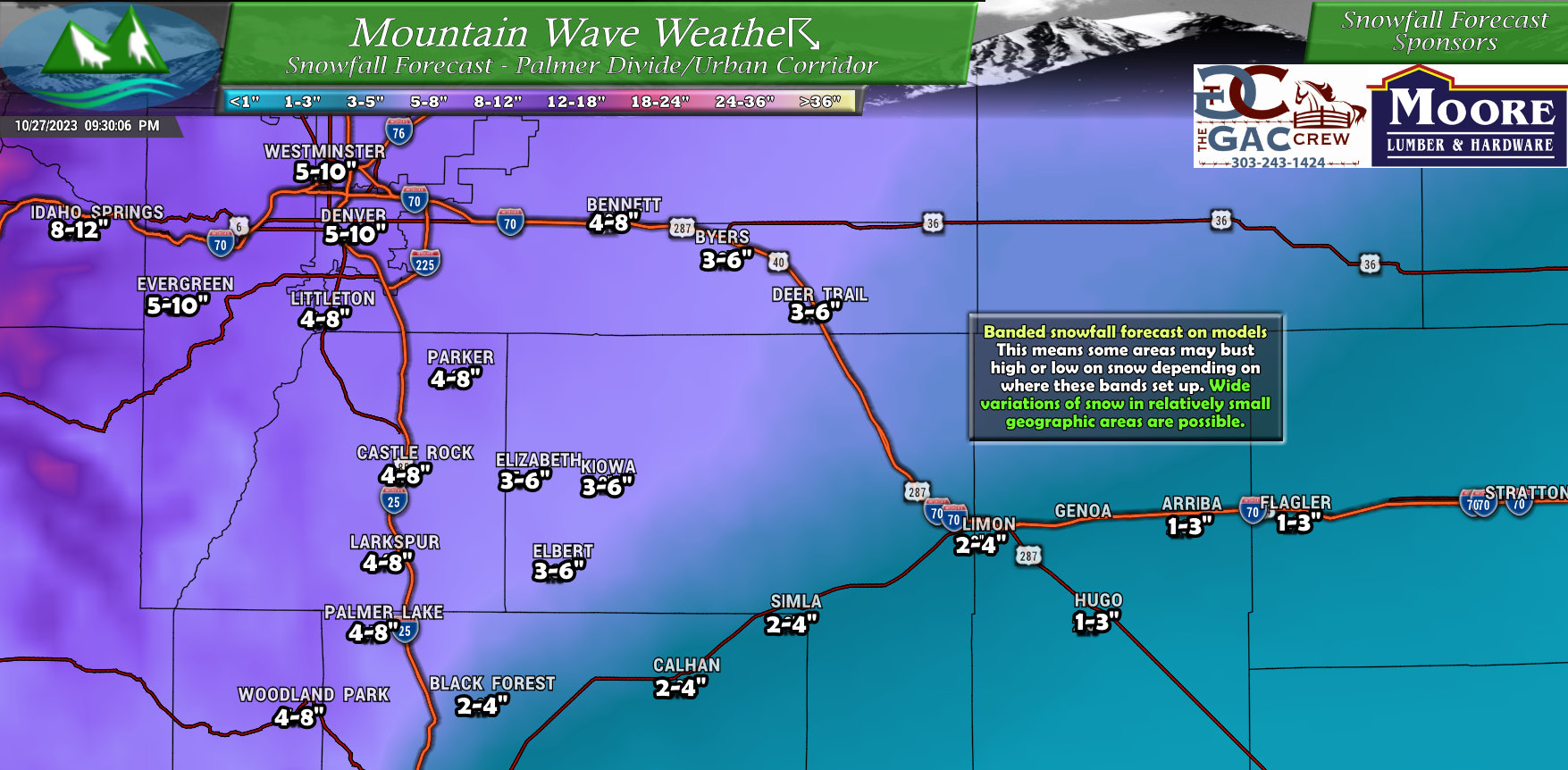 Northeastern Colorado (Updated 9PM 10/27/2023)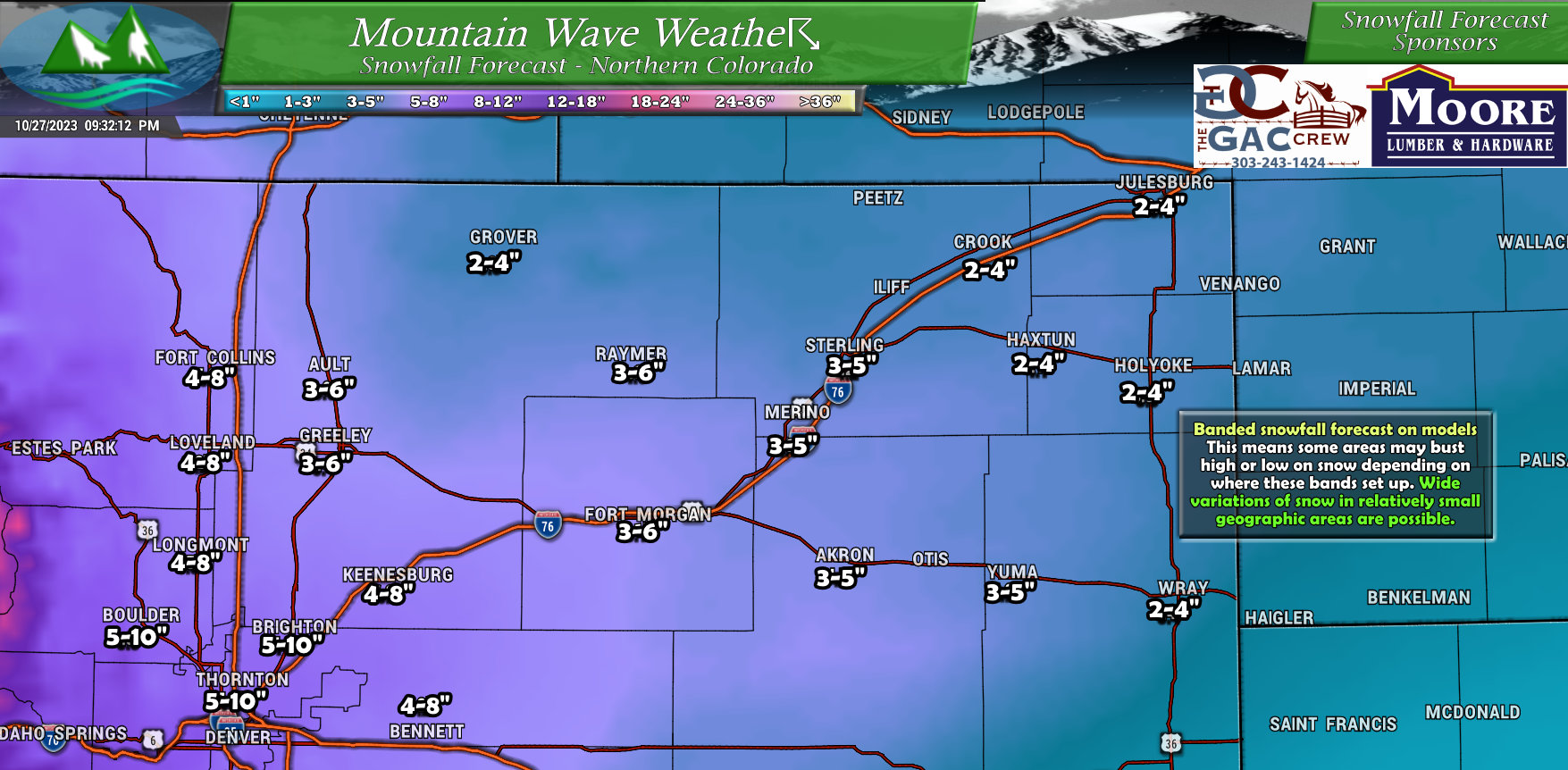 Northern and Central Mountains (Updated 9PM 10/27/2023)
Southeastern Colorado (No Changes)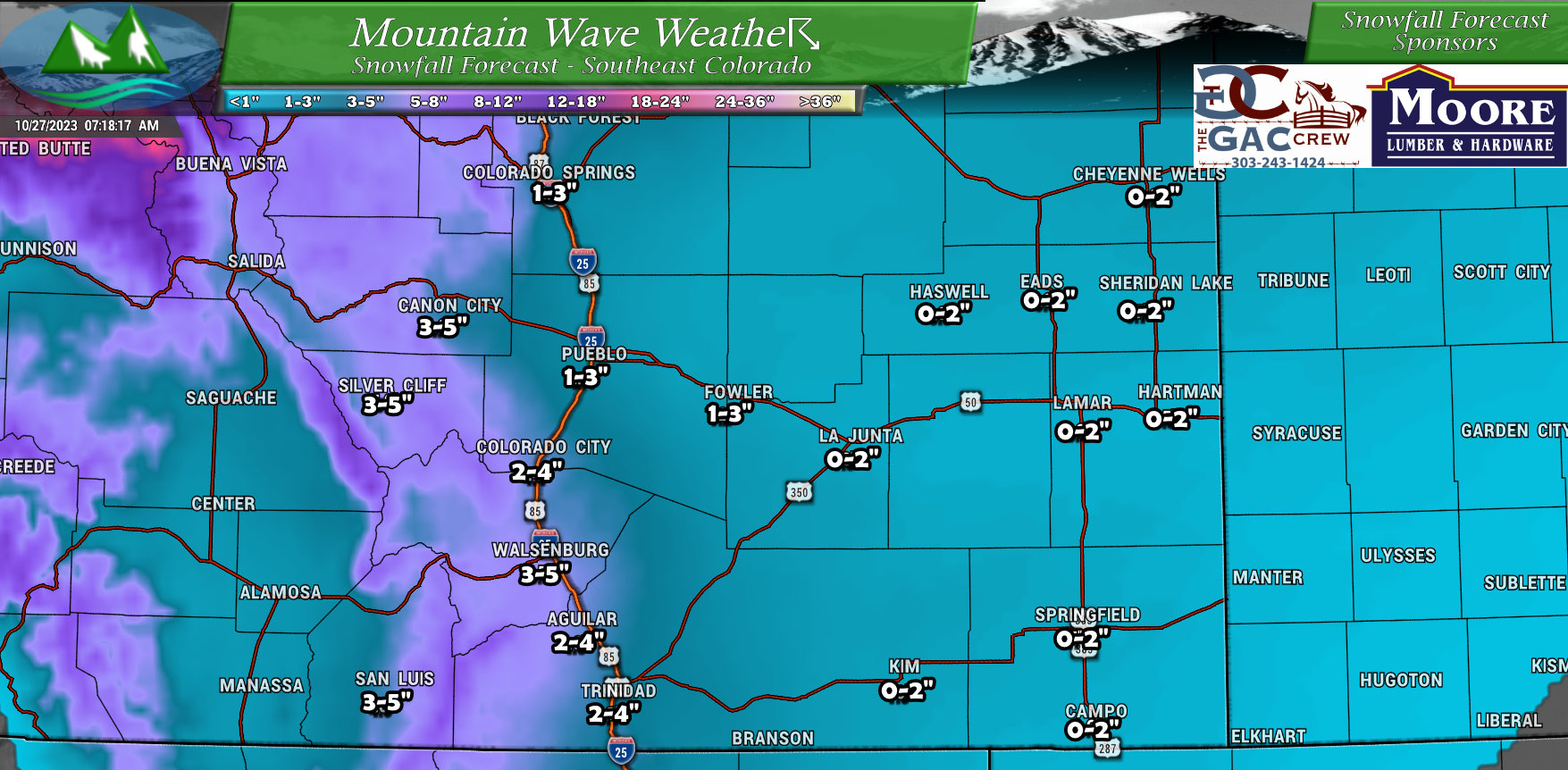 Southwestern Colorado (No Changes)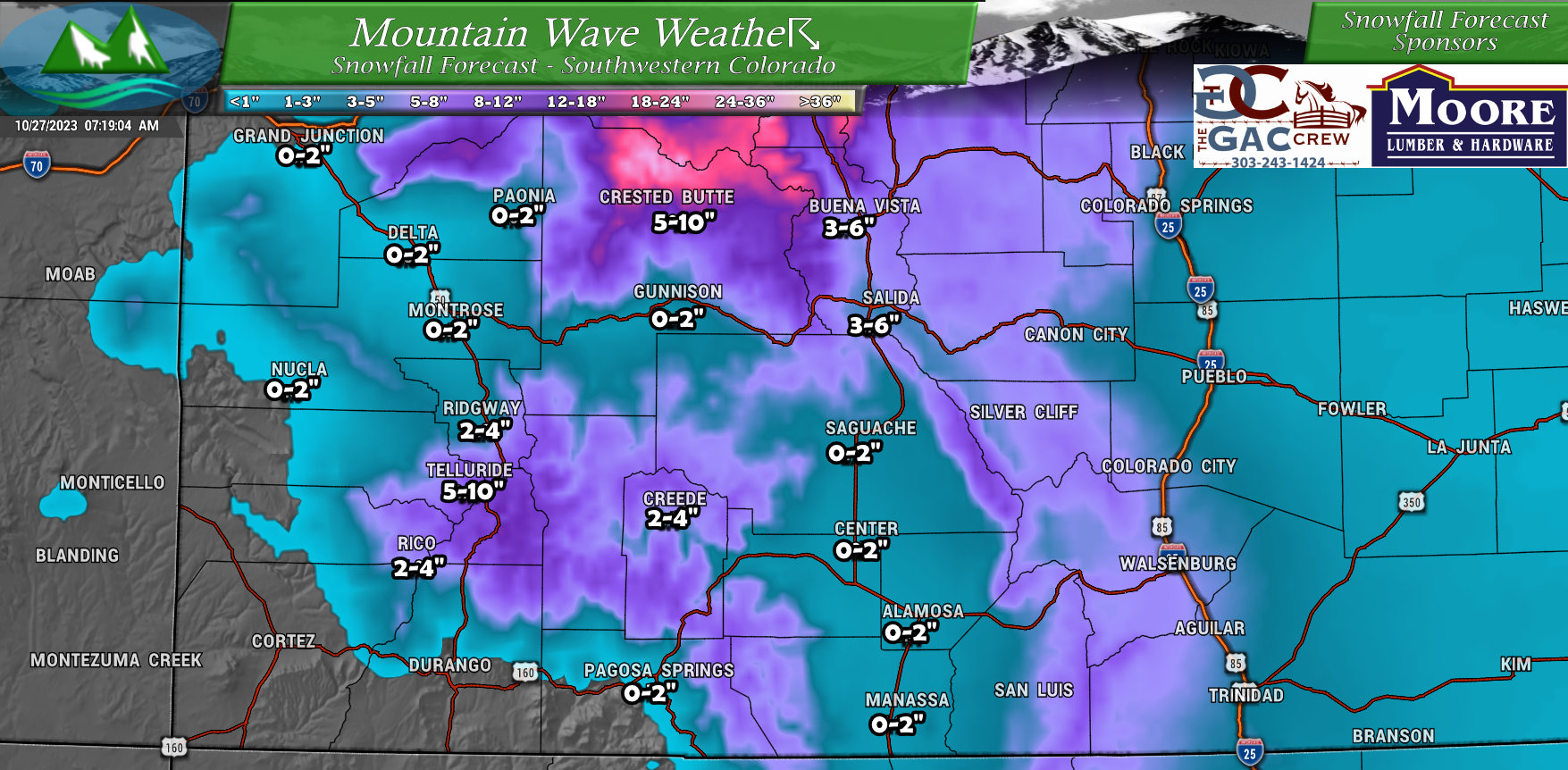 ---
Updated Timing and Impacts
The main change in the impact severity graphic is the addition of moderate impacts on visibility due to heavy falling snow and moderate impacts on travel due to snow and icy roads. The temperature impacts remain the same at moderate going through the day Saturday due to very cold temperatures and significant going into Sunday PM due to bitterly cold temperatures expected overnight.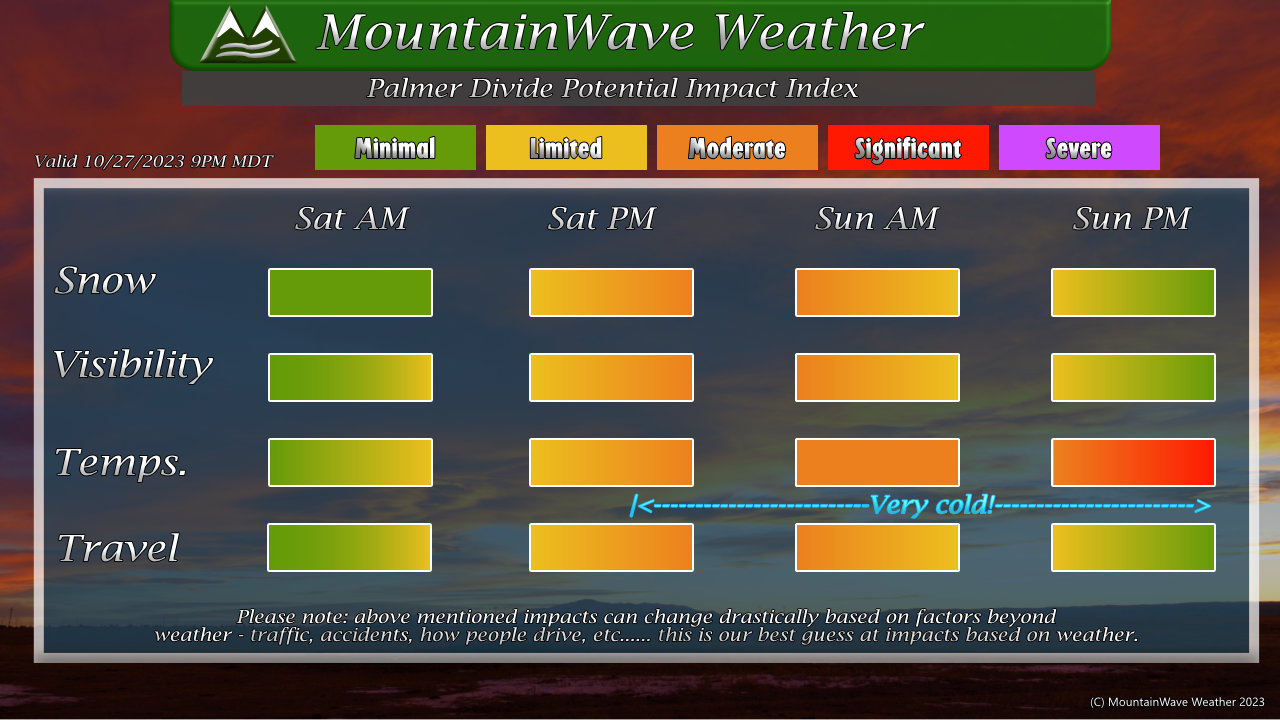 Snow

Snow may begin falling during the morning hours on Saturday but should remain light
Heavier snow is possible after noon on Saturday
Highest impacts and heaviest snow is expected late Saturday through Sunday morning

Visibility

Will be limited/moderate impacts due to falling snow late Saturday and early Sunday

Temperatures

Cold temps expected Saturday
From Saturday night through Monday morning, very cold temperatures are expected. Teens and single digits possible along the Palmer Divide during overnight hours

Travel

Snow looks heavy enough and temperatures will be cold enough that snow will accumulate on the roadways. This will cause moderate travel impacts across the Palmer Divide, but if things get going earlier or stronger on Saturday we could see significant travel impacts from Saturday night through Sunday morning.
---
Summary - Last Forecast For This Storm
This will be the last forecast for this storm. There may be updates to snowfall or timing or impacts tomorrow but they will be adjusted based purely on the storm and how it is behaving.
I think everyone should be well prepared at this point; we communicated the bitter cold temperatures and the continued uncertainty around the snowfall forecast. I don't think anyone should be surprised with how this one turns out.
Have a great evening, stay warm and stay tuned for any further updates on Saturday!