While some years we are already starting to deal with snow and cooler temperatures in Colorado, that won't necessarily be the case this year... at least not just yet. Strong high pressure has set up once again over the Western U.S. and is allowing heavy smoke and very warm air to filter back into Colorado. As usual during a situation like this, there are a ton of air quality alerts out, smoke will be heavy to extreme for the next few days and the heat is going to be impressive.
Here's a quick rundown of all the stuff we are watching today and the rest of the week:
Current Weather Alerts
We've been under Air Quality Alerts for most of the summer now so this should be nothing new. If you're curious what these actually mean here's a quick note from the NWS:
Hot, dry weather combined with an influx of out-of-state wildfire smoke
will allow both ozone and fine particulate concentrations to reach
the Unhealthy for Sensitive Groups

Increasing likelihood of respiratory symptoms
in sensitive individuals, aggravation of heart or lung disease and
premature mortality in people with cardiopulmonary disease and
older adults. People with heart or lung disease, older adults,
active adults, and children should reduce prolonged or heavy
exertion.
Long story short, if you have breathing or lung problems, you'll probably need to limit your exposure outdoors today. Even if you are healthy, prolonged exposure outside especially under strenuous circumstances (exercising...) you'll experience burning lungs and itchy eyes after too long.
This Air Quality Alert runs through 4PM today (09/08/2021) but I fully expect new ones to be issued for at least Thursday and Friday if not longer.
---
Smoke Forecast
The smoke is going to be plain bad the next few days folks. The smoke model is forecasting heavy to extreme concentrations of smoke for Wednesday and Thursday. The model only goes out 48 hours but given the weather dynamics off to our West, I suspect it will linger into the weekend - hopefully we get a bit of a break from it on Saturday and Sunday but that will remain to be seen.
If you need a refresher on what AQI (air quality index) is and what these different levels mean:

We will be solidly in red bordering on purple for the next couple of days - that's not great.
---
The Heat is On!
The other story along with the atrocious air quality will be the heat!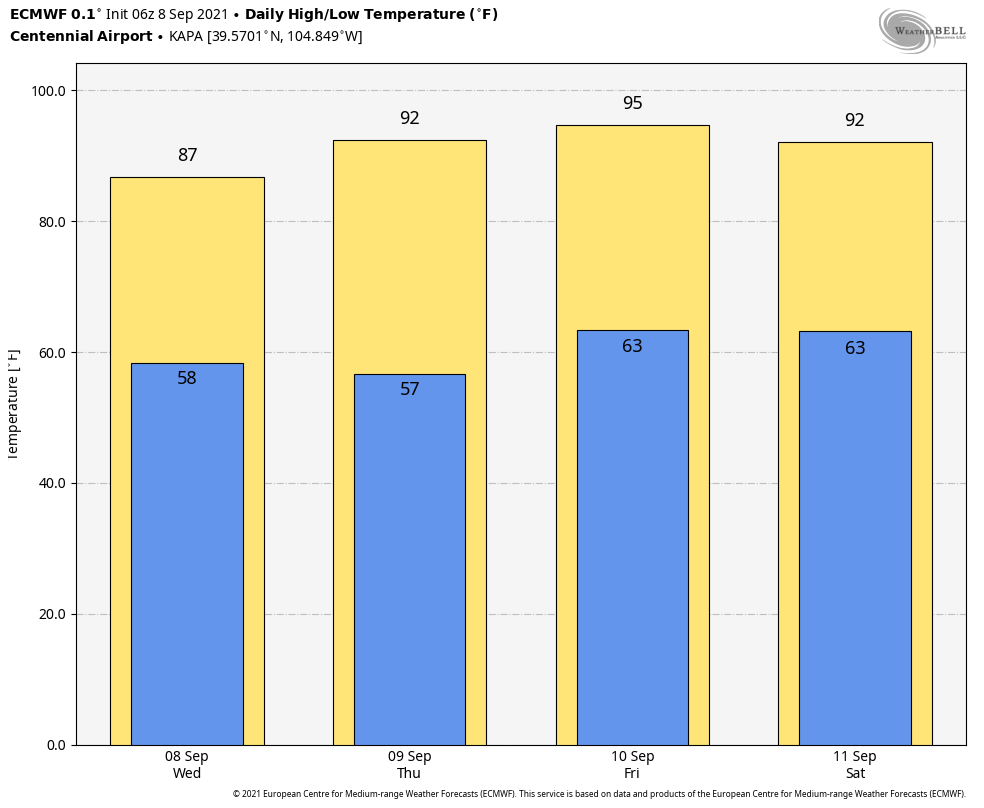 The Euro and many models are predicting temperatures well into the 90's Thursday, Friday and Saturday. If these temperatures verify it will mean a lot of areas along the Colorado Front Range will be breaking daily high temperature records - some daily low temperatures records may be broken as well on the warm side of things.
To give you an idea of how "above normal" those temperatures are for this time of year, here's the 2 meter temperature anomaly for Thursday and Friday:
---
Summary
A lot of folks asking lately when we see a cool down and more fall-like weather? While we do see a periodic front push through every now and then I don't see any sustained shifts in the weather pattern in at least the next 7-10 days... perhaps as long as the next 14 days.
The CPC outlook for days 8-14 (next week, we already know this week is going to be hot):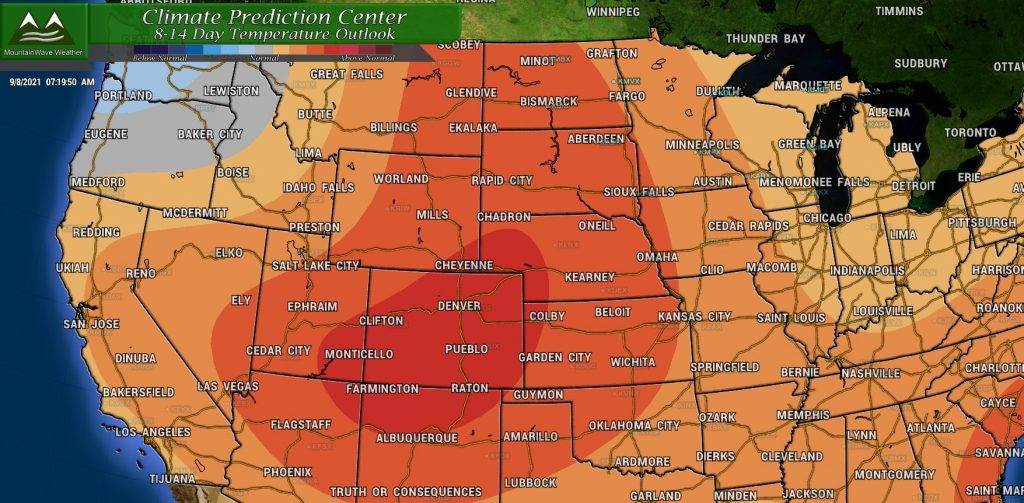 Such a high probability of above average temperatures across Colorado combined with what I see in the models gives us fairly high confidence that we don't see a significant cool down any time soon.
So to sum up the weather this week:
Due to our heat and dry conditions, drought conditions are also creeping back into Colorado. I'll have an updated on that posted up sometime this week. Stay tuned for more weather goodness!