I've made some adjustments to the forecast based on model data coming in yesterday and overnight last night. Additionally, morning model data has been consistent in showing a continued upwards trend for snowfall along the front range. I've made adjustments to the snowfall forecast where needed but still stress that confidence is overall medium because snow banding could play a huge part in who sees snow and who does not.
I've got the weather highlights, a snowfall forecast tour around Colorado and notes about the potential forecast "curveballs" we could see form this storm. The timing/impacts/preparedness information is found at the bottom of the article if that's your main interest.
---
Current Weather Highlights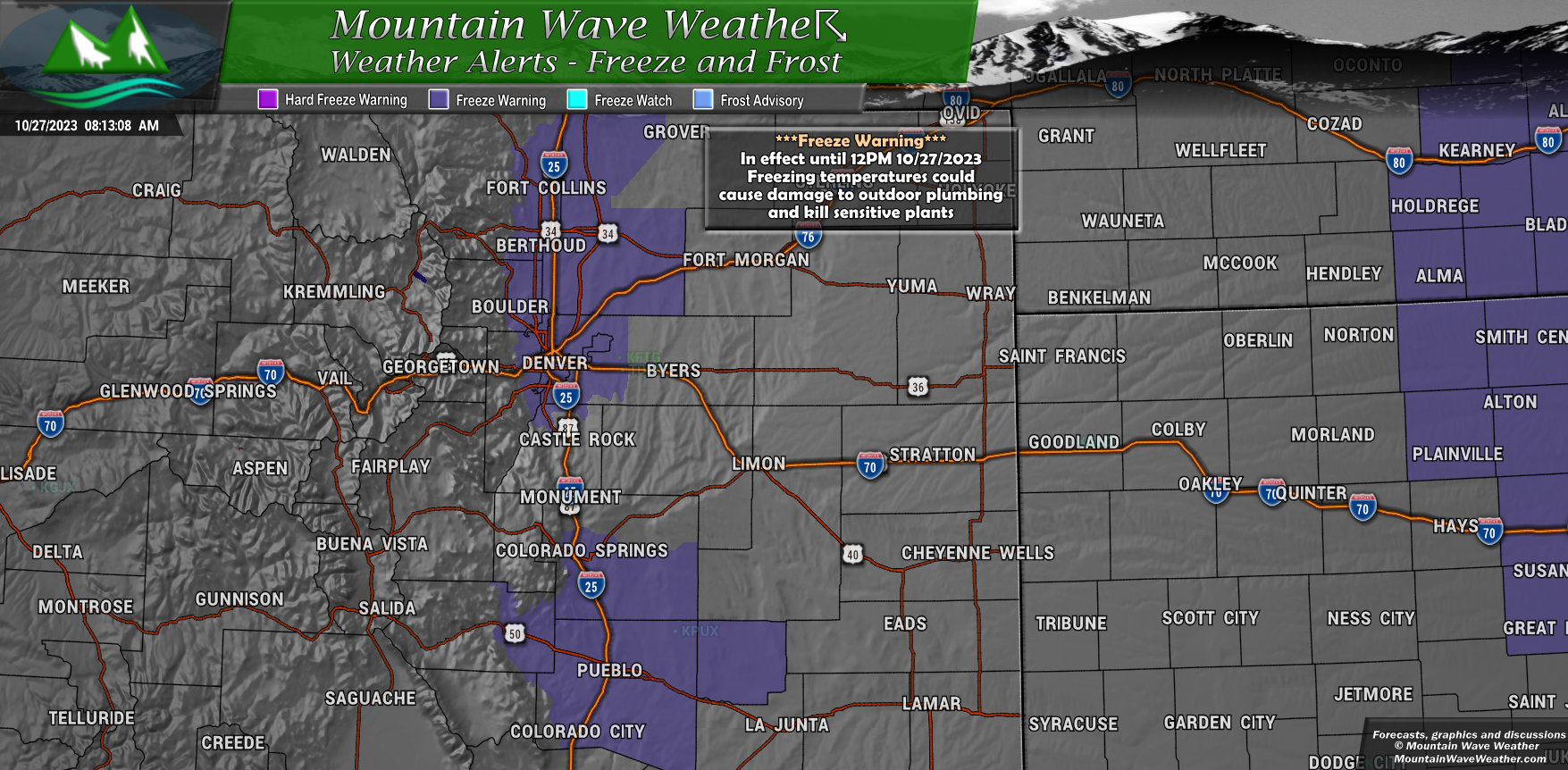 A ***Freeze Warning*** is in effect for Denver and the Northern sections of the Urban corridor up towards Loveland and Fort Collins.
This warning runs today until 12PM
Temperatures in the 20's will damage or kill sensitive plants and may damage outdoor plumbing.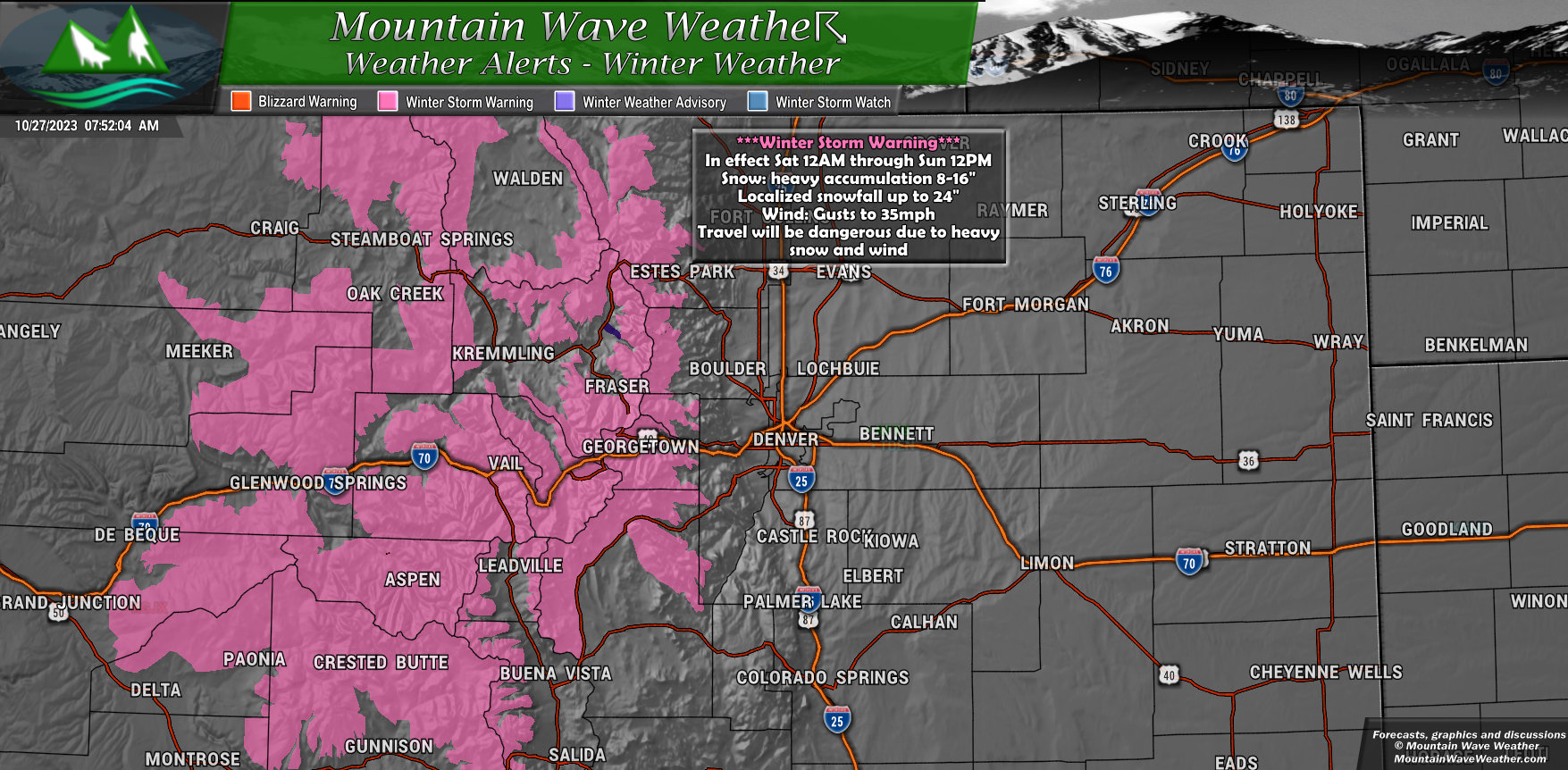 A ***Winter Storm Warning*** is in effect for mountain locations (mainly Central and Northern Mountains)
This warning is in effect from Saturday 12AM through Sunday 12PM
Mountain valleys could see between 6-12" of snow, mountain locations could see between 8-16" of snow with some localized areas seeing up to 24" of snow
Wind gusts up to 35mph
Travel will be dangerous during this period due to heavy falling snow and significant accumulation along with blowing winds
Travel is not recommended during this period in the mountains
---
Snowfall Forecast
Here's the latest thinking on snow for many areas around Colorado. Keep in mind these are still changeable based on data we get in through the day Friday.
There will likely be an update for these totals on Friday night and potentially again on Saturday morning if needed - so keep an eye on the forecast for any snowfall changes.
Palmer Divide/Denver Metro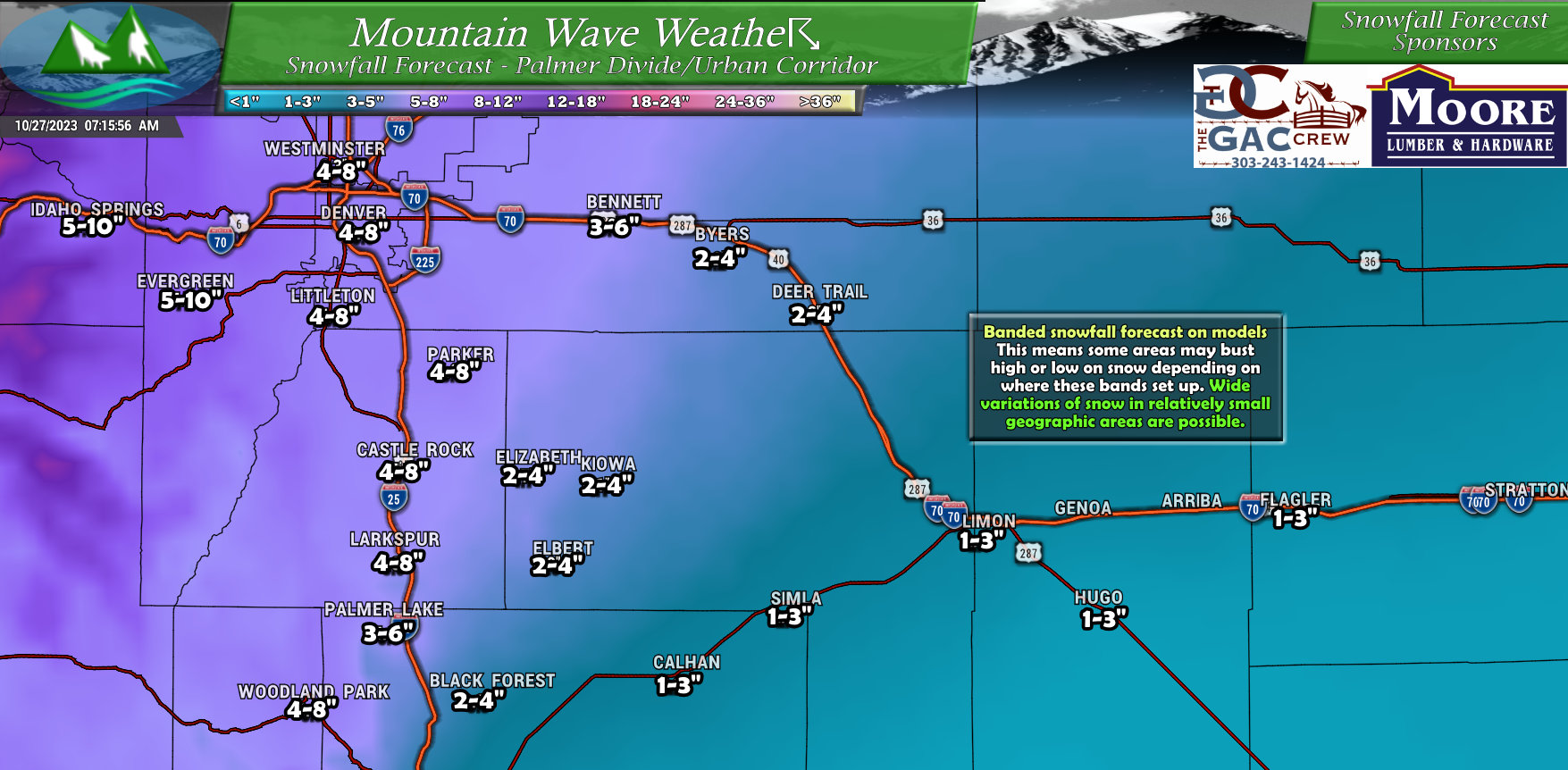 Palmer Divide locations to the West are favored for the higher snowfall accumulation. As you move East into Elbert county, snowfall accumulation drops off pretty drastically. Areas in and around Castle Rock could end up in the 3-6" or 4-8" range when all said and done.
Northeastern Colorado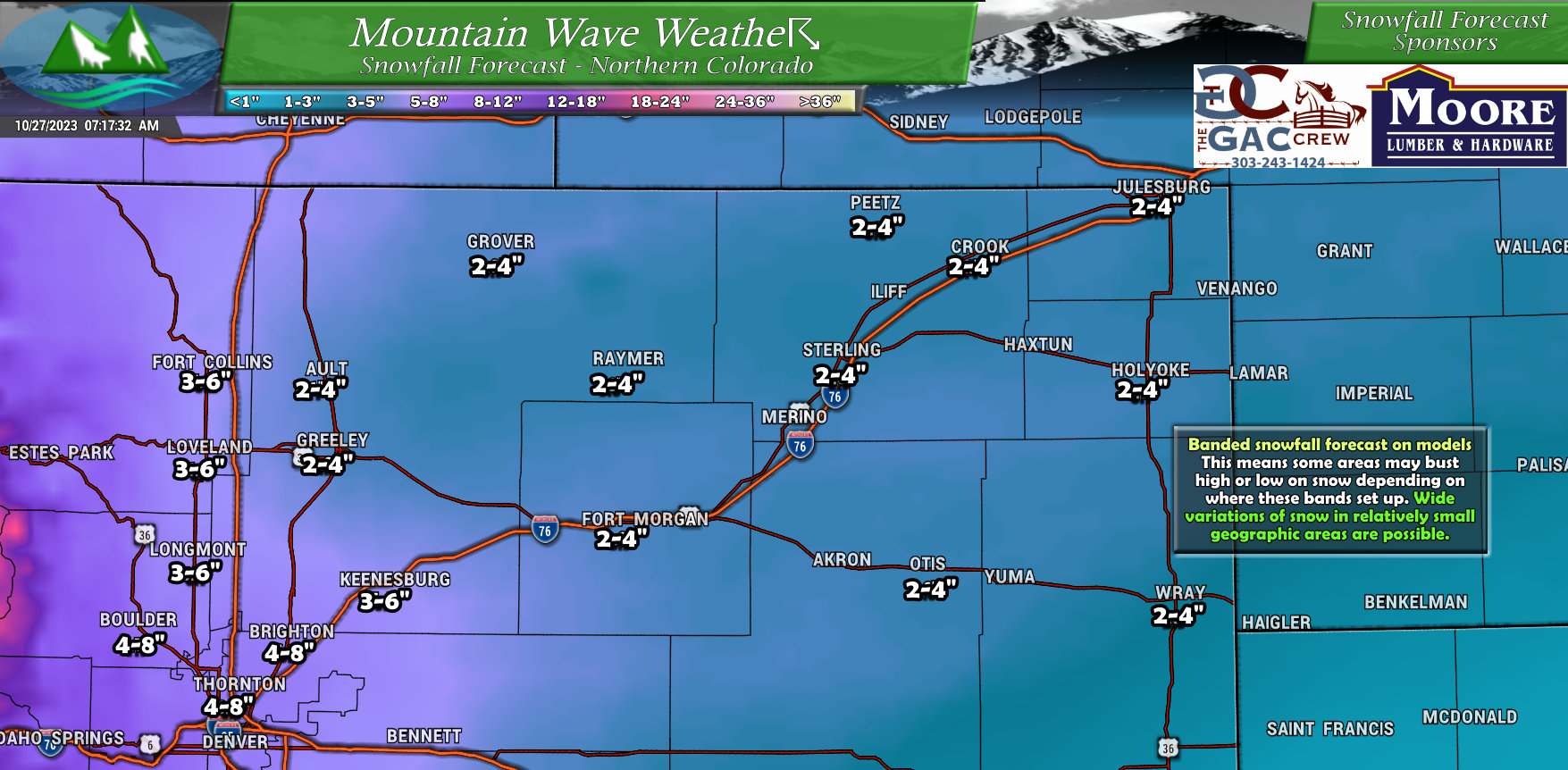 For Northern and Northeastern Colorado, areas along and West of I-25 are favored for the higher snowfall totals. The wildcard here will be banded snowfall that may cause some areas further East to bust high if they get caught under one of the heavier or more intense snowfall bands.
Northwestern Colorado (Northern and Central Mountains)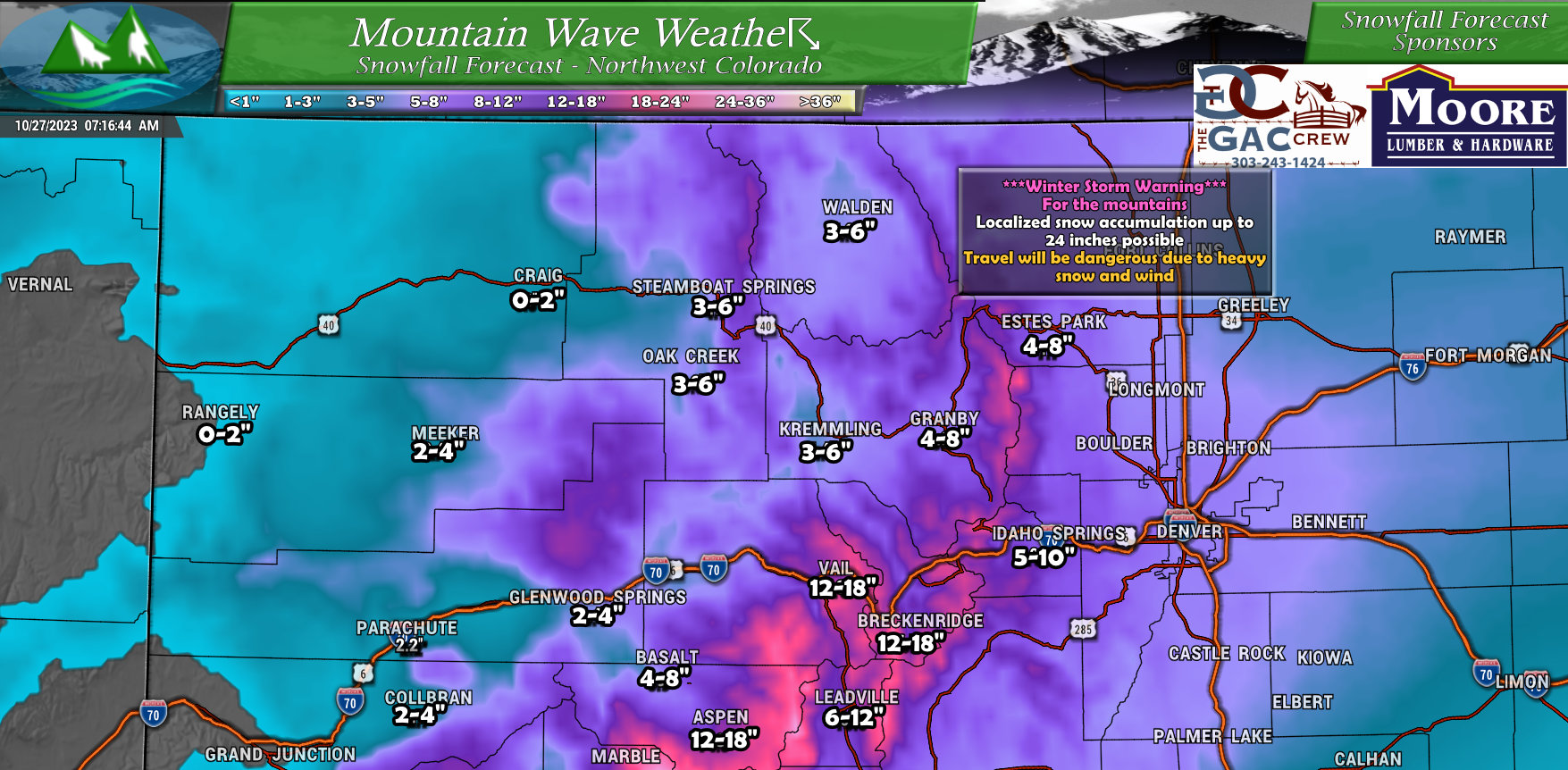 Mountains will be the winner with this storm, many areas closer to the continental divide will end up in the 8-16" range with some favored areas seeing up to 24" of snow. Great news for ski areas, will any of them open based on this storm? Fingers crossed!
Southwestern Colorado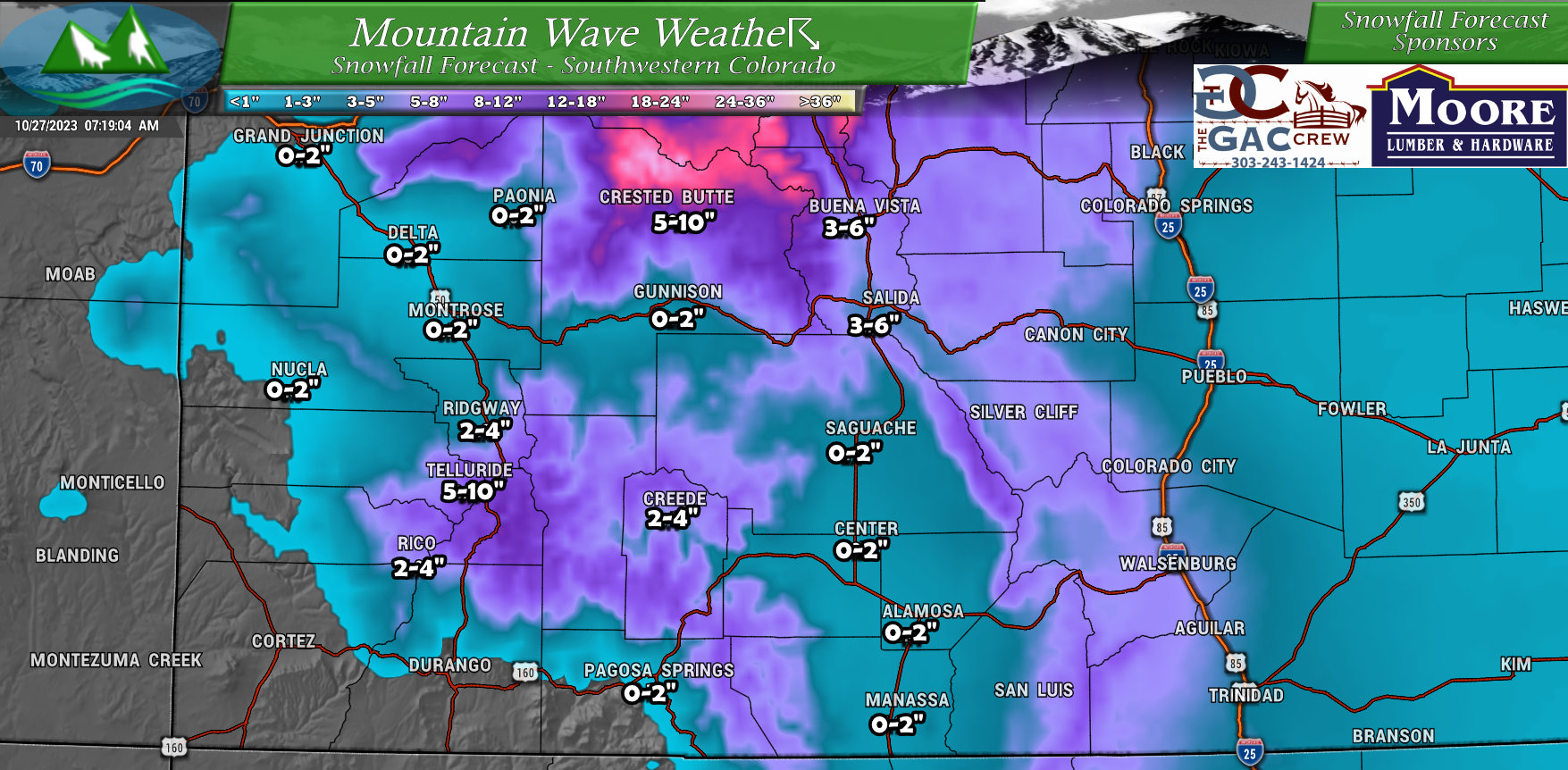 As much of this storm system's energy and moisture is coming from the North, Southwestern Colorado and its mountains are not favored for a ton of snow out of this storm.
Southeastern Colorado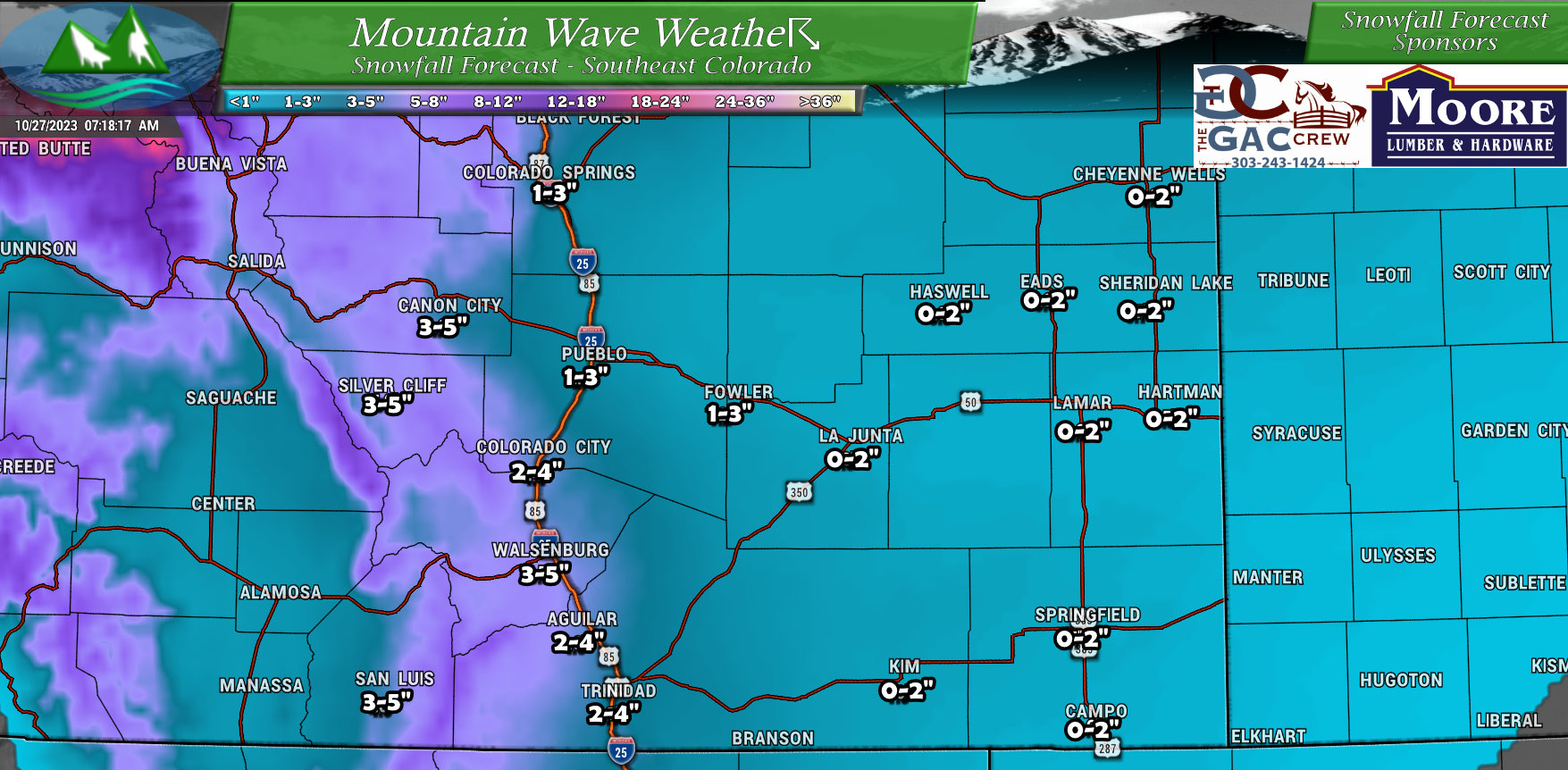 Southeastern Colorado for the most part will see moisture but not a ton of snowfall accumulation. The exception could be along the higher terrain near I-25 and going over the Raton Mesa where scattered 2-4" or 3-5" totals will be possible.
---
The Curveball - The Best Way to Mess Up This Forecast
I have to mention this because it is the most crucial factor on whether you end up on the high or low range of the snowfall forecast (or above or below it altogether.)
There is strong evidence on the Euro/GFS deterministic models of jet enhanced snowfall banding. The latest run of the Nam3k is now in range and further solidifies that though. You can see below, I've highlighted the two main snowfall bands this model is locking on to. Some models show two, some show one... but the evidence is there.
Where these set up, how long they stay there and how intense the become will absolutely make or break the snowfall forecast for this storm system.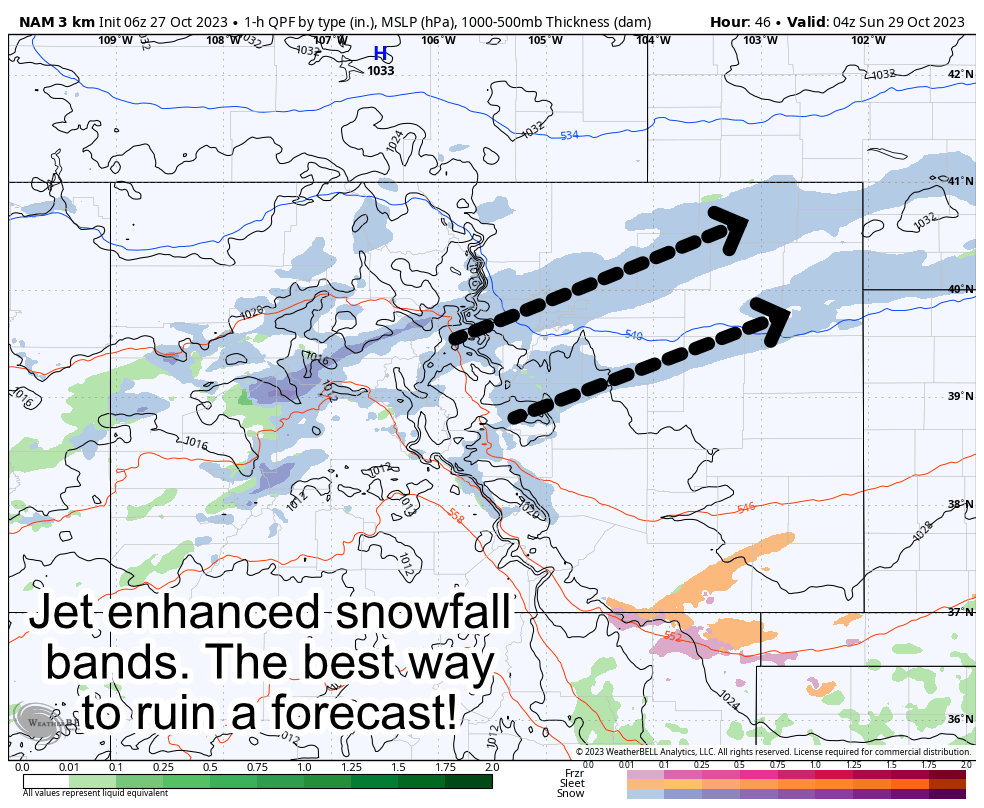 Here's what models are good at with snowfall bands:
Identifying they are possible
Roughly guessing what areas they set up over
Here's what they're bad at with snowfall bands:
Figuring out exactly where they set up
Figuring out how strong they get (how intense)
Figuring out how long they stay in a spot or if they move North or South and how quickly
Seems like the stuff models are bad at are pretty important in building an accurate snowfall forecast right? Unfortunately there is no way around this, models don't handle snow storms like this too well so we tend to see curveballs in a lot of these types of forecasts.
So the main point here is when you see the snowfall forecast today, understand that confidence in any specific number or range is MEDIUM AT BEST
Any shift North or South of these snowfall bands, any difference in strength or timing can drastically change the forecast... and we can't forecast that. We will not know things need to change until it actually starts snowing and we see where those bands set up.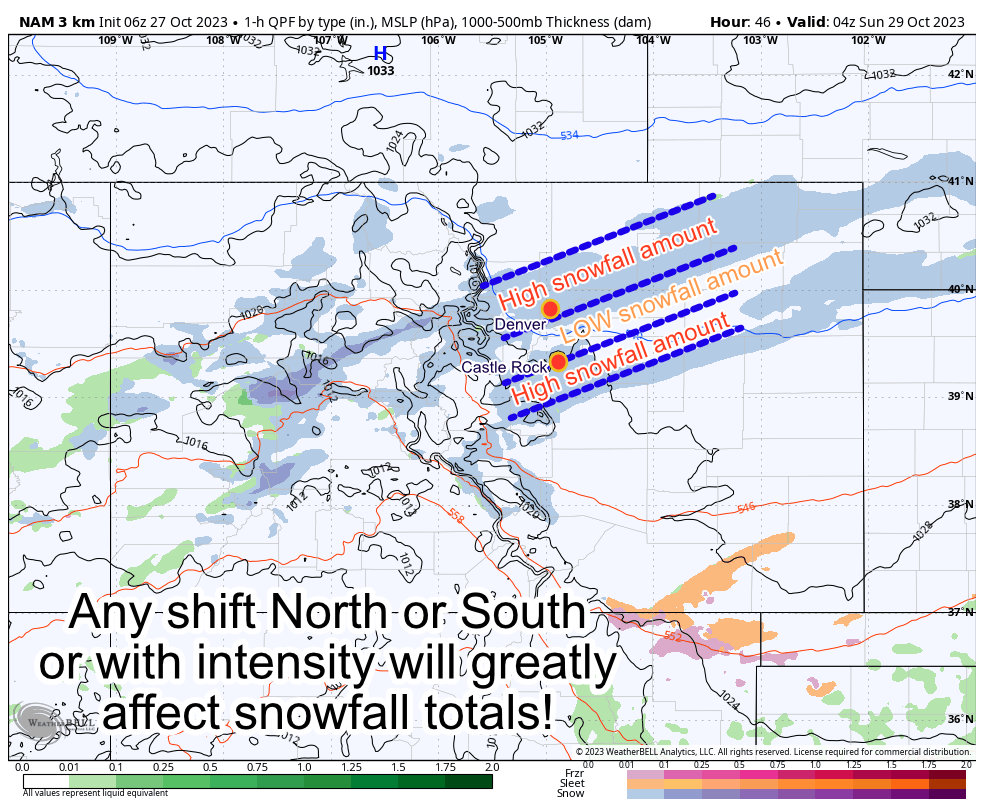 Typically with this type of storm, we can see widely varying snowfall amounts over small geographic areas.
The example I used on the radio this morning was this:
It could snow 6-8" in Denver, 6-8" in Castle Rock and 1-3" in the Denver tech center.
Either way, I'm sharing this information so you can be prepared for the best and worst case scenario based on how this storm sets up.
---
Timing/Impacts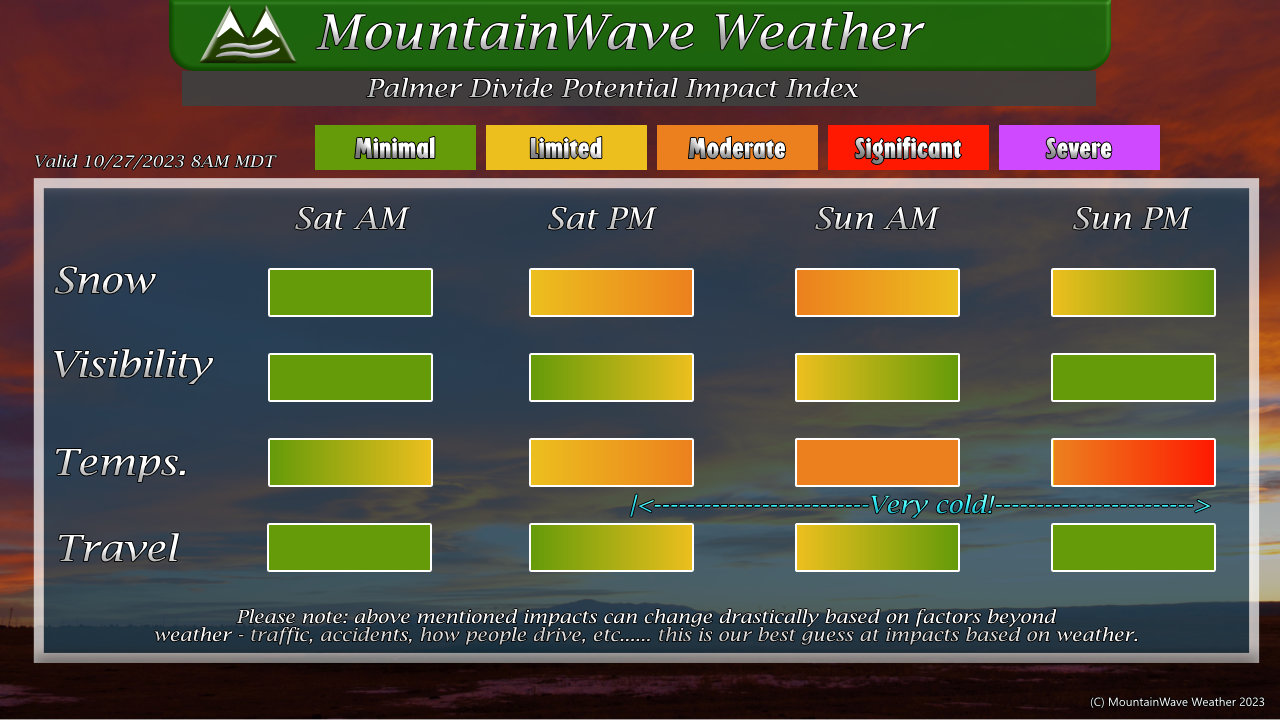 The graphic above should give you a good idea of the timing and expected impact severity, but here's a couple of quick bulletpoints regarding the most important stuff:
Snow

Highest impacts late Saturday through Sunday morning

Visibility

Will be limited/moderate impacts due to falling snow late Saturday and early Sunday

Temperatures

Cold temps expected Saturday
From Saturday night through Monday morning, very cold temperatures are expected. Teens and single digits possible along the Palmer Divide during overnight hours

Travel

A lot of this will depend on the temperatures and how the ground responds to accumulating snow. I think the ground will be warm enough initially to melt things (roadways too) but by later Saturday and early Sunday expect limited to potentially moderate travel impacts across the Palmer Divide.
Messaging is still the same for being prepared for this storm:
Be prepared for cold temperatures Saturday and Sunday with cool temperatures on Monday and Tuesday
Highs Saturday: Mid 30's - Highs Sunday: Mid 20's
Livestock/Ag folks: Overnight temperatures in the low teens and potentially single digits Saturday night through Monday morning. Make sure animals and property are prepared!
Look for another update if needed Friday night or smaller updates throughout the day on social media.