I love seeing America's mountain after time away because it always reminds me that I've arrived back home! It is fascinating to see the stark contrast of Northeastern Colorado, which appears be to still be covered in ample amounts of snow (almost like a a frozen wasteland) and areas South of the Palmer Divide which have little to no snow at all. A Northerly storm track and a constant winter of storms with Northerly winds will do that...
Anyways, looks like a bit of a quiet week on tap for us, but there will still be the occasional storm system or disturbance moving through. Nothing too major that I can see - that being said... even through we are in what could be called a "quieter" pattern right now - there are indications that we could get more active again as we approach the middle of the month.
Here's a quick look at what I'm seeing and my thoughts:
---
This Week - Cooler With Small Shots of Snow
Believe it or not, there's a bit of a storm system moving through today and the associated cold front has brought a few clouds and cooler air back into the region. The problem is, this storm doesn't have a lot going for it in terms of organization or moisture.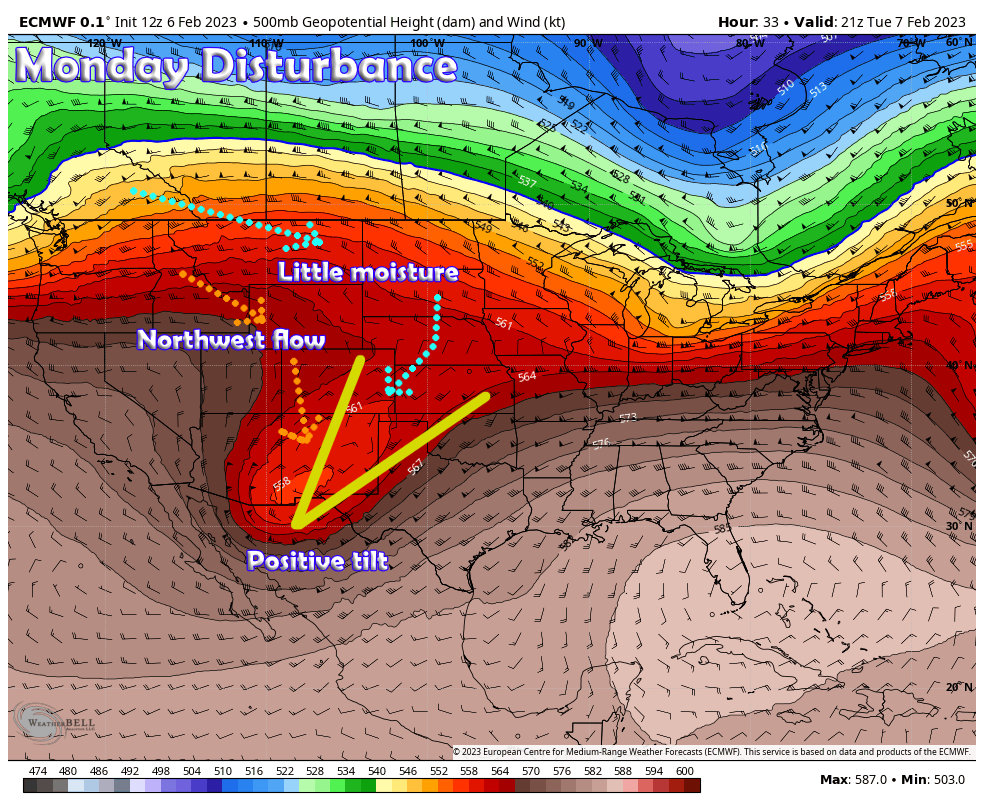 The main low is detached a bit from the jet stream, this tends to stretch the storm system out an prevent it form organizing. Additionally, a postitive tilt, lack of moisture coming in from the North and Northwest and a quick change to Northwest flow means this storm won't amount to a whole lot in the snow department.
Here's a look at total snow expected through 5PM Wednesday 2/8/2023: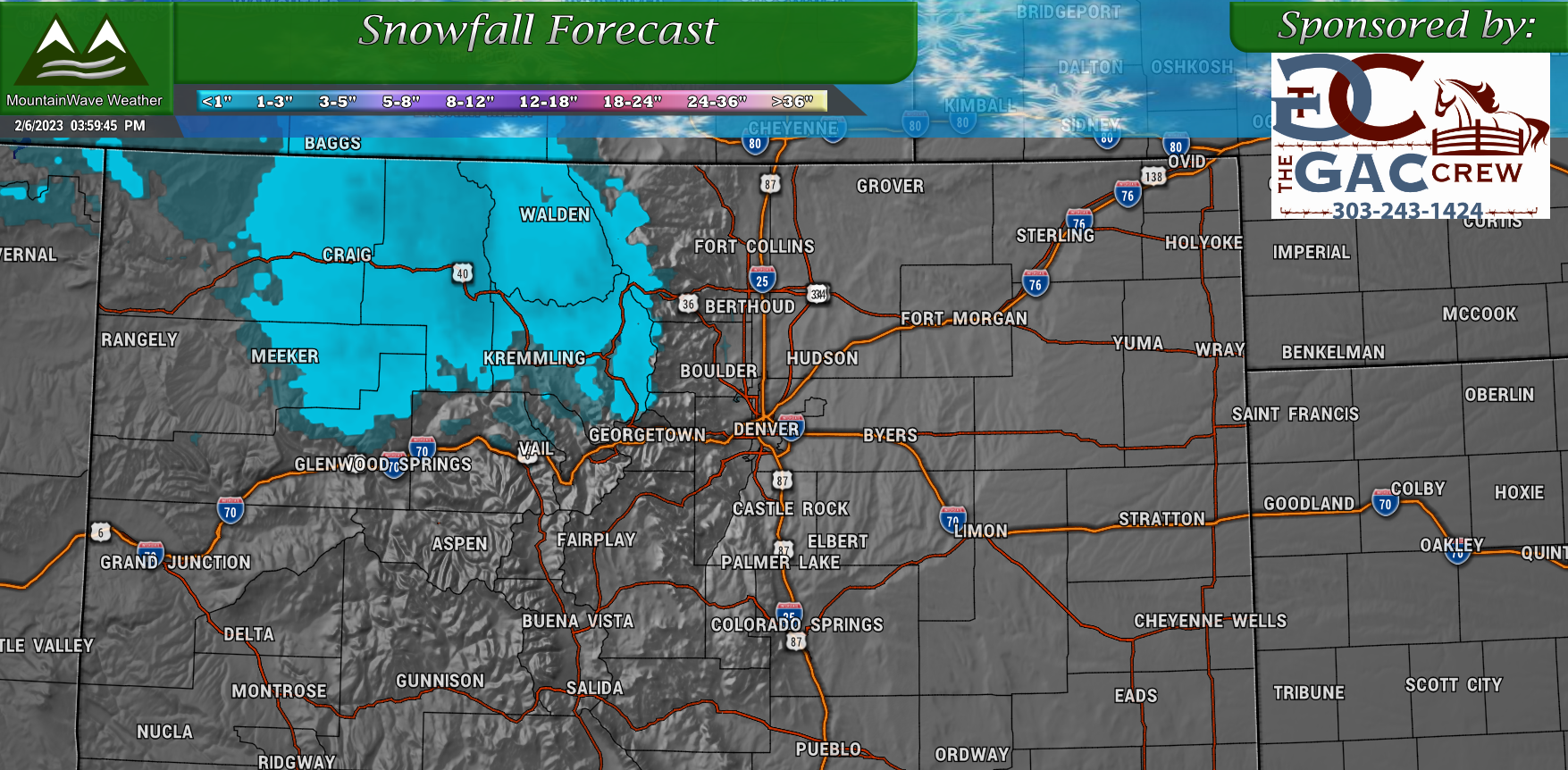 For Wednesday, another storm swings through... look familiar though?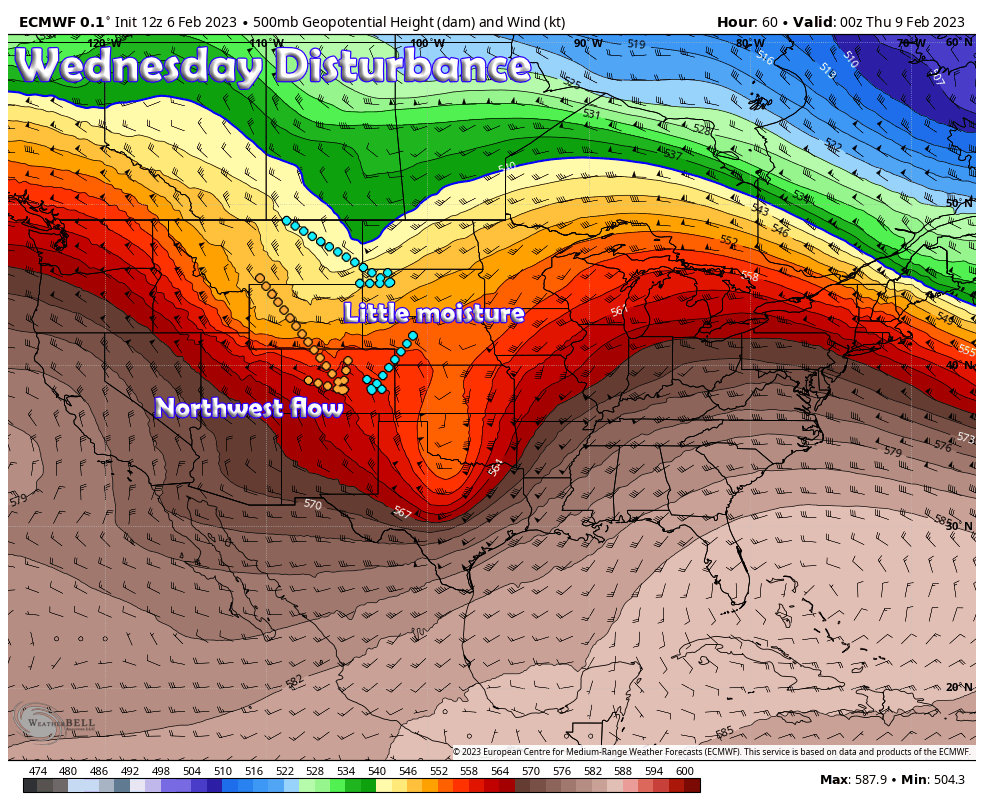 Similar track from the Northwest, similar lack of moisture and quick switchover to Northwesterly flow means a similar setup. Some models picking up on perhaps up to an inch of snow late Wednesday night and into Thursday - but I wouldn't hold my breath.
---
Looking Ahead
After some ridging over the weekend, which will likely mean decent weather - we see something more interesting brewing...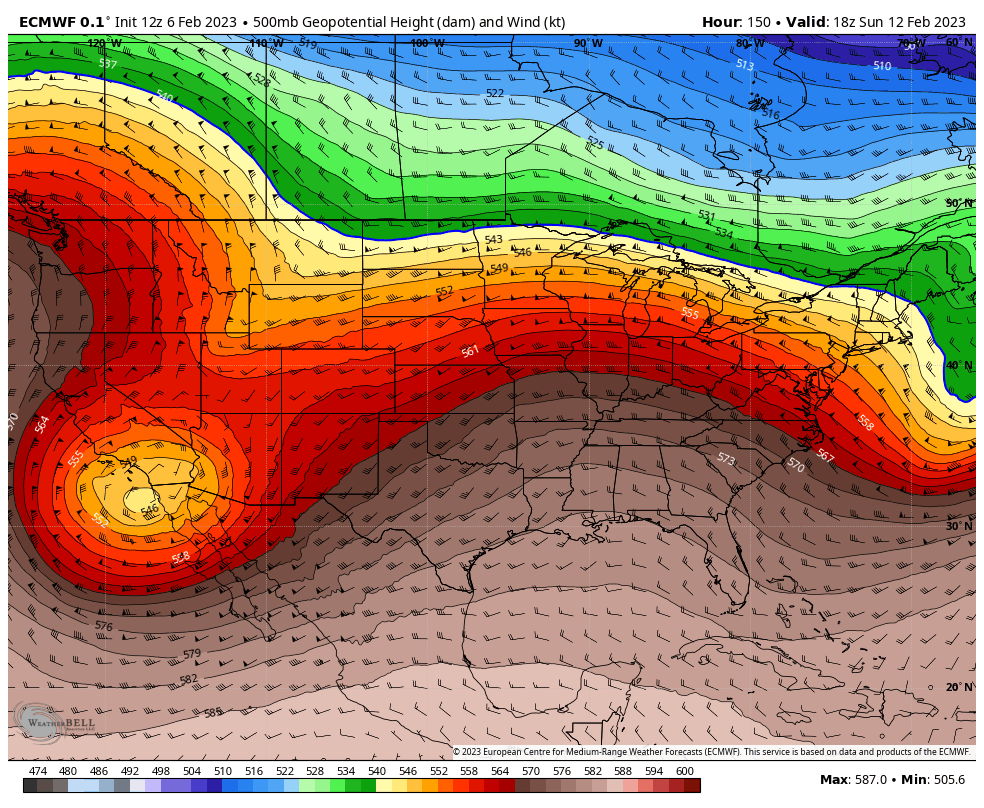 By Sunday, we see a much stronger trough brewing over Southern California. Before you get too excited though, this is way too far out to draw any fine details or specific conclusions about this specific storm system and how it interacts with Colorado.
What it does tell us is that models believe the storm track will shift back to the South and with that - our weather could become more active. This is something I'll be watching closely over the weekend... for the record models do see a more active period continuing after this storm as well.
As I mentioned above, the middle and second half of the month could get interesting once again, but we will just have to keep an eye on things for now.
---
Summary
Quick Bulletpoints About This Week's Weather
Monday Storm

Cooler air
Slight chance of accumulating snow (up to an inch)
Not a lot of moisture or energy, so not expecting much impact from this storm

Wednesday Storm

Cooler air again
Slight chance of accumulating snow (up to an inch)
Not a lot of moisture or energy, so not expecting much impact from this storm

Weekend

If the strong ridging we are seeing pans out, the weekend could be quite pleasant
Watching a change brewing into early next week
Storm track possibly becomes active again moving forward.
As always, if any specific storm systems deserve any extra attention - I'll be sure to post details on those!
Happy Monday!