We're starting off another week with very warm temperatures. Monday and Tuesday will be quite pleasant, but a cold front and associated storm system looks to move through around late Tuesday or into Wednesday. Will this be another larger sized snow storm like that last? Or does this one look a little less exciting?
Latest details found below on this post!
---
Warm Start to the Week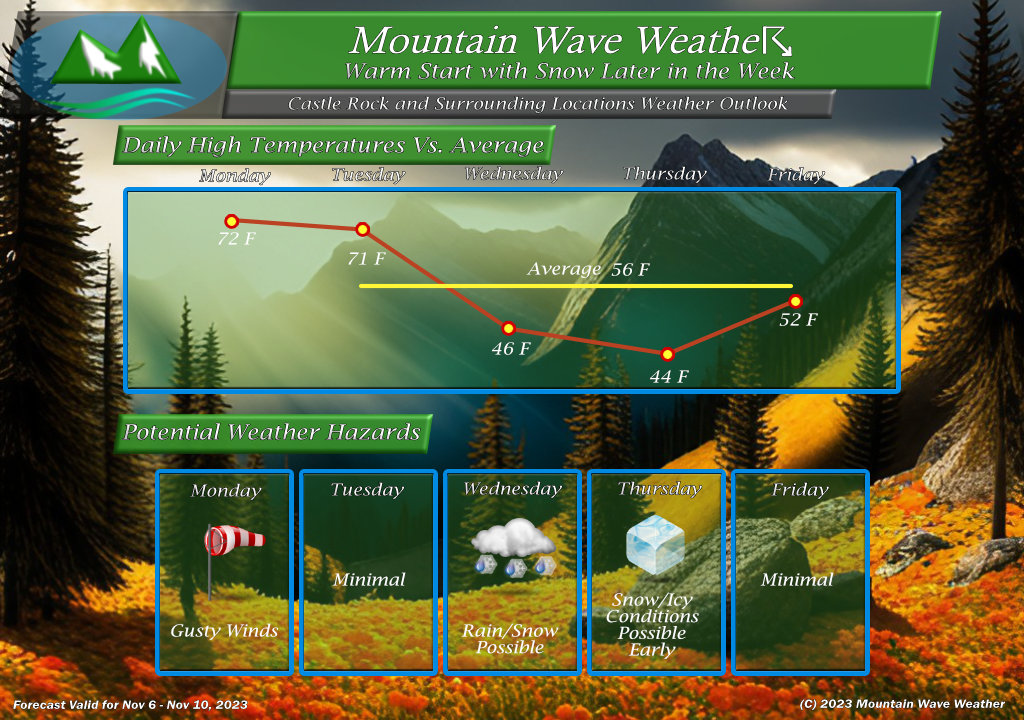 The weekly outlook for Castle Rock is attached above. For other Palmer Divide locations, add or subtract a couple of degrees based on your elevation.
The week starts off warm with temperatures in the low 70's for Monday and Tuesday. These temperatures are about 14-16 degrees above average for this time of year. We continue to build off of the warm weather we had for much of October.
A change is coming by mid-week however and our next chance at snow will likely be there as well. There are a few details we still need to figure out as far as exact timing of the cold front, the snow in terms of accumulation, if we see a rain/snow mix and  how that impacts accumulation and when the parent trough responsible for this storm gets here and where it ends up.
Right now though, expect some sort of impacts possible on Wednesday and potentially early Thursday.
---
Preliminary Snowfall Accumulation Forecasts
Only really focusing on 3 areas in terms of snowfall with this storm, Northeastern Colorado and Southwestern Colorado look to have overall little accumulation or none at all. NE mainly because if its lower elevation and the lack of colder air with this storm and SW Colorado due to the moisture and Northwestern flow associated with this storm system. That does not favor either of these two areas very much.
Palmer Divide/Denver Metro Area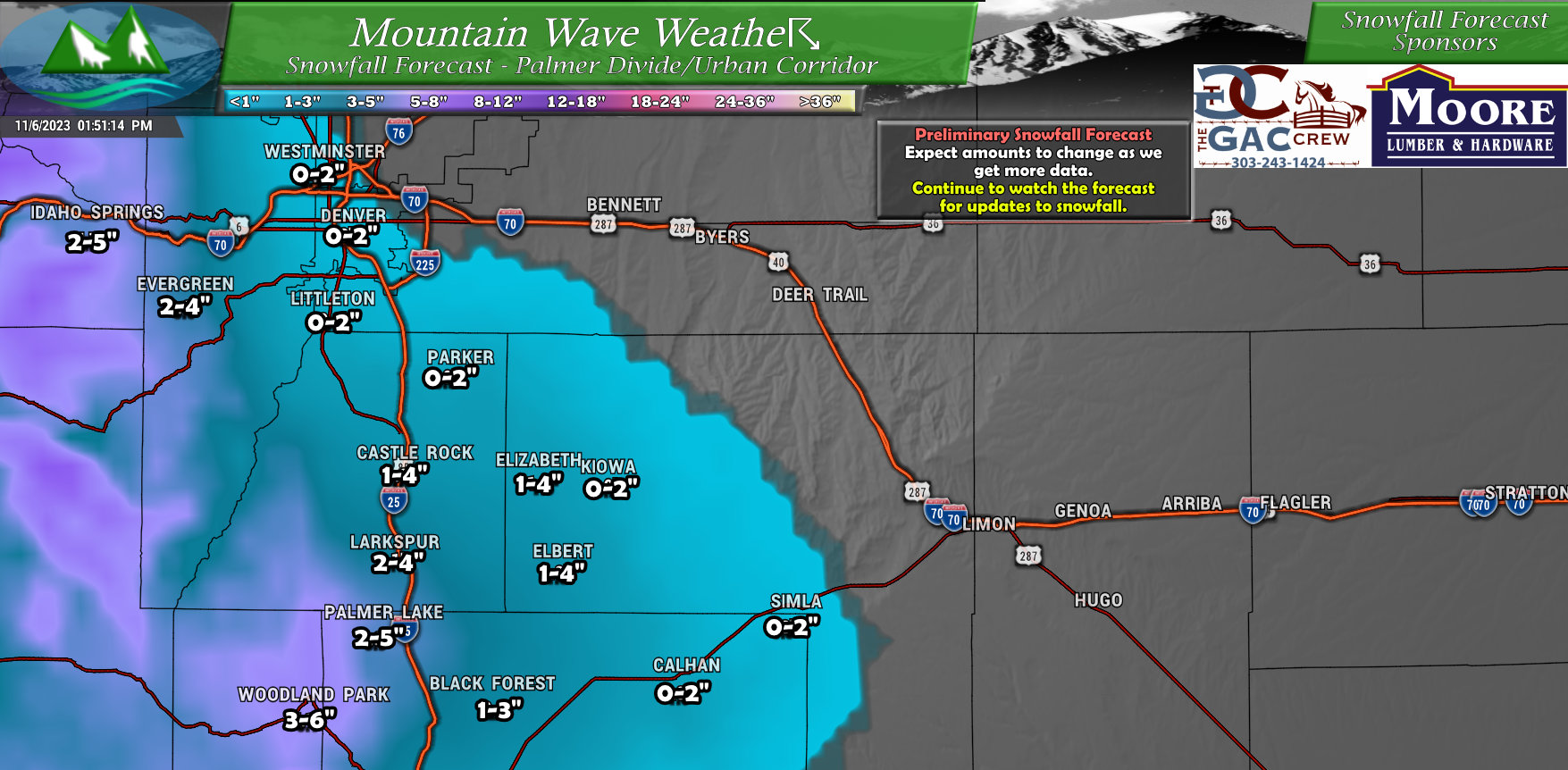 Nothing super impressive about this storm for the Palmer Divide, but because the temperatures will be warmer... altitude/elevation will likely play a bigger part on who sees snow and how much. The best shot at accumulation is likely areas around or above 6,000 feet in elevation with those going up a bit for locations closer to the foothills and more above 7,000 feet. Above is my latest thoughts on some areas and their accumulation ranges - this is still a bit preliminary as we still don't have a lot of great model agreement so expect those numbers to change.
If I were betting on this overall though, I'd lean towards these snowfall numbers decreasing rather than increasing as we get more data in. We will see how it goes!
Northwestern Colorado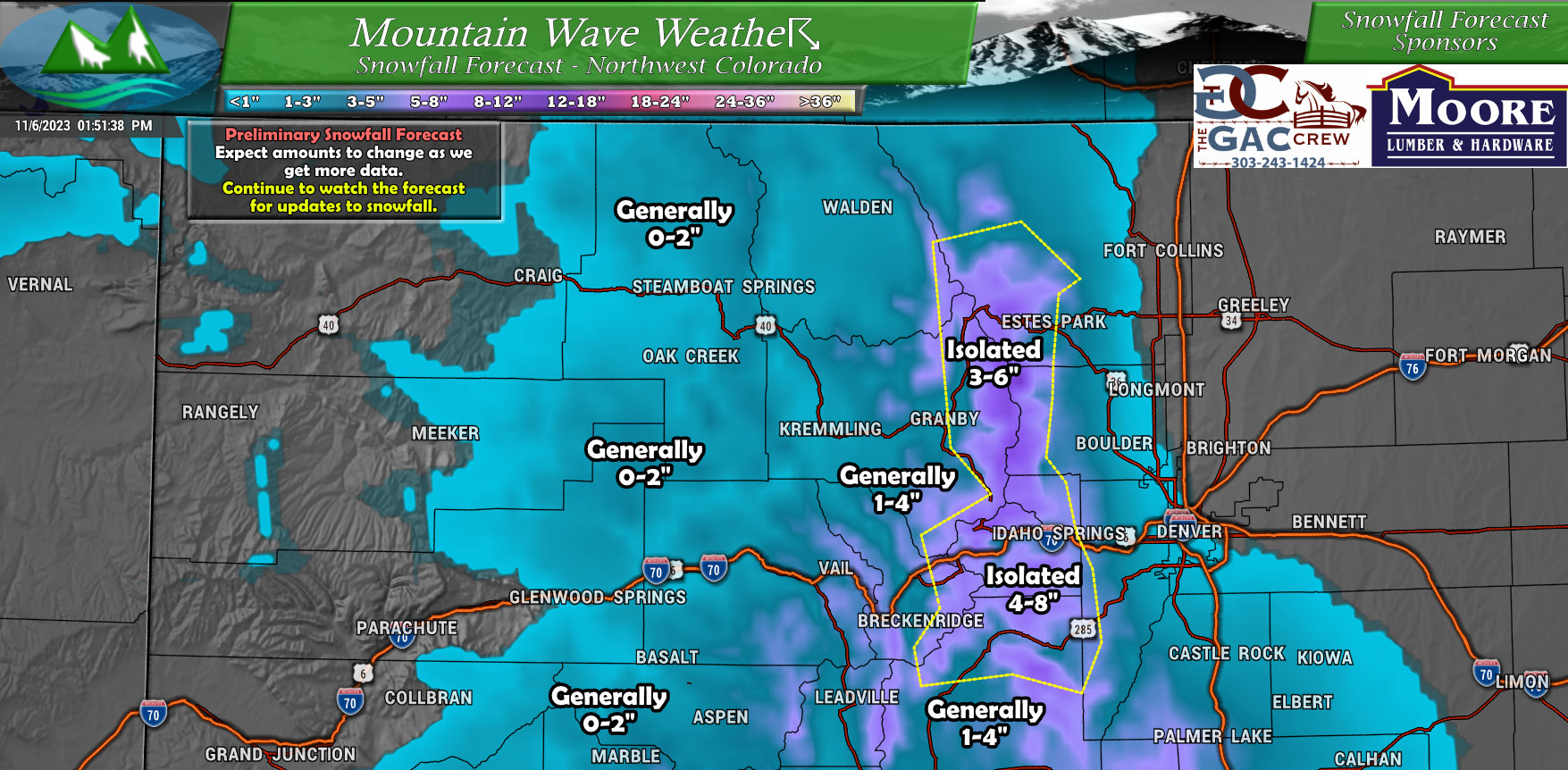 Strong Northwest flow with this storm tends to favor mountain locations along the Continental Divide. Those areas and the ski areas in and around that area will probably do decent with this storm... I still think a bit of these numbers are overdone, especially further to the North. We will see how the forecast evolves for the mountains as we go through the day Monday and Tuesday.
Southeastern Colorado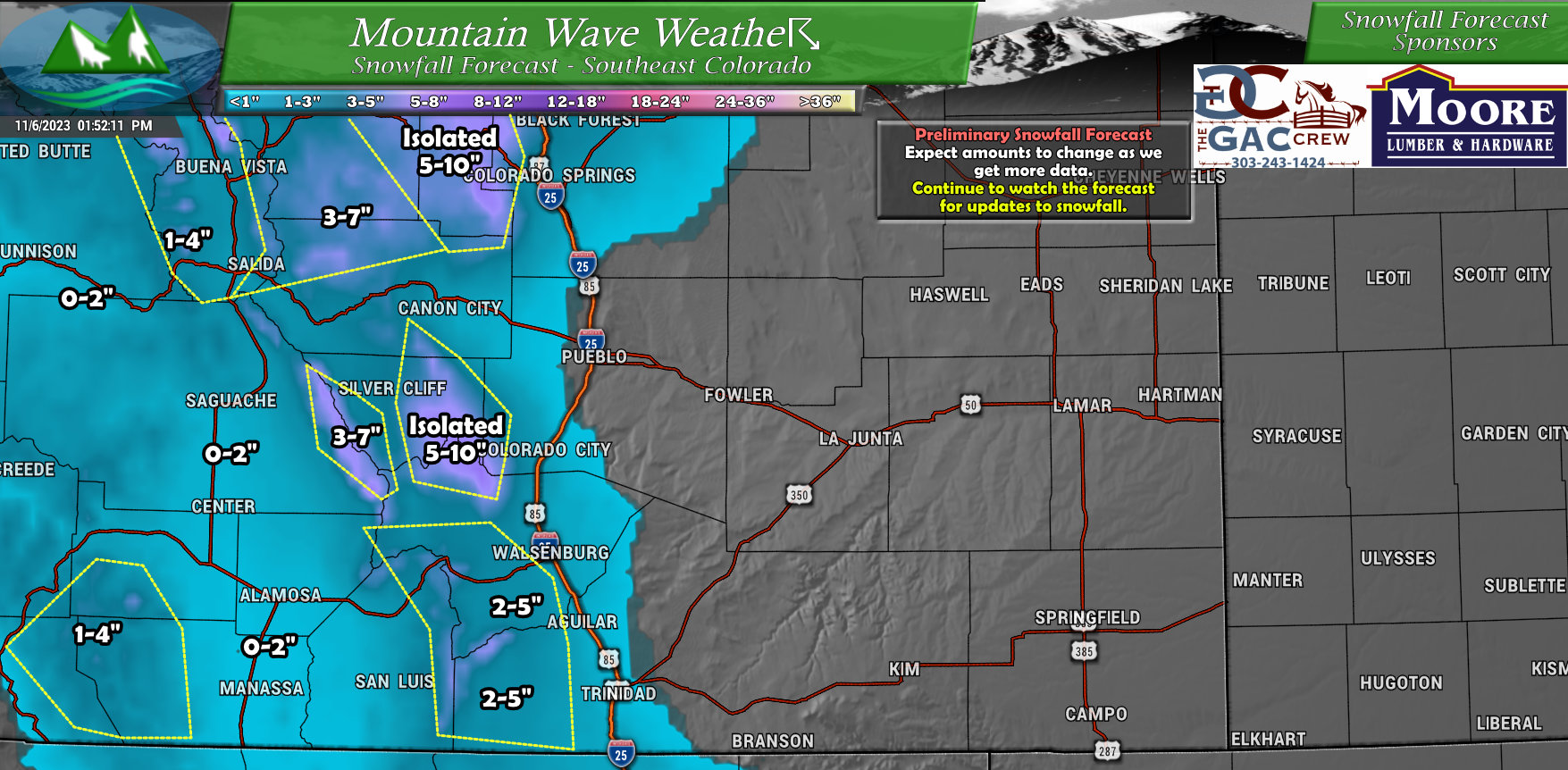 I show Southeastern/South Central Colorado in this case because I think it's unlikely Southeastern Colorado sees much of anything from this storm - especially in terms of snowfall.
Conversely, if I had to put a "bullseye" for this storm right now on who has the best shot of a bit heavier snowfall accumulation it would be in the mountain areas directly West of Colorado Springs. The Pikes Peak region may do fairly well with snow from this storm - models have honed in on that location pretty well, but I'd still put that at "medium" confidence at best as not all models agree.
---
Timing and Impacts
Lots to still figure out for this storm, but if it continues on its current track and expected setup... this will likely be a much smaller storm in terms of snow and impact than the one we had just before Halloween.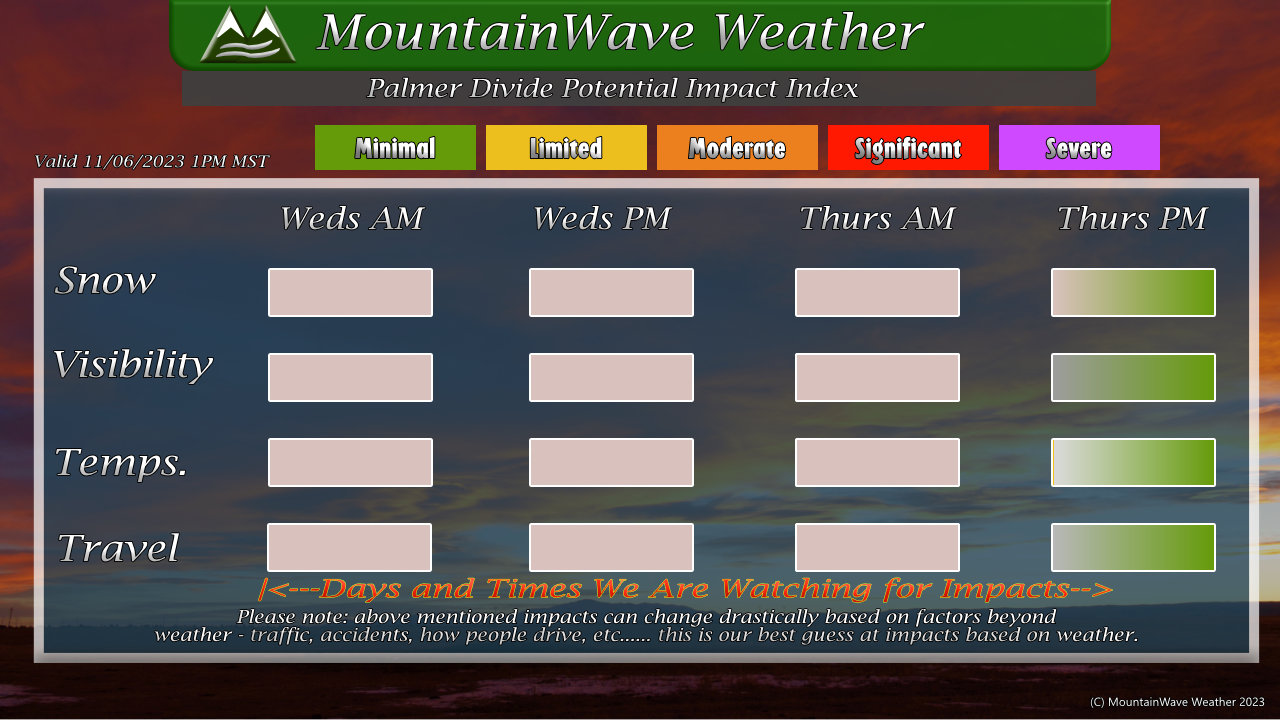 If we do see any impacts to travel from snow, visibility or just general temperature impacts; we will be watching most of the day Wednesday and perhaps the first half of Thursday for those to manifest. I'll get more details on specific types of impacts that will be possible and their severity  up likely in the day on Tuesday - so keep an eye out for that update if you're concerned.
I haven't shown models for this post because there's not a ton of agreement, all that would do is likely cause confusion. I've filtered through the outliers and the B.S. and produced a forecast with the need-to-knows and the best information we have at this time.
The next post will likely come on Tuesday in the later morning hours, if I do any more posts on Monday they would be short and sweet, most likely just talking about model trends and snowfall forecast trends.
Until then, enjoy the nice weather we have on tap for today (Monday!)