Cool and Unsettled Week Brings Beneficial Moisture as Colorado Still Battles Drought Conditions
This week will start off cool and windy on Monday, transitioning to cool and wet for the rest of the week. A series of storm systems will move through starting late Tuesday and will bring moisture into the region along with cooler air. The atmosphere will be cool enough in many places to see snowfall but due to the higher sun angle and warmer ground it will definitely have a harder time sticking to anything but grassy surfaces and trees.
No indications as of right now that this will be a major snow accumulation event, but we do have to keep an eye out for any curveballs later in the game. Spring storms like this can surprise us and are harder to forecast as we add more variables to the equation (warmer ground, higher sun angle, etc...) so keep that in mind.
---
Snowfall Forecast - Palmer Divide
Snowfall forecasting continues to be a challenge with our next storm system. At one point, models were showing well over a foot for many areas along the urban corridor but have since backed off fairly significantly. I think things have settled into a more realistic forecast as models can struggle with these late spring storms and how they pan out. This is mainly because of a couple of factors;
Ground temperature is warmer
Air temperatures are warmer
Higher sun angle enhances melting and compacting
All of the above usually equals an underperformance on snowfall for a lot of storms this time of year.
That's not to say there won't be moisture with this storm, while models still disagree on exactly how much most of them have moisture reaching the area. The real question will still be how much as snow vs rain, but as you can see from the Euro below; .25 to .5 inches of liquid precipitation is not out of the question.
Very beneficial moisture as our state continues to battle drought conditions.
Timing and Impacts
If there was ever a time to use "on and off" the time is now. The nature of the precipitation with this storm will be stop and start over a longer period of time. Here's our latest thinking on timing:
Tuesday Morning/Early Afternoon

Bands of showers look possible in the morning and early afternoon, most models have it cold enough to snow especially in higher elevations
Most roads around town should remain wet, but keep an eye out for slick conditions at higher elevations

Tuesday afternoon/evening

Currently looks like a bit of a lull through afternoon and early evening on Tuesday

Tuesday night

More precipitation looks to move in by the evening and overnight hours. Again, mostly snow per the models and the more of this that falls after dark the better chance for a bit of accumulation.
Tuesday Night/Early Wednesday is most likely time to see any travel impacts due to slushy roads along the higher elevations of the Palmer Divide

Wednesday

Snow showers in the morning give way to drier conditions through the day
By afternoon we see a mix of rain and snow develop - some models even show a thunderstorm here and there as cool air filters in again
Any snow accumulation after dark will have a better chance for sticking but any accumulations look minor

Thursday and Beyond

Another storm system looks likely going into the later portion of the week and into the weekend
Cooler air and more chances at snowfall look possible
---
A Second Storm Waiting in the Wings?
Another storm system swings by on Friday/Saturday, details are still in progress with this storm system. It does look like another shot of cold air will be possible with cold temperatures continuing to linger.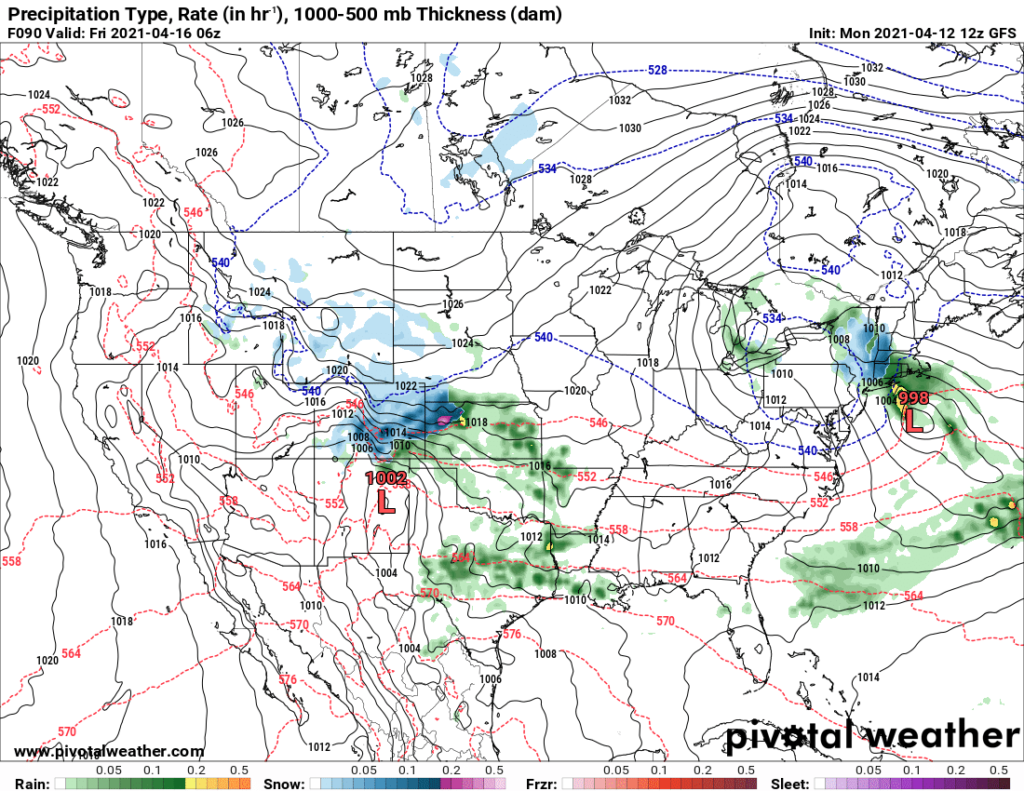 Another low pressure moves through later in the week with enough cold air on the back side for more snow along Colorado's Front Range.
---
Notes/Summary
For those hoping for a larger snow event, you'll take solace knowing that the GFS is still showing 12-15" for many areas along the front range. It is the only model showing that at this point and there's not a whole lot of evidence to support that much cold air, moisture and thusly snow. This model is being thrown out by most meteorologists, it's unlikely that solution will verify but the chance is not 0%. We will have to keep an eye out just in case.
Given all the weird things that can happen with temperatures on the border line for rain and snow, I'd say as of right now forecast confidence on snowfall amounts is medium at best. We will look to build confidence over the next day or two and make adjustments if necessary. For now, stay tuned!