Even though we are really in summer we have a setup that looks more like late spring building across the area. We don't often see Fire Weather Warnings along with Winter Weather alerts in summer no never-mind the fact that we are still in early September. In fact, there's not a whole lot about this storm system and its setup that we can consider "normal" and because of that this storm could still throw some curve balls at us. This is simply a historic setup because we have not seen anything like it in history so we can only make educated best guesses about what actually happens.
Let's take a broad look at all the data we have in as of this afternoon!
Weather Alerts/Warnings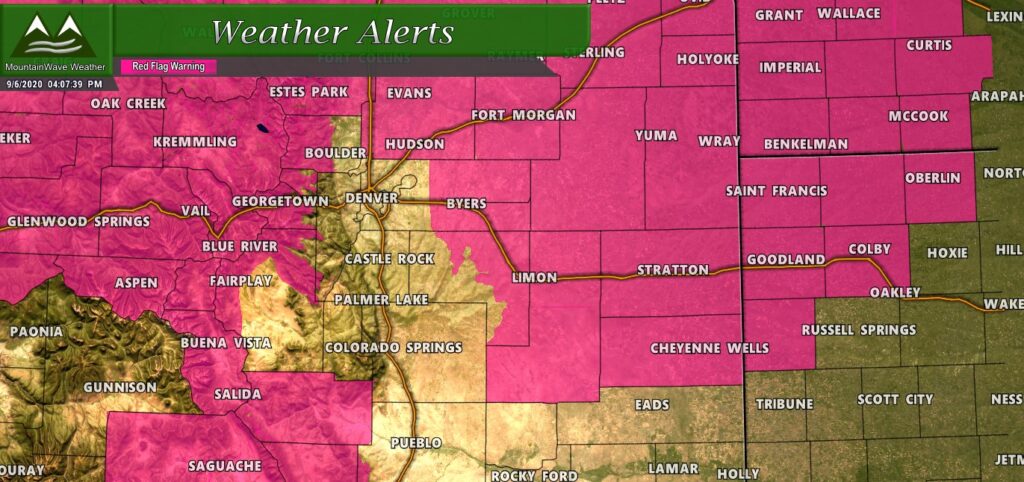 A Red Flag Warning continues today through 8PM for very windy conditions, low humidity and extreme fire danger. There is some potential that we may see a new one of these issued in similar areas for a portion of the day Monday.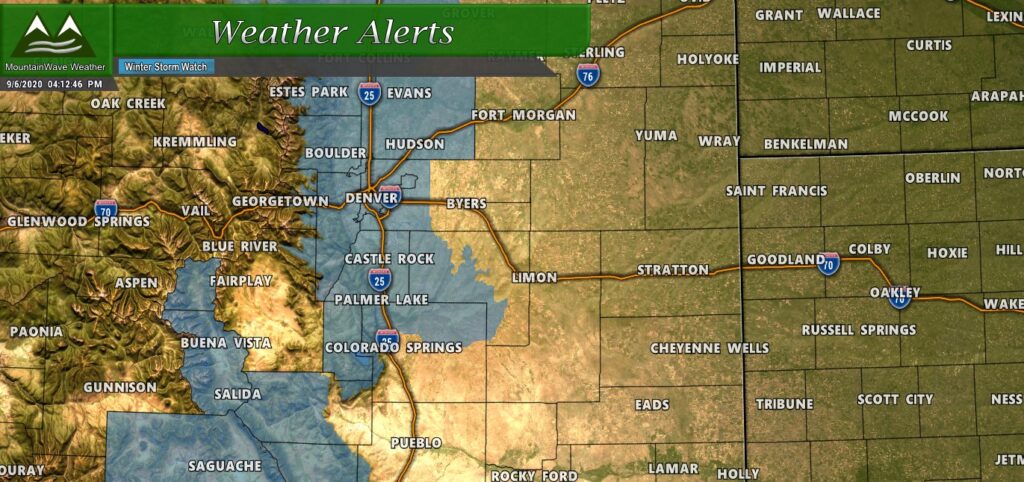 In addition, a Winter Storm Watch has been issued for areas along the front range foothills, Denver urban corridor into Northern Colorado and the Palmer Divide from Central Elbert County to the West towards the foothills including all of Douglas County. Per the NWS on this Winter Storm Watch:
Temperatures will drop quickly behind a cold
front Monday night with snow starting shortly after midnight over
the higher terrain and foothills. Snow levels are expected to
drop Tuesday morning, with accumulating snow possible for the
Front Range, I-25 corridor and Metro areas. Snow falling on trees
in full leaf may cause branches to break or other tree damage.
Scattered power outages will also be possible. Roadways could
become slippery and slushy across the higher terrain.


---
Models Continue to be Consistent on High Snowfall Totals
We discussed yesterday on my Live Stream how interesting it was that models were spitting out high snowfall accumulation. This is a trend that continues on model runs today with little change in location and intensity, while in most situations this would give us greater confidence in a big snowfall event along the front range - this is not a normal storm system and a normal time of year we are dealing with!
Let's run the gambit on all the models available right now which includes the GFS, Euro, Nam and the Nam3K which is a higher resolution version of the Nam just coming into range.
If you missed  yesterday's discussion it's important to remember a few things about looking at model runs for a storm like this...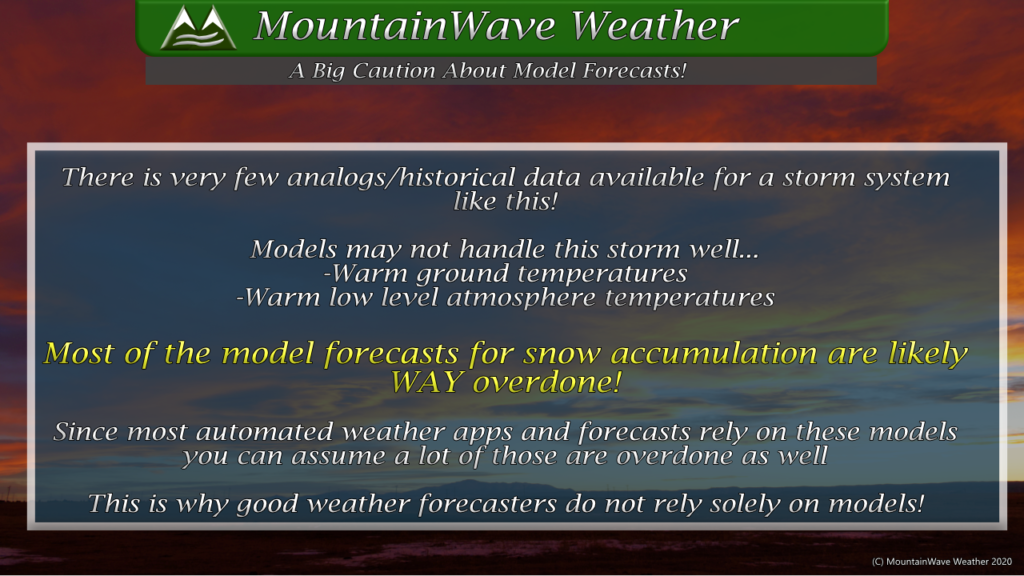 Nothing has changed in this aspect; we still believe models are way too high on snowfall due to warm ground temperatures and how much melting we anticipate will occur. Models have been very consistent on bringing snowfall to front range regions of Colorado however so we do have growing confidence that those areas will all see some sort of snow accumulation.
---
Latest Bullet-points On This Storm
High Confidence

Historically cold temperatures across the front range for this time of year - We are quite confident nearly all areas will see these kind of temperatures in the low 30's to mid 20's depending largely on elevation
Snow as the precipitation type and accumulation -  There is decent confidence that nearly all of the front range sees snow as a precipitation type and some sort of accumulation during the duration of this storm

Medium Confidence

Snowfall accumulation locations - we have medium confidence on which locations will see the highest snowfall accumulation. This comes down mainly to the models and which areas have been most consistent with higher snowfall numbers, we still believe numbers are off but there is decent agreement on areas above 6,000 to 7,000 feet in elevation seeing the best chance for SOME type of snowfall accumulation

Low Confidence

Snowfall accumulation numbers - models are still skewed high on snowfall accumulation amounts in our opinion. The best chance for realizing anywhere near the predicted snowfall accumulation numbers expressed in the models is really the higher elevations of the foothills West of Denver and Fort Collins.
---
How To Prepare For This Storm/ Hazard Information
Gardens/Plants/Crops

The air will be cold enough on Tuesday, Tuesday night and Wednesday morning that sensitive vegetation will be damaged or killed
Make sure to have any plants or gardens harvested by Monday night or be sure to cover them up with blankets or tarps.

Sprinkler systems

Drain any outside pipes above ground including back-flow valves OR
Cover any outside pipes with blankets, towels or tarps if you cannot/will not drain them
You DO NOT... I repeat DO NOT need to blow out sprinkler systems for this storm!

Pets/Livestock

Be prepared to move them indoors or make sure they have a warm space available
Freezing conditions on Tuesday into Wednesday will be tough on animals that are not prepared for it

Travel Hazards/Difficulties

While timelines are still uncertain on when rain changes to snow on Tuesday, be prepared for slushy and icy roads especially in areas with elevations above 6,000 feet
Timing for difficult travel conditions looks most likely late Tuesday and into Wednesday, but this timeline could still shift
Be prepared for difficult commutes on Tuesday AM - Tuesday Evening and Wednesday AM
---
Storm Timeline
This section will be short based on the fact we still see shifting in when the effects of the storm are. Basically, be prepared for storm effects possibly from late Monday night, through Tuesday and potentially into Wednesday morning.
---
Summary
This storm system continues to evolve with some interesting trends I'll take a look at on my live stream this evening (live at 8:30PM) and it will be interesting to see how it ends up. We still tend to favor lower snowfall amounts based on the warm ground temperatures and lower atmosphere. There are some interesting things that are showing in some models that may nullify that effect a bit which is why the NWS may have pulled the trigger on a Winter Storm Watch.
Anyway, be sure to stay tuned as we will continue to have updates on this storm as the data comes in!