As our last storm moves out and did not much at all for most of the area - another storm is right on the heals of the last one. Models are having a bit tougher time coming into alignmend with each other with this upcoming storm than the last... probably thanks to the warmer temperatures and indecision on who sees upslope, who sees convection and how warm the ground stays.
Regardless, the models don't agree on much except that this storm looks more interesting from a snowfall standpoint. Either way, it will be another tricky snowfall forecast, here's our best shot with the data in as of tonight!
---
Winter Weather Highlights


There are a few winter weather highlights issued with this storm... it gives a good look at what areas are most likely to receive the higher snow accumulation or travel impacts. A Winter Weather Advisory has been issued for Northeastern Colorado for points Northeast of Denver. Additionally a smattering of areas in the foothills West of Boulder and Fort Collins are also under a Winter Weather Advisory. These advisories generally run from 3PM Thursday through 6AM Friday for the foothills locations and 3PM Thursday through noon Friday for the plains. Be aware that if you travel through these areas during those time periods that travel may be difficult due to slick road conditions.
Additionally a Winter Storm Watch is in effect for the Eastern border regions of Colorado and into Kansas.
As of the writing of this article no weather highlights have been issued for the Palmer Divide or urban corridor including Denver. I suspect we may see some issued though based on what model data comes in tomorrow - higher confidence in snow totals and travel impacts are possible and would prompt advisories. If models show this thing shifting or falling apart I wouldn't expect any highlights.
---
Snowfall Forecast
Another tricky one as there's a lot of variables at work now that we are later in the spring. I've discussed that at length so won't go over it again, just know that we do often see snowfall forecasts busts one way or another the later we go into spring. The data I've put together below leaves me thinking "these amounts are too high", but equally leaves me thinking "they may be too low." Such is spring, this is the best shot based on the data we have and the forecast I've put together - just know that there is still considerable uncertainty this late in the game.
Palmer Divide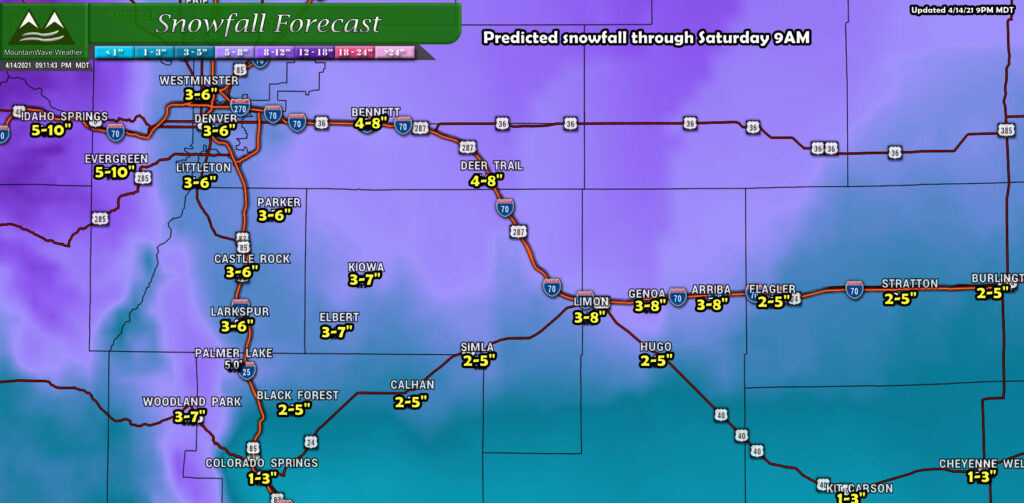 Notice the slightly wider ranges in Elbert County - models have been consistent about bringing a bit of extra snow to the areas East of Castle Rock and the I-25 corridor. As such the ranges run a bit higher out there just in case something like this verifies. You'll notice the biggest bullseye for higher snowfall totals is in Northeastern Colorado about where the advisories are.
Northern Colorado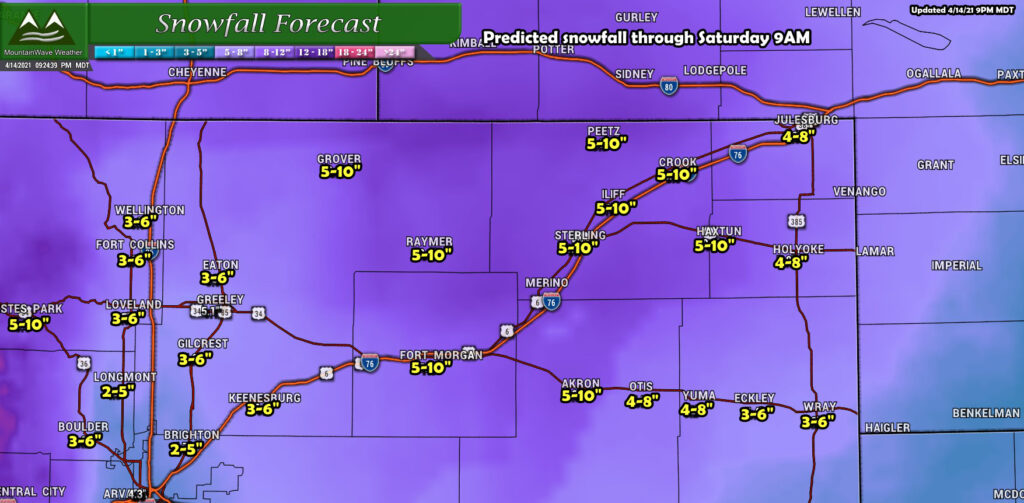 Northern Colorado definitely has the bullseye with this storm but temperatures I think will play a bigger part. Still, we can't ignore the stronger signals so I think these ranges are good on the lower end, but the higher ends may be too high. Either way these are the areas most likely to experience travel problems late Thursday and into Friday through the day. That being said, if the roads stay warm I'd expect more of a slushy event than an ice event... don't let that fool you - slush can be quite slippery!
Southern Colorado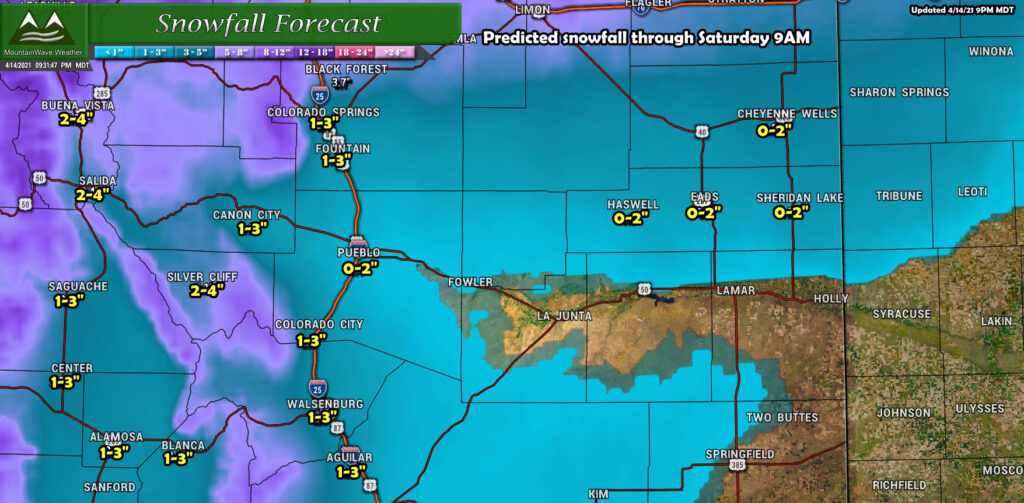 For Southern Colorado, most areas won't see a lot of snow accumulation outside of the mountains and foothills West of the I-25 corridor. Not expecting much in the way of snowfall accumulation or travel impacts for most of this region.
---
Timing/Impacts
Snow starts
Thursday late afternoon - convective showers could mean spotty areas see heavy snowfall with thunderstorms
Snow Continues
Through Thursday night into Friday morning.
Note, the bulk of the snowfall looks likely during this period (Thursday night through Friday morning)
Snow showers will continue on and off through the day Friday
Additional snow accumulation (light) is possible later Friday and into Saturday
Snow Ends
By Saturday morning/early afternoon
Impacts
Slick road conditions will be possible at higher elevations especially Thursday night and Friday morning
Biggest risk is slush and snow accumulation on the roads
Minor impacts for most areas - some spotty moderate impacts under heavier showers
---
Summary
Due to all the moving pieces of this storm, uncertainty will remain high. This means the forecast could change as our understanding of this system evolves through the day Thursday. While we don't see any evidence of a major snowfall event out of this one, there may be enough accumulation to make things a bit of headache. If temperatures trend warmer we may see more of a rain event.
Either way, it should be fun to watch and don't forget the best news of all - we should receive a decent amount of moisture out of this storm system one way or another!
Stay tuned for forecast updates as needed on Thursday!