Happy Thanksgiving... well almost. The weather is looking fairly nice across the state for Wednesday with exception of a few snow showers in the mountains. Wednesday will be warm ahead of a cold front that will slide through later this afternoon. You'll know when the front reaches your area as the temperature will drop and it may turn quite windy along the leading edge of the front.
Here's a look at the weather over the next few days across Colorado and Nationally - to help you stay ahead of any weather related travel issues.
Current Weather Highlights
Winter Weather Advisory
...WINTER WEATHER ADVISORY IN EFFECT FROM 10 AM THIS MORNING TO
5 AM MST THURSDAY ABOVE 8500 FEET...

* WHERE...Elkhead and Park Mountains and Flat Tops.

* WHEN...From 10 AM this morning to 5 AM MST Thursday.

* IMPACTS...Plan on icy to snowpacked road conditions. A detailed
  map of the snowfall can be found at: www.weather.gov/gjt/winter.


Eyes On
Palmer Divide - NWS mentioned a Winter Weather Advisory may be needed if model continue to trend towards snow and wind becoming an issue for travel. This would likely be issued sometime this afternoon and effective from late Wednesday night through Thursday morning. If this alert gets issued, I'll pass along the details!
---
Timing and Impacts - Wednesday/Thursday Storm System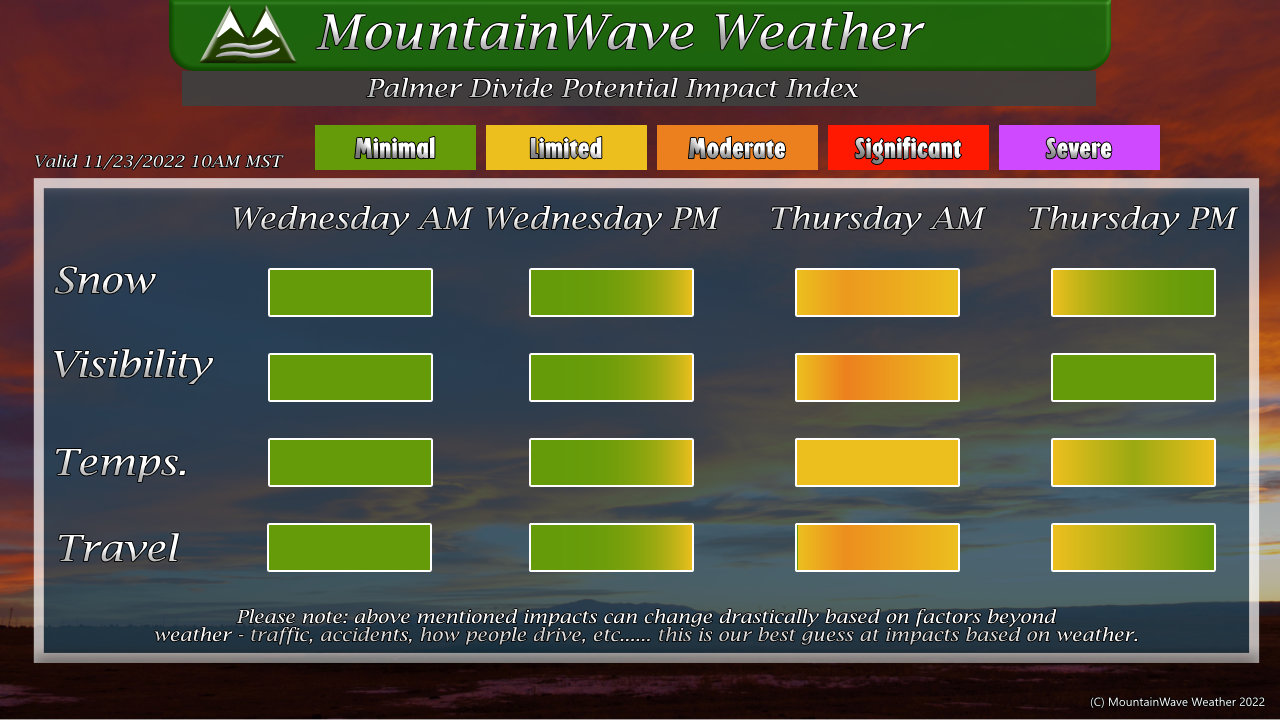 Snow
No impacts from snow during the day Wednesday
If storm arrives a bit early, could see light snow late Wednesday night
Early Thursday morning through late morning are prime time for snowfall (2AM - 10AM)
Clearing by lunchtime Thursday
Visibility
Visibility could deteriorate with the snow and wind early Thursday morning
Improving conditions by Thursday around lunchtime
Temperatures
Temperatures will not be particularly cold for this time of year
Lows in the teens and twenties expected
Highs on Thursday will be in the lows to mid 30's
Travel
Primary travel impacts are expected South of Denver (Palmer Divide between Lone Tree and Colorado Springs) and Southeast of Denver (Castle Rock to Limon)
Snowfall expected mainly between 2AM and 10AM Thursday morning
Outside of that time, snowfall is still possible but looks lighter in intensity
Wind may be a factor in Thursday morning travel - currently gusts between 40-50mph are possible - this combined with blowing snow could make for icy roads, poor visibility and difficult travel at times.
---
Snowfall Forecast
Palmer Divide
Generally light snow amounts across the Palmer Divide, the areas between Castle Rock and Monument will be the most likely to see the higher amounts. For everywhere else, accumulations look pretty minor. With the wind and temperatures, road conditions may be a bit tricky early Thursday so plan for that.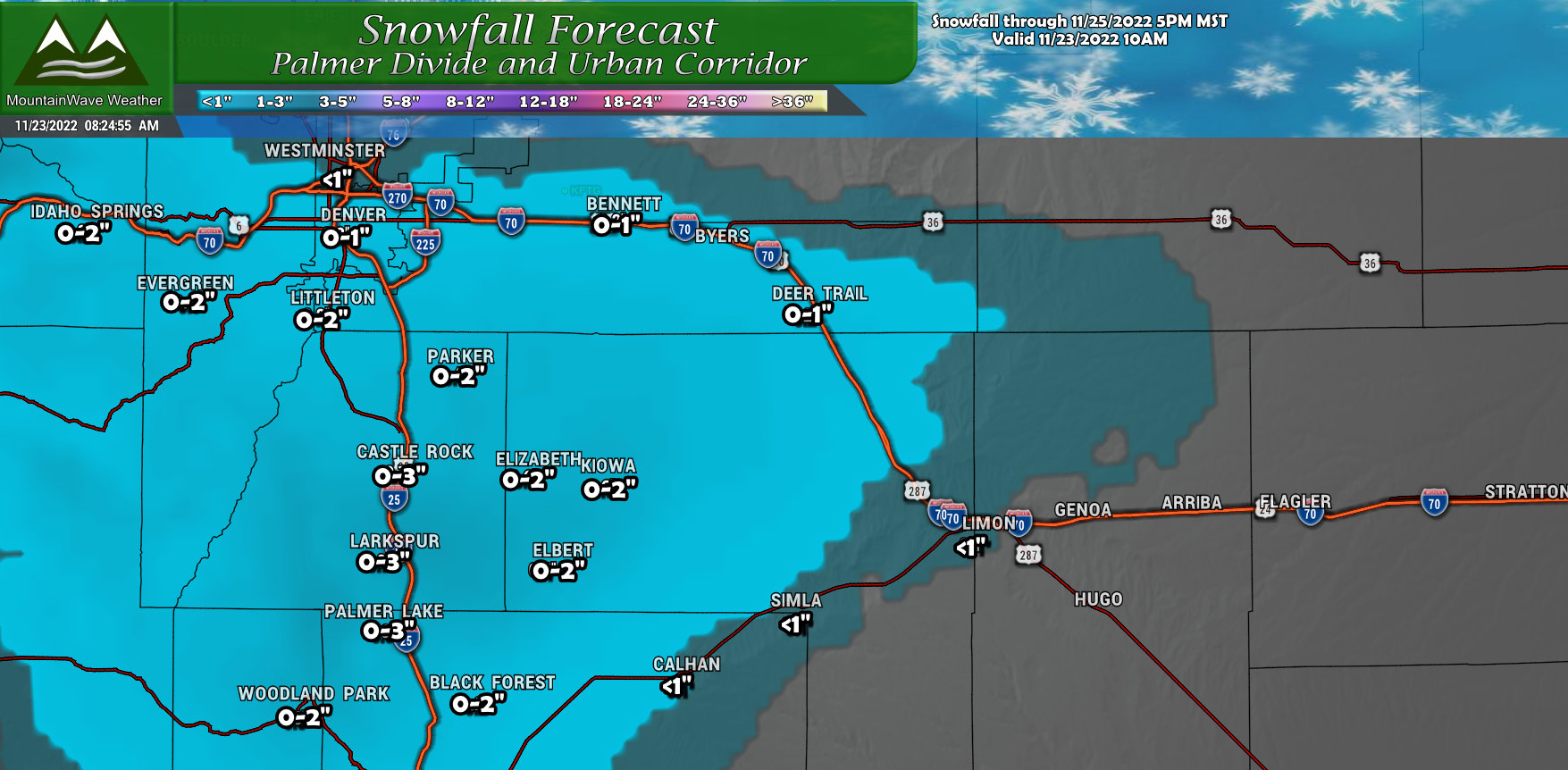 Northern/Central Mountains
Not a ton of snow coming for the mountains either, however a few spots in and around the Flat Tops and Elkhead Mountains may see higher amounts. Very select spots in those mountain ranges may end up in the 3-7" range. Elsewhere, most mountain locations should end up in the 1-3" or 0-2" range.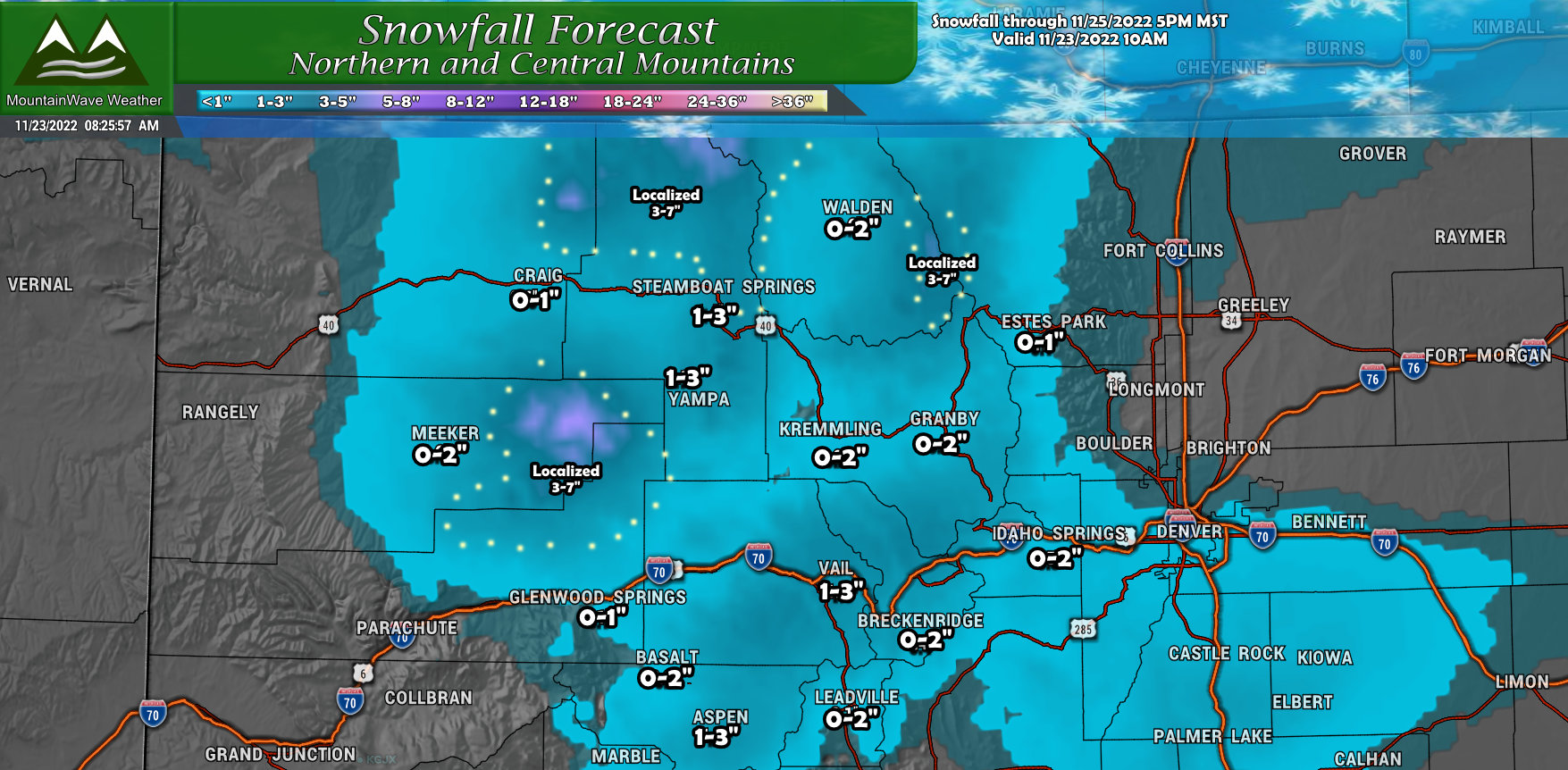 Colorado - Elsewhere
The only other spot we see chances of snow in Colorado is across the Raton Mesa and Southwards into New Mexico. Most lower elevations will see light accumulation between 0-2" but a few higher elevation locations across the Raton Mesa and Raton Pass could end up in the localized 3-7" range. The greatest impact from snow with this bit will be late Thursday and into Friday as the storm system slides south.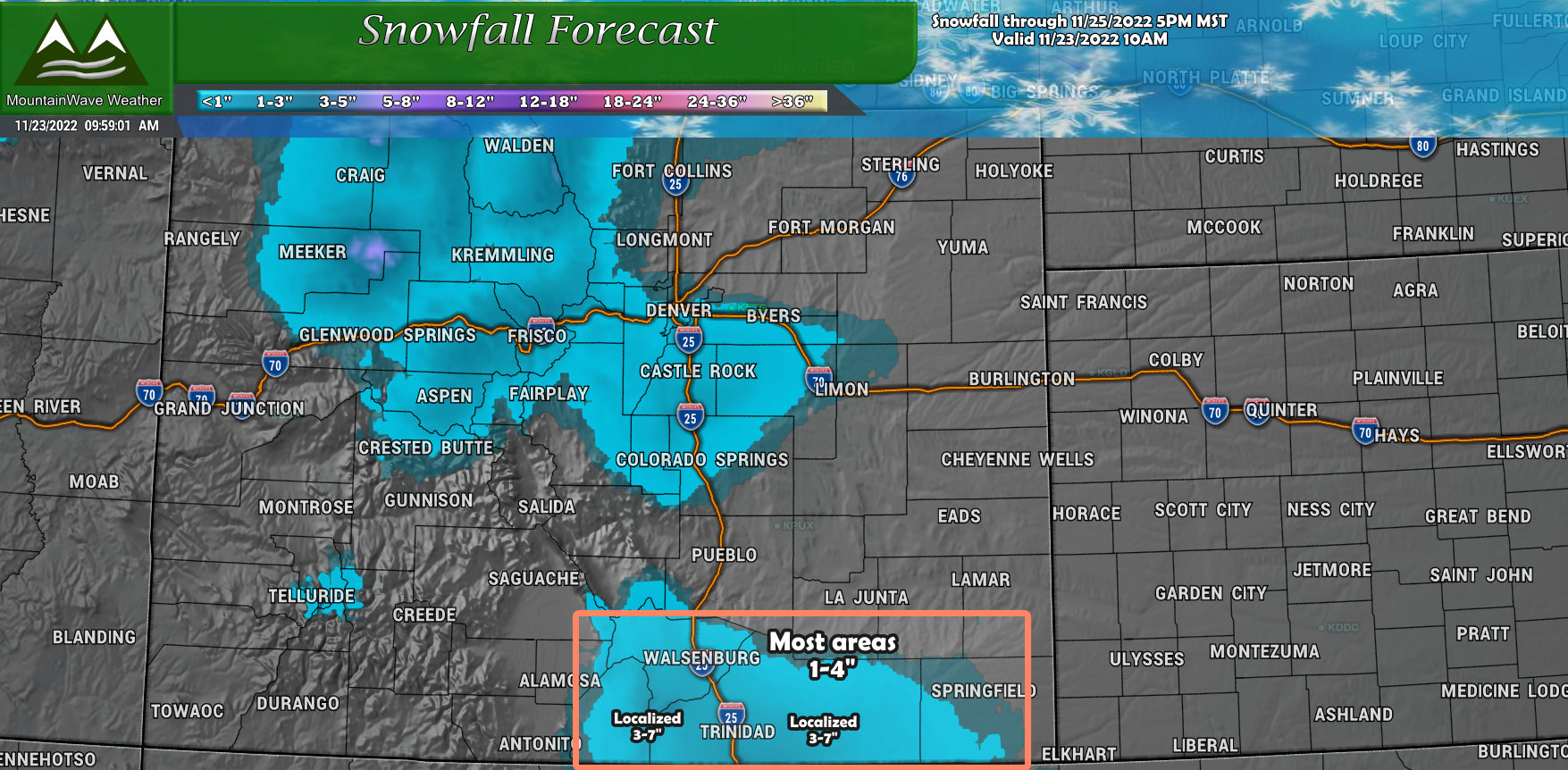 ---
Colorado Travel Hotspots (Wednesday-Thursday-Friday)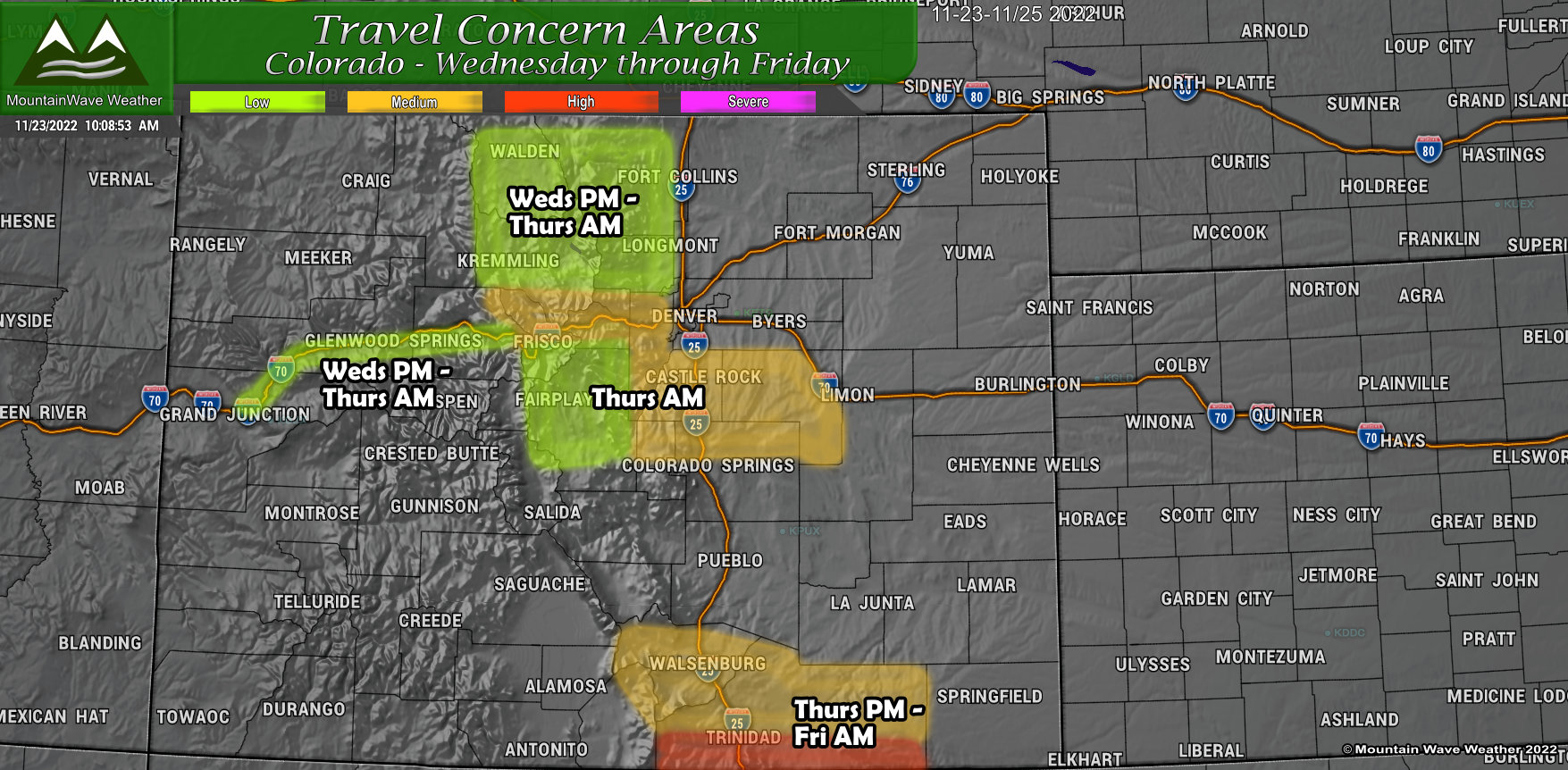 Low Impacts
I-70 corridor West of Vail (Weds PM - Thurs AM)
North Park, areas West of Fort Collins/Loveland (mountain locations) (Weds PM - Thurs AM)
Mountain and valley locations South of I-70 in Summit County (Weds PM - Thurs AM)
Medium Impacts
Palmer Divide (Thurs AM)
Northern sections of the Raton Mesa (I-25 South of Colorado City) (Thurs PM - Fri AM)
High Impacts
Southern Raton Mesa into New Mexico (Trinidad, Kim, Branson) (Thurs PM - Fri AM)
Northern New Mexico - I-25 Corridor (Thurs PM - Fri AM)
---
National Travel Hotspots (Wednesday-Thursday-Friday)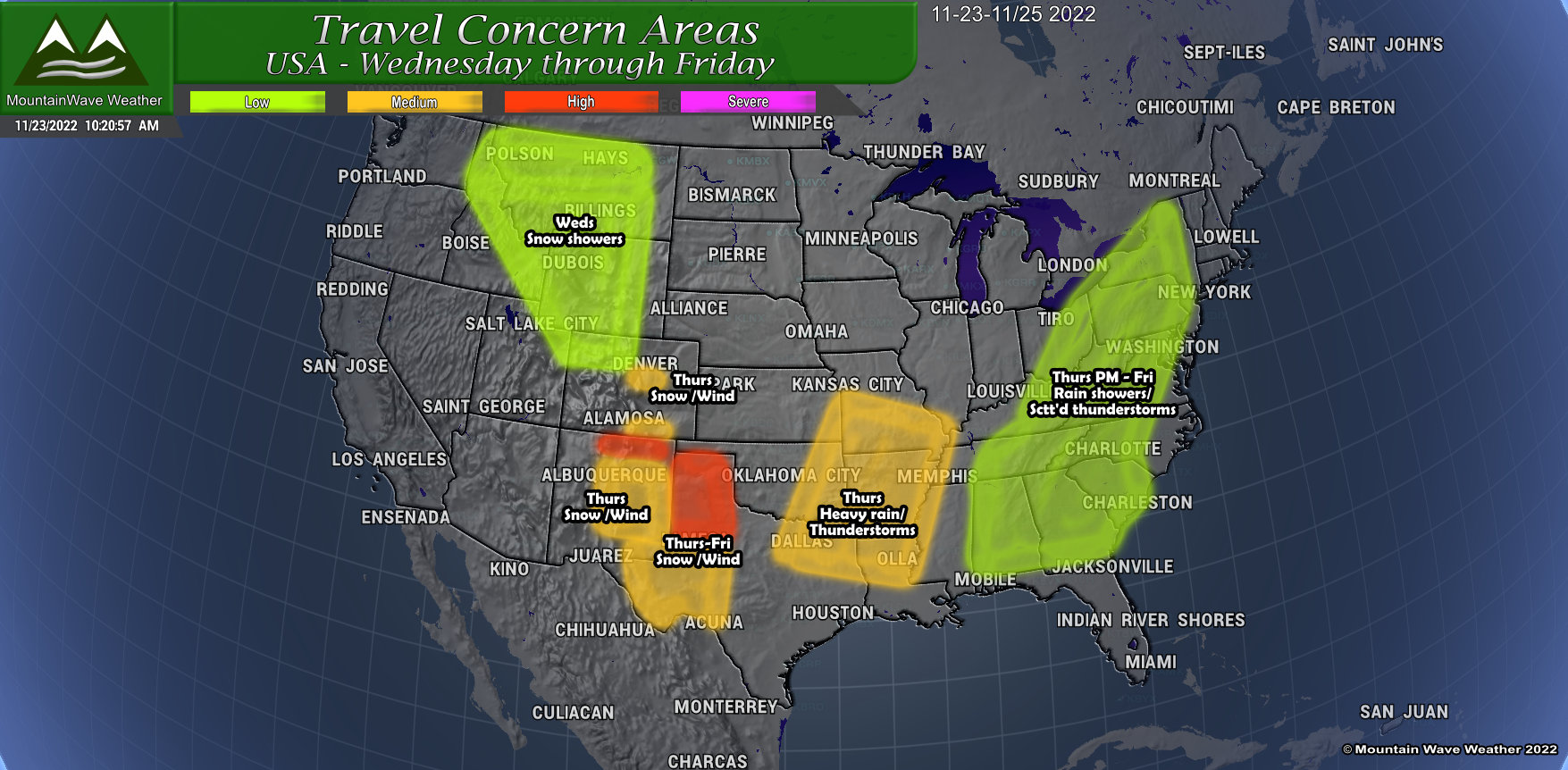 Here's a quick look at some national areas that may see impacts due to weather over the next few days. This snapshot covers Wednesday, Thursday and Friday - I'll have an additional update for the weekend up on Friday at some point.
Wednesday
Light travel impacts due to snow showers.

Northwestern Colorado, Wyoming mountains, Idaho and Montana

Scattered snow showers may cause slick spots on roads, especially at higher elevations
Significant airport impacts are unlikely
Thursday
Palmer Divide of Colorado may experience travel impacts early Thursday morning
Southern Colorado along the Raton Mesa and into New Mexico may see travel impacts due to snow and wind throughout the day Thursday
In Colorado - significant airport impacts are unlikely. In New Mexico - some airport impacts are possible, check with your airline for info on cancellations or delays
The Texas panhandle is under a Winter Storm Watch for late Thursday going into Friday, along with Eastern sections of New Mexico
Sections of Texas, Oklahoma, Arkansas, Louisiana, Kansas and Missouri may see airport and road travel impacts due to thunderstorms with heavy rain.
Friday
Some travel impacts due to lingering snow in the Texas panhandle and Eastern New Mexico are possible
Rain and scattered thunderstorms may cause some sporadic travel impacts across the Eastern part of the Country (highlighted in green.)
Due to heightened travel and weather impacts on Friday - some airports may experience delays where rain and thunderstorms cause delays. Check with your airline frequently on Friday if you are traveling to/from those locations.
---
Summary
Phew, long update today... but if you read through it you should be able to find any information you need in regards to weather/travel over the next few days.
Just a quick programming note: I will not be posting any weather updates on Thursday due to the holiday. I will have new updates available on Friday for weekend travel.
Thank you again for all of the support and Happy Turkey Day to you, your friends and family!