Another storm system moving in with a chance at snow and a shot of very cold air. Here's the latest information as of this morning...
---
Winter Weather Highlights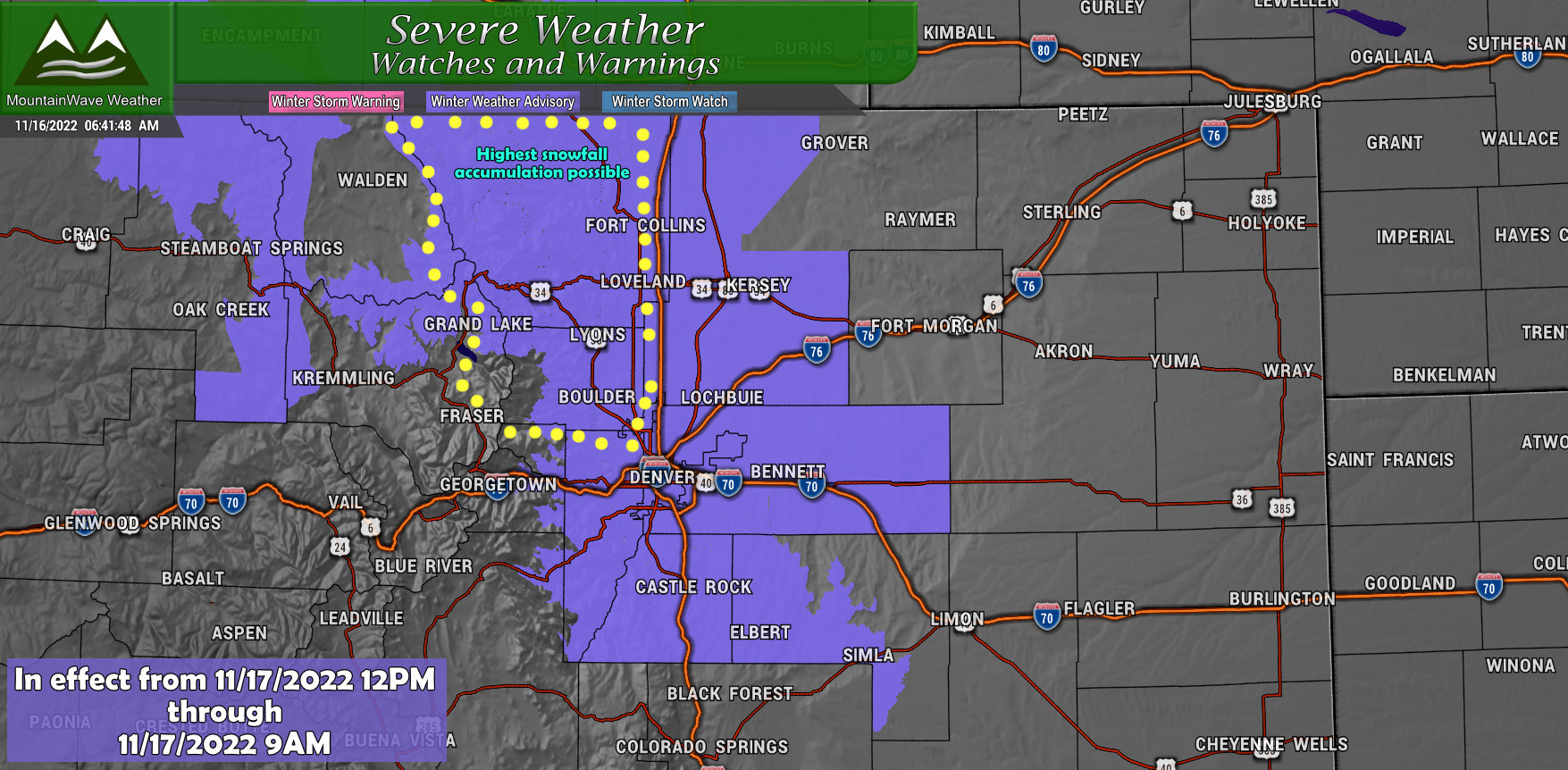 WINTER WEATHER ADVISORY IN EFFECT FROM NOON THURSDAY TO 9 AM MST
FRIDAY...
* WHAT...Snow expected. Total snow accumulations between 2 and 5 inches. Locally higher amounts possible, mainly in Boulder County.
* WHERE...The Southern Front Range Foothills, Boulder and the western suburbs of Denver, Denver, Castle Rock, and Byers.
* WHEN...From Noon Thursday to 9 AM MST Friday. Light snow or flurries develop late Thursday morning, then spreads slowly
southward and increases in intensity late in the afternoon and Thursday evening.
* IMPACTS...Plan on slippery road conditions. The hazardous conditions could impact the Thursday evening and Friday morning commutes.
Note: in the highlighted area for heavier snowfall, the Winter Weather Advisory starts at 9AM.
---
Impacts and Timing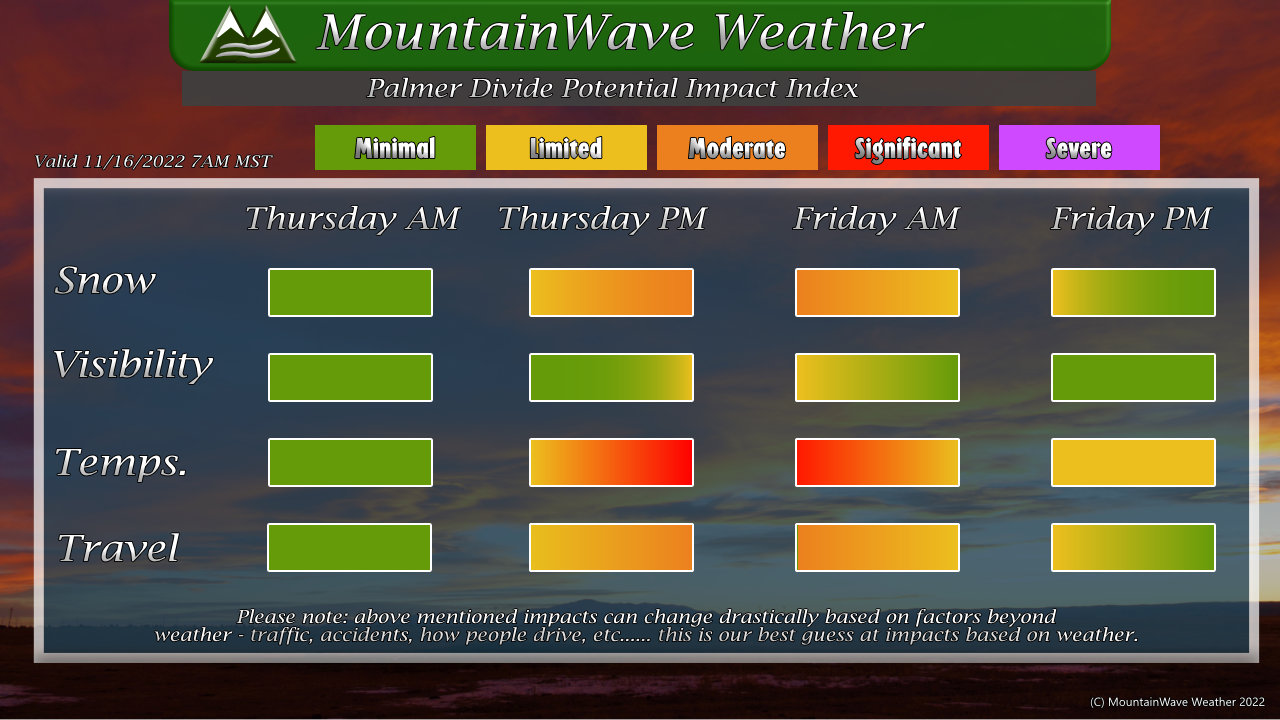 Snow
Falling snow impacts look most likely afternoon on Thursday, Thursday evening, and overnight into Friday morning. Snow is expected to end by mid to late morning on Friday. Snowfall accumulation won't be particularly high with this storm system (a couple of inches at most, many others will see 1-2")
Visibility
Not a ton of wind with this storm system, visibility impacts will mainly come from falling snow later on Thursday and early Friday. Impacts look limited for visibility with this storm system.
Temperatures
Moderate and Significant temperature impacts expected. Thursday night and Friday morning will see the most severe impacts, many area temperatures with wind chill will fall close to or below zero late Thursday and into Friday morning. If you plan to be outside late Thursday or early Friday, be prepared for very cold temperatures. Make sure you have enough warm clothing and recognize the symptoms of hypothermia.
Travel
Due to the cold temperatures, any snow that falls will likely stick to roads very quickly. While there won't be enough snow from this storm to cause significant impacts, icy conditions will cause moderate travel impacts - especially later Thursday and into Friday morning. Be prepared for difficult/slow travel conditions Thursday later in the day and Friday morning.
---
Snowfall Forecast
Palmer Divide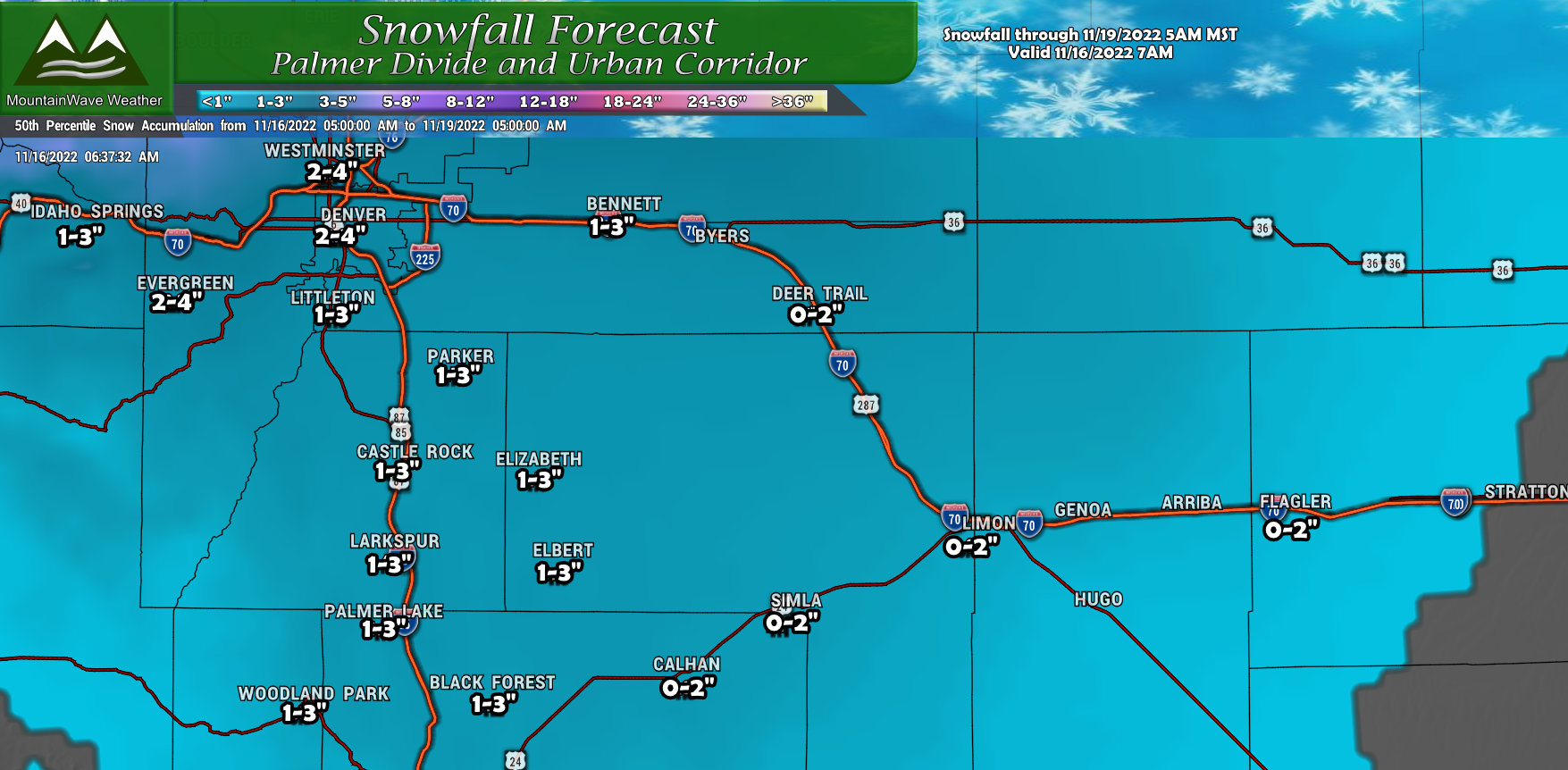 Light snowfall accumulations overall across the Palmer Divide. Most areas will see between 1-3" of snowfall for this storm, a few select areas may reach towards that 4" mark - mainly areas Westward closer to the foothills.
Northern Colorado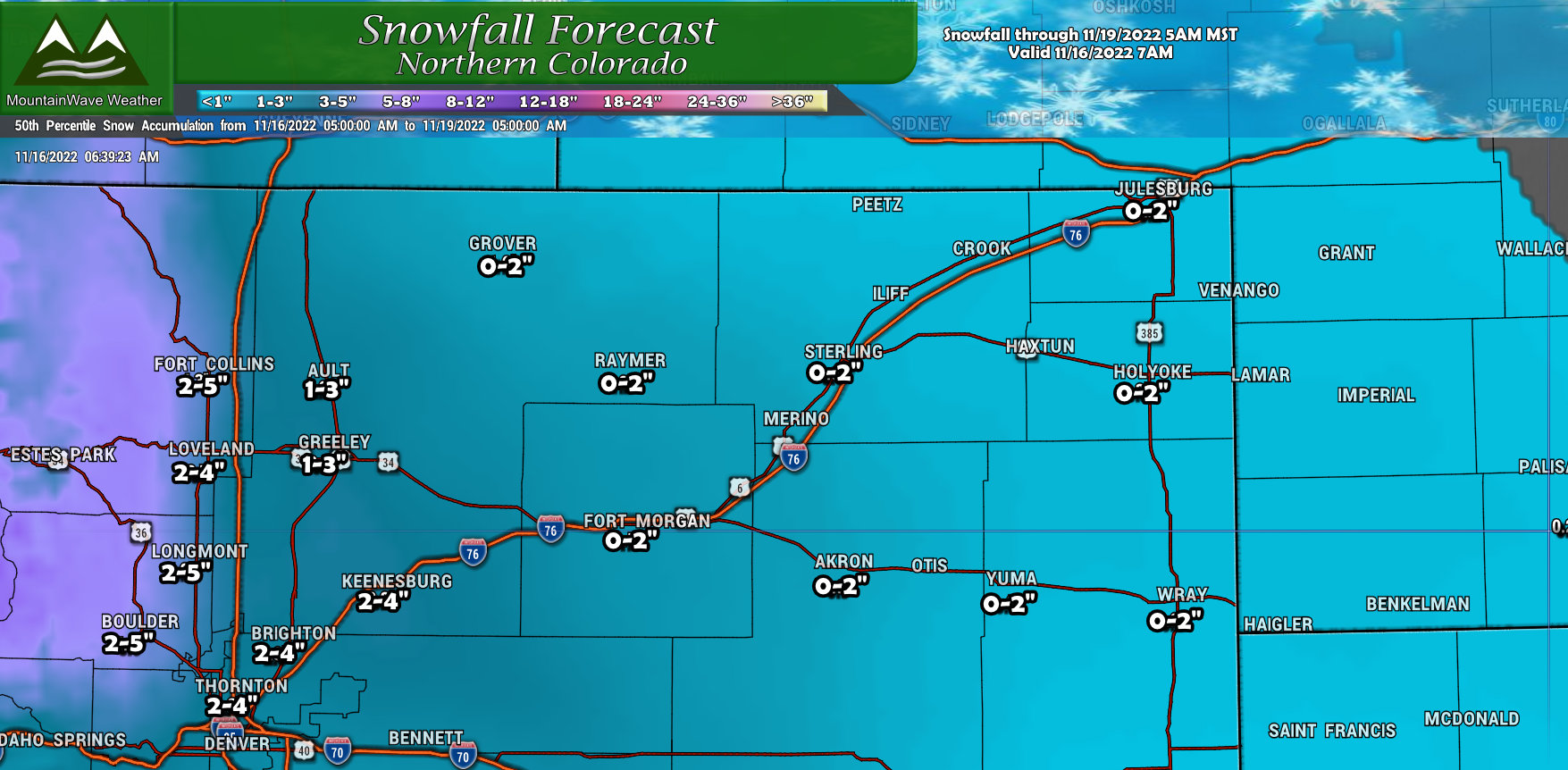 Many of the lower elevations East of Interstate 25 will see lower snowfall accumulation with this storm. Towards the West near the foothills and Continental Divide, 2-5" of snowfall is forecast for favored areas. Some of those areas could have travel impacts due to ice and snowfall.
Northern/Central Mountains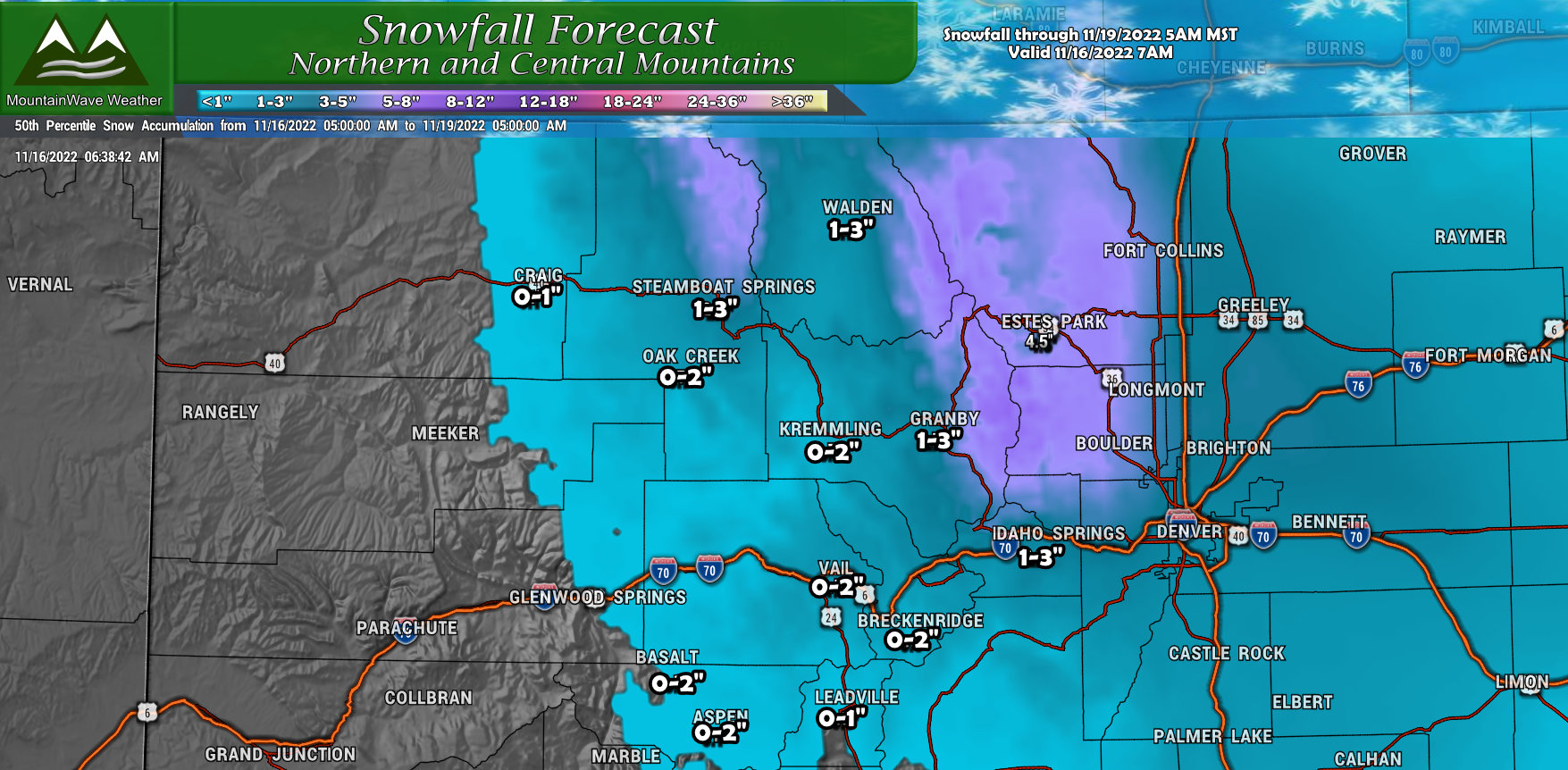 This storm will be a non-event for many mountain locations with only light accumulation expected outside of the Northern mountains along the Continental Divide. For the I-70 corridor and associated ski resorts, maybe an inch or two of total accumulation expected through Saturday morning.
Southern Colorado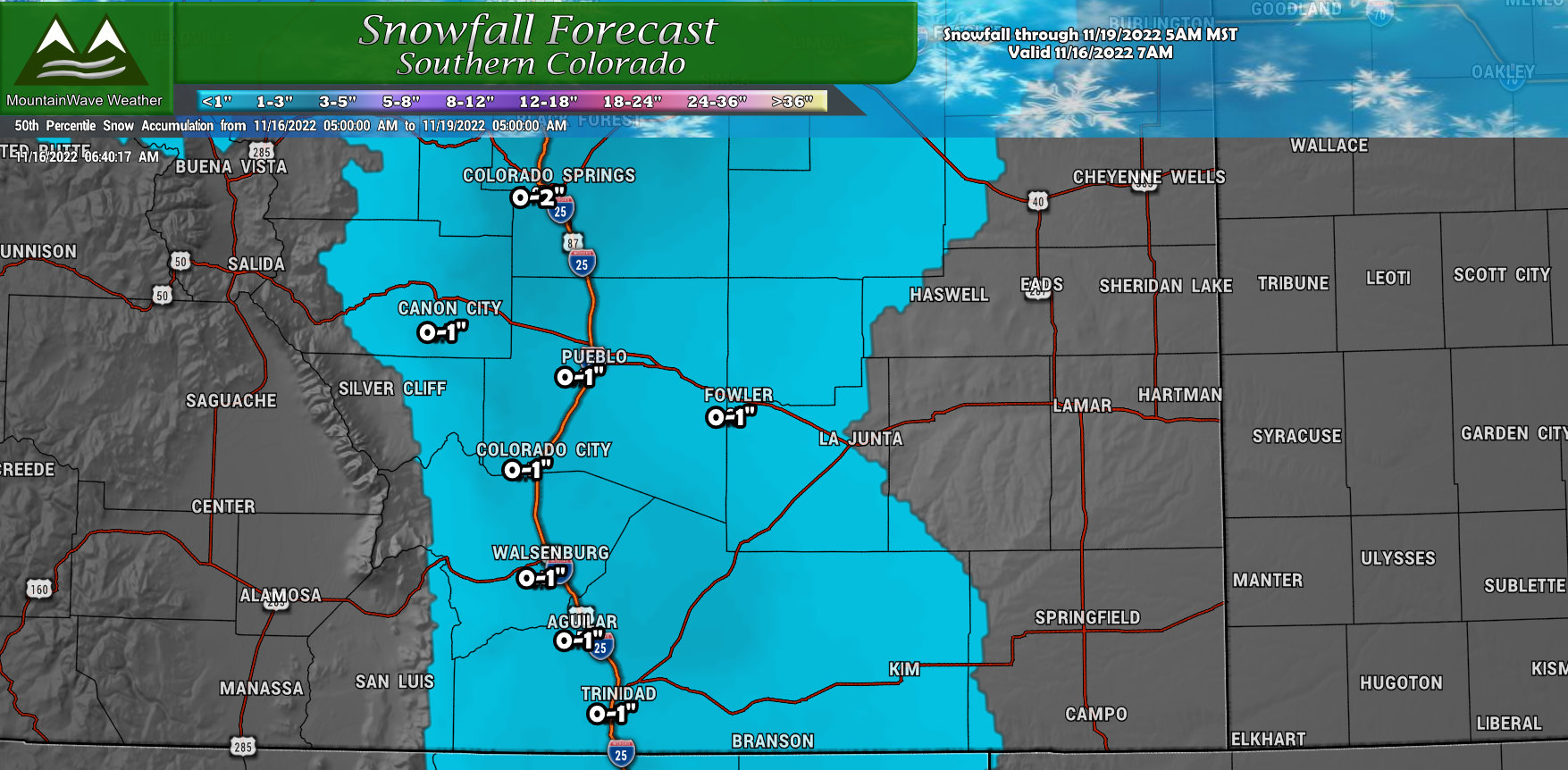 Not much to write home about for Southern Colorado, as you move further South away from the springs only minimal accumulation of snow is expected. If you see any snow at all in those areas, you're looking at a dusting to maybe 1" if you're lucky. There are currently no Winter Weather highlights for Southern Colorado so any travel impacts are expected to be minor.
---
Be Prepared for Arctic Cold - Very Cold Temperatures
The other story we are tracking is the cold that will reach into the area late Thursday and into Friday morning.
An arctic air mass will settle in behind this storm system, pouring cold air from a continental arctic air mass sliding in from Canada.
This means temperatures with the wind chill will be very cold Friday morning - below is a snapshot from the GFS for about 5AM on Friday morning.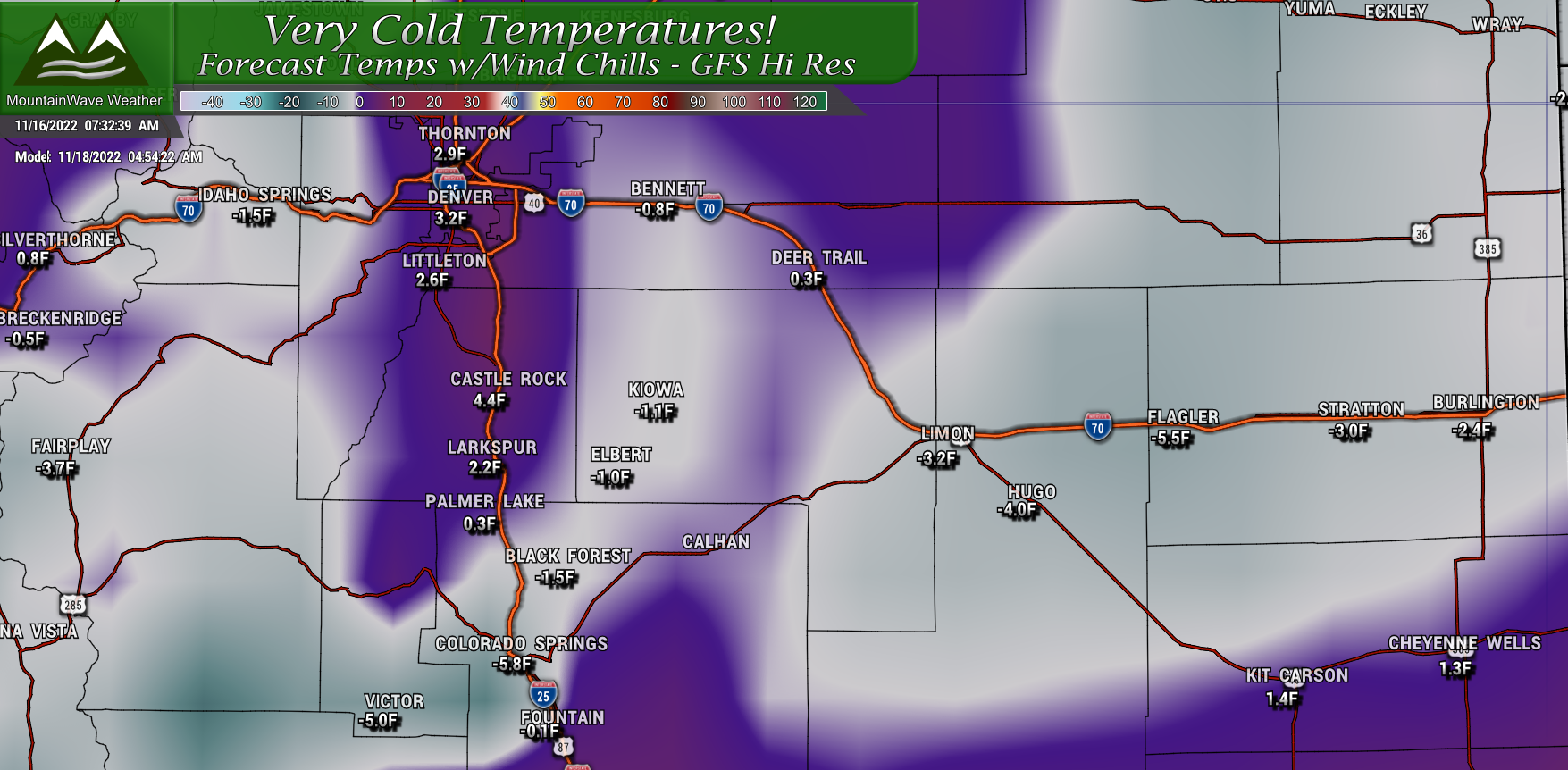 The crazy part is that I believe this model may be coming in a bit warm, some of the higher resolution models have Elbert closer to -5 or -6 degrees at this same time on Friday morning.
If you have pets, make sure they are well taken care of Thursday and Friday... here's a couple of tips: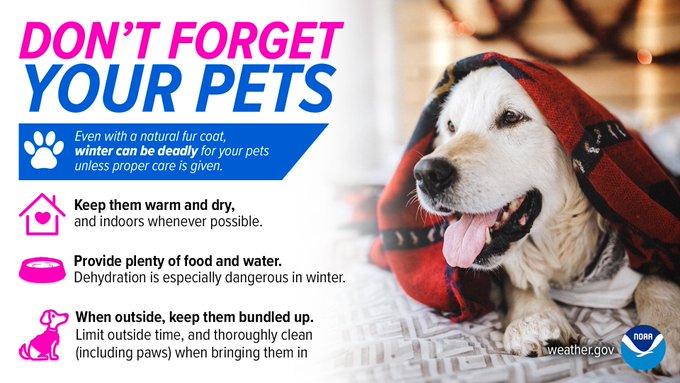 And for those of us with larger animals and livestock: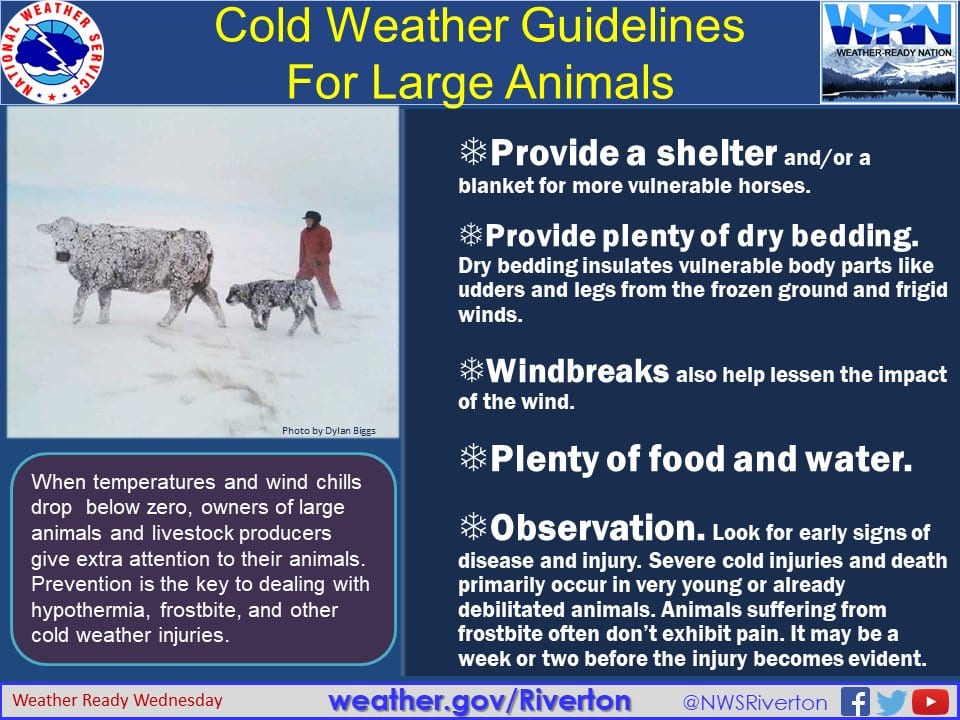 ---
We'll Keep an Eye on It!
I'll be sure to pass along any further updates as additional data comes in today. The information above should be enough to get prepared no matter how this storm goes.
Stay warm and stay safe!