Only a few small changes from last night's outlook; rather than re-write that entire forecast again you can view it here.
Here's the main changes:
Severe Weather Risk Area Changes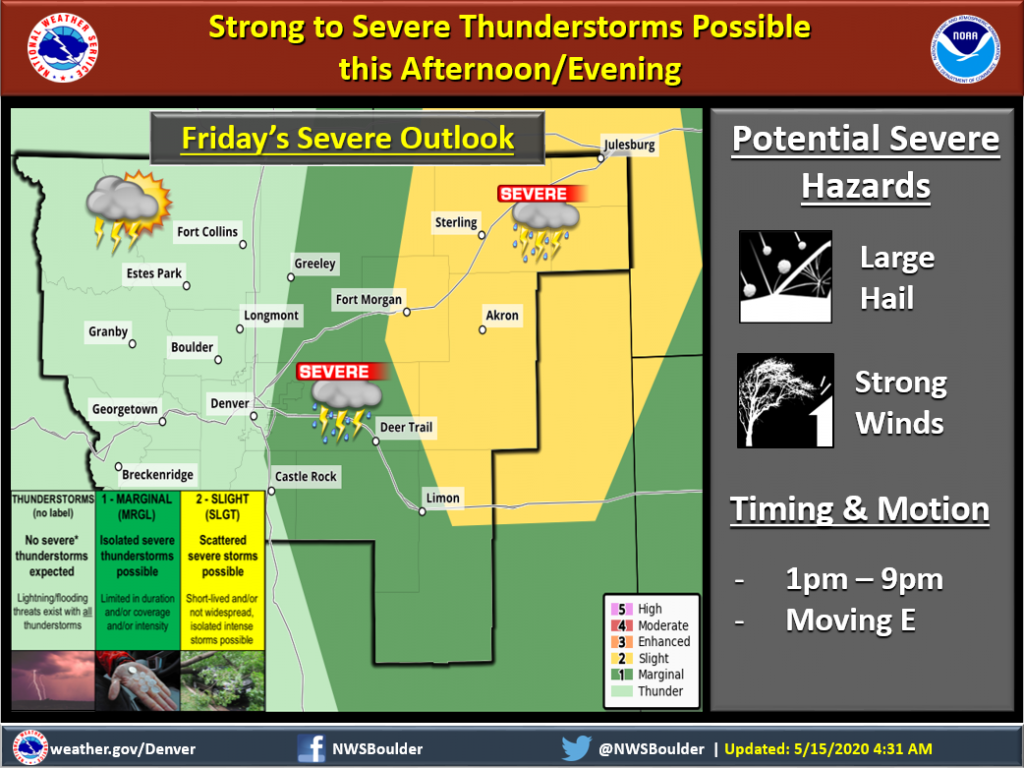 The slight risk area has been shifted slightly further North and East of the I-25 corridor. This means Northeastern Colorado still has the higher risk of seeing any storms that become severe. A marginal risk remains along and East of the I-25 corridor, a pop up severe storm will be possible in these areas but severe weather will not be widespread in the dark green areas.
West of and along I-25; only general thunderstorms will form but some could become strong. A lot of those storms should remain below severe levels though.
Timing Changes
As you can see from the graphic above; expect active weather between 1-9PM. Elbert county looks especially active this afternoon and into the evening hours on a lot of models so be ready in case some of those storms go severe.
Primary Threats
Remain pretty much the same from yesterday
Large hail over one inch in diameter
Strong/gusty winds
Slight tornado threat, especially in NE Colorado and Central/Eastern sections of the Palmer Divide
Note About Tornado Threat
The tornado threat is generally low across the region but the 2% probability area extends South along the Palmer Divide, especially into Central and Eastern Elbert County and Southwards towards El Paso county. While the risk is low, we do often see tornado activity in Colorado on 2% probability days... due to the terrain, atmospheric dynamics and the wind interaction with both we can often see landspout-type tornadoes on a day like today.
Keep in mind, those types of tornadoes are usually very short lived and weak but they can cause damage. Be on the look out for those this afternoon and evening especially East of the Elbert/Douglas county lines. Further westwards towards Castle Rock and the I-25 corridor the threat for tornadoes is very low (generally below 2%) but not 0%.
Many areas will see thunderstorms this afternoon (about a 70% probability for any one area) with about 10% of those becoming severe along the Palmer Divide. Looks active either way, keep your eyes to the sky and be weather aware this afternoon!
Any further updates will be posted on my Facebook page this afternoon. Stay tuned!