A storm system moving in from the West will hook up with colder air coming in from the North to bring snow back to the area through the day on Tuesday. As with all storms we see of the winter variety here along the front range, the ultimate timing and track of this system will determine whether we see good snow or nothing at all. Here's the latest information in as of early Monday morning...
---
Winter Weather Alerts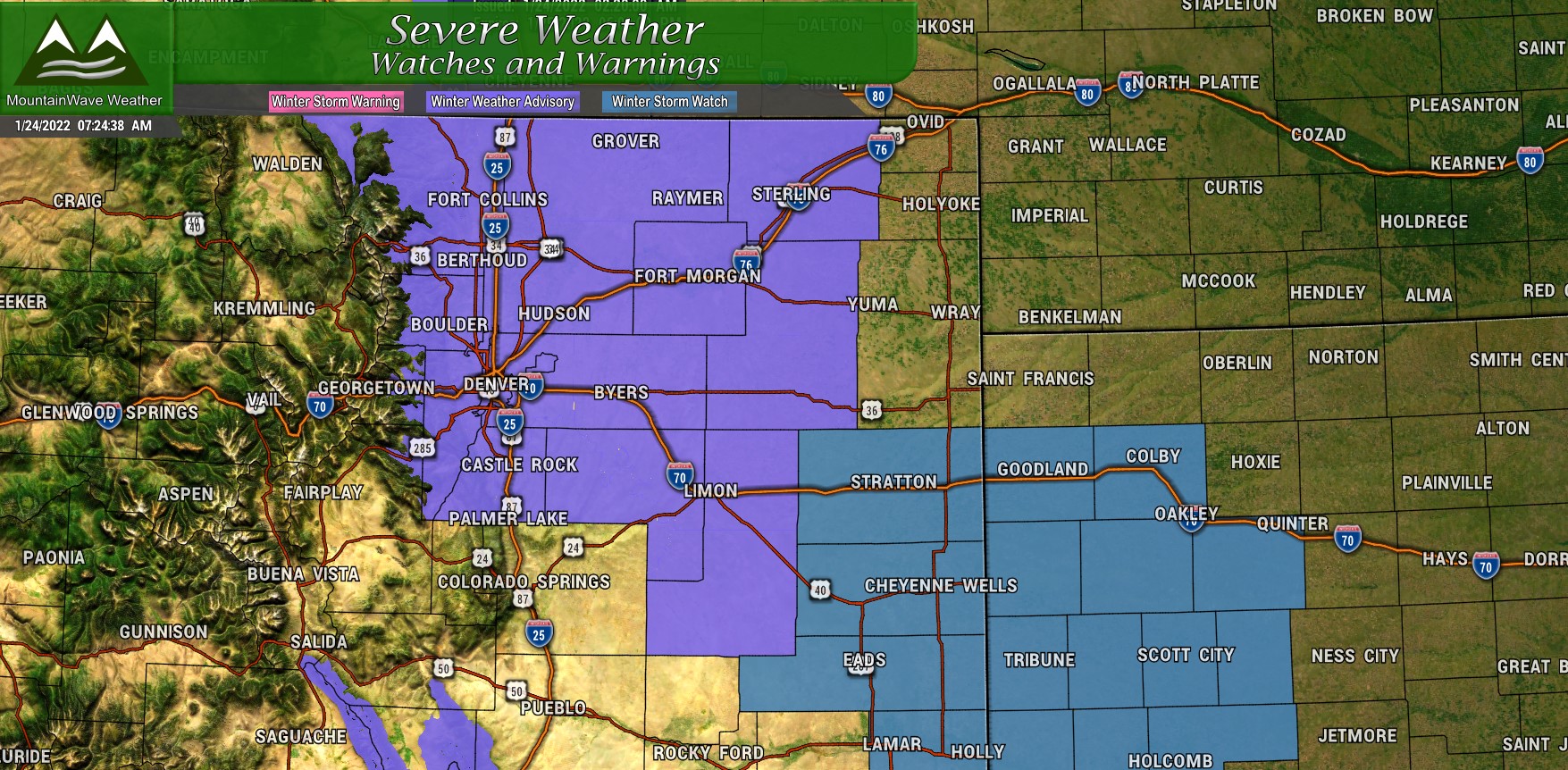 A Winter Weather Advisory has been issued for Tuesday January 25, 2022 from 5AM through 5PM MST.
The advisory is up for difficult travel conditions that will be caused mainly by slick and snowpacked roads for the Tuesday morning commute, through the day Tuesday and possibly Tuesday early in the evening. Both the morning and evening commute could be impacted due to falling snow.
---
The Setup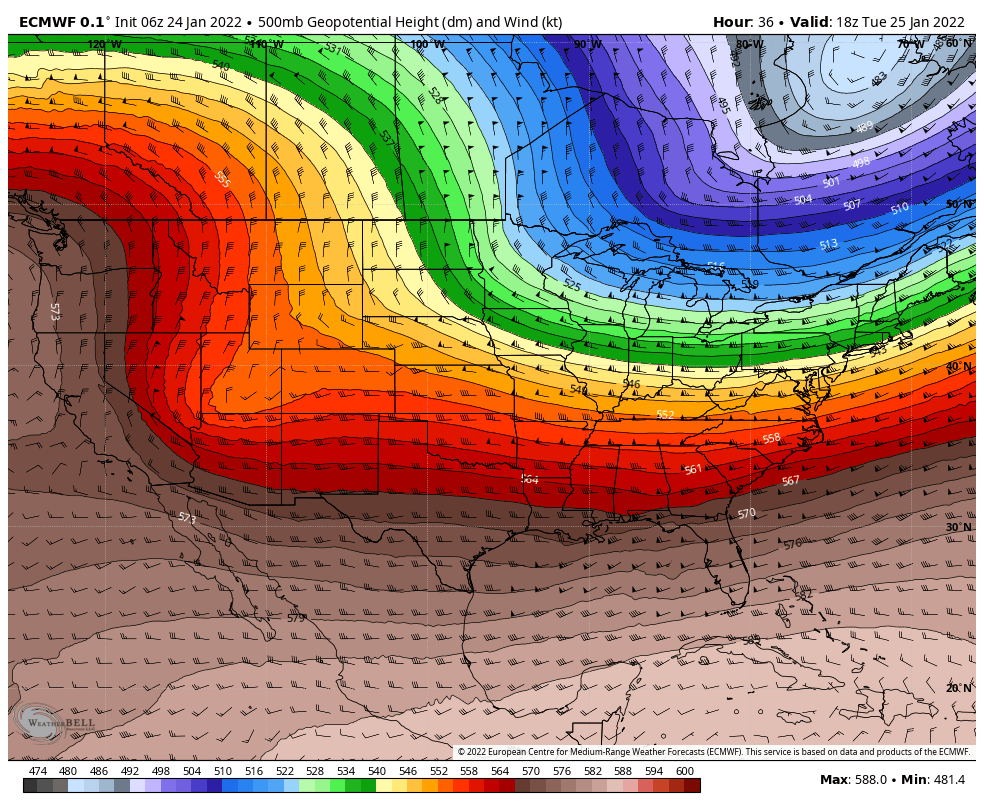 When we look at the positioning and storm track with this storm, it looks more favorable than many we've seen this year. The low moves across Southwestern Utah and along central and Southern Colorado. This is a track we look for with bigger storms typically... but modeling shows it falling apart as it moves across the mountains. Ideally we would want to see it strengthen as it gets across the mountains and onto the plains. Sadly there's not a lot of data supporting that this will happen right now.
Still, there should be enough upslope and moisture around to give most areas at least a little bit of snow and at best a few inches. Favored upslope areas will most likely do best with this storm, which means keep an eye on the front range foothills and parts of the Palmer Divide (mainly Western.)
---
Quick Details
When: Advisory is from 5AM through 5PM tomorrow. Heaviest snow looks to be between 6AM and 12PM with the latest data..
Where: Snow will be quite widespread, the higher amounts will be in the front range foothills, Palmer Divide and possibly Western suburbs of Denver
Impacts: Roads could become slick as early as Tuesday morning with icy and snowpacked conditions possible through the day Tuesday.
---
Snowfall Forecast
Palmer Divide/ Urban Corridor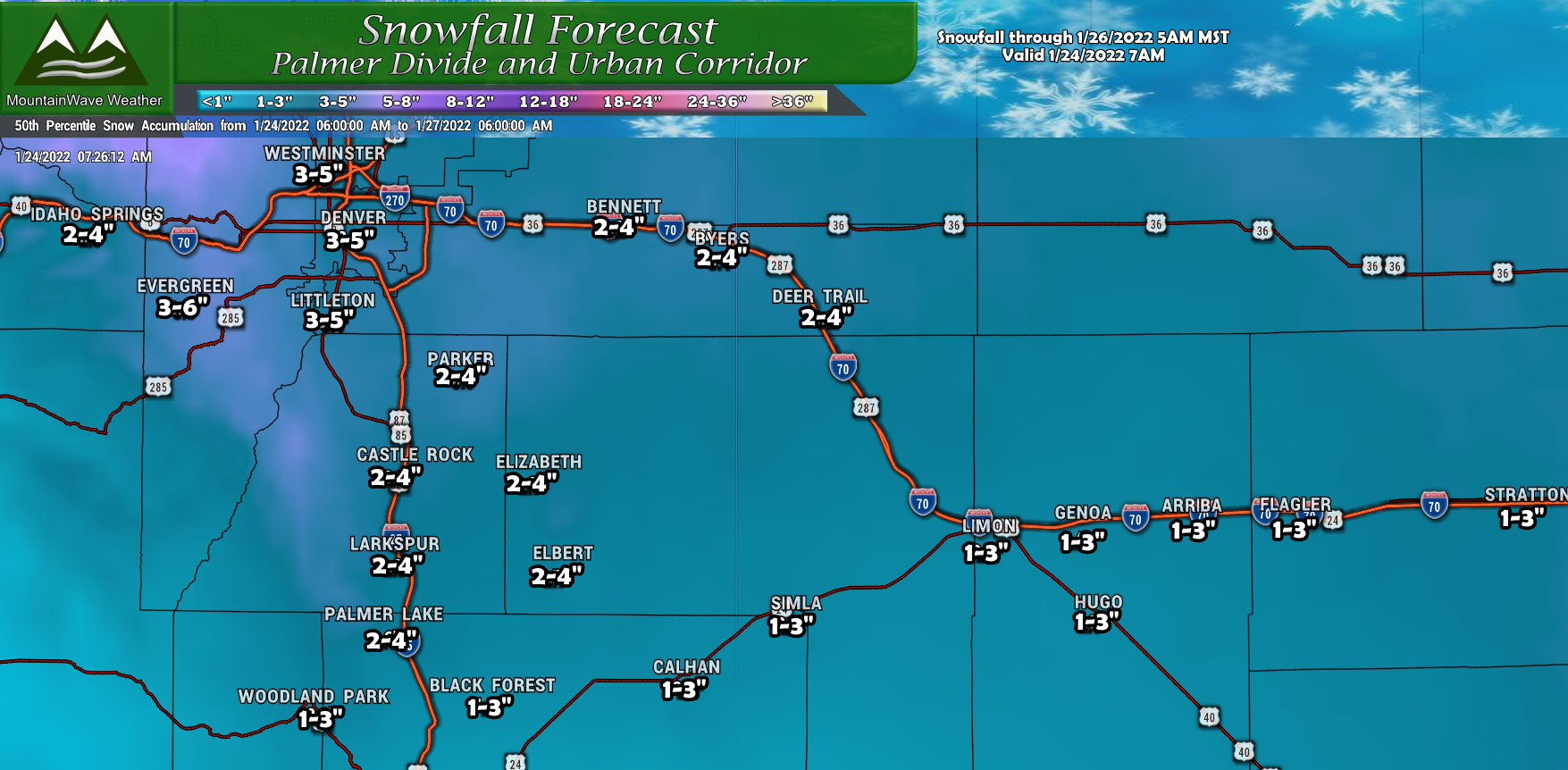 I built this forecast with the latest data from this morning, it is pretty well in line with most models but I would not be surprised if I need to adjust these amounts up or down later day. Things are still bouncing around a bit and there's still a lot of data to come in through Monday. You can see the bits of purple on the map especially across Western Douglas County into Jefferson County and up into the foothills West of Denver.
Additionally, there's just a hint of purple further East for areas like Parker and Aurora. These are the areas I am keeping an eye on most for adjustments through the day on Monday.
Northern Colorado
Northern Colorado will see pockets of snow as well, minor accumulations out across the Eastern Plains with a bit higher amounts as you travel further South. Again, the favored upslope areas will see higher snowfall amounts for this region so keep an eye out in the foothills West of Fort Collins, Loveland and Estes Park. Boulder and the surrounding areas will most likely see a decent bit of snow out of this storm as well.
Southern Colorado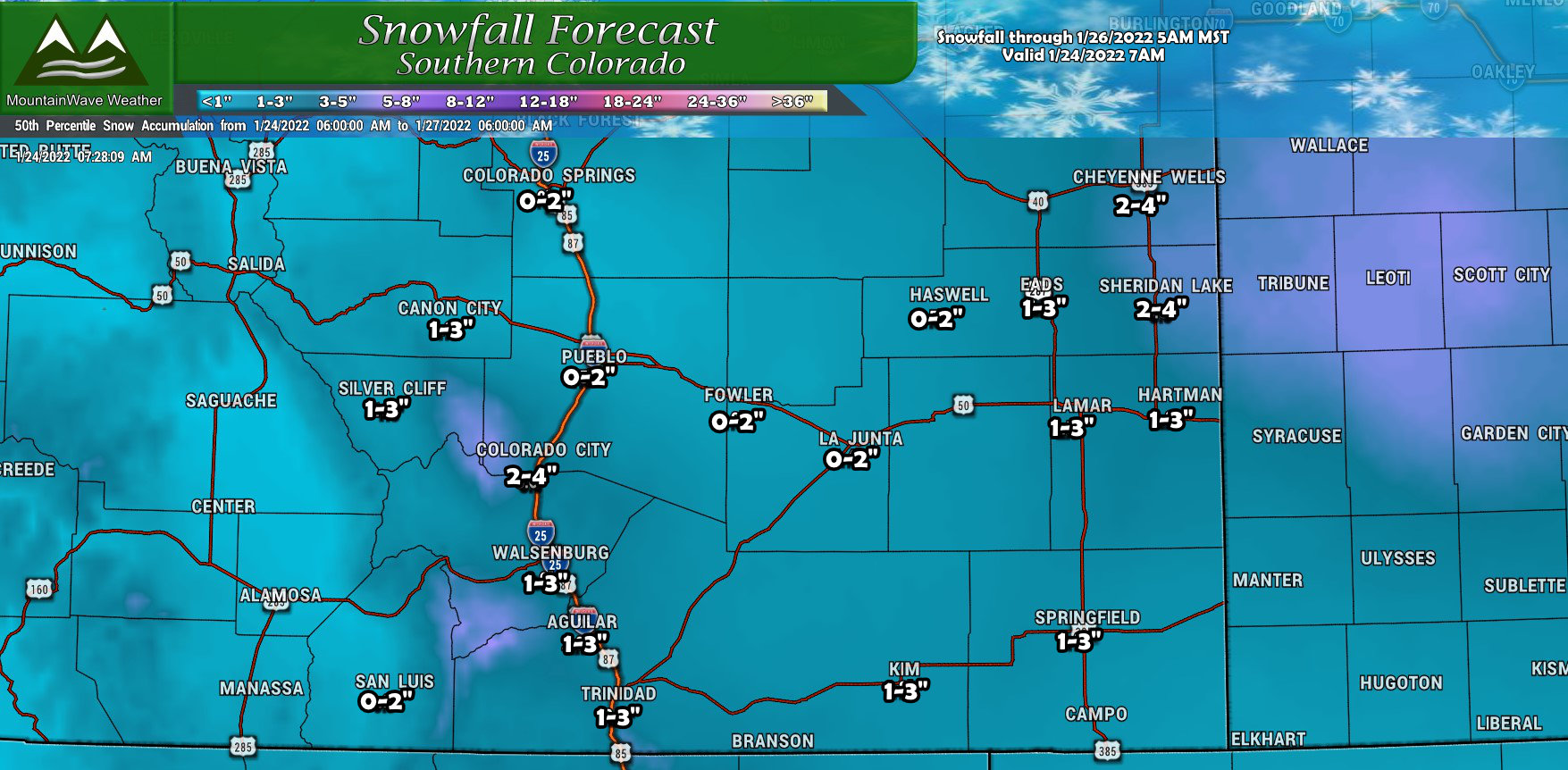 Southern Colorado will pick up a bit of snow out of this one, but nothing really to write home about. Favored areas include West of Colorado City and Walsenburg. The Raton Mesa to the South may see an inch or two as well.
Mountains/Western Colorado
I didn't include graphics for the mountain areas, this storm will be pretty minor for areas West of the Continental Divide. Not to say they don't see any snow... but the amounts they do see will be pretty light.
---
Summary
That's it for now! Keep an eye out for forecast updates as needed through the day on Monday - I still see a few changes possible.
By Tuesday morning, any updates I post will be during the storm so won't serve as much of a good heads up.