What could be considered our "active" weather pattern will continue across Eastern Colorado with the next storm system moving through on Friday this week. None of these storms are much to write home about, but if we continue to get them... every little bit adds up!
Models stayed fairly consistent from last night to this morning, the main difference is a few began to pull the low a bit further South that it was originally positioned. The main impact this has on Colorado is a drastic decrease in snow totals over the southwestern mountains as the flow will be a bit more unfavorable for good lift. Meanwhile across the plains and Palmer Divide, things stayed fairly the same - we are not expecting a big snow maker out of this storm and that hasn't changed.
---
Snowfall Forecast
Palmer Divide / Urban Corridor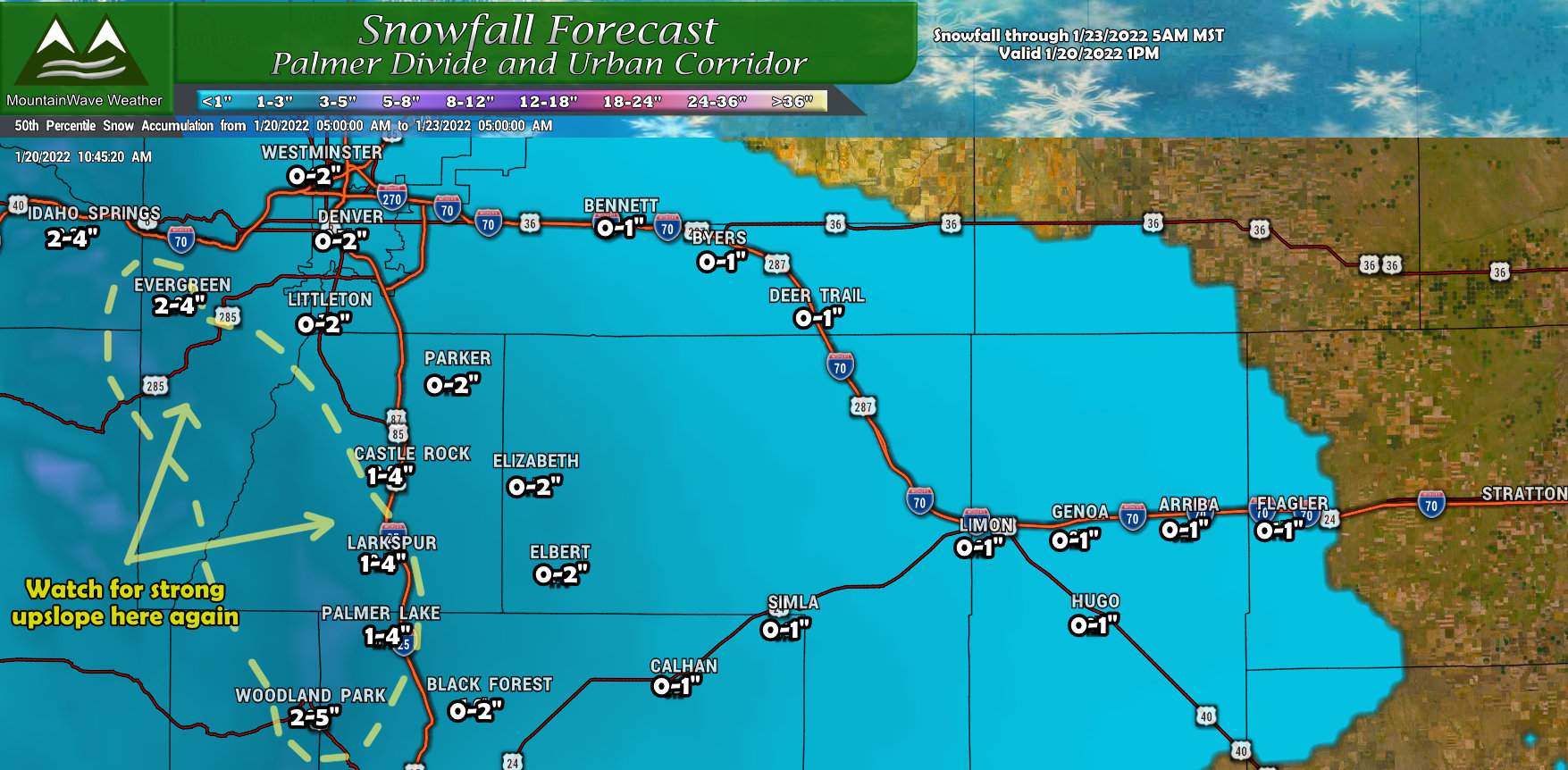 Not many changes to yesterday in terms of our thoughts along the Palmer Divide, Denver and the plains. I did highlight one area along the Palmer Divide that has my interest as models show a fairly strong upslope component in the foothills in Western Douglas County and into Jefferson County and Northeastern El Paso and North Teller county. If that verifies it would be very similar to what happened with the last storm where some of those areas could see more snow than forecast.
Since there is a fair bit of uncertainty at this point whether that feature sets up again and where exactly it does - you'll see a lot of the areas right along I-25 are in the 1-4" range instead of 1-3". This accounts for that uncertainty a bit - we will continue to watch that area closely and adjust the snowfall forecast as needed.
Northern Colorado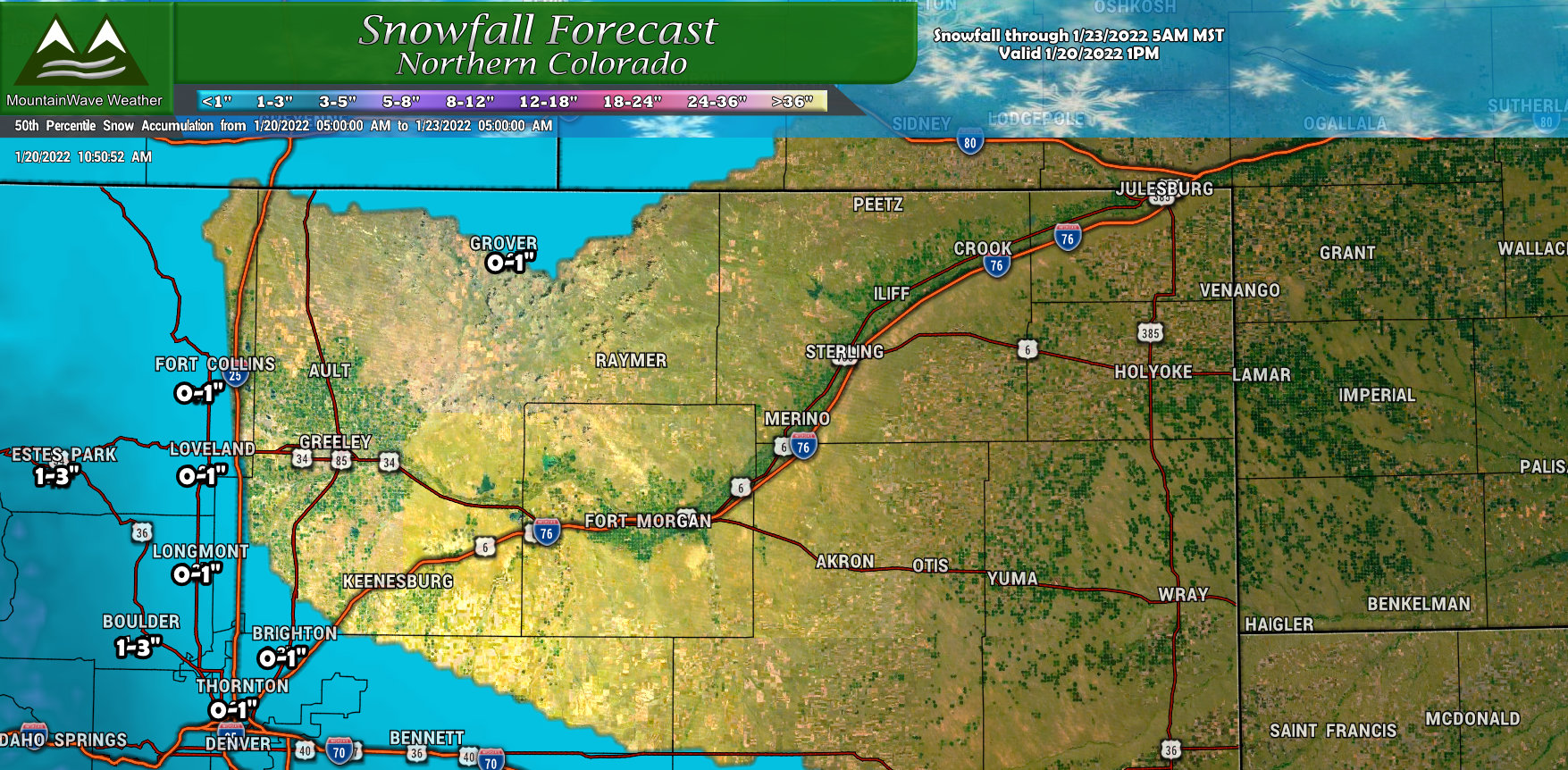 For those North of Denver, not a whole lot to talk about there. Due to this storm's Southerly track many areas North of Denver will see little snowfall out of this one. The exception may be the foothillls which may get just enough lift to squeeze some snowflakes out of the sky.
Southern Colorado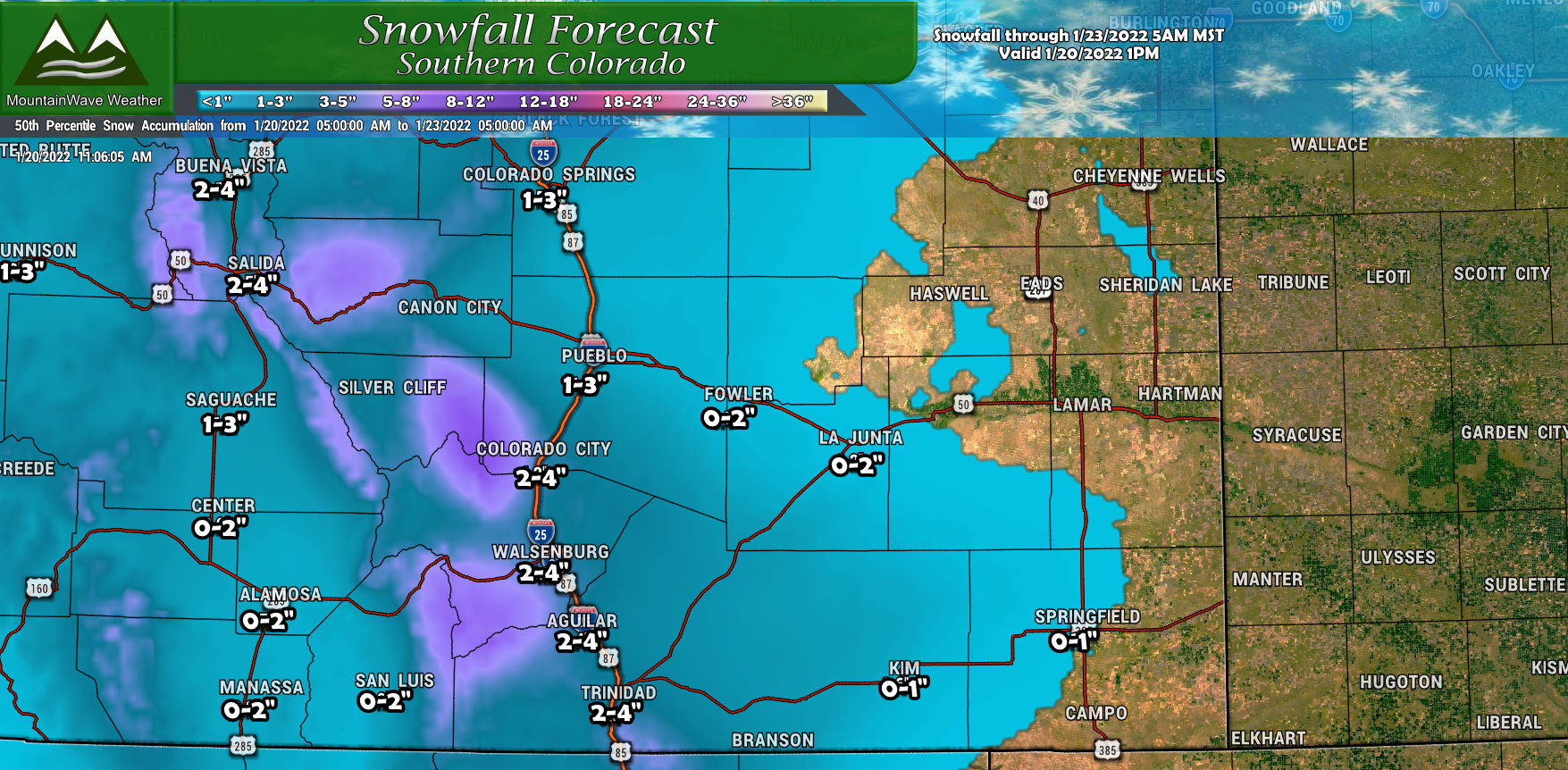 For Southern Colorado, the snowfall amounts will still be light but some areas will pick up a few inches. Beyond the ranges I've defined for the cities above, keep an eye on the "purple" areas in the mountains on the map. Those areas may still see up to 6 inches, but totals like that will be fairly scattered.
Northwestern Colorado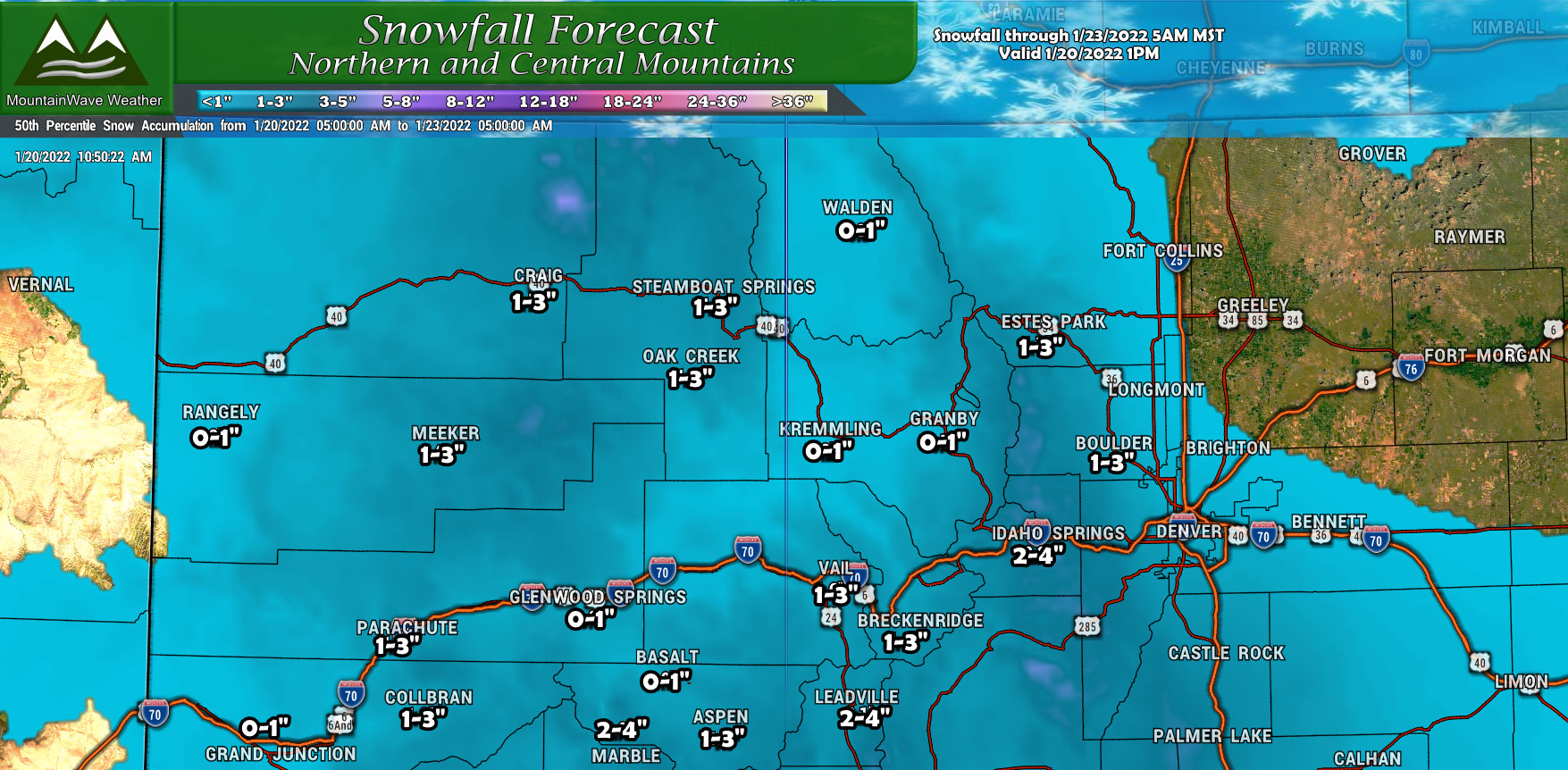 For the Northern and Central Mountains, this is not a favorable storm track - many of those areas will see an inch or a couple but we are not expecting much. Sadly it looks like the storm train will be a bit quiet for them in the next couple of weeks so that snowpack will have to hold for a bit!
Southwestern Colorado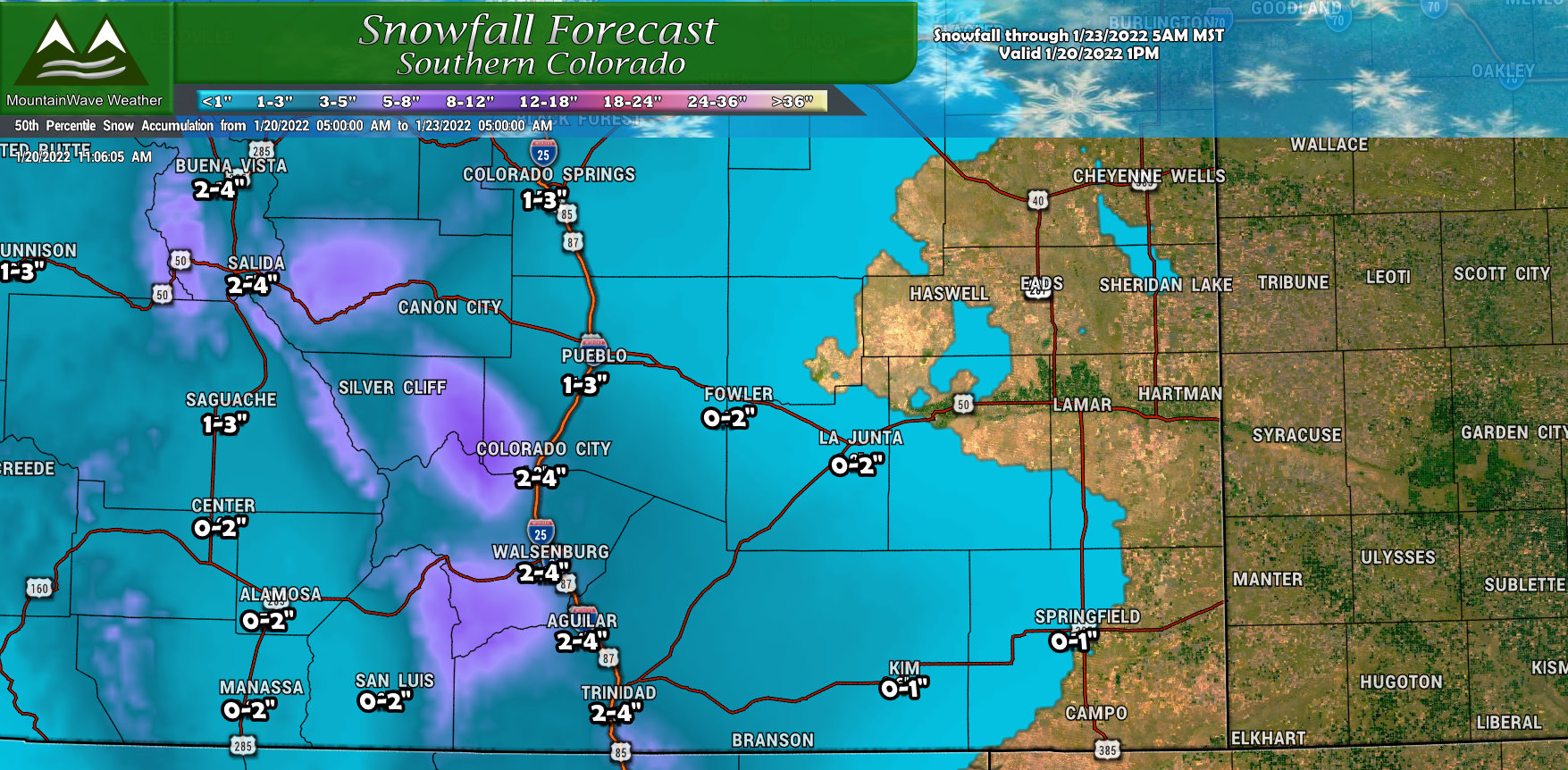 The Southwest part of the state saw the most significant change in snowfall totals, most of these areas dropped quite a bit due to the storm taking a bit more of a Southerly track. I still think some mountain areas see decent snow but overall things are down a bit.
---
Summary
Timing: Still looking at 11AM - 11PM Friday as prime time with this storm but there are some indications snow may begin a bit later on Friday into the afternoon. We will keep an eye to see if this trend continues and adjust the timing as necessary.
Impacts: Specific impacts are difficult to pinpoint until we get a better idea on if/when/where a heavier snowfall band sets up - but the usual suspects will be in play. Low visibility during falling snow, snowpacked/icy/slushy roads and travel issues under heavier snow. Not all areas will see those impacts however, so just stay aware on Friday.
That's it for now, I'll have more updates as needed (minor updates on Facebook, major updates here on the site!