After several days of fairly calm and mild weather, things are going to turn unsettled again... and unfortunately it will coincide with a weekend where many folks like to be outdoors. A series of disturbances will move through starting later on Saturday with a stronger trough setting up to the Southwest by Sunday and Monday. This feature will pump low clouds and moisture into Colorado bringing more beneficial rain to the region and chances for thunderstorms as well.
---
Weekend Forecast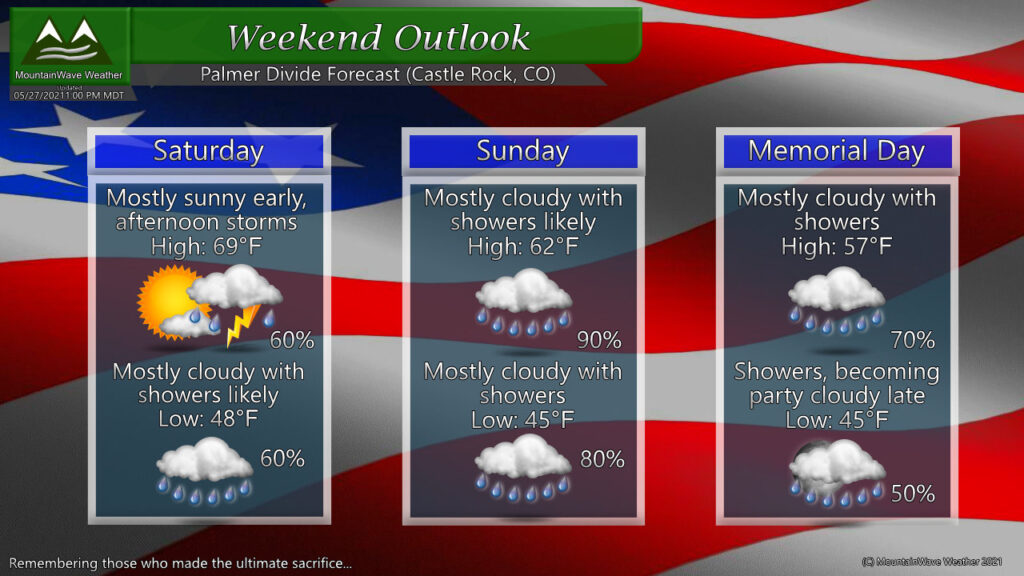 Saturday
Saturday will start out fairly nice with chances for showers and thunderstorms by the afternoon. In typical Colorado fashion, expect storms to build around or after lunch time and last late into the day. Some models suggest rain and thunderstorms may actually continue into the overnight hours for some areas. Be sure to have backup plans if you are outdoors after 12PM.
Sunday
Quite a bit cooler by Sunday with chances for rain in the morning and on and off through the day. Many areas will see rain during the day with additional showers lasting into the evening and overnight hours.
Monday
Still cooler on Monday, many Palmer Divide locations will struggle to hit 60 degrees during the day. Continued chances for rain throughout the day with clouds. Monday and Sunday generally look pretty soggy! Some clearing by the evening and overnight hours but temperatures will remain cool.
---
Decent Amounts of Moisture Likely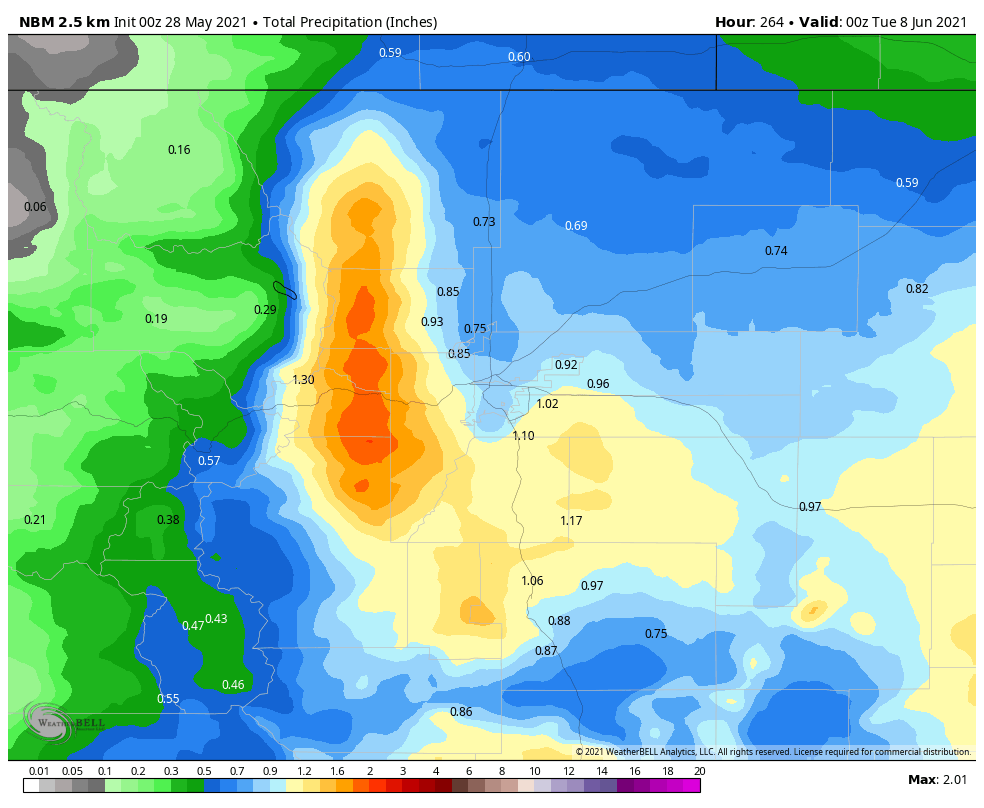 Looks like this storm system could potentially bring a decent amount of moisture to Eastern and Central Colorado. The National Blend of Models shown above predicts many Palmer Divide areas seeing around or slightly more than an inch of moisture for the period of Friday through Monday night. Not bad, even though the timing is less than desireable!
---
Summary
Main story of this weekend is that the weather isn't going to be great. It's going to be wet, soggy and generally not that warm.
The main message is to factor that into your plans if you are going to be outdoors, be prepared to move indoors for any thunderstorms and know that rain showers and cool temperatures will be very likely for most of the weekend.