Notice we used the plural in the title for this article: storms. As we discussed this past weekend, the weather pattern will change for a bit and bring us much more seasonal air along with pop-up chances for snow with each storm system that moves through. There's going to be a lot to track over the next few days, but let's focus on the first storm system for most of this article with a mention of what may be coming very shortly after this first storm system towards the end of this post.
First storm on deck arrives through the day Thursday and swings through Colorado as an open low. These types of storms are not generally bigh snow makers for the front range of Colorado, but it should generate just enough lift with enough moisture to work with to bring snow showers to most areas along the front range.
Weather Warnings/Advisories/Alerts
As of the writing of this post, there have been no winter weather alerts issued in advance of this storm. We will keep an eye on this in case it changes and communicate those as they become available.
Snowfall Forecast
The map below is for snowfall accumulation through Friday afternoon - this is important because another storm on Saturday/Sunday has a decent chance of bringing additional snow accumulation to the area.
Timing/Impacts
Models still differ on exactly when the snow starts along the Palmer Divide and front range, but suffice to say this is a Thursday night through Friday morning event. If you're driving home later in the evening Thursday night or up early on Friday morning keep an eye out for some slick spots.
As far as impacts, it looks like any travel issues will remain fairly limited outside of areas West of Denver. It is possible some roads will see a few slick spots but the snow doesn't look particularly heavy enough to be able to accumulate quickly enough. Still, be on the lookout just in case over the higher elevations of the Palmer Divide - those areas have seen a few intense bursts of snow this year that can quickly turn the road conditions into a bit of a mess.
The Winter Storm Severity Index graphic below shows the impact areas for reference.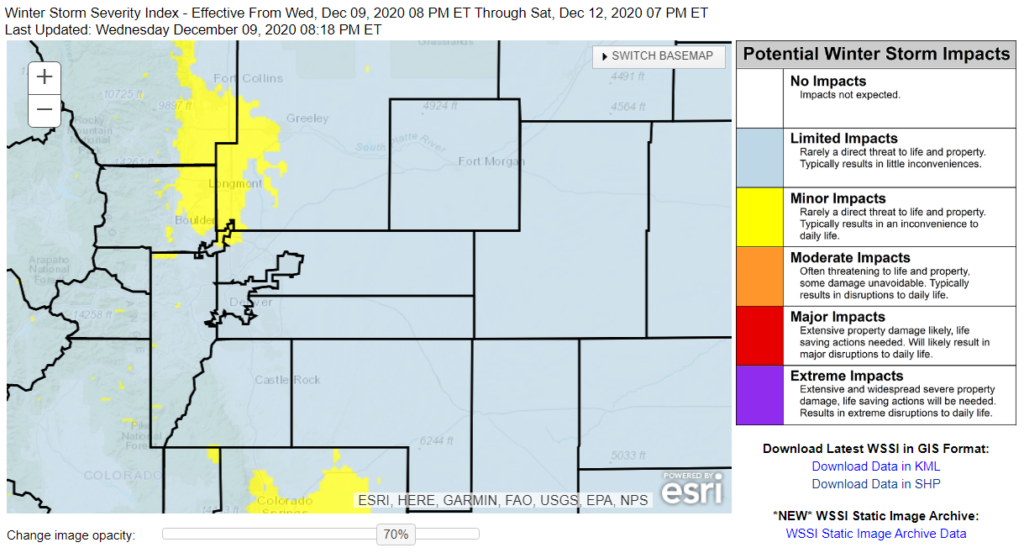 Storm #2 Quick Preview
I'm not going to talk too much yet about snowfall totals from our second little storm system to move through. It looks like this feature moves across Colorado late Saturday and brings a re-inforcing shot of cooler air and a bit of moisture and lift for more snow showers. Models vary widely on how much snow we see out of this thing, they are far apart enough at this point where I don't have a lot of confidence on how snow will go with this one either way.
Just be aware that Saturday night and Sunday will continue the theme of cold air and snow showers... this will not be a great weekend to be outside, especially at night as things will be fairly cold!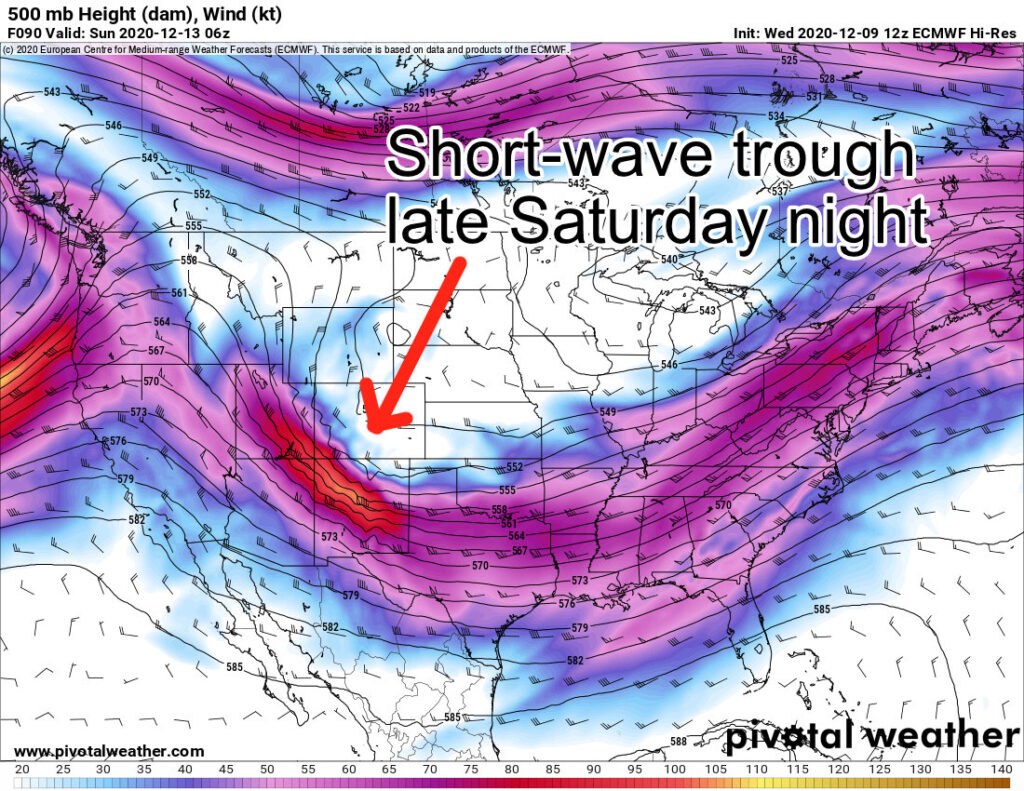 Final Word
So a few storms rolling through over the next several days. To be honest, none of these look like big snow makers so I don't foresee a whole lot of moisture out of any of these. As you know, things can always change and we will be watching for that, but keep in mind with these types of storm systems and what the atmosphere is doing right now; we don't generally see large snow storms with this type of setup.
We will keep an eye on things as always, stay tuned - we'll continue to track the rest of these storms systems!