Finally, we have something fun to talk about besides Fire Weather this week! It's going to start feeling a bit more like spring around here and a bit less like summer... we do want a spring before the heat of summers sets in right? We will start with the 30,000 foot view of the forecast for the week and then dive more into the details thereafter.
---
Palmer Divide Forecast for this week 5/17/2022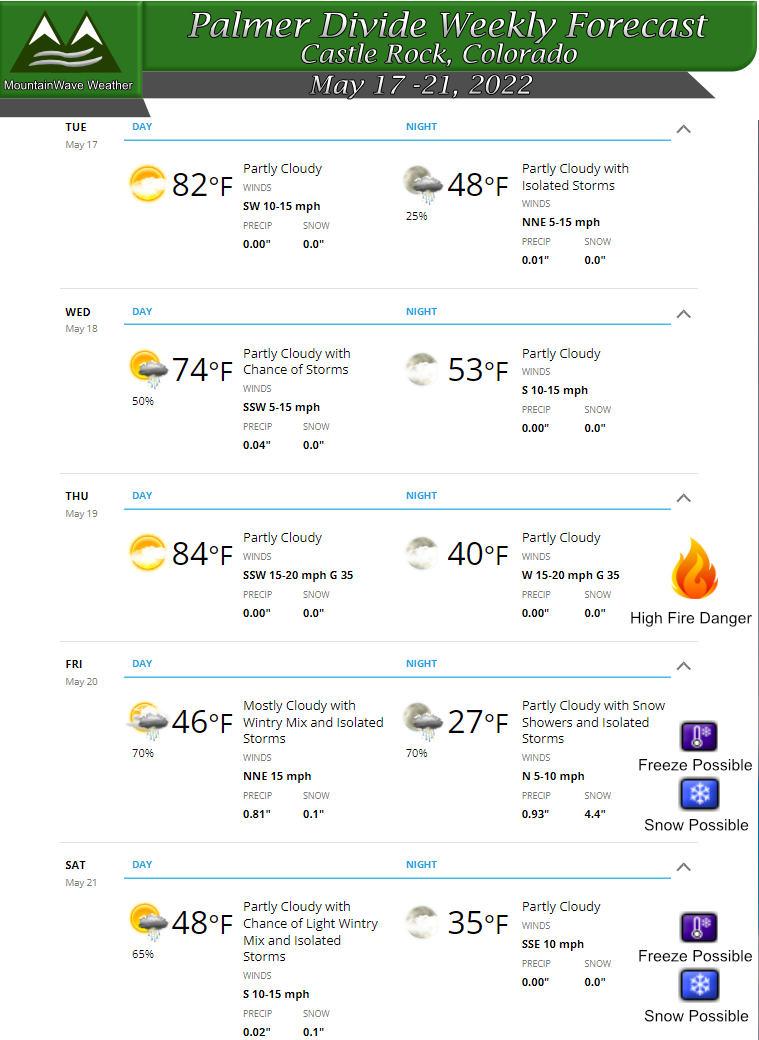 Tuesday
Breezy conditions during the day with high temperatures in the upper 70's to lower 80's. Expect a 20% chance of thunderstorms in the late afternoon/evening hours. Most won't see storms and many of the storms will be dry with wind and lightning. Overnight temperatures wild be mild in the upper 40's to low 50's.
Wednesday
Partly cloudy with a better (50%) chance of storms in the afternoon. Temperatures will be cooler in the mid 70's during the day with nighttime temperatures in the upper 40's to low 50's.
Thursday
Warmer with high temperatures in the mid to upper 80's. Strong winds combined with dry conditions and low humidity will make for High Fire Danger on Thursday.
Friday
A strong cold front moves through on Friday, we will have to watch for thunderstorm activity as front makes its way across the area. Rain will eventually transition to snow later in the afternoon/evening hours - the ground is very warm so snow accumulation amounts are still a bit up in the air. Rain/Snow will continue through the night and into early Saturday morning. Temperatures may reach below freezing *FREEZE* and potentially below 28 degrees *HARD FREEZE*. We will continue to monitor details on this so you can be prepared.
Saturday
Morning rain and snow showers will give way to partly cloudy skies later in the day. It won't be particularly warm with high temperatures maxing out in the mid to upper 40's. Saturday night temperatures will be down close to freezing again.
---
Early Week Severe Threat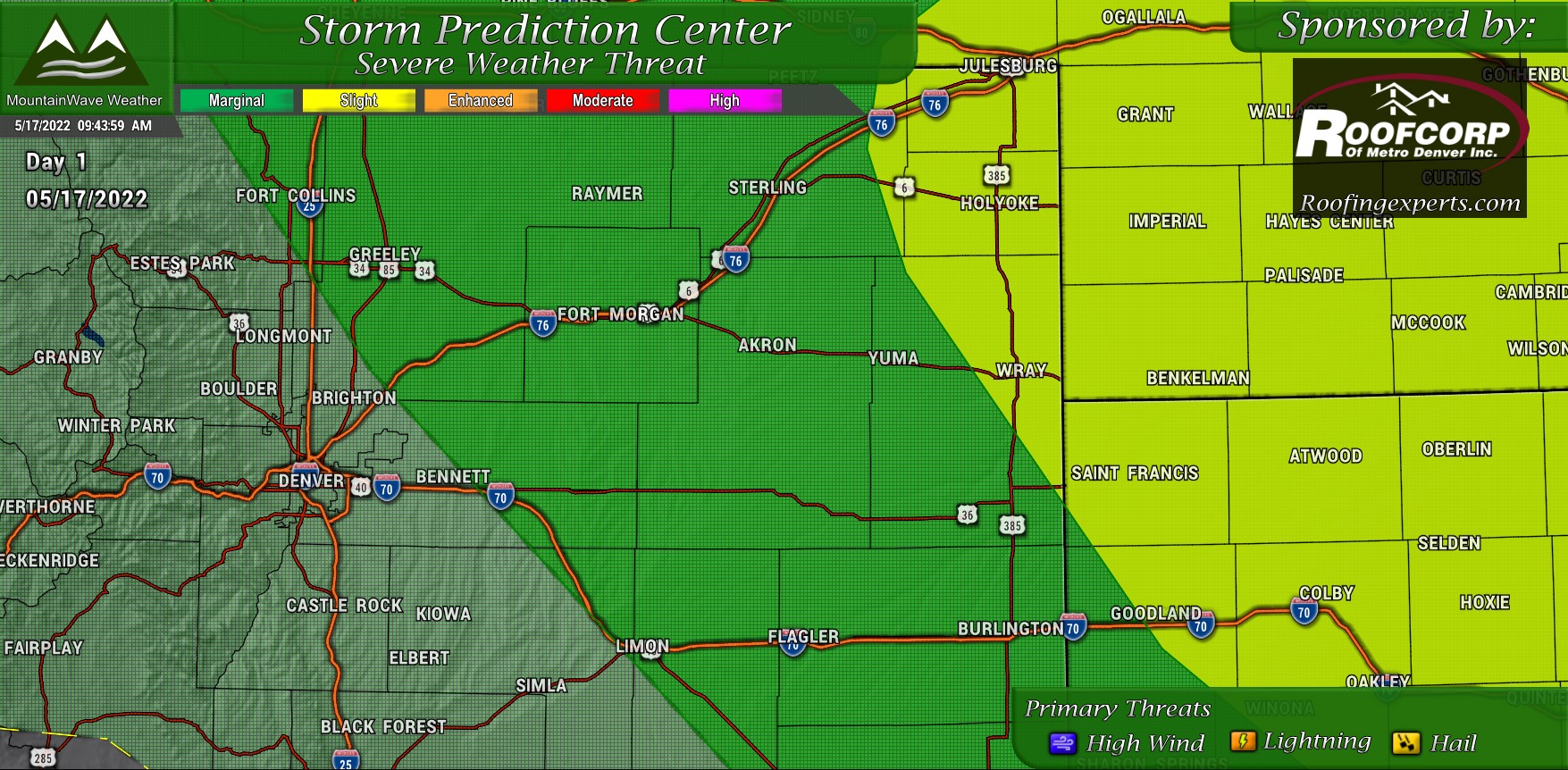 The primary severe threat is the Slight Risk area on Tuesday well East of the Front Range. There is still a chance that one or two pop-up storms could grow to severe strength but mainly along the Eastern confines of the Palmer Divide, think the Limon area up Northwest towards Bennett, Greeley and Fort Collins. Overall
Main threats with these storms will be strong winds, lightning and hail. Remember, lightning can still cause fires and the fire danger is still high!
A lot of the high res models are more excited about storms around and North of Denver, the Palmer Divide remains fairly quiet throughout the past few runs. Still, wouldn't be surprised to see a "garden variety" storm pop up a bit further South thanks to extra lift from the terrain.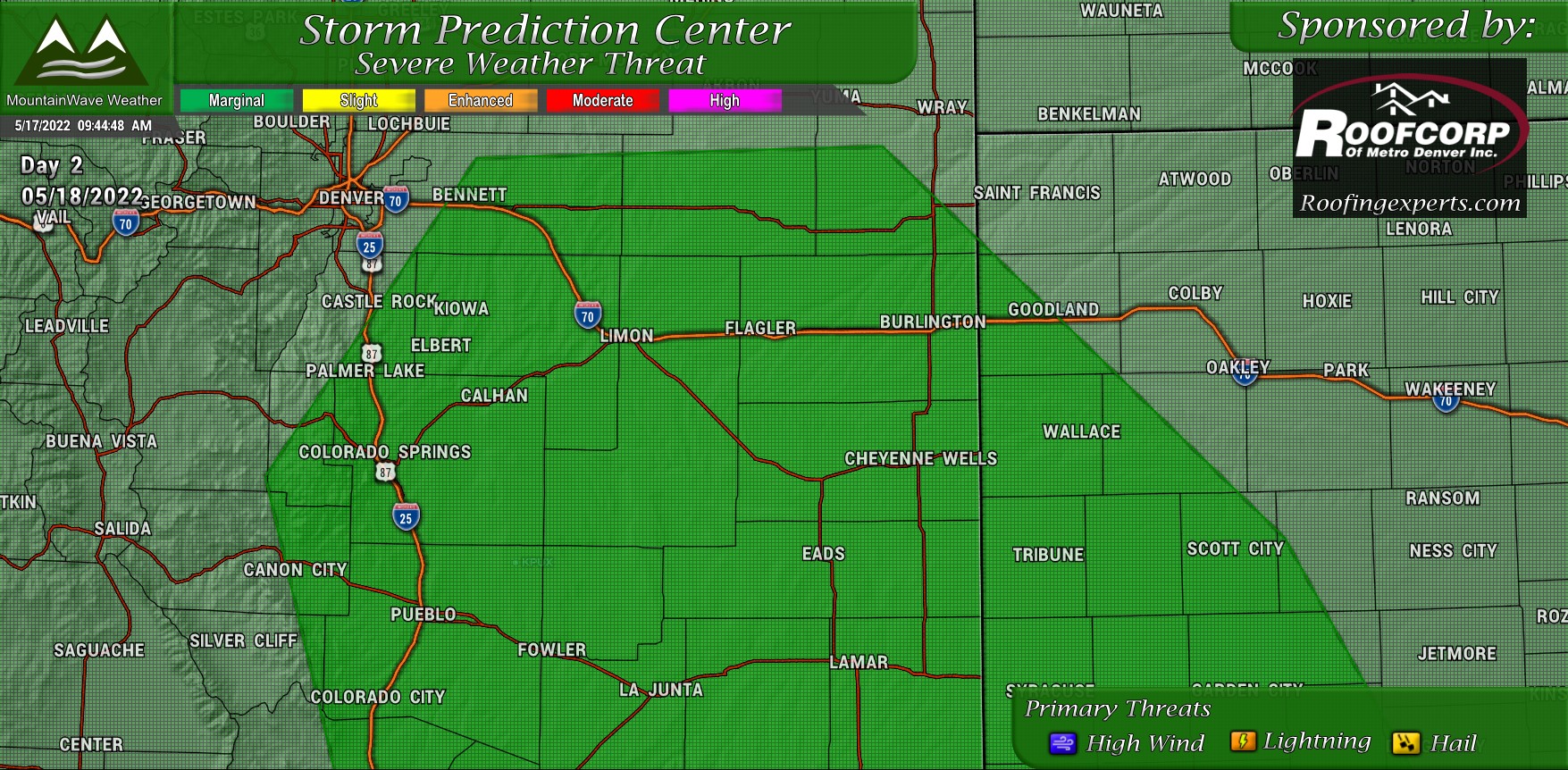 By Wednesday, most of the area will be back in a "Marginal" Risk area, which means overall severe activity will be very low with only a few storms reaching severe limits. Similarly to Tuesday, main threats will be wind, lightning and a small chance for hail. Storms on Wednesday could possibly have a bit better moisture to work with so rain is a bit more likely.
Late Week Storm System
For the end of the week we have an interesting storm setting up across the region. The jet stream will dip South a bit with a strong elongated trough building over the Northern U.S. This will allow colder air from Canada to make its way into Colorado. Meanwhile a surface low will set up somewhere over Northern New Mexico or the Texas Panhandle and push moisture up the terrain and along the front range. This is a pretty classic "upslope" setup.
See the image below for the play-by-play.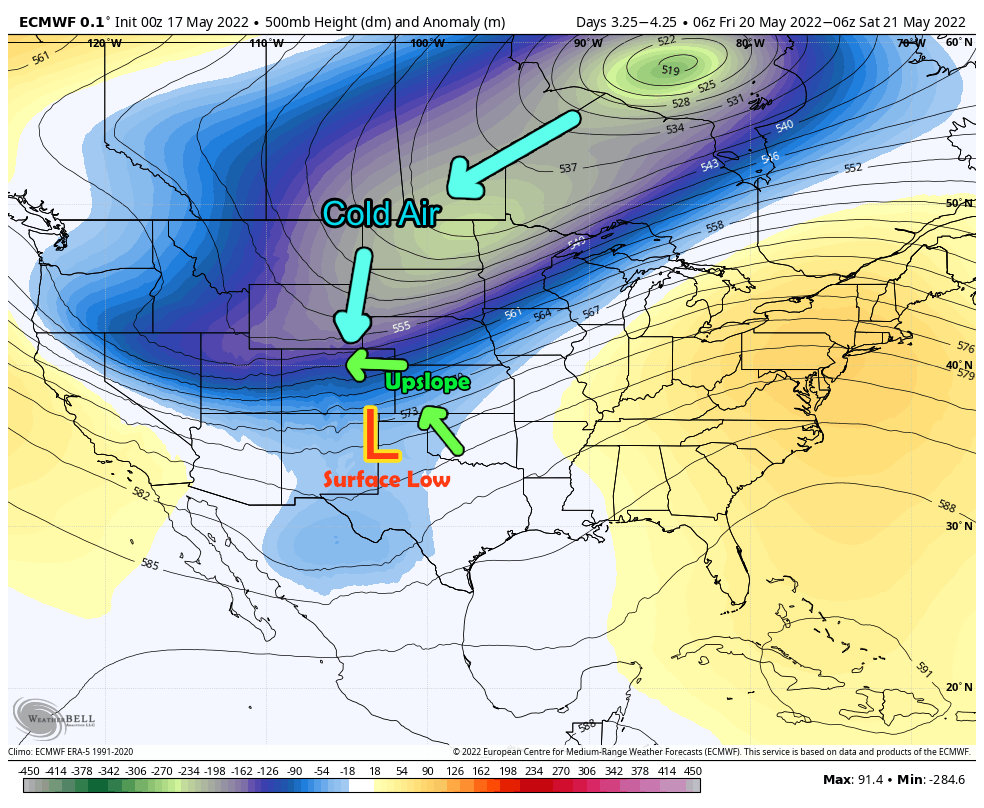 Depending on the model you look at, some are quite excited about a decent precipitation event while others are not. This one of the finer details we have to work out in the next few days...
Don't pay attention to specific numbers just yet as those won't matter much at this point, just note the areas favored to get higher precipitation; the front range foothills, the Palmer Divide and Pikes Peak Region. These are also the areas most likely to see snowfall and a bit of accumulation.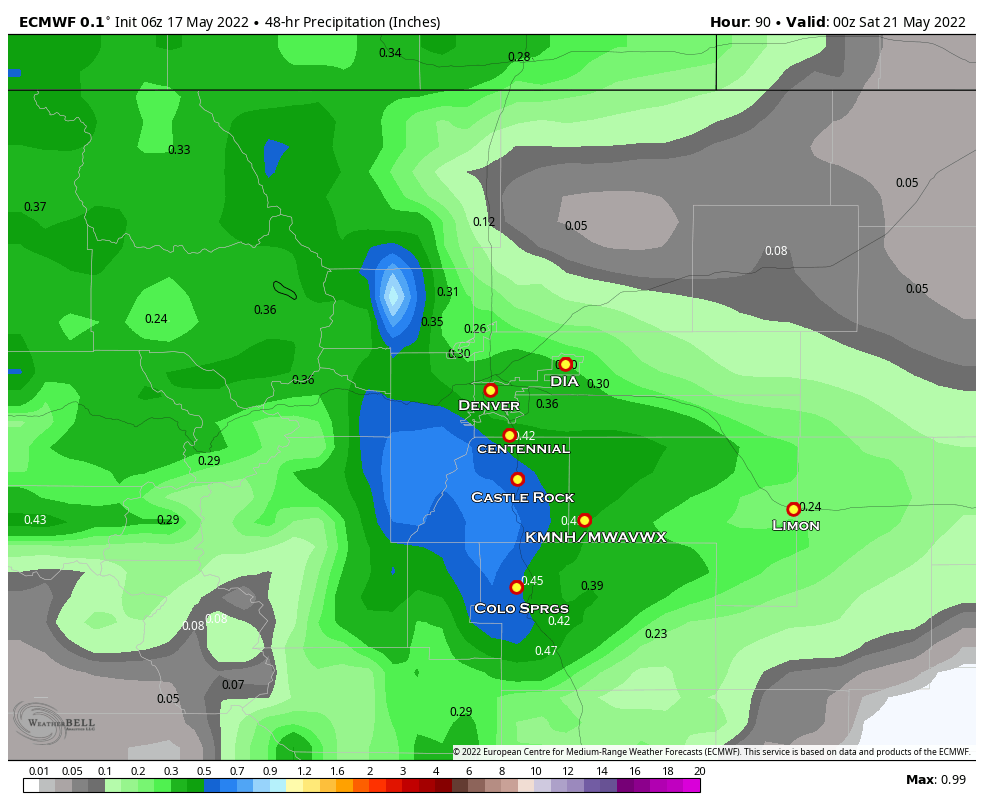 Speaking of snow accumulation...
Many models are excited about the potential for copious amounts of snow along the higher terrain. BUT...
2 things:
Early in the forecast stage yet, this can still shift upwards or downwards so don't get too caught up in the numbers
The ground is very warm: if this were to validate, it's more a look at the amount of snow that could fall and not the amount that would accumulate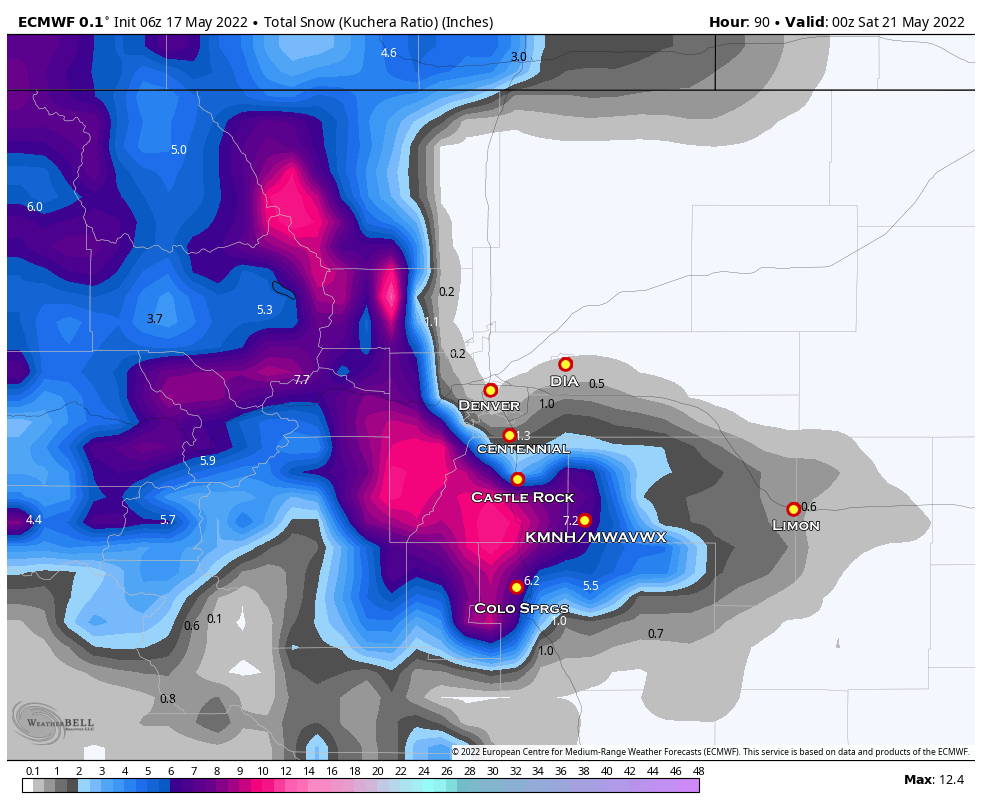 So don't get too excited about seeing a foot of snow yet; this is very unlikely at this point. Models do not resolve warm ground temperatures and high sun angle very well.
---
Summary
That's enough details in this post to give anyone information overload. I'll have additional posts up throughout the week especially tracking the snow chances and cold air. Be prepared for freezing conditions Friday and Saturday so make sure your garden is covered and your above ground irrigation pipes are wrapped or drained.
Happy Tuesday!